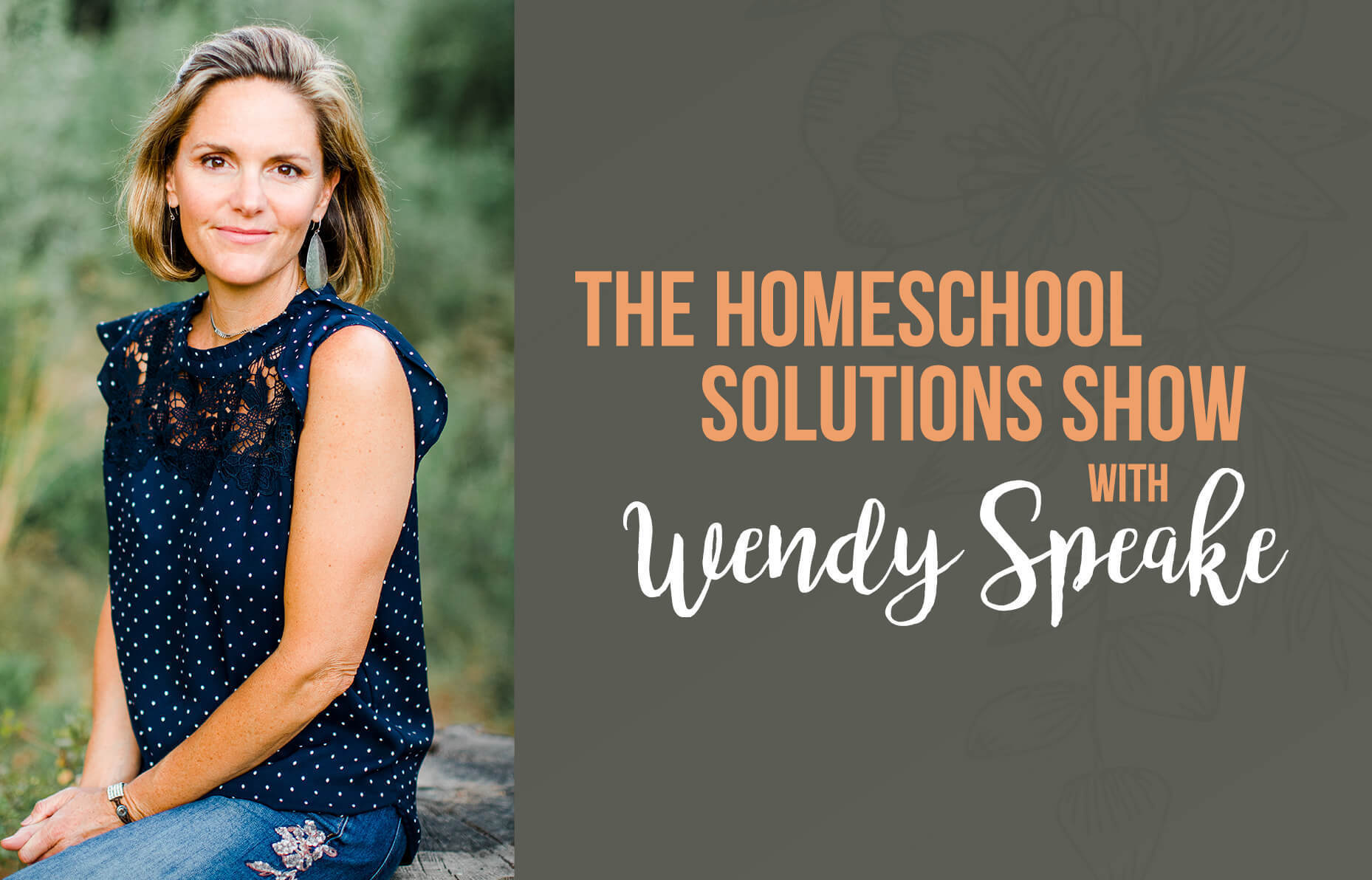 HS 208: Ruth and Troy Simons — Education as Discipleship
Links and Resources:
Show Notes:
DESCRIPTION:
Today we're talking about seeing our children's education as discipleship. Not merely giving them the head knowledge they need, but laying the foundation they need (with them, as a family) for a life of knowing and loving Christ and His Word.
In their book Foundations, Ruth and Troy Simons encourage parents to take the time to invest in a relationship with God as the starting point for leading their families to become long-lasting, fruitful followers of Christ. The couple outlines the importance of heeding God's instructions and being transformed in their own lives as the magnetic force that draws their children's interest to cultivate their own relationship with the Lord.
TODAY'S GUEST:
Ruth Chou Simons is an entrepreneur, speaker, and bestselling author of Beholding and Becoming and GraceLaced. She shares her journey of God's grace intersecting daily life with word and paintbrush through an online shoppe at GraceLaced.com and her Instagram community of more than a hundred thousand. Ruth and her husband, Troy, are grateful parents to six boys—their greatest adventure.
Troy Simons has an abiding passion for God's Word and for discipling the next generation to live for Christ. After two decades of investing in full-time pastoral ministry, preaching, church-planting, co-founding a classical school, where he served as headmaster, Troy now works alongside Ruth in their ministry and business, serving as the COO of GraceLaced, Inc. Troy is an avid outdoorsman, philosopher, classical music enthusiast, word-nerd, and teacher.
RESOURCES:
Foundations: 12 Biblical Truths to Shape a Family by Ruth Chou Simons and Troy Simons
12 Foundations prints https://gracelaced.com
B... and Becoming by Ruth Chou Simons
Gracelaced by Ruth Chou Simons
QUOTES:
-The earth is the Lord's, and everything in it,
the world, and all who live in it;
for he founded it on the seas
and established it on the waters.
(Psalm 24;1-2, NIV)
Verse about giving us back the years that the locusts…
Seeing education as discipleship links the sacred and the secular. (Wendy Speake)
His callings are His enablings. (Spurgeon)
"Our earthly lives are preparing us for what we will do for all eternity. If heaven will be unending fellowship with the Lord, why would we ignore Him in our daily lives now? If heaven is filled with forever praise and adoration of God, why would we not worship Him now? If heaven will replace our temporary pain with lasting joy, why would we try to find earthly substitutes now?" (Ruth Simons)
CONNECT WITH:
Instagram: @ruthchousimons and @troydsimons
Facebook: https://www.facebook.com/rycsimons
Show Transcript:
HS 208: Ruth and Troy Simons-Education as Discipleship
Wendy – Welcome to the Homeschool Solutions podcast, brought to you by Sonlight curriculum and homeschooling.mom. I'm your host, Wendy Speake. Here on the show every week you'll get to listen in on some great conversation with wonderful guests, all designed to equip us as homeschooling moms. And then once a month, we'll be opening up the Bible together, applying God's Word to our long, blessed, but often challenging days. It is my hope as we gather together in this space, we will encourage one another with some practical, Biblical solutions. I'm so glad you're here.
Before we start the show, I'd like to thank our sponsor, Sunlight Curriculum. Complete homeschool curriculum you're guaranteed to love.
And now, enjoy the show.
Oh, my goodness, how in the world do I start this show. You all are going to love our topic; I just know you are. But you're also going to love getting to know the two individuals who are today's guests. Troy Simons spent decades as both a teaching Pastor and a headmaster. He has been a church planter and the founder of a Classical school, but in the past two years, he has transitioned into the role of headmaster and teaching pastor over their family's home and their homeschool. And is also the C.O.O. of Grace Laced, his wife's ministry to women online. And through books.
There is no one I would rather have speak into this area of our lives than Troy Simons. Along with his wife, Ruth Chou Simons. You already know Ruth, most likely. She is both the best-selling author of Grace Laced and Beholding and Becoming, and a celebrated artist. But this most recent book, co authored with Troy, was written for us. It was written for parents and for families and it made be my favorite project that they've done yet. Sincerely. And I love her books and her art. But Ruth and Troy, they know families, they know the Word, they know what is foundational, what is most important in setting our young people up for a life of faith, and families up for success as we pursue that faith life together. And that's what we're talking about today.
How do we lay a firm foundation of faith that will last our children, not only through their growing up years in our home, but beyond that, once they leave our homes, and most importantly, after this life is through, have we set them up for eternal success. Worshiping and enjoying the presence of God forever. That's the goal. And that's what we're talking about today. Laying a firm foundation. And so, without further ado, let me welcome my friends, Ruth and Troy Simons. Hey you guys.
Ruth – We are so delighted to be here, Wendy. Thanks so much for having us.
Wendy – Absolutely.
Troy – Thanks for having us on, Wendy.
Wendy – It's fun to have a man's voice on the podcast. We've had a couple of male guests, but it's mostly moms talking, so this is really special. I tried to be…
Troy – I'm glad to be here.
Wendy – Thank you. I tried to be very professional in that introduction, but I also have to mention that I just like Ruth and Troy as people. They are friends of ours and actually, Ruth, you are probably the first person that I didn't know that I followed on social media back when our children were very, very young. I had three boys. You at the time probably had four, maybe, five, of your six. And I just loved the way that you pointed my heart to Christ and Biblical parenting in the midst of those overwhelming years. And then of course I loved your art, and then we were able to become friends, and we have the same agent so we get some time together that way and it's just been really special then to get time also with Troy over the years, so it's fun to have this conversation. Thank for joining us.
Ruth – Of course, we love that we get to be real life friends and so, yes, I'm grateful that we get to encourage each other in this real-life journey of motherhood and parenting and discipling our kids.
Wendy – Yes. So, would you start off by introducing yourself, your family, your boys, specifically. But also, how you decided to homeschool. Like, that's a big decision so, I love hearing the story of how that came to be, so just start by letting us know who you are.
Ruth – Well, I'm Ruth Chou Simons. I've been married to my dear husband Troy for 21 almost 22 years. And we are parents of six boys. Yes, we did have them one at a time. And my oldest is 17, almost 18 and our youngest is six, and so we're really on both ends of the spectrum. We have a… our oldest just started his first year of college. He accepted a presidential scholarship locally and so he's still living at home. But we see him so much less than we used to and so we are cheering him on as he begins his studies. And for all these homeschool families out there, man, it is so rewarding to see those credits count towards college. He went into his freshman year of college with fifty college credits already, so go homeschoolers. Do it. It's so rewarding. Very exciting.
And so, it… at another time we can talk more about what are some of those ways that he got all those credits. But we're just so grateful that our young man is going into adulthood this way. And then of course, we have our little six-year-old, who, for homeschoolers, you know what I mean when I say he's first, second-ish, you know, kind of somewhere in there. And reading … but you know, we have boys throughout that gap and homeschooling is quite a feat these days at home. And we did not always know that we would be full-time homeschoolers.
We, years ago, Troy was a full time teaching pastor as well as a… we both got to join with a few other families and found a Classical Christian school that employed a university model, meaning we homeschooled part time and private schooled with the school several days a week. And so, during that season, we were really, you know, Troy had a masters and was a huge part of choosing curriculum, leading families, creating that atmosphere in that school. And so, years later when the direction of the Lord led us ultimately to be full time with our business, Grace Laced. You know, and that was a real season of transition for us and we really assessed, as a family, you know, what does this mean for us, if we are stepping away from the school, what does it mean for our family. And at that time, we made the choice to continue on with the kind of education that we had aimed for through the school. And to do it ourselves at home. And so, Troy is now our primary educator at home in this season while I'm writing books and while I'm speaking and running this company that we do together. But he is the one who is primarily supervising and leading out in the schooling at home.
And so, you know, we really think, I think, most homeschoolers see this as truth, just that year by year we reassess what is the right thing for each individual child. What is the right curriculum each year? We're not stuck in one paradigm, nor do we think that this is necessarily the only way we can do schooling. We've incorporated online programs and different things along the way as well, so. Kind of the quick story of our journey. And for anyone who wonders, because you perhaps know the work that I do in the day to day, please know that I am not the full-time homeschooling Mama. I'm, my heart's there and in a previous season of life, I was the hands on one who dictated the words and worked out the math problems and I still count it a privilege to do that here and there.
But in this current season, the last year or two, Troy has been the primary homeschooling agent, the teacher, in our home. And yeah, and so we really think that it's kind of amazing that, in our 21 almost 22 years of marriage, we really have been partners along the way in every ministry we've done. It just has looked different in different seasons. And Troy at times has been in the spotlight, stage, holding a microphone, and in this particular season, that's my role. But we kind of feel like we've kind of been doing the same thing these two decades, leading others to the throne, sharing the good news of the Gospel, and pointing people to the grace of God through the most basic and simple places in their lives. Starting right where they are in their everyday lives.
Wendy – And doing it at home, you're partners as you share that privilege out into the world and you're partners and you're doing it at home. So, Troy I've heard you talk, and when I say, heard you talk, I mean we've talked about it, but I've also heard you mention it on social media and as you've done Instagram Live and Facebook Live videos, with group, where you've talked about this idea as education as discipleship. I would love it if you would kind of introduce that phrase, that idea, tell us what it is, what I means, why it's important. Would you speak into that?
Troy – Yes, absolutely. And you know, I think probably the best place to start would just be to give maybe a snapshot of my background, having grown up in Albuquerque, New Mexico and the public-school system. And not having a good educational experience. And really, I remember high school, people would ask me, what do you wanna do, what do you wanna be? And I never had any clue what to answer. I wanted to be a pilot. And then, my eyesight slipped from 20/20 and my visions of going into the military and flying planes just kind of fell apart.
And I remember in one class that I loved, in my Spanish class, my teacher was very inspirational. She was excellent at her craft. And she made me want to learn and made me want to… not just learn Spanish but just be a better learner in general. And I remember saying to myself, I wanna be a teacher of teachers because if I could figure out how to teach people to be like her, it could change the world. And that's what drove so much of my effort in starting the school, and the boys, and you know, my heart behind ministry was that, I know that God has given me a passion and gift for teaching. And you know as we start having kids and you look at them, you know, oh my word, what have we done. We gotta raise these things. And make em go straight and succeed in the world and you know, you start to see your educational history and your church and discipleship, and parenting from your parents. All of that comes into a new light when you're trying to do it with your own kids. And the thing that I realized was that my paradigms, my world view, was a hodge-podge of public education, little bit of church, little bit of family, a little bit of just whatever was kind of the flavor of the month, and that's sadly kind of a, I think a common thing that happens in our families. We just, we let things happen instead of being very deliberate about it. And so, as I was reckoning with what it was gonna take to raise our own kids, I knew that I didn't want them to have what we had. I had actually a really good experience in our education ??? Not a perfect experience by any means, and there was certainly the, you know, the elements in her schooling that she would look back and say, if I could've gotten rid of that, it would've made a big, big difference.
And so, as we really did start making plans for how we were gonna educate our kids, the reality that their world view, right, and a world view is basically what we make all of our decisions out of. Your world view is the answers that you have to the biggest and most important questions. It's your starting point. That kind of can form you for everything else that you do. So, if you don't have a good understanding of who God is, of who He's created you to be, of what His plan is for where you're gonna end up, what is the source of authority? I think those are kind of four main things that you've got to build a world view around. Your answers to those questions will determine how you make your decisions. And so, if you have an education that's just really kinda out of context. You know, you think of it as, well I gotta pass these tests and I gotta know these subjects, and then I'm gonna go on and make a living. And instead of recognizing that, from a Biblical standpoint, the earth is the Lord's and everything in it, the world and all who live in it. You know, the Psalmist reckoned with that and so, and, when you see it as God the Creator has made the world for Himself, and I know Him, He's made a way for us to be reconciled to Him. And He's Lord over everything. Then it kinda takes some of the spiritualness of our faith and puts it in a context of the fact that we're fleshly beings, have to go through the world making money and washing dishes and changing diapers, just you know, raising kids, all the stuff that we do. And I think that gives a whole lot more meaning to it. So, in other words, God is the God of math and of writing and of reading, right? Everything is ultimately an expression of His creativity. And when kids recognize that, that He made everything for Himself, that He upholds it by His Mighty Word. That's a very different way to go through your schooling than just to say I gotta pass a test, I gotta get this, so that I can then go on with my life. Radically different.
Wendy – And that becomes more than just education. That's more than just reading, writing, and arithmetic. It's really the lens that we're looking through, rather than I need to check of the boxes of learning to read and write at each grade level, whatever that means, you're saying. For the purpose of recognizing that all of it points to God and not just points to God but is foundational in the life that He has for us. Then the way that we're attacking math isn't just for the purpose of learning our multiplications by rote and getting through our classes. I mean, we're looking toward each subject then, through a different lens, is that right?
Ruth – Well and I think for a long time, for many of us, there was a separation, sacred and secular. There was a sense of like, we go to school to learn all these things to be successful, and then I'll just give one day a week, where you go to Sunday School to learn all the things that you kinda know to be, you know, I'm over simplifying, but from a cultural standpoint, maybe, oh so that you can be a moral human being, so that you can get your spiritual life together. And what do you find years later that kids are leaving the faith, or they're not going to church. Because they don't see the connection that God wants all of you. That God isn't just the God of Sunday mornings, hoping to give you a dose, a little pep talk for your week and the rest of the week is for you to figure out. He's in and through and everything is for Him and to Him, and it's for His glory. And so, unless we, we as parents, take ownership of that and make that investment, something we take ownership of, and say this is not just for Sunday School to do, this is not just for VBS. This is not just for somebody else to teach my kid, but I have to work through the difficulty of it. This is not just for Holy and Godly parents, this is for every parent who says, okay, fi the Gospel has to be worked out in myself, I'm gonna live this out with my children. Because if they don't see it starting from home, they won't ever see the connection that it's for all of life, and that God wants all of us.
Wendy – So it's not necessarily that we're learning, okay, my math brings glory to God in this way, and my science does it that way, though there may be times where it really is, that we're not separating the sacred from the secular. We're not going to put God in the box of Sunday and yet we're gonna muscle through the other days. I hear you. And that really is this idea of education as discipleship. Really going for walks is discipleship. Lying down is discipleship. Eating dinner is discipleship. And as Ruth and I talked when we were last together, cleaning the house is a form of discipleship. Right? We just had that conversation.
Ruth – Right. And even when you are attacked… I mean, I'm thinking about how Troy has to really like, ask the Lord to guard his heart and grow his patience as he walks with a certain child or two in our crew, through math problems because it's always fraught with tears and frustration and patience and wanting to like, throw a pencil across the table. And so how much does that math problem bring glory to God when we say, hey, this is an opportunity to see why knowing Jesus changes the way we even approach a math problem. The way we approach the opportunity to learn today. And so, you know, when we talk about this idea of having to… approaching discipleship from the group up, right where we are from our homes, whether we're homeschoolers or not. Whether we are really patient parents, or we struggle all the time, every day, with our patience. It… the Gospel affects who we are as moms and dads and in turn puts on display how our kids need Jesus themselves. And that's what we wanna built on, whether we're in math class or not.
Wendy – Okay. I have watched you do Instagram Lives or Instagram stories where Troy is in the middle of doing something with the boys and he will reach over and he grabs the Bible and it's just is the most seamless transition from math into, okay, a character development, I would say. How do we live out Christlikeness in the midst of this struggle? Or around the table during dinner time, where someone is talking about something and yet, oh my word, let's apply that to what we were just talking about yesterday or what we heard this pastor say or this book that we're reading together. And I'm seeing that I love that, you said approaching discipleship from the ground up. And where is the ground? That's the foundation upon where we're standing. It is the foundation of everything that we're doing.
And so, the discipleship should go everywhere, just as we hear in Deuteronomy six. When you stand up, when you lie down, when you walk along the way, when you're in the car together, when you're out on a hike. When someone's melting down over math. When you're cooking together and when you're cleaning up together. So, I'm hearing you loud and clear. I also know that we want to know how to open the Bible together. We want to know, we want to model it, and we want to do it in the homeschool realm, world, families, we're oftentimes looking for that magic curriculum, I think. And I have never, until your book, found one that doesn't just walk you through concepts or Bible passages or a book of the Bible, but actually walks you as a family to see how it is foundational for all areas of our lives. So, let's learn as a family, to have conversations. Let's learn what it means to confess to one another. Let's learn what it means to find those simple moments to make those connections between what we believe and how we're living and how we're speaking. It's really beautiful, and yet I wanted to introduce it to our homeschooling community, as, if you have not done a Bible curriculum that teaches you how to be in the Word as a family, this one's foundational. Pun intended. It is called Foundations, and the subtitle is Twelve Biblical Truths to Shape a Family. So you will be in the Word together, but you're also learning the value, not just the how, and the what, but the value of being in the Word together and letting it shape your family culture, your family conversation, and your world view as Troy mentioned. Troy how did you come up with these twelve specific foundations.
Troy – So, it was around Father's Day, Ruth and I were talking about the fact that every time we went down to Hobby Lobby, ??? kind of craft stores that it was really common to see that our family rules. And some of them are meant to be funny, some of them are meant to be just you know, serious and practical and so we kicked around the idea of doing something that was a little bit more deliberate you know, for what we would call the ?? of the Gospel. You know, and kind of just to encapsulate Truths that really would guide us through a day, and you know, when you look at that list you can see that it's anything but exhaustive. And they really are, I think, very deliberate and very focal things that come directly as the one another's of the Gospel. And where God's Word teaches us about walking in faith, so you know, I wrote those down and Ruth and I kind of hammered em out and edited them together. And then she, as she usually does, put her artistic touch to it.
Wendy – What is that one called. Is that called Your Family Rules?
Ruth – No, in the shop it's actually called Resolutions because we were so inspired by you know, in history, antiquity, there were resolutions that were written. And it wasn't meant to be like, we resolve… but to say, as a family, we're gonna look at this and say these are the things that we want to be guided by. These are the things that we want to like, root us down and be the resolutions of our family. And just as a teaser, I mean hear it first here on your podcast, but we are offering a whole new set of those prints done in a different way when the book comes out that will be called Foundations. But currently, they are called resolutions in the shop.
Wendy – Well maybe you can send me a sneak peek and we can put that into the show notes in a direct link, because I would love to get that on my wall where the kids will see it too. And I'm just gonna, if you wouldn't mind… well actually, why don't you go ahead. Do you have that in front of you where it's probably memory, or would you like me to read it?
Ruth – I do not have it right in front of me, sadly, I don't have the book sitting in front of me, so go ahead.
Wendy – Okay, so this is the one that start with the Love God, right? Okay, Love God. That's number one. And for each one there is a Scripture that will… that supports why this is important, right? How we know that this is what our family values and why we value it.
Ruth – Right and not just to have, but you know, the way we wrote it, we tried to write it in the way that we really speak to one another. So that first one, love God above all else, the second one is hate sin, especially your own. Well, that's not really said in a way that sounds like you better do this. It's real but it's the way that we would be saying it if we were putting our arm around one of our sons and saying, hey bud, love God above all else. Or, hey son, this has been a really rough day. Hate sin, but especially your own. And so, we wrote it in a way, and Troy penned it that way so that we don't just gloss over it and say, yep, that's a Word from Scripture and we're gonna do it as we're told. But to say, there's something personal about this. These foundations are meant to be word that you would look up and see it written out or you would speak it to one another and go, remember, we want to encourage one another and build each other up. Or give generously. And whatever those are, and I don't have all of them right in front of me at the moment, but whatever those are, the goal is to take a Scriptural principle, something that is clearly written in Scripture for us to follow, but to write it in a new way for us to say, if we speak this to one another, don't be surprised, this is part of our family foundation.
Wendy – Yeah, if it comes part of our language and isn't that what we want? Rather than quoting Bible verses at our kids and using it sort of like a hammer on the head of a nail, just trying to drive it home. Instead it becomes the words that have been shaped, influenced, laced with Scripture, with God's Word. Our words laced with His Words. So, it's love God above all else. And with all you've got. I love it! You term personal, but I use the term conversational. You know, it's just a part of our conversation. Hate sin, especially your own. And I love that one, because in your book you talk about the tendency to accuse each other. And I would say, in our family, if I could point to what is our recurring issue as a family, it's that we do more accusing than confessing. And I wasn't able to put my fingers on it until I read that, it made me a little emotional. I needed you to give me some words, and to show me what was going on, and it's become so foundational over the last couple weeks, we're now, we're saying to one another, it's becoming our own words. Instead of 'accuse', let's figure out what we can confess.
Troy – It really encourages me, Wendy, to hear you say the word conversational because that really was our aim, is to present these not in a wooden way, or you know, really systematic way. I mean they're deliberate, you know, they're taken directly from Scripture, but you know, we worded those things in a way, you'd almost just kind of speak em at the dinner table.
Wendy – You do! You do! I call them Scripts, right? They become the things that we say over and over and I think I heard that Sally Clarkson said that her son, Nathan, had gone to New York for an acting career. And he would be in New York with all the temptation, all the sin, all of the pull of this world, and he would hear his mother's voice. The things that she said regularly were the … they became the voice in his head. And if the things that we say in conversation regularly have been shaped straight from the Scriptures, then they aren't hearing our voice. I mean, it might be our voice, but what they're hearing is the Word of God. And that's really incredible as they walk along, hopefully a straight path and live by it.
I'm going to take just a moment to thank another one of today's sponsors. Medi-Share. An affordable and Biblical healthcare alternative. Find out more at mychristiancare.org for their ongoing support of homeschooling families just like ours.
And now, back to the show.
Speaking of living by it, you said, the next one is hide the word in your heart to live by it. You know? Well, hammer that one home with our kids too. Come on, you gotta hide the word in your heart, and who's done their Scripture memory. But what's the purpose? To live by it.
Troy – That's such an important mandate isn't it? You know, as we were writing these, it was amazing how interconnected they all were. I mean, we felt like we were just, at time, tangled in a web, like, oh we've already talked about this! But we need to talk about it some more. And you know, the… I think that's one thing that people will find in kind of reading through each of these is that they really build up one another and they… you know each of the different ones kind of rely on the other if you will. You know you can't love God if you weren't hating your sin. And, you know, you can't hope to like, truly hide the Word in your heart if you don't find that it's coming out of your heart as you're living through your day. And so on, so it's …
Ruth – I think, and you know it helps build on the idea that, you know, some people have asked us, is this book gonna help me with parenting. And I would say, even if you don't… we're not giving you a timeline for how to potty train, the best ways to discipline your children, or you know, how to, you know, we're not writing a "how to" book on the parenting thing and I think there's a place for those things. But we're simply saying if you will grab ahold of these foundational truths as paradigms….???? As a parent, it will transform the way you parent your children. It will transform the way your kids speak to one another. The first foundation, love God above all else. Number two, hate sin, especially your own. And as we build on each of those things, as Troy said, they are interconnected, because there's no way for you to give generously or encourage one another if you haven't hidden the Word in your heart to live by it. How would you possibly know… one of the chapters, that I got to do the audio part last week, and so, I read through em and one of the ones that stuck our for me was the reminder that to encourage comes from the word "to put courage into something" And so the idea that we would encourage one another and build each other up, that means you have to know what courage means to be able to put that courage into somebody else. Well, how do you know how to put courage into somebody else if that courage is not dependent on you? Would you as a parent need to have a great day, a really great track record, all the best tools and the best day planned out? Or do you hide and just deeply root yourself in the Word of God so that you find your courage in Christ alone. And then you are able to give that courage and place it into that child that you're trying to encourage.
Wendy – I think that the best parenting books will absolutely shape our kids and not just us as parents. And the best books that we read to our children, even like the Ward books like You are Loved, it doesn't even…. It doesn't just make the child feel loved, it reminds the parents that they need to do the work of loving and I feel like this isn't a book that was, okay, let's lay foundations for our kids. Like, it shapes us as moms and dads, so that we can do the things to teach the things to model the things to speak those things, those foundational truths, but to live em out. And it shapes all of us. And hopefully, prayerfully, shapes future generations too. I'm really excited about it. Troy, would you tell us how the book is laid out and how it might work for us to do as a family.
Troy – Sure, it's… you know, there are the twelve foundation and we've written five readings on each one of those. And so, it's sixty in total, and you know it's really kind of designed around a week. You know, five, not seven, days, so you've got a little bit of wiggle room if you miss a day and I know some people, you know, with sports and school and other things, it's hard even to get even two days. But we've kinda organized it around what we feel like is a, kind of a palatable amount in a week's time. And you know, the hope is… and it really is just gonna be family by family, person by person… but the hope is that there is some deliberate time set aside just to sit down and to read. It's a very reasonable length. It won't take any time at all. But I do think that you know, the potential conversations that can come from those readings is a lot. And that's the neat thing. And it's kind of like you've been saying. You know when we, when we all sit down and listen to a good sermon together, we're all getting fed the same thing and there's something very synergistic about it. And I think that when you sit down and read a book like this and you wrestle with that truth, and maybe, you know, hate sin especially your own. Maybe dad's saying, wow, guys, I'm reading this and I'm realizing I just really messed it up this weekend. I lost my temper, or you know, I've got this ongoing thing that you guys see in my life that I'm gonna be the first to confess. And when they see dad hating sin, then it's not just, I'm taking a parenting principle and I'm applying it to these kids who need to know. You know it's like, oh no no no, I'm gonna let this do some work in me and that's more powerful than anything I think with our kids, is when they see us under conviction and really working through those sayings. And so, it's an opportunity in the midst of that conversation to move forward as a family and to be in these different areas. And that's our hope, is that, you know, even if you take more than the twelve weeks. If you stretch it out over a whole year, you just get ample readings in a week, that's fine. There's no formula to it that the important thing certainly is that when you sit down and you read those, that there is a just a real deliberateness on the part of parents to not just have their kids read it and check it off. But to ask, as a family, what does this mean. Like how can we work on this thing together as a family. That's the heart that's behind it.
Wendy – When I wanted to have you on as my guests, it was because when I go to the Great Homeschool Conventions, I see everybody walking around that humongous exhibit hall, looking at all the curriculums, and it's got to be you know, a full curriculum, it's gotta check all the boxes. And one of the things that we've always got on our list is, what about Bible? What are we gonna do about Bible? Or are we just reading through the Bible? And when I received this book in the mail and I opened it up, and of course it's as beautiful as every Ruth Chou Simons book ever is, because it has her painting in it. So, I must add that. Like, if you just love beautiful books, this is the book for you. But when I opened it up and I launched into it with my family. Actually, we read the whole introduction on a car ride together. And then we've been doing the lessons at the breakfast or dinner table, one it just happens that we're all together. And what I realized is, that this isn't just a Bible study. Though it is. This isn't just a Bible curriculum, but it could be. What it is, is it teaches us how to open up the Word as a family so that whatever curriculum you might want to do, be drawn to, any way of reading the Bible that you want to do, as a family, you've laid a foundation for how applicable it is and how good it is to talk and meditate on these things together. And so that has been my biggest take away is, I know that they're called foundations, these twelve Biblical truths, but the actual going through the foundations, I think is foundation in and of itself. In how to read and be in the Word together.
Troy – And that is so encouraging, because that is the… that's the understory, if you will. You know, when we're just, when we think about discipling our children, there's a lot that they need to know, and we hopefully send them off, and to get married and have their own families with the very robust understanding of God's Word. And there's a time to be systematic about that. There's a time to be kind of catechistic about that. And make sure that you walk through those big things of the Scripture and that they know the books of the Bible and they know the flow of the history. And can trace that plan of salvation from Genesis all the way to Revelation. There's a lot of work to do in that. But I think sometimes one of the misunderstood tools that we have is just the regular exposure to Bible as a family. So, you read through this and you're certainly gonna come away with better knowledge of Scripture, but hopefully what you come away with as well is a better pattern of daily reading and asking questions and considering, well, what does this really mean? And it being something that, this is just what we do, that's not like, oh boy, we're picking up the Bible now. But that it's like, oh no, that's just something that we always do. You don't wanna make Bible reading a resolution from the standpoint of like, oh now, I'm gonna try to duh duh duh, I'm gonna make sure that every day… Let's say, how can you not just like be in the Word every day? That's a better, I think, paradigm to have because then it's just a default expectation. And it strikes us as strange when we're not enjoying what God has written to us.
Wendy – Oh, thank you so much. Well, what would you say to the mom or dad or grandma or grandpa that feels it's too late? The kids are too old, and like, this almost feels like shame and sorrow? I've missed the boat. I missed the opportunity. Makes me wanna weep for them because I know that could be a very very shameful feeling. What would you say to them?
Troy – Oh, that's, honestly that's something that I've wrestled with, you know? I look at my boys and I just feel like, ah, you should be farther along. I realize areas where I'm failing and… you know, God's grace is truly marvelous. And His callings are His enablings, I quote that little phrase all the time, I believe it was Spurgeon who said it, that if God's called us to do something, He'll enable. And He doesn't expect us to do it perfectly. And that is even, you know when there is a loss of time, one of the great phrases from crucial things, it's from Ecclesiastes, God talks about giving us back the years that the locusts ate. And there are periods in my life that I look back and like, gosh, I wasted so much time watching tv or letting that sin you know, just have a foothold in my life and I feel like I'm just so behind now. God doesn't want us to go off in a corner and try and get all things straight and then come back and say, okay, now I'm gonna give you what I've put together here. He says no, look at what I did, you know. Christ, what He accomplished on the cross was everything. And even wasted time, even lost time, I think that's redeemed in His grace and, you know that picture in Revelation where he wipes away every tear. No doubt, like, we realize how much we've squandered of opportunities and that sort of thing. And yet how great the overcoming of all things sinful and wrong, that God has done when He finishes out the story. He'll be able to wipe away all those tears. I would just say don't let the enemy beat you down. Say today. Today is a different day. And by God's grace and faith, I'm gonna move forward. And you know, your kids may not see it right away. They're gonna be like, what in the world has gotten into mom and dad or grandpa, or whatever. And it may take a little while, and you know what, they may not ?? But as they see you come around, as they see the effect, it'll be undeniable. They got something where at that point, you just trust the Lord. You say, Lord, I'm gonna give you everything that I've got by your strength working within me, and I'll trust the results to You. And you may not see em right away. That's the hard thing is, there's no guarantee that our kids are gonna turn around just because we do.
Wendy – Yes. Well, what powerful witness as they witness us in this book with them and these conversations with them in the Word with them, as they witness us take these lessons to heart for ourselves. And we begin to change in how we love and how we talk and how we confess, rather than accuse. I keep coming back to that thing, 'cause that was my biggest take away so far. What a witness that is.
Ruth – Can I just jump in and say real quick that I think many have heard me because I've written about this that the more we behold Christ, the more we behold the greatness of God, the more everything falls into perspective. And I have to do it every day. Every single day I have to go, what am I beholding? What am I paying most attention to? And I think for those of us who get really burdened when we're like, I'm already two hundred days behind my Bible reading plan. Or like, oh no, I've missed it and I've missed the mark and oh my goodness, we're so far… you know. Behind as a family. That is focusing on us, that's causing… that's us turning our eyes to how we can be the redeemer or the hero of the story. The one who causes change. But when we stop and go, okay, this is all about Jesus. Even my failures point to His redemptive story, even my shortcomings magnify the fact that it is by grace alone that I have anything to offer at all to my children. Then at that point, we realize, there is no room for condemnation. There's no room for us to like, hang our heads and keep… not that we don't weep or grieve over sin. We absolutely do that. But then instantaneously we turn our eyes to the cross and say, by the grace of God, I don't get stuck here. I am stuck here. And by the grace of God, I can do exactly what Troy said. Start today. Start somewhere. Start with all my imperfection. Start with my… you know, some parents are gonna be like, I don't know the first thing about my Bible, and how can I lead my kids to understand something that I'm totally lost on myself? We start there and confess that and say Lord, give me a desire for Your Word. Help my family have a desire… help me… help us learn together. And do you see how suddenly, that takes your gaze off of what you have to offer to how God provides. And I think that changes everything when we take our eyes off of what we have to offer and how well we do something to the fact that the Gospel is all about God providing what we could not do on our own.
Wendy – So true. Man, that is so good. And goodness, I wish that I could say at the very beginning of this podcast, listen to the end! I'll probably put that in the show notes… listen to the end! It really is all about not just His enabling but just the beauty of who He is and the way He responds with grace over everything and oh that we would receive it ourselves. That we would model it and that our children would come to receive it. And that we would extend it, that grace would be over all in all. In all these words, in all these concepts, are only learned and picked up when we get to know the Person of Christ. In the presence of Christ. In His Word.
And we can do that together without being all knowledgeable. But just humbly opening it together, finding those moments before bedtime when we call all the siblings into one room. When we just kind of congregate naturally. That's one of the things you guys say in the introduction. It does not need to be, this is when we do it. This is how we do it. And it's another thing that needs to look a certain way for our curriculum. This is life together in the presence of God and in His Word. Letting His presence and His Word shape us each one of us, but also, shape our family together. I love it.
One of my favorite quotes was, our earthly lives are preparing us for what we do for all eternity. Oh, I want my kids to be ready. This… you guys, this is like a dress rehearsal for the show, right? For the main show. It's gonna stretch on into forever. If you go on to say, if Heaven will be unending fellowship with the Lord, why would we ignore Him in our daily lives now? If Heaven is filled with forever praise and adoration of God, why would we not worship Him now? If Heaven will replace our temporary pain with lasting joy, why would we try to find earthly substitutes now? I so appreciate that from you guys. And all of this. You've been an encouragement to me, the book is an encouragement. Not just to me but to my family, and I'm trusting it's gonna set my sons up to parent their children well. And my grandchildren, that's really a cool thought too. So, I was wondering, as we prepare to say goodbye, would you let me quickly read through these resolutions and then lead us out with a prayer over use that we would teach them to our children, learn them ourselves, and then walk in them as a family? So here they go.
Love God above all else and with all you've got.
Hate sin, especially your own.
Hide the Word in your heart to live by it.
Set your mind where Christ is and on all that is good and true.
Be an encourager and build each other up.
Give generously in word, action, and supply. There is nothing to lose.
(I love that, there is nothing to lose.)
Walk wisely, that Christ might be visible.
Cultivate praise, prayer and thanksgiving.
Bear with one another, forgive as God has forgiven you.
Think of others as God does, image-bearing souls.
Keep your hope in Heaven and hold lightly to the things of earth.
And the final of the twelve is, Strive in grace.
And all of these are founded in Scriptures and you'll open the Word and find them together.
Thank you, guys, for laying the foundation for us, for finding the foundation that Christ has laid in teaching us that we can bring that as the foundational truth for our families. Would you leave us with a couple parting words and then pray us out?
Troy – I'll just say thank you so much for the opportunity to talk about these things and it's exciting to see the resources just about to go out. You know it's been a project that's been going for a long time. But I'll just say, from Ruth and me, who are daily in the trenches with our six, and working with friends who are as well, it's a hard work. But it's a great work. And raising our families and we really do hope that this will be a resource that will encourage you personally and that will just, you know, really help point your kids to the Scripture. We hope that you'll learn the art of conversation through these sixty conversations that we put out that will continue on. That you'll be able to ?? and maybe even finally just kind of go back to them and continue to flush them out because I don't think in my entire Christian life, I've ever gotten away from any one of these. They are always in front of me, needing more work, more understanding. And so, we hope that this will be the beginning of a great journey for our readers.
Wendy – Yes. I believe it will. I really think that there's power in not just opening the Word together, but I think that you're leading us through how to do that in a meaningful way that will go well beyond these twelve weeks.
Ruth – Go ahead and pray for us, babe.
Troy – Lord, You've heard our conversation. You've heard the things that we've been able to share. And Lord, we've really nothing to share but what You have given us, Lord. Your Word is true, and it is powerful, it is mighty to affect change. I thank you that I can see that in my life and the life of my family, and as these have heard, you know, listeners have heard the conversation that we've had, I pray that You would speak to them about the work that You want to do in their hearts. And I pray that… for the people who get ahold of this book and read it Lord, that it would just taken them into a deeper love for You and a better understanding of Your Word. I pray that you would strengthen families, as those truths go deep into the family practice, Lord, as they just kind of work them out together. And it's just a humble offering, Lord, I don't feel up to the task. I know Ruth and I go back and forth, Lord, just saying wow, how is it that we, so imperfect in our own parenting and our own walk of faith, could have the opportunity to do this. But Lord it's Your Work in You people that is what accomplishes great things. So use this, Lord, and I thank you for Wendy and the opportunity to speak with her today. And I pray that this broadcast would be a blessing to all who get to hear it. And may You be honored and glorified in all that we do. In the Name of Christ we pray. Amen.
Wendy – Amen. Thank you, Ruth. Thank you, Troy. Really, it was a gift to me personally, on my favorite podcast, always are really a gift to me first. And I pray that that means that it will be to those who listen in. If you would like to connect with the Simons, you can find them on Instagram. Ruth's handle is ruthchousimons and there is a direct link in the show notes. But that's Ruth. And then Jo is spelled "Chou" followed by simons. One long word. And there's troydsimons as well. He is another fun one to follow. I won't add it here, but I have to admit that I even followed your oldest son. Well, I don't… my oldest son follows their oldest son. Because they all speak such life-giving words. And I'm really glad to have them in my life and introduce them with you today. If you want to find Ruth online, GraceLaced.com is where you'll find her. And there is a link that will take you to her shop. You will find their books there, of course, all the books are also at Barnes and Noble and on Amazon. But if you link over to the shop, you'll see all of her incredible artwork. You'll be able to find this print that we have references that lists the foundations, and we will put in the show notes a picture of it and an opportunity for you to link over if you'd like to hang that on your wall as a constant reminder. I know that I'll be doing that. So, thank you very much Simons. We're so blessed to know you and let you lead us as we lead our kids. Really such a blessing. Have a wonderful day, everybody.
Ruth – You too. Hats to you Wendy, thank so much.
What a privilege it is to have these conversations with you each week. You are so busy, and I don't take it lightly that you tune in with me here for a weekly shot of encouragement. As a reminder, you can subscribe to the Homeschool Solutions podcast in Apple or Google Play. And your positive reviews always help other homeschool families find us online. Before we say goodbye, I'd like to thank Sonlight Curriculum one more time. Not only do they support homeschool families, they are also big supporters of the Homeschool Solutions podcast.
Another support is the Great Homeschool Conventions. I don't know if you've ever been to one, but I heartily endorse that you find one near you. Every year they host multiple conventions in various regions throughout the US. Find a location at greathomeschoolconventions.com. With dozens of incredible speakers, hundreds of curriculum exhibits, you will leave blessed, refreshed, helped and encouraged. I will be in Texas, South Carolina, Ohio, and of course, my home state, California this year. I hope to see some of you there. Until next week, visit homeschooling.mom for blog posts to encourage and support you along the way. And remember, Galatians six verse nine, let us not grow weary of doing good, for in due season we will reap if we do not give up. That's a promise that I take to the bank every day and I hope you do too. This is Wendy Speake and I look forward to chatting with you again next week.
Thanks to our sponsors: