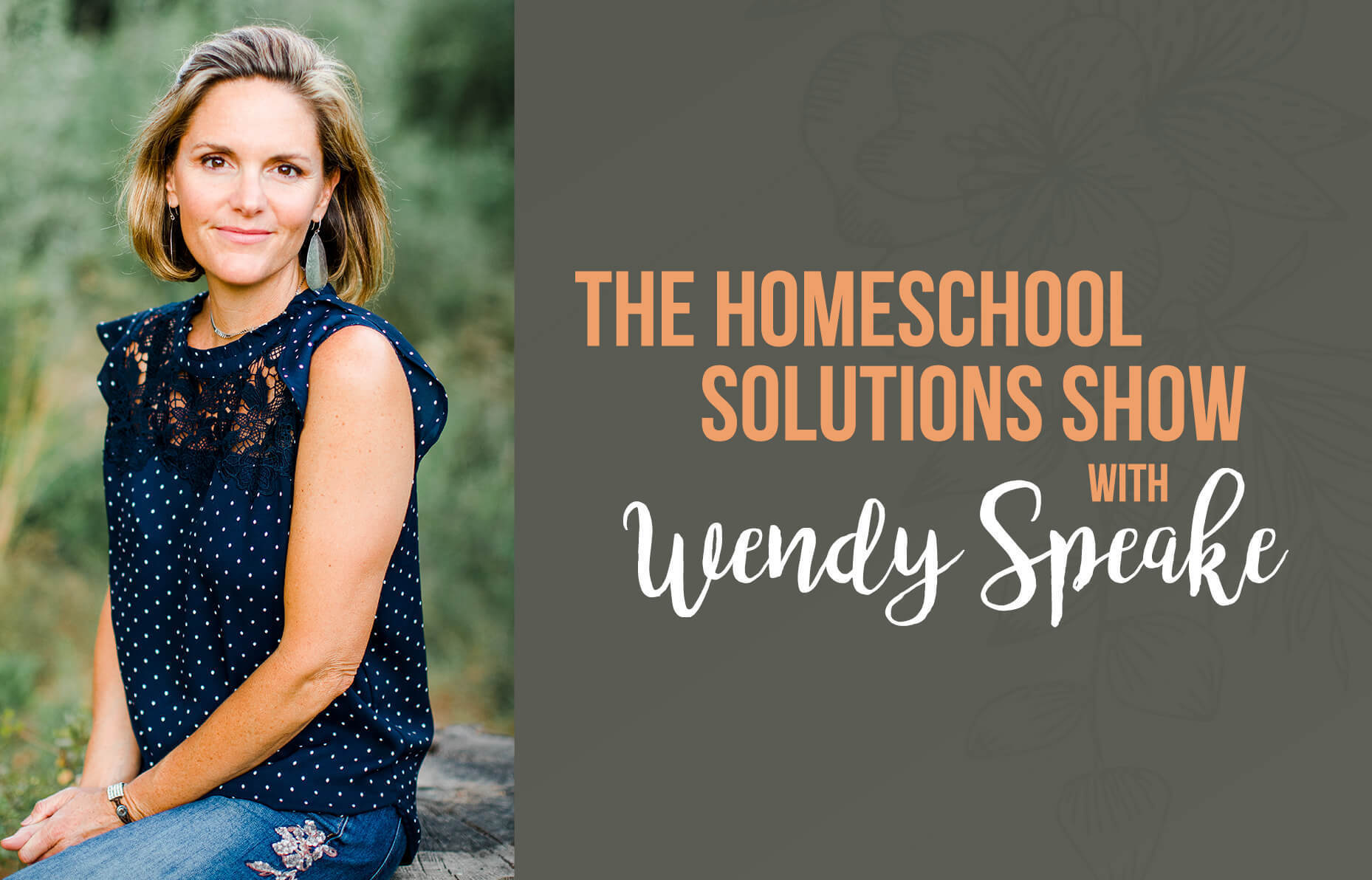 HS 215: [Audioblog] SAT v. ACT Jean Burke
Show Transcript:
HS EP Jean Burke SAT vs. ACT


Wendy -
Oh hey there, welcome to the Homeschool Solutions podcast. I'm your host, Wendy Speake. Here on the podcast, we start each week with a longer, more traditional podcast, most often with guests, but sometimes, we simply open the Word together and apply directly to our homeschooling days.
On Thursdays, however, we share shorter episodes that I like to call blogcasts, where one of our favorite homeschool bloggers simply encourages us with the content of one of their recent blog posts. I hope this message serves you and your family today. As always, I'd like to thank our sponsor, Sonlight Curriculum. The wonderful people at Sonlight Curriculum offer complete homeschool curriculum that you are guaranteed to love.
And now, let me introduce you to one of my friends.
Jean -
Hello, I am Jean Burke. I'm a CEO of College Prep Genius and I am excited to tell you that I will be a featured speaker at all seven Great Homeschool Conventions this year. So, if you attend one of them, drop by my booth, come to one of my speeches, let me know that you heard me on this podcast. I'd love to meet you.
I'm real excited about this article today because I really feel like there's so much misinformation out there when it comes to tests like SATs and ACTs. People often tell you which one to take or which college takes which one. It can be very confusing and it could actually cost you a lot of money if you don't know, you know, right from wrong. So I'm going to dispel some myths today and hopefully encourage you in this information so that you'll be able to make your own decisions.
So SAT vs. ACT, the Real Truth
Which one would you or should you take? The SAT or ACT? Well, 20 years ago, making the choice was easy as pie. Back then, it all boiled down to where you wanted to go to college. Except for the ACT, for colleges in the North and the Midwest, and the SAT for the rest of them. Colleges, for example in the South and both the East and the West coast.
Nowadays, basically every university in the USA accepts both SAT and ACT. A hundred percent of them. Even if a school prefers one over the other, admissions officers will convert the scores interchangeably. We need these standardized tests so that we can compare the abilities of students across the country fairly. For example, a 4.0 GPA at one school could mean something entirely different to a 4.0 earned at another. How else can we make up for obvious differences between student knowledge, teaching aptitude, degree of difficulty, across different curriculums, and just plain old marking bias?
And that's where standardized tests like the SAT and ACT come in. As they help compensate for these differences by leveling the playing field. Interestingly, a student's score also helps predict what kind of academic success they'll have in their first year of college.
The creators of both the SAT and ACT are guided by very similar philosophies. Their aim is to design an instrument to assess a student's critical thinking and problem-solving skills. And the similarities go much deeper.
In both tests, students will find questions that are objective and have only one correct answer. Sections dedicated to math, vocabulary, and reading comprehension assess the learner's innate abilities. Tricky and confusing phrases are purposely used to determine skill level. This also has the effect of checking how a student performs under pressure and their ability to identify exactly what is being asked of them. It isn't necessarily measuring comprehension on a specific subject, but of course, does cover basic high school material by default.
What the examiners are more interested in is how well a student can critically think through a problem considering their given a roughly one minute per question, and then move on.
Whether the SAT has been redesigned, the format is very similar to the ACT. When the new president of a college board was appointed, he hired ACT writers to create the redesigned SAT. The resemblance between the instruments is good news to any college hopeful. Both have four long sections, require a student to understand basic test-taking techniques, and need to answer the questions pretty quickly.
The best score a student can receive on the SAT is 1600 and 36 on the ACT. Here's an example of some of the similarities and minor differences between the two tests. In the reading section they both test about passages and questions that relate to the passage, but the ACT has five answer choices, and the SAT has only four. The writing and language and or English section pretty much test that grammar and style and reading analysis. The math on both tests pretty much tests the same thing, except there no ??? on the ACT.
Now, there's no science section on the SAT, only the ACT. Good news, you don't even have to know one iota of scientific knowledge to ace the ACT science section. It's pretty much like the reading section in disguise on the SAT. The essays both require a response. SAT requires an analytical response and the ACT requires a persuasive response.
The scores are not averaged on the SAT, and they are averaged on the ACT. Both are offered seven times a year. And you can take the SAT unlimited amounts of time, and the ACT only 12 times. Of course, they both have their respective websites that you can go check out more information.
So what is crystal clear that learning critical thinking skills will benefit students where they sit for either or both tests. And there are plenty of other standardized test exams around that skills can be completely transferred to. These include the popular PSAT, which, when taken in a student's junior year could yield incredible scholarships like full tuition, room and board, graduate money, study abroad stipends and more. The list of other exams that can be benefit from test-taking skills can be AP tests, subject tests, GRE, CLEP, LSAT, ISCE and so on.
So, when you boil it down, the SAT and ACT largely examine the same aspects of a student's capabilities. In similar ways, you'll gain similar results that can be converted to suit the institution where your student is applying for. The question I find people are asking is if they're so similar, is there a benefit in taking both tests. The answer is yes. Despite the similarities, it does seem prudent to consider just doing that. While the tests both fulfill the same role, in scholarships and college entrance, some colleges will give you more money based on their preference for using the results of one test over the other.
Nowadays, many students are considering taking both the tests so they can stack the cards in their favor, showcase their abilities, and receive more money.
So, the great thing about it is, you can take one or both. It doesn't matter. I've noticed that sometimes there are colleges, if you'll just, you know, get one more point on your ACT, we'll give you another ten or twenty thousand dollars. Or another hundred points on the SAT. So, I just really encourage you to go to both their websites, collegeboard.org, or ACT.org, download a free test, have your students, you know, take both tests on different days, and see which ones they are more comfortable with. They're pretty much 99% the same test to begin with. We have students who've done our program who've scored in National Merit range and got as high as a 34 or 35 on their ACT by just using the same program.
So, if you wanna know more about how to ace these types of tests, go to my website, collegeprepgenius.com.
Wendy -
I hope that today's blogcast equipped and encouraged you. Remember that next week, I'll be back with another great conversation right here on the Homeschool Solutions podcast. My name is Wendy Speake, I'm your host, and I am so glad that you've tuned in today.
But before we sign off, I'd like to invite you to subscribe right now to the Homeschool Solutions podcast through Apple or Google Play. And speaking on invitations, won't you join me at one of the Great Homeschool Conventions this year? These conventions are my favorite, offering dozens of wonderful speakers and hundreds of inspiring exhibitors. Go to greathomeschoolconventions.com and find one near you in 2020.
This year, I will be at the Ohio, Texas, South Carolina, and California conventions. Make sure to stop by and say hey if you'll be at one of those events. But in the meantime, we've got this podcast and homeschooling.mom as other great resources to support you as you educate your kids in math and science and literature, yes. But also, as you train them in Godliness and love.
Until next time, this is Wendy Speake. I hope that you and your family have a wonderful day.
Thanks to our sponsors: