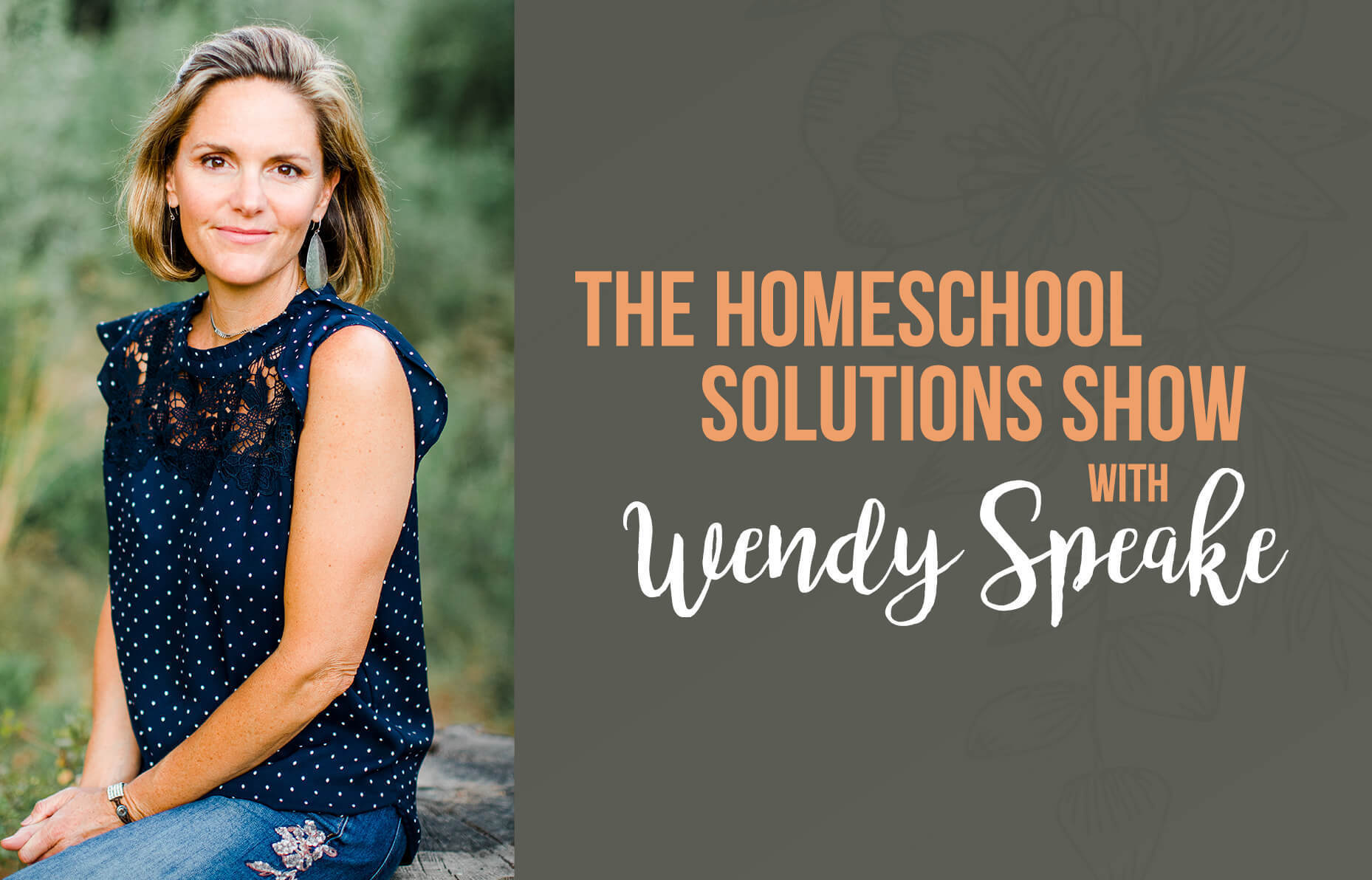 HS #224 — Jessica Smartt — The Memory Making (Homeschool) Mom
Links and Resources:
Show Notes:
DESCRIPTION:
We're talking today about making memories as a homeschool family. Jessica Smartt is sharing plenty of "easy-button" memory making ideas your family may love. We're talking about how (and why) to make memories when you feel totally overwhelmed and exhausted as a mom.
TODAY'S GUEST:
Jessica Smartt is a former English teacher turned homeschooling mom of three. A week after her first baby was born, she began her motherhood blog "Smartter" Each Day. Jessica and her husband live in sunny North Carolina, where she loves hikes with the kids (mostly), steaming coffee in the afternoon, family bike rides, and anything that's ever been done to a baked potato. In March Jessica released her first book, Memory-Making Mom: Building Traditions That Breathe Life Into Your Home.
RESOURCES:
Memory-Making Mom by Jessica Smartt
Mere Motherhood by
QUOTES:
"People don't care how much you know until they know how much you care." (Theodore Roosevelt)
"The music you listen to… and the phrases that you say are memory-makers too." (Jessica Smartt)
You can't do everything, but you can do something. (Wendy Speake)
Jessica Smartt on motherhood and homeschooling: "I'd be lying if I said that the whole thing was a glorious nap."
CONNECT WITH JESSICA:
Website: http://smarttereachday.com/
IG: https://www.instagram.com/jessica.smartt/
Facebook: https://www.facebook.com/SmarterEachDay/
Show Transcript:
HS EP Jessica Smartt

Wendy -
Welcome to the Homeschool Solutions podcast, brought to you by Sonlight Curriculum, and homeschooling.mom. I'm your host, Wendy Speake. Here on the show every week, you'll get to listen in on some great conversations with wonderful guests, all designed to equip us as homeschooling moms. And then once a month, we'll be opening up the Bible together, applying God's Word to our long, blessed, but often challenging days.
It is my hope that as we gather together in this space, we will encourage one another with some practical, Biblical solutions. I'm so glad you're here. Before we start the show, I'd like to thank our sponsor, Sonlight Curriculum. Complete homeschool curriculum you're guaranteed to love.
And now, enjoy the show.
What fun this is gonna be today, because today we are going to talk about something that you're already doing. But we're going to talk about doing it with a little more intentionality. We're talking today about making memories in our homes and in our homeschools with our kids, as a family.
We're talking about being memory making moms. And today's guest is a personal friend of mine who wrote a book by that title. Memory Making Mom. Jessica Smart didn't just write the book, she's living the message out every day, right where she is, as she homeschools her kids. So, let's welcome to the Homeschool Solutions Show, Jessica Smart. Welcome, Jessica.
Jessica -
Thank you. I'm so glad to be here. It's just an honor to talk to you, Wendy, I think so highly of you and of this show and I'm just so excited for our discussion.
Wendy -
Yeah, it's gonna be fun. Well, my favorite way to start the conversation is always to ask the guest to tell us a little bit about themselves. So, tell us about your family, and speaking of your family, I know that you had to pull away from kids to be a part of this. And I had to do the same. And listeners are pulling away for just a moment or doing it in the midst, listening to it. So, just tell us, what's going on in your life? Who are the people and we'll start there?
Jessica -
Yeah. Well, I did pull away, but you know, something unique about our family... So, my husband Todd, and I have been married for ten years and then we have... no, not ten years. Thirteen years. And we have a ten, eight, boys, and then a five-year-old girl. And we live in the same neighborhood as my brother's... my brother and my two sisters. And it's really really special. My two sisters homeschool and so you know the kids... I feel like they have this, a little bit of a picturesque life, because they can run outside in the front yard to their cousins and you know, there's always, you know, baseball games going on in the front yard and bikes and all that.
So, they just headed down a little bit to my sisters.
Wendy -
Oh, that's incredible. Wait, how many cousins are there? So, you have three kids. How many cousins are there?
Jessica -
So, there's a total of 13.
Wendy -
Right there in your neighborhood?
J -
Yes. Isn't that just precious? And nine of those are boys. And they're all ten and under.
W -
Incredible. That's phenomenal.
J -
I know.
W -
And I ... not the only one who's struggling a little bit with jealousy, because it can be a little bit of a, you know, a lonely road. Even if you got a great family dynamic going within your house, to not have that. And yet here you are.
J -
It's special. But it's difficult as well, because anytime you're close with anyone, there's, you know, all sorts issues and discussions and things to work through. And we get along well, but there have been so many times, you know, we'll post something on Instagram, and I'll think in my head, if people just kinda knew the behind the scenes of this...
W -
I know. Well, we won't dig into that. That's private. We won't... you know, I think there's a saying that says we put the fun in dysfunction. So, everybody's got a little bit of something going on. But how special that you get to have it going on in close proximity and your kids get to grow up with cousins. And not just cousins but families that are... your family that's also homeschooling.
So, my next question was going to be, tell us a little bit about how you made this choice to homeschool. It's one of my favorite questions because I find that it inspires me to keep doing it myself. Because I have reasons too. There are great reasons, I just love this conversation, so tell us, how you made this choice.
J -
Yes, it's so good to think about, 'cause we just lose sight of it. But when I was pregnant with my oldest, I had been a teacher at a Christian school, and I loved it. I really loved it. But I guess I just sort of saw some things that were less than ideal. And I did middle school English, and had... I always just had a slew of very energetic boys. And I just kind of chronically was thinking, school is so hard for boys this age. It's so hard, you know? And they were good kids, but by the end of the day, they're literally bouncing off the walls. I mean I would have them doing pushups and sit-ups and you know, jumping jacks, just trying to get out their energy.
And so, that was the first little nudge of... and homeschooling was not nearly as popular...that was, you know, fifteen years ago...as it is today. So, I felt a little bit odd thinking through it. But somewhere along the line, I ended up with a little copy of Lee Borden's, who started Classical Conversations, someone handed me her little... it's not the core... I can't remember what the name of the book is. I'll send it to you, and you can link it, but it's her story of why they began homeschooling. And she spoke about all the adventures they were able to have. And that they had this creek in the back and the kids would traipse up with tadpoles, and you know, just... I mean, I don't even remember if there were tadpoles in it.
But it was that sort of a winsome picture of life that you could do. And so, I read this book. I'm like, six months pregnant. And I turned to my husband and I said, we are going to homeschool. And he's like, you know, takes everything in stride more than I do. And he's like, well, can we just, you know, maybe just have a kid first and then maybe kind of talk about this? Which I'm like, why would we need to do that? We can just go ahead and discuss right now.
W -
I've caught the vision! Come on! Let's go!
J -
Right. Yes. So, he remained a little doubtful. And then... but he is now my biggest cheerleader and you know, the principle. Although we joke that he's not always involved in the day to day... what we really joke about is, I'll say, hey Todd... and I know there's so many varying dynamics of this... but I'll say, hey Todd, what homeschool, what math curriculum are we doing? And it's like this, you know, funny, delay of him trying to remember what the name of the curriculum is.
But the true story is, he's very, he's a big cheerleader, and always there to step in and you know, kind of a moral support of it. And more of the, like, reading the stories and kind of giving the background. But anyway, that's jumping ahead. So...
W -
You know what I love? Is that term you just used. You said he's the moral support. And I think if there was gonna be one piece of curriculum that my husband influenced the most, it would be the character building in our sons. Not everyone listening is all boys. You have boys and you have girls, but I love that. The moral support for the family. What if the dad's really saw, hey I might not know what the math curriculum is. And I might not know this, and I might not know that, and what are you reading right now? Oh, yeah, that's right. You had told me about that.
J -
Yes. And I...
W -
We get the moral support. The mom, yes, the mom needs, but also the family needs, as head of the house, in that really character-building way. That would be just wonderful.
J -
Absolutely. And I think I have felt insecure at the beginning. But you know, you see the families where like, the dad works from home one day and teaches half the stuff. And I guess I kind of was like, well maybe that would be nice. But now I realize what you said, that this is, for our family, you know it all looks different.
But for ours, this is a tremendous gift. How he invests in our kids. And I do it differently. And so, together, it's... it works. But anyway. I still haven't completely answered your question I guess, but I did feel odd kind of choosing homeschool. I didn't have a lot of friends who did it. There wasn't like a, oh, here's a good co-op... I felt like I was a pioneer a little bit. But I just began a little bit on a hunch of like, let's try this for a year. And honestly, it remains open handed. Every year, although I love it, we say, is this still right, God? You know, and a little bit of just being prayerful about our specific situation.
W-
Yes, absolutely.
J -
But so far, it, you know, it's been the biggest blessing. Very hard, but a wonderful blessing. And I remember posting, I shared with my friends, you know, you felt... at the... when your first kid's in kindergarten, everybody's, you know, rolling in charter schools and being so, you know, it feels so weighty to decide. And I remember a post seemed a lit bit embarrassed that we were homeschooling. And I had an older mom call me out and sort of said, this is a wonderful decision and you don't need to feel weird. And it really impacted me.
So, there's the very long answer.
W -
That's a great answer. I'm thinking here, you're busy. You're really busy. But there is something you had mentioned sharing online. I mean this was year's ago. That you were going to be homeschooling when everybody else was having this conversation. But I'd love our listeners to know that you're very intentional about doing some things online. You really are an active encourager of women, of families, of homeschool families. But of families in just the broad sense.
So, tell us a little bit about what you do online. How you encourage people. You have a website. You write blog posts. And then that, of course, became an opportunity to write a book. So, tell us a little bit about what you do. What your main messages are. And then, how that rolled into the Memory Making Mom. And then, from there, we'll start talking about making memories as a family.
J -
Yeah. Well, you know, when I started blogging, which is probably what a lot of us did, it was like my mother in law reading, primarily. And you know, writing about, I think I was prompted to begin blogging, quite honestly, because I was so anxious and had all this mental angst of, you know, not having a "real job" and no one to talk to. And so, I began to blog a lot about anxiety. And I've always had a kind of good readership around that topic of managing it on a lot of different levels.
But then, also speaking to women who are beginning homeschooling, or just want to be more intentional in their homes. And so, I feel like I've touched a lot of different bases through blogging. But I was introduced to our... my agent, Bill. And around the same time, my oldest son suffered a really serious allergic reaction that required a three-day hospital stay and was just terrifying, and the kind of thing that you would never want to relive. But it was around the same time that I had kind of began chatting with Bill. And kind of... I've always wanted to write a book and you know, longest for a product, I guess, that was a little bit more than the blog or what I would share on Instagram.
So around the same time, he has this allergic, it was kind of just like everything combining in my inward and outward life, to kind of realize that I wanted more intention in our home. And second peace, that memory making, and traditions was that missing piece. So, I have not always been this, you know, memory making mom. I think I was really behind and felt insecure seeing, you know, I talk about my sister in my book, who just always very intentional. And I wasn't. But I realized that's the key. That's the key to so much of it, is being intentional in creating these traditions that our kids are going to carry on. That are gonna anchor them to what matters and help them to fly out into the world.
And so, the book came together, and its proposal form, and then launched last year, Memory Making Mom. And I'm so proud of it, I'm so proud of how it's impacted my life. I always said, like, if nothing else, it certainly changed my life.
W -
Absolutely. I know that message, you know, we have to live the message before we get to share it. And we really hone that message that we might already be living. But we have to hone it even more before we put it out there as a book. I hear that.
So, tell us about this journey to become more intentional in our family lives. I mean, we're already with them all day long. I know you hear from people, uh, I do not need something else that I've got to "do" and that's why, in the introduction, I said, you're already doing it. Like, you're already having meals together. You're already watching a movie on the couch together. You're already playing a board game together. Like, you are doing some things.
So, what makes it really a memory making opportunity. Like, how do we go from just living life together to doing it with more intentionality. Like, what is that, what is that switch?
J -
MmHmm. Yeah, you're right, we are doing it. And I think as homeschooling moms, we specialize in that. Like, we chose to have our kids home with us against all absurdities, sometimes, you know, that's a choice we've made because we want to make those memories. We wanna be with them. And so, you're right, part of it is giving yourself a pat on the back. But I think I've also realized that I've majored in the minors a lot. And so, just reframing to what really is important. And this past year, I read Mere Motherhood several times, by Cindy ???, and I think this was helpful in recementing kind of what i had been trying to say. Which is that we feel like it's so important to get everyone to their spots on time, with all their water bottles and their shoes tied, and finish this worksheet, and blah blah blah.
But, you know, what is most important is that time that we spend together, creating a family culture. And so, if it really is the most important, then how do we re-center our lives to make it the most important? And so, I don't know, I mean, I think a good first step is to ask your kids what they love about your family. Like, what are your fav... what do we do? What makes us, you know, the smarts is what we would say. You know, what do we do that's awesome? And you might be surprised by the things that your kids love.
And then I think there's always room to kind of add some more traditions. And you know, as I was thinking about our conversation, I think I realized that what I'm really trying to say is, there's kind of like, easy, easy button traditions that have a really high return for moms, that it's almost like no brainer to implement some of these if you want. And I have some ideas...
W -
Right. Like what are those?
J -
I mean, I have a really long list. I remember getting this idea when I was going through a season of extreme fatigue. No good reason other than probably it was self-induced stress of an overwhelm in my life. I just remember thinking, like, if I could come up with a tradition that was life giving to both me and my kids, that would be like, the golden ticket.
And so, I started kind of just brainstorming. Like, what do my kids love that's also life giving to me? And I just think that it's really totally gonna vary person to person. For me, I love riding my bike. And going for walks. And there are certain stages in motherhood when that is just not gonna be life giving. You know, training wheels comes to mind. But, you know, while sitting at a park, you reading the book and them playing in a stream. You know that, I'm leaving fed, and they have been fed.
And so, kinda just thinking some more... also, here's a food one that accomplishes the same thing. Unrelated. And we've done this for years and years. We call it Fry-day. Like, F-R-Y, because the kids get to have, well, it started out as fries and chicken. And I mean, like, I'm at home battering chicken tenders. It's a bag of frozen chicken tenders. Cause we have our co-op that day and I am just done with the world.
So, they would get fries and chicken. And then my husband and I get Mexican take out from this little place down the street. And so, they eat their dinner early, and then I... am I allowed to say that we let them watch a show? I have a good list online. You know, it's something that, you know, is not just putting on anything. But... so they hang out and we have a little date. And it's a special thing for them to look forward to. And it is incredibly life giving to my husband and I. And you could do a cheaper version of like... even if you and your husband got a frozen pizza and a bagged salad and you know, a drink of choice. Like, but there's no kids. How life giving that is.
So, it's... and that's not necessarily together, but still special.
W -
Yeah, so we're already going to be eating on Friday night.
J -
Exactly.
W -
Like, we're already doing... I would even say, a lot of families, on Friday nights, watch a show together as a family.
J -
There ya go.
W -
And really just slapping a label on it so that it says this is the thing we do that's going on Friday nights. Just like, on Saturday mornings, it can be pancake breakfast and doing yard work together. Like, we might always do it, but doing it in such a way that we say, this is part of what we do as a family.
J -
Yep. It's our thing.
W -
I love, you said, "Fry-day" with basically fries and chicken. I've another friend who does Friday Friend Day. So that is the day where they have, you know, and they shut their work week, and they always have someone coming over on Friday nights. That is always their... or they're meeting up at the park, or whatever.
J -
I love that.
W -
And that's become their tradition. It is what their family values. I love that, that you mentioned, you know, what's most important to us as a family... in our family culture. And when you can pinpoint your hobbies, you pinpoint your family interests, and your family values, then you start crafting your life intentionally to include those things.
J -
Yes. And so, you asked, I think, the first part of your answer is to just name it. Give it a name. Make it a thing. And there's something so powerful about kids seeing you enjoy them. Cause, we can be, it can be such drudgery. But to kind of like, hey, we like this. We're together. We like each other. We're like, we have a thing. We matter to each other. Just in the tone of the home, I think, is so powerful.
So, and it doesn't have to be, you know... when I was growing up, and I wrote about this in the book, but we, I had to go to first communion class at our church, and my mom would drive through McDonald's, actual McDonald's, get me, like, second dinner, you know. I don't know. A burger and fries and a coke. I treasured that time, 'cause it was just me and mom. And you know, I just remember the dark van and how it would smell and unwrapping the cheeseburger. And it was just this special thing. And you know, what did that cost? A dollar sixty-nine. Not the healthiest. You wouldn't want to be... it was special cause it was unusual. You know?
W -
Right.
J -
My brother takes his son to doughnut shops. And you know, again, no one's cooking. You... that can be a special thing too. Maybe, you know, you get... somebody was telling me they have Chinese takeout every Christmas Eve. Well, there ya go. You know, no work. Easy button. But that's a special shared thing for them.
So, I don't know. You want me to run through a couple more of these? I thought these were...
W -
I love it. And I love that you just mentioned Chinese food for Christmas Eve. Because it introduces this idea of our holidays are really a big way that we can become intentional. I mean we're already doing our holidays, but what are the things we're specifically doing every year, where the kids are saying, when are we gonna read that book? When are we gonna watch that show? When are we gonna do that service project? We do it every year. Come on, Mom. When are you getting out the resurrection eggs? When are we making the resurrection buns? You know, at Easter time. Are we gonna read that book at Advent again this year? Are we gonna put those same ornaments on the tree? Are we gonna have those same people over for making fudge?
And so, they do, they become these, almost pillars in our year, the holidays do. Where we say it's not just what we value most as a family in terms of playing with friends and having people over for dinner and celebrating birthdays. But it's our family believes in Jesus Christ the Son of God, that He loved us so much that He would born. And so we're staking, you know, we're gonna put the stake in the ground at that place and say, these are the ways we celebrate that. And He didn't just love us so much that He would come to earth, He loved us all the way to laying down His life. And we celebrate His death, His burial, and ultimately, His resurrection. And the forever life that we have. We find our hope in, with Him. And we do that at Easter. And these are some of the ways we traditionally do that.
But we're already doing it, again. But I love it that you said name it. Slap a name on it. What is that thing? And then how can we anticipate it in doing it again.
J -
And I think, was thinking when you were speaking, I remember a quote by Sarah Clarkson. And I think it's in their life giving, is it life giving kitchen? Or table or something? Yeah, and she says, someone asked her, you know, how did she keep her faith, or become a Christian, or something along those lines. And she says, I think it was cinnamon rolls. The cinnamon rolls that we had, you know, and she's... I mean, tongue in cheek a little bit, but describing the culture of their home. And you know that it was a fun and winsome place, is what she's getting at. And so, you just gave, you know, a beautiful articulation of our faith. And I think we're doing that for our kids, hopefully, sharing like, the tenants of our faith.
But if it comes from a home that's, you know, unloving and not warm and not like, a kind of a place that you wanna be, I think that our kids grow up and kind of think, like, I don't know, they're not tied to it as much. And you know, certainly the spirit works and no one's perfect, and our home is not perfect. But what we're doing matters because we're making the home and the family a place that they wanna come back to and that they're tied to. That culture. So, when we share what we believe, it means something. Cause it's like, well these are my people. They love me. They care about me. You know, I'm gonna listen a little bit more.
W -
That is so good, that really really blessed me. I think because I'm a teacher. And I don't just mean a homeschool teacher. I mean, my youngest and I were just reading through first Corinthians 12 and talking about the different spiritual gifts and the different assignments. The parts of the body. And, by the way, that's my tradition with him in the morning. Of all my kids, he's the one, and we do it together. And maybe it's because the youngest and the others have fallen into a pattern of doing their study on their own. But we started in Matthew and now we're in first Corinthians together.
But anyway, we were sitting there, and I was encouraging him to see if he could... we wrote out the list of the different parts of the body. Or the different gifts that Christ doled out. And I said, I can see mine here. Can you see yours? And we were looking through those together. Why did I bring this up? I just ran down... I just fell down at...
J -
You're a teacher.
W -
Yes. Teacher. So that's mine, is that I'm a teacher. But I do think that sometimes, I can teach with my words and in an environment that would not make a child want to learn the lesson. I can, you know?
J -
I think a lot of moms have that gift.
W -
Yes. That gift. Yeah. That's a very non-spiritual gift, when we do it that way, huh?
J -
Yes.
W -
And... I'm not bringing this up to shame us, but to, you know, I love to pray, search me oh God, and know my heart. Try me and know my anxious thoughts. See if there's any offensive way in me. And, but teaching? We can teach in an offensive way if we're not careful. So, I love that you have now, multiple times, come back to this idea here with Sally Clarkson's response, but you have also said this earlier in our conversation. You've used the term "winsome". And that environment that is just a joy to be in, makes the lessons so much more powerful. I've heard it said, they don't care how much you know until they know how much you care.
J -
Exactly. Yep, I was thinking about that as we were talking.
Wendy -
I'd like to take just a moment to thank another one of today's sponsors, Medi-Share. And affordable and Biblical healthcare alternative. Find out more at mychristiancare.org for their ongoing support of homeschooling families just like ours.
And now, back to the show.
J -
So yeah, that's just a little pep talk of why it matters. And I've walked through a little bit more of my... Somebody told me that the dad took the kids out for breakfast on Saturday morning and the mom had the house to herself. And I thought how amazing would that be all around? So, there's an easy one.
Music is a shared one. Just easy. Like playing, you know, around Christmas, we play Andrew Peterson's Christmas album. And, again, I've done nothing. I pressed the button. But it's playing in our home, they hear it, and they're gonna remember, you know, ten years down the road. Music is so powerful. So, whatever the music is, to have it playing, you know, kids are gonna remember that. And it's not a lot of work on our part.
And then I was just thinking about shared hobbies, and I don't know if you have any of these, but things to enjoy together that you genuinely enjoy. And, you know, for our family, like, we all watch Jeopardy together. And that's something that I enjoy, and my kids enjoy. My boys now, as they're getting older, we watch, you know, our football team, the Virginia Tech Hokies. We read Garfield books. We do puzzles. We have a bird feeder in our backyard that brings us a lot of joy. And little things you say, you know, that's tradition too. Phrases that your family says. My dad always said "Brr head bowl" when it was cold. I don't even know what that means. But like, you know, I get just a tender remembering of him when I think of that.
And then, I was thinking about, for homeschool families in particular, and I'm sure you've touched on this, but using Hoopla audible to have reading. We know how important reading is and to share a book together, but, you know, I remember Sam McKenzie saying it feels like cheating, but it's really not cheating, to play books on tape.
And then one other easy food idea that we do, if I have just a bunch of leftovers, my mom did this when we were growing up. She would make restaurant. And she would make menus of all the choices, like, here's your, you know, you have to choose your main dish, choose your vegetable, choose your desert, check off your drink. And so, I'll make menus, you know, from on the printer, make a couple copies. And it's literally like the leftovers in our fridge. Like, I have one serving of spaghetti and you know, half of this and half of that, and they check off their little menus. But they love having restaurant. And you know, I'm cleaning out my friends and didn't have to make dinner and it feels special to them.
And then we use to do the red plate for dinner. I don't know if you do anything like this for if someone does something special, pull out the plate to honor them.
W -
Yes.
J -
You know, half a second. But it's something. So...
W -
Like ??? in the introduction in that, we're doing these things. Like you're already feeding them dinner. I don't know about you other people, but I do the leftover night. Probably about every...it's not every week, but it's right about every ten days, maybe, two weeks. I'm like, what in the world is happened? Like, there's no room for groceries and yet we're out of groceries because we have all these leftovers of single servings. And so, what we do is everyone's in a different part in the house and I just start yelling out, "Who wants the last serving of macaroni and cheese?"
J -
Ah!
W -
"Who wants the last serving of salmon?" "There are a couple servings of teriyaki meatballs"
J -
Well, all those sound better than my ideas, Wendy.
W -
I'm telling you. I'm already doing what you're doing. But could we do something by just calling it restaurant and it becomes, you know, you're putting a name on it, you said. Put a name on it. And I just, I love that. I think that's wonderful. This... I just might be able to hear that we're not asking them to do more. You're already... ladies, you're already doing so much. You are wonderful. And we're so proud of you, if that means anything to you. I really am.
So, if you are overwhelmed and exhausted, and you feel like we're asking you to do more, we're not. We're celebrating what you're already doing. And encouraging you, perhaps, to find a way to do it in such a way that it becomes a fun stake in the ground. You're like, this is what we did as a family. We did Friday afternoons teatime. We were already gonna do our reading at that time, but we made a pot of tea. You know? Or whatever it's going to be. So, Jessica, what would you say... that's my little message for the exhausted overwhelmed mom. What would you say to someone who really does already have a full plate?
J -
Yeah, I mean, you know, it's hard when you're speaking or doing a podcast, cause you wanna throw out a lot of helpful ideas. But it does tend to overwhelm people. And so, I always just like to say, you know, nobody's doing all of this. We're not. But, you know, where I start, is I just, if I start to feel an angsty, guilty, I'm behind feeling, is to say, Lord, I'm feeling behind. And I feel like I may be missing something. Would you open my eyes to see where I could make a change, and would you give me the strength to make that step? And He's so faithful. I think He always answers those prayers, I believe, from the heart of someone who's just saying, I'm weak and I need you and just show me the way.
And so that's where I would start, and then hopefully out of that, you would be able to see ways to incorporate small things. And I definitely think there's seasons of intentionality and seasons of survival. And so, you know, I'm speaking as a mom who... I can send my kids to the backyard and no one will probably die. You know? But I know that in those early stages, it's just, you know, it's hard. And so, if you're in that stage, maybe this is just your "taking in" stage. And you're just gonna do some research. And you're gonna be praying and thinking, you know, when I get to a place of strength, what are some things I'm gonna implement?
And then also ask God to seize each moment, you know, as you have them day to day. And I guess that was kinda my second point of two, in case you're nervous, is just, you know, that when push comes to shove, there's no way around it. It's work. I mean, you know? There's not always an easy... I'd be lying if I said the whole thing was just a glorious nap. It's not, you know? Cause motherhood is hard. But how wonderfully worth it it is, and to be... part of this whole thing is saying no to certain things. And, you know, you and I both have a professional life, and I imagine you struggle as I do, with feeling that overtaking your motherhood life. And so, there are seasons that I've realized, I'm in too deep, and I need to back up and make time for the things that, when I lay my head on my pillow at night, I feel really good about. And so...
W -
Absolutely.
J -
You may be listening, and part of that guilt and angst is, you gotta say no to something. And, you know, it's amazing when we do that, how the Lord's peace floods in. But either, it's hard to do the things that are really really gonna have an impact on our kids. And the thing I kept coming back to was morning time, and having... which, you can call it whatever you want. But you know, just being intentional together about spending time in the Word. And if you have little kids, you may be reading books together, and singing hymns, did I say that? Praying together. You know that time, it's not easy. Like none of my flesh, and nine o'clock in the morning, wants to like, okay, I've gotta go sing Come Thou Fount and no one's gonna be listening. And then you know, I'm the only one singing... it's really gonna be fun.
But I, again, to point back to Mere Motherhood, which I had just read, she says, no one has a lot of time, but you have a lot of little bits of time. Or something like that. It's not the exact, but. So I always just say to myself, this is one of my little bits of time. Am I gonna use it? And so that usually kind of propels me to like get the troops together and sing, even though all of our voices are horrible. And you know, it's... someone's kicking... because it is hard, but it's so wonderful to give the... I know, that they'll hear those hymns later and they'll be familiar, and they'll remember our time. And I know it will pay off. I'm kind of just believing right now, but I really... enough people that I trust, and respect have told me that it will pay off, that I'm hanging with it.
W -
Well, I know it will because I was a child in a home, and you talked about music. My father, sitting at the piano, down the hall, singing those hymns. Blessed Assurance, Jesus is Mine. We'd... yet Come Thou Fount of Every Blessing, I mean, just all... It Is Well with My Soul. All of them I can... I can't hear the song without my skin responding to the feeling of being safe in our home. And I would wake up in the morning with my mom starting her Mr. Coffee. I mean, today we just pop in a Keurig pod and she'd start Mr. Coffee, and she'd start John... well, John Williams and the Boston Pops was one cd back when we used cd's instead of asking Alexa to play our music.
The other one was December, by George Winston. And those were our wakeup cd's. And you'll never believe what I asked Alexa to play in our home. The same exact ones.
So, I think you've given us a lot of very practical ways to do it in our already full lives. And you haven't asked us to big, expensive things. However, I did wanna... before we wrap up, I have had a couple of friends. I think that the book that I read years ago, 'cause I have three boys, was Raising the Modern Day Knight? Raising Modern Day Knights? And he was talking about a rite of passage in our home. I think it was when the boys turned 16, is that they would have a knighting ceremony and they would invite all of the men that had spoken into their sons life to come and speak over him and write something and leave it in a book, and they would actually give him a beautiful sword to hang on the wall in his room. And I remember thinking, wow, what a coming of age.
And I asked my husband, let's brainstorm what's something we would like to do as a coming of age rite of passage for our three sons. And we came up with two things we were gonna do. And the first was, when they turned 13, they go on a trip with mom. And now, so don't see just huge dollar signs. It can be a pricey trip if you have the means to do it. And that's fabulous. Or it can be, you know, when your parents are out of town, or your in laws are out of town, or your friend has a place and they say come spend the weekend at our house in this fun city. Or camping at the local campground, just the two of you. Or anything... or the other members of the family go away and you're just gonna do vacationing right there in your own town. But it's saying, for these three days, we are just playing the two of us.
And I like to because we are right now in a place where we have the means to go somewhere. I allow my child to speak into it by telling me, what do they think they wanna be when they grow up. And then we find an activity that has something to do with that thing. So, my oldest is a musician and he likely will end up involved in leading worship at the church. Or writing songs for musicians or being a studio musician. So we went on this like, two-day cruise that was with musicians. And... we heard the Newsboys. And we heard Toby Mac. And we heard Ryan Stevenson and Hollan was there. And he was just like, we were on a boat listening to Christian music. And that became our special thing we did.
And so, I've got three boys that get to go through that. And then when they turn 16, they go on an outdoor, like, hiking, kayaking adventure with their father. Which just celebrates their manhood.
J -
I love those ideas. That's wonderful.
W -
But those are bigger. I think that we really focused on this doesn't have to be overwhelming. And so, once we started them by knowing that this is just easy stuff, then I gave the harder.
J -
But here's what I would say to that, Wendy. And certainly, you do... there are times I have been in them when you don't have two pennies to run together. And I remember, years ago, you know, I'd see a Starbucks charge on the thing and call my husband, like, "You went to Starbucks?!" Like, you know, and it was that tight.
But I think that... I think it's okay to say, these things matter and it's okay to save up for it. And it might cost you something. But it's really really worth it. You're really gonna see a payoff, and it might mean putting it in the budget, for, you know, a couple years. And saving. But I guess I just wanna say, you know, it might be worth a little bit of financial sacrifice. It might cost something, but it's worth... it just... just as, you know, I think some family vacations can be. I think there's certain too much and you know, we... our kids are real spoiled today, I think, just inundated with entertainment culture. But what you're describing is, he will never forget that. He will never ever forget that.
And so, I just wanna say, too, that it's worth saving. It's worth something.
W -
Thank you. I love that. And yet, I keep coming back to Sarah Clarkson's response, "I think it was the cinnamon rolls."
J -
Yes.
W -
And I think it was the sound of my mom playing the piano and singing at the piano. So, I think that both are wonderful. I think it was the traditions of making Betty Crocker cakes and bringing out the red plate and... so all of this is... what an encouraging conversation today.
You guys, you can get to know Jessica more on Facebook as well as Instagram. She's there. The name of her website is Getting Smarter Each Day, is that right?
J -
So, it's just Smartter Each Day. And Smartter was...
W -
Two "T's"
J -
Yes. Yes.
W -
Smartt with two "T's" There are so many ways that you can spend time getting to know Jessica and allowing her to speak into your life. But the greatest way, if this conversation resonated with you, was, grab a copy of Memory Making Mom. You can grab it on Amazon and, of course in the show notes, we have a direct link to the book. But talk it through with your husband and, even better, talk it through with the kids. Hey, what are your favorite things that we do together as a family? And then take those as your cue. Let's do more... let's slap a name on it and make sure that we make that a priority. Whether it's watching birds, singing hymns, riding bikes, or just opening the front door and having neighbors into our house. Let's make that, let's build that around what we already enjoy doing.
Jessica, would you bless us, here at the end of this conversation, by praying for us as a community of moms that want to take the most out of this season and make the most of it. And really woo our children. Not just to the faith, but to our homes, that they wanna keep coming back, and this is a special place where they grew up.
J -
Yes. Thank you. Lord, I thank You for this conversation. I pray that You will continue to bless and use Wendy. What a gift she is to moms. And I thank You for this podcast and the help that it's been to me. And just pray Your Hand of protection over it, and I pray for the many women listening across time and continents, facing some of them, a lot of challenges that I have no idea of knowing, Lord. And I know that some of them feel very overwhelmed and like maybe they're behind. And Lord I pray that right now, You would help us all to realize that we are never behind. That it's never too late. That you can help us to be intentional, beginning this very day, that we can become memory making moms or dads, or become better at it. And I pray that Your Holy Spirit would just spark with each listener and guide us, lead us to implement the things that You would have us to do. Lord, with the purpose of raising up this generation to share Your love. To know that they are loved, and to be able to share Your love. And we pray that You would do this in Your Name, Amen.
W -
Amen. Jessica, thank you so much. Listeners, I hope you'll get to know Jessica on social media or by subscribing to her website or grabbing her book. She is such a gift to us and she's in the trenches with us.
Jessica, it was a joy. It always is to talk with you.
What a privilege it is to have these conversations with you each week. You are so busy, and I don't take it lightly that you tune in with me here for a weekly shot of encouragement. As a reminder, you can subscribe to the Homeschool Solutions podcast through Apple or Google Play. And your positive reviews always help other homeschool families find us online.
Before we say goodbye, I'd like to thank Sonlight Curriculum one more time. Not only do they support homeschool families, they are also big supporters of the Homeschool Solutions podcast. Another supporter is the Great Homeschool Conventions. I don't know if you've ever been to one, but I heartily endorse that you find one near you. Every year they host multiple conventions in various regions throughout the US. Find a location at greathomeschoolconventions.com. With dozens of incredible speakers, hundreds of curriculum exhibits, you will leave blessed, refreshed, helped, and encouraged.
I will be in Texas, South Carolina, Ohio, and, of course, my home state, California this year. I hope to see some of you there. Until next week, visit homeschooling.mom for blog posts to encourage and support you along the way. Remember Galatians six verse nine. Let us not grow weary of doing good, for in due season, we will reap if we do not give up. That's a promise that I take to the bank every day and I hope you do too.
This is Wendy Speake, and I look forward to chatting with you again next week.
Thanks to our sponsors: