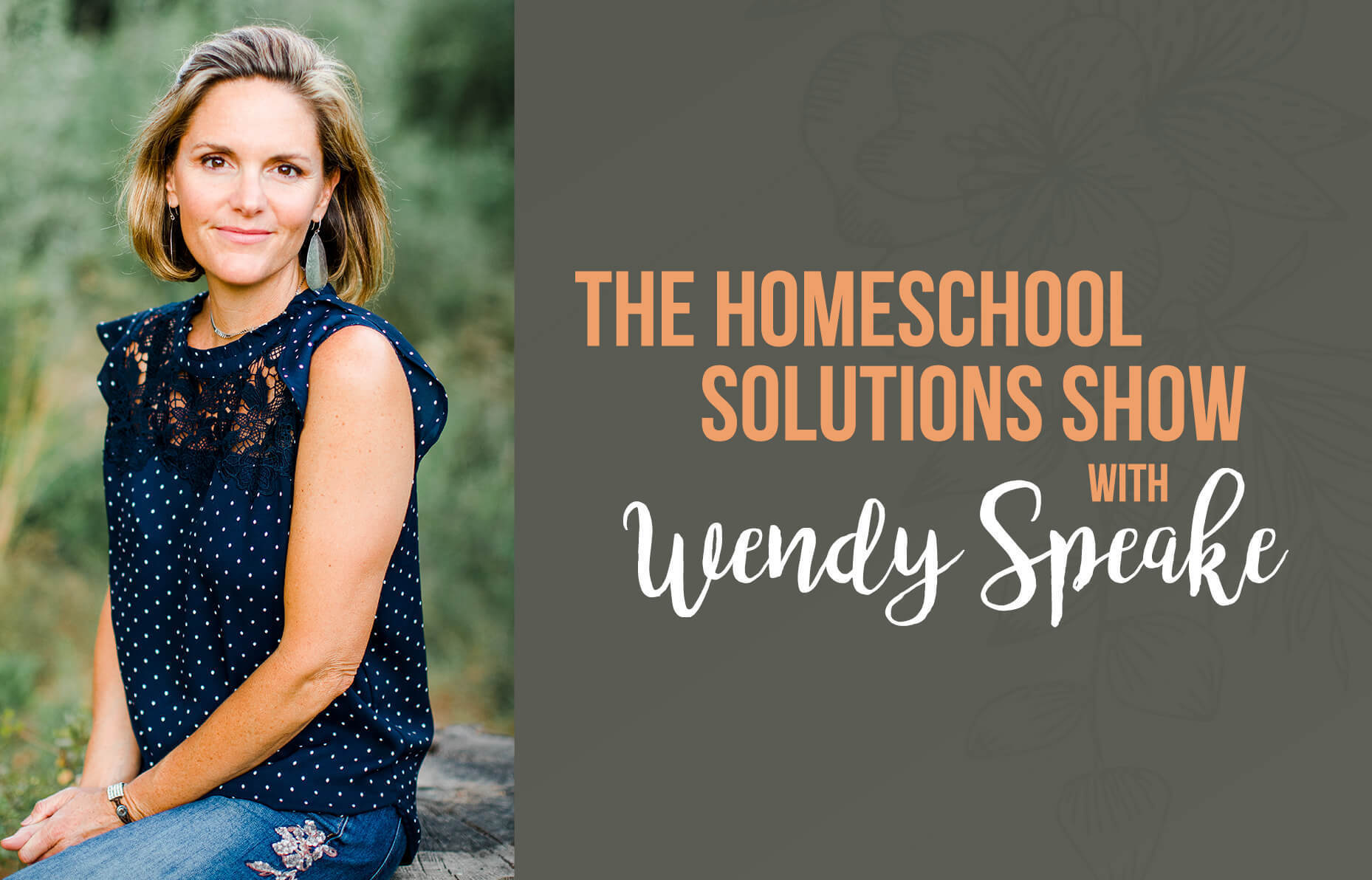 HS #230 — Wendy Speake - Where Do You Turn in Times of Stress?
Show Notes:
DESCRIPTION:
We've heard it said, "These are unprecedented times", but stress is nothing new. How are you doing with your stress these days? How is it affecting your home and your homeschool? Today's short episode challenges listeners to take inventory. Are you taking your stress to social media as the form of escapism? Is your pantry where you hide? Do you turn for comfort in comfort food these days, rather than turning to the great comforter? Or maybe you are self-medicating with a nightly glass of wine. Today's we're turning to God's Word for our help in times of trouble.
TODAY'S GUEST:
As a trained actress and heartfelt Bible teacher, Wendy Speake ministers to women's hearts through storytelling and Biblical life application. During her career in Hollywood, Wendy found herself longing to tell stories that edify and encourage women. Today she does just that, writing and speaking, always pointing audiences to Jesus. Author of The 40 Day Sugar Fast and The 40 Day Social Media Fast. And co-author of the popular parenting books Triggers and Parenting Scripts.
RESOURCES:
40 Day Sugar Fast https://amzn.to/2Wmh7AvTriggers: Exchanging Parents' Angry Reactions for Gentle Biblical Responses<>
Be sober-minded; be watchful. Your adversary the devil prowls around like a roaring lion, seeking someone to devour. (1 Peter 5:8, ESV) It's hard to be sober-minded when you're not sober, and it's impossible to be watchful when you aren't watching. (Wendy Speake)
Show Transcript:
HS EP Wendy Speake
Wendy -
Welcome to the Homeschool Solutions podcast, brought to you by Sonlight Curriculum, and homeschooling.mom. I'm your host, Wendy Speake. Here on the show every week, you'll get to listen in on some great conversations with wonderful guests, all designed to equip us as homeschooling moms. And then once a month, we'll be opening up the Bible together, applying God's Word to our long, blessed, but often challenging days.
It is my hope that as we gather together in this space, we will encourage one another with some practical, Biblical solutions. I'm so glad you're here. Before we start the show, I'd like to thank our sponsor, Sonlight Curriculum. Complete homeschool curriculum you're guaranteed to love.
And now, enjoy the show.
Well, welcome back to the Homeschool Solutions Show. This is going to be one of those episodes where it's just you and me, diving into God's Word together, and trying to apply it to our homeschooling days.


Now, this is a conversation that I'd love to have with every mother because I think we all tend to want to escape the hard days. And there are lots of different ways that we can do that that are culturally acceptable right now. Like hiding behind our phones, escaping down those virtual rabbit holes like Facebook, Instagram, even podcasts that pour into us like this one. We can run away from our daily stress and even if it's nourishing us, it's not necessarily healthy for us. And in the long run, it's not healthy for our families.
I've been thinking a lot about, if, perhaps you know the C.S. Lewis book, Screwtape Letters. In it, this chief demon, Screwtape, is pouring into and giving counsel to a young demon in training. His Nephew, Wormwood. And he's telling Wormwood all these different ways that are really great for luring a man away from devotion to God. And I've been waiting for someone to write some adaptation of the book that places it in today's era of social media distractions and pornography and all the different things that could throw men and women, today, off their game of pursuing Christ and Christlikeness. But I haven't come across that yet. So, if you have, reach out to me, let me know so that I can read it.
But there is this verse in First Peter, chapter five, verse eight. It says, be sober-minded. Be watchful. Your adversary, the devil, prowls around like a roaring lion, seeking someone to devour. And those first two warnings, be sober-minded and then be watchful. Right? So that we can be on guard because we know that we do have an enemy that would love to distract us, take us off our game, and what is our game right now is focusing on the training, the admonition of the Lord, and the lives of our children. Teaching them everything from reading, writing, and arithmetic to how to live Godly lives. How to pursue God in His Word. How to serve others before ourselves. There are so many wonderful things that we have the privilege of teaching our children, not just how to make their bed and help at the dinner table and get started with their work and grow to be independent in their learning, but just character, that we wanna see develop in our children.

But we know that our adversary, the devil, doesn't wanna just take us out, but he hates the family unit. Because he doesn't want the next generation growing to know and love the Lord, and serve others generously. As we've been commanded to in the Bible.
So we know that the devil is hard after families today. Christian families homeschool families. John 10:10 says, the thief comes only to steal, kill, and destroy. And man, don't we feel it? And not only do we feel it, like, from an external force. Don't we feel it internally, inside of our family unit. Inside of our homes.
And right now, as I'm recording this, we are in a really intense season at home with our children. Even though we were already homeschooling before this season of quarantine started, due to COVID-19, and we're not having to adjust to the at home distance learning as much as our brothers and sisters out in the public school and private school sector of the world are having to learn and adjust to right now. There've been a lot of changes. We don't have all of the activities, all of the extracurricular activities, or co-ops, or just friendships or time with family that we're used to. And so, everything's just a little more intense for all of us.


And I think that this is a time in our history, as a family, as a homeschool family, as a nation, as a globe, where we get to make the choice to either be very very present and sow good seeds in the soil of our children's lives. Because we know that we believe that we're gonna reap what we sow. Or, because the pressure is so intense right now, we can justify those distractions. Whether it is hiding in our pantry and overeating and opening up that bottle of wine and having a nightly glass of wine. Because it's like, self-medicating. We're in a season of discomfort, so we're gonna take the edge off. Or it's hiding again, behind your screen in your phone, scrolling for hours. Hiding in the bathroom. In the bedroom. Going for long walks but really just sitting down on the curb a block away. And binge-watching The Gilmore Girls. I mean, I'm throwing out ideas and you might be listening, saying, I don't do that. Well, I'm inviting you to consider, where do you escape to right now? Because we know that the thief is coming to steal, kill, and destroy. But the God who's come that we might have life and have it abundantly. And I love that because He's come for eternal life and abundant life here and now. Christ came to give us life, even in the midst of quarantine. And if we, in the pressure of daily life, escape, then we're not going to grow to persevere. And there's so many wonderful things that God wants to develop in our lives right now.
So, we know that the devil has an army, and God has an army. And right now, the devil's army is working overtime in our lives. Which is why, now more than ever, we need to be sober-minded and we need to be watchful. Again, that's First Peter chapter five, verse 8.


It is very hard to be sober when you're not sober. And it's hard to be watchful when you're not watching. And I've seen so many funny memes right now, having to do with coronavirus and what we're all globally going through, and there's one that made me laugh because I see so many people joking about it. And to some extent, I even feel it in my own life. It's this meme of, it's a picture, it's a cartoon, of a mug, like a steaming mug of coffee, sprinting. And it's passing a baton to a glass of wine that's also running. So, it's saying, hey, this is a hard season. Caffeine is carrying us through our morning hours and then it's gonna pass the baton to our nightly glass of wine or beer with our husband on the back porch as the kids play. Or whatever it is.
And if you're not one to drink, please don't turn this off right now. This is about so much more than alcohol. But I feel like I'd be remiss if I didn't take just a moment to talk about alcohol and why so many are turning to it right now. There's a lot of fear, there's a lot of pressure. There's not a lot of time off. And it really is such an easy way to self-medicate. But God, the great physician says, come to Me when we're in pain. Come to Me when you're uncomfortable. Come to Me when you're weary and heavy laden and I'll give you rest. With Me, all things are possible. He never said with alcohol, you'll get through this. With caffeine, you'll make it over the hump each day. I just know that it's hard to be sober when you're not sober. It's hard to be watchful when we're not watching. When we're hiding behind our screens.


And because we know that this is a hard season, we need to up our game. We need to up our game and really commit to being sober-minded and watchful, because our adversary really is prowling around like a roaring lion right now. And he's seeking someone and some families to devour.
There's another passage that I love and it felt applicable because it's about persevering right now. I'm gonna start at the beginning of this chapter. It's Romans chapter five, starting in verse one. Therefore, since we have been justified through faith, we've been made right, by our faith in Christ, we have peace with God through our Lord Jesus Christ, through Whom we have gained access by faith into this grace in which we now stand.
Okay, so we're standing firm, this is for the believers. We got it, we got everything buttoned up, right? Through faith in Christ, we're right with the Father. Okay, that doesn't mean we're not gonna have seasons that are extremely hard. I have three boys, they all have different learning challenges, behavioral challenges. They're all, right now, making that transition, the last one is making the transition into his teenage years, which I'm on the cusp of having three teenagers. I mean, we know that while there are many wonderful things, there are also many challenging things about that as we get ready to launch him out into the world. And they get stronger and our tendency might be that we need to get stronger with them, against them. But that's not what we need to do, but we get to the end of our days weary, exhausted from the fight because we misunderstood how we're supposed to be fighting.


There are just lots of challenges. God said, in this world, you will have many challenges, you will have trials, you will have tribulations, even right there in your home. And in your homeschool. But you can be of good cheer because I'm sovereign over it. I've overcome the world, I've overcome death, I've overcome sin, I can also be God over your daily struggles. I've overcome your division of God through sin, I can overcome your division with your husband through just selfishness. Whether it's yours or his, or you've got yourself into a rhythm of not communicating well. I can be God over this. You will have troubles, but I can be God.


So, because we're alright with God, we've already been justified with Him, we can have peace with Him. But it doesn't stop there, remember? He's come to give us two lives. An eternal life, we've got that buttoned up. But what about that abundant life. So, let's read on, starting in verse two, through whom we have gained access by faith into this grace in which we now stand. And we boast in the hope of the glory of God.
Okay, this is getting to the part I really wanted to hit. This is Romans chapter five, verse three. Not only so, not only do we have our faith life buttoned up. But we also glory in our sufferings. Wow. Glory in our sufferings? Why? Well, it says, because we know that suffering produces perseverance. Perseverance produces character, and character produces hope. And hope does not put us to shame.
I started off by saying that we want to see our children develop, not only as readers and writers and thinkers and communicators and Christ-followers and servants out in the world, we wanna see them develop in character and how is the main way that they learn that? But us modeling it. And if we are running off to deal with our stress, because it's five o'clock somewhere, in a glass of wine, or because we've made it through the main teaching portion of the day. We pick up our phones and scroll through social media. We're not persevering in the way that brings about character in our own lives. And if we're gonna model it, we need to own it. We need to own it. Sometimes I wish that these podcasts weren't podcasts, but that we were sitting knee to knee, looking each other in the eyes, talking through these things.
I wanna ask you, where are you running in your stress right now? Where are you turning in your fear over health and family and, I know people whose grandmother has passed away, not even from the coronavirus, but a couple states over, and they can't travel to her right now. Travel to the family to be together, to bury her, to have a funeral. People aren't allowed to have more than ten people at their funerals right now, even if they live in the same town. There's a lack of grieving, there's a lack of family togetherness, we're not with our church families, we're not with our family families.
And then, of course, there's the fear of, well, what if we get sick, and how extreme do I need to take these precautions. And then what about the financial stress that so many of us are going through? Losing jobs or being furloughed without pay. We have insurance, man we're grateful for that, but we need an income and such a large population in here in our country, even, live hand to mouth. Even those who are above the poverty level live hand to mouth. What we bring in, we spend and we're not bringing it in.
There's a lot of stress, and I don't know about you, but when my child needs extra help on an assignment, and I'm under stress on something unrelated to my child's needs, I don't deal with his needs with gentleness and love. I mean, the stress gets amplified because I'm already under stress.


So, what do we do? What do we do? We need to persevere. And persevering will bring about character in our lives. And character will bring about hope in our lives. And sisters, hope does not disappoint. But, social media will. Running to your pantry will. It will disappoint because it was never social media's job, it was never sugar's job, it was never latte's job, it was never coffee's job, it was never your banana bread's job to get you through your stress. And developing your character.
I don't know if you've heard this, I think it's, I actually think it's very funny, that banana bread has been dubbed the food of our quarantine. Like, it is the official food of COVID-19, and you know, as well as I do, that's because you can't have banana bread every day and not gain the COVID-19. If you went to college, you know that that first you gain the freshman fifteen. Well, there is a COVID-19. We're averaging, I think, about a pound a week over here. If we're not careful, now that the weather's nicer, we're getting out. We're getting moving, we're doing more barbecuing. We're eating fruits and veggies from our garden. We're not just eating banana bread right now.
But if we go to banana bread to get us through, and the nightly dessert, because, hey, we're not running anywhere for sports. We're together as a family, and it's just comfort food, ah, it feels so comforting. But it was never comfort food's job to bring us comfort. It was the Great Comforter's job. God is our Comforter. It's His job. But if you run to comfort food, you're not running to the Comforter. If you run to social media, to get you through this time, which was never social media's job to get you through stress. That means you're not getting social with the One who said, I am your Peace. I am the Prince of Peace. Come to Me. Remember, Jesus says, Come to Me. And we're running to everything else.


If you've been listening to the podcast long, then you know that I host an annual fast. It's a forty-day fast called the Forty Day Sugar Fast. And I have had so many people reach out to me, saying, now was the time I needed this so much, I'm so glad that I came across it early, that I did it with you in January. But right now is when, it's like, I needed to go through it in January so I'd learn how to fast for April. For May. For March. When all of this began.
And there's an army of homeschooling families right now that are going through the forty-day sugar fast, maybe not because they have a sugar addiction. Though, don't we all love something sweet or something salty and crunchy? But we want to make sure, during this time of increased stress, that we're not running to the wrong things. However, every time I host that forty-day sugar fast, we look at the other things. What else is it that we're running to? We're not persevering. What are we running to? And a large majority raised their hands, virtually of course, cause we're doing this online together. They raised their virtual hands and they say, yeah, sugar, not so good for me. I feel much better not eating sugar. My sleep is better. I'm dropping pounds. And really, the best benefit is that I'm God's sweet Word and I'm developing a hunger and a thirst for Him.
So, yes, sugar fast. But what I really turn to isn't sugar. What I really turn to is social media to get me through. And it's been really exciting at the beginning of this quarantine. I was already doing my annual forty-day social media fast, which I do each lent. And it was during, that time the book that's gonna be the follow up to the forty-day sugar fast, went online, as a preorder. So if you go to Amazon, you'll see a book there now called The Forty Day Social Media Fast.
And, while I wish, with all my heart, that it was available to you right now, it's not. But, you can sign up to do a forty-day social media fast. And I have some downloads that you can use, some Scriptures that you can meditate on each day. A screensaver, or two or three, that you can choose from to put on your phone to remind you that you are fasting from social media in an effort to get social with the Lord, and, the people that He gave you. Remember? Be watchful. First Peter 5.8. Be sober-minded. Put down your drinks, put down everything you're running to as a form of escapism, and be watchful. So, when we do our social media fast, we're gonna stop watching every YouTube video and all the games that we're playing and all of the streaming movies that we're watching. We're binge-watching. And we're gonna get social with the Lord.
And as a by-product, start getting social with the people that He's blessed us with. We're going to be watchful. We're gonna be watching what's going on right here in our homes. We are going to persevere. We are gonna be so present that our adversary, the devil, who's prowling around like a roaring lion, seeking us to devour our families, is gonna say, wow, they are on guard. They are on guard. Man, there's no chink in their armor. There's no place for me to get in. That mom is sober-minded and she is watchful. I better go to some other house and look for someone who's got their face in their chocolate covered almonds and latte's and behind their phone. Who's not watchful and isn't sober. I wanna go find someone who's, you know, diving into that nightly glass of wine. But you, he's gonna bypass you. Because you're gonna be sober-minded, vigilant, and watchful.
Sometimes, we need to fast from all the things that we've been running to as a form of escapism, in order to dive right into our present reality. We don't want to grow weary as I often sign off here on these podcasts. We don't wanna grow weary of persevering. Of doing good. We want to believe that in due season if we stay sober-minded and watchful, we will reap a harvest if we do not lose heart.
And so this is gonna be a short podcast, cause I really want you to get through it. And I want you to share it with your friends. This one isn't just for homeschool families. This is for all of us. Are we diving into the presence of the Lord that gets us through these hard times, and the presence of our loved ones, as we're watchful and present with them? Or are we looking for some form of escape? Some form of self-medicating relief from stress, the pressure, that we're enduring right now. Remember that a diamond is made below the surface with a whole lot of pressure, up against it. We've got pressure right now. And do you wanna avoid the pressure? Do you wanna avoid that pressure and just remain a lump of coal? Or are you gonna give in and persevere under pressure and come out of this sparkling like a diamond? A diamond. Man, a diamond can model perseverance for her kiddos. Man, let that be the main thing that you learn even now in the last week or two or three of your homeschooling. If you are wrapping things up for the summer, let that be what you want them to learn more than anything else. Perseverance brings about character, and character brings about hope. And hope, even if you're losing your income, and you're picking up food right now at the local food pantry to get through, and taking out a loan to pay your bills, hope does not disappoint. Let's model that for our children, shall we?
I'm so glad you're here. Let me pray for you. And let's pray for our world. Heavenly Father, we thank You so much for Your Word. We thank You that it is living and it is active and it is applicable. It is so applicable to what we're going through right now. We want it to change us, to convict us, to transform us. We don't want to run off and hide behind our phones or in that nightly glass of wine or in our pantries. We want to hide ourselves in You. Your Word has told us that we can run into You and be safe. That You are our refuge, our shield, our high tower in times of trouble. So teach us, Lord, to run into You. To use the illuminating light of Your Word to shed light where we're supposed to place our feet each day. Goodness, it's so hard. But it's impossible to do without Your guidance. We don't want to escape the pressure. We don't wanna do that. We wanna invite You to be our God right here in the midst of it all so that we can grow in our character and grow to know great hope. And grow to model perseverance, character, and hope for our children. That's what we wanna see them learn at the end of this homeschooling year. We ask all of this in the precious Name of Jesus. Amen.
What a privilege it is to have these conversations with you each week. You are so busy, and I don't take it lightly that you tune in with me here for a weekly shot of encouragement. As a reminder, you can subscribe to the Homeschool Solutions podcast through Apple or Google Play. And your positive reviews always help other homeschool families find us online.
Before we say goodbye, I'd like to thank Sonlight Curriculum one more time. Not only do they support homeschool families, they are also big supporters of the Homeschool Solutions podcast. Another supporter is the Great Homeschool Conventions. I don't know if you've ever been to one, but I heartily endorse that you find one near you. Every year they host multiple conventions in various regions throughout the US. Find a location at greathomeschoolconventions.com. With dozens of incredible speakers, hundreds of curriculum exhibits, you will leave blessed, refreshed, helped, and encouraged.
I will be in Texas, South Carolina, Ohio, and, of course, my home state, California this year. I hope to see some of you there. Until next week, visit homeschooling.mom for blog posts to encourage and support you along the way. Remember Galatians six verse nine. Let us not grow weary of doing good, for in due season, we will reap if we do not give up. It's a promise that I'm taking to the bank every day.
Again, this is Wendy Speake, and I'll see you next week.
Thanks to our sponsors: