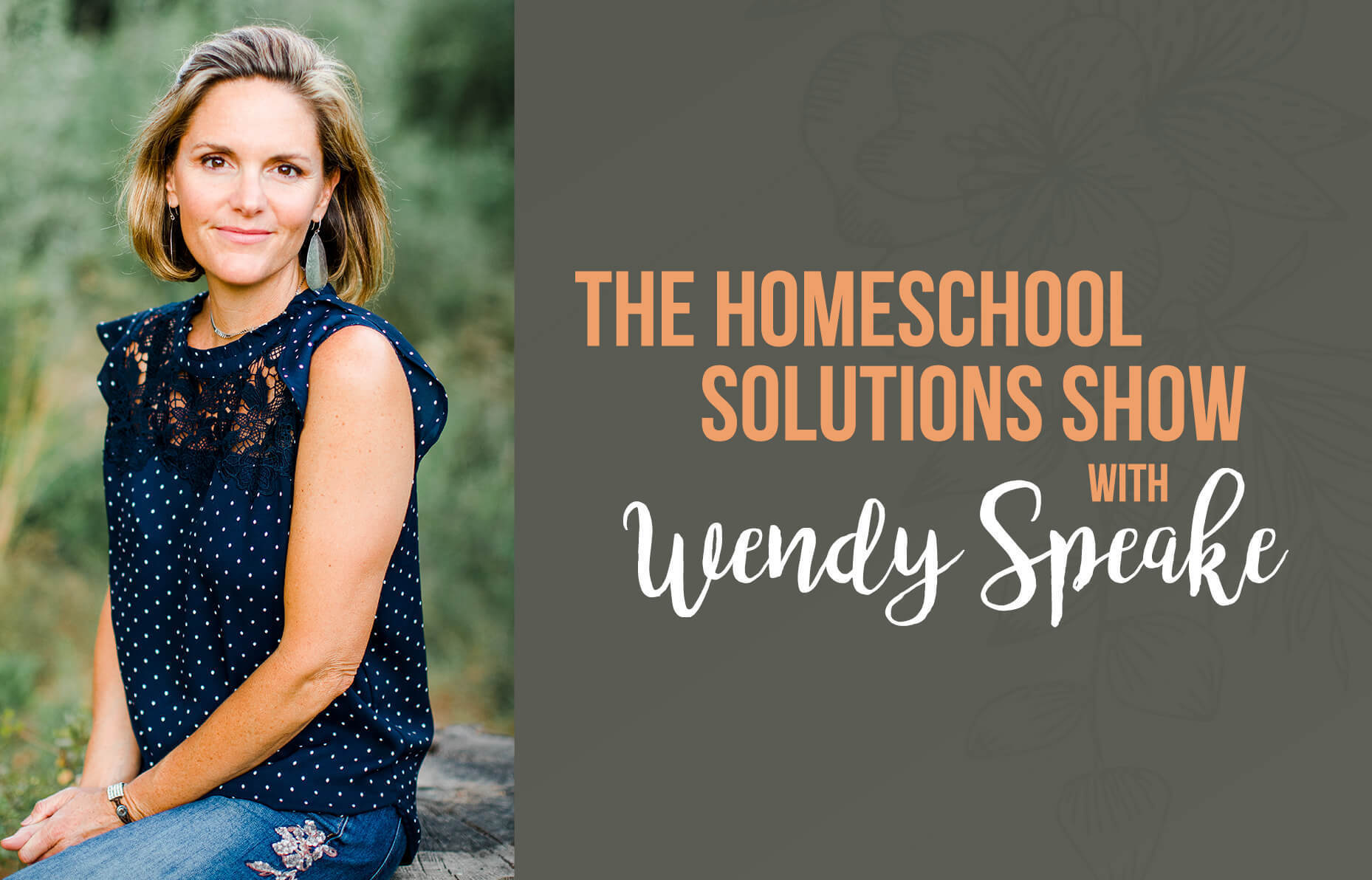 HS #238 Planning an Educational Family Vacation Brandy and Matt Gleason
Links and Resources:
Show Notes:
Summer is upon us! Thank you, Jesus! And now is the time to begin exploring and creating timeless memories with your family. In today's episode, Brandy Gleason and her husband Matt will share from their experiences as a homeschooling family of 10. You'll find many hints and tips to make a day trip or lengthy travel doable and how to create a paper trail for homeschool record-keeping. Happy Adventures!
About our guest host:
The Gleason's are an adventurous family! While only 5 of them travel together these days….they have 8 children, 2 sons-in-law, and 3 grandbabies and of course, Matt and Brandy. They try to go adventuring as often as possible and find new things to be doing and learning. Creating meaningful family time and making memories is what they aim to do as much as possible. Their family loves museums, travel, and family-friendly adventures.
One of Brandy's passions is to educate, encourage, and help her children, grandchildren, and others develop a love for the outdoors. Getting the message of leave no trace out is a priority.
They would love to help you plan your family's adventure. Please feel free to reach out to them and they will be happy to help you. The hardest step is the first step and we are sure they would be privileged to help you in answering your questions and helping you plan. You can reach them through their contact page.
You won't regret making time and memories with your family.
Quotes:
"Summer is a time to take intentional trips to places where kids can learn, and not even know they are learning."
"Homeschooling doesn't always have to happen at home. Get out and EXPLORE!"
God's Word:
The heavens declare the glory of God, and the sky above proclaims His handiwork.
Psalm 19:1
Resources:
Let Them Be Kids by Jessica Smartt
How to Plan an Educational Family Vacation
Why We Started Backcountry Hiking as a Family
Show Transcript:
Wendy -
Hello and welcome back to another installment of the Homeschool Solutions Show. My name is Wendy Speake and I am one of the many hosts we have here on the podcast. Each week, you'll hear from one of us, inviting one of our friends to join for a conversation about this busy, blessed season as we educate our children at home.
Now the title of the show is Homeschool Solutions. While we don't have the answer to every question, we know that all the solutions to every stress and every struggle can be found in the Person and presence of Jesus Christ and His living and active and applicable Word. We are so glad that you're here to join us for today's conversation.
But before we start the show, I'd like to thank our sponsors. Medi-Share. An affordable and Biblical healthcare alternative. Find out more at mychristiancare.org for their ongoing support of homeschooling families, just like yours.
Operation Christmas Child. Many of you have packed gift-filled shoeboxes, but the joy of a shoebox doesn't end there. Discover how Operation Christmas Child's shoebox gifts lead to evangelism, discipleship, and the multiplication of believers and planting of churches at Samaritanspurse.org/makedisciples.
And now, on to today's show.
Brandy Gleason -
Welcome to the Homeschool Solutions Show. My name is Brandy Gleason and I'm the guest host for today's podcast. Summer is upon us, thank you, Jesus. And if you're anything like me, you're ready to get outside and explore more. I've invited my husband Matt, to join me today because he plays a large role in helping me to create year-round adventures.
Let me share a little bit about us. Matt and I have been married for 27 years. Do you have a wise-crack for that?
Matt -
27 years, 358 days, but only apparently one of us is counting. Every day is cherished. But anyway, go ahead.
Brandy -
We've raised 8 children together. Three of them are still at home, and we have three grandchildren.
I write the blog, Gleason Family Adventure, and I take care of our Instagram account, Gleason_Family_Adventure, and I'm also a freelance writer for Roadtrippers.com and various other travel guides throughout the Midwest. And I'm also in the process of writing a four-book anthology with 11 other writers in the Midwest area. I will be covering that great state of Ohio.
So what got us chronicling and keeping track of our travels? Well, let me share a little bit. About three years ago, our family was enrolled in an online class. And at the first of the year, the company suddenly went under. So, within 24 hours, the website was gone, and I had nothing, absolutely nothing, scheduled to teach my children for the rest of the year in the topics of science and history.
Imagine my panic. My husband and I had to sit down and decide what we were going to do to teach these kids. I've always been a "learn by going" type of mom, but what I was about to suggest to my husband was, in my mind, almost over the top. What we did was we decided to study national parks and go on a backcountry hiking adventure. And if you listen to the end of this podcast, I will share with you how I created a paper trail and made way for end of year assessments.
How I hope this podcast will help you take ordinary family trips and make them extraordinary learning experiences is my aim and my goal today.
So the first question is going to be to my husband, Matt. And that is, I wanted to ask him, from a dad's perspective, how does taking a family trip and turning it into an educational family trip, help you see homeschooling in a fresh perspective.
Matt -
Oh, I think the answer to that is that, as homeschoolers, we don't really ever stop schooling our kids. Every trip that we take, every place that we go, there's always things that we do to teach our kids. And for us, the travel was just a natural outflow for us to incorporate history and science into their day to day life. And one of the cool things about it is, it really takes learning from being a one-dimensional aspect to a three-dimensional aspect. And what I mean by that is, is that instead of going and just reading a book about maybe a historical event or a historical place, and those sorts of things, you get to actually go to the sites and it becomes three dimensional. It allows the kids to really, sort of experience what they're learning about.
Now, it could be something as cool as Fort Sumpter or Gettysburg, or, for us this past summer, we were able to go to the site of the massacre of Big Bottom in Stockport, Ohio. And the kids were able to see these sites and sort of live out the history. And then, of course, there's always, for science, the science museums and, you know, those types of places that kids can actually get some hands-on experience. And when we're out of the state or in a different city, we like to hit those places, and the kids have a great time with it too.
So, my question is, for you, because I'm a lot of times the logistics and driver, but you sort of get these things scheduled. So, how do you plan an educational family vacation?
Brandy -
That's a great question, honey. I think the most important two words, is "be intentional." When you're planning a trip like this, make time for relaxation, rejuvenation, and recreation. I understand that we homeschool moms can sometimes take something simple and overthink it. Don't do that. You can learn by going to exciting destinations, amazing museums, and historical places and the homeschooling doesn't always have to be at home. And it will be an exciting time to be together. My main objective is to take these little trips and make them, again, very intentional. I want the kids to be learning and I don't want them to know that they're learning.
One of the things I like to do is let the kids help me plan a trip. Just recently I asked the kids if you could go anywhere in the lower 48 states, where would that be? And it kind of gives me an idea of what they're thinking about, maybe what they're reading about. So if you have older children, they can help you research that destination. I like to have them call a CDB, which is a convention and visitor's bureau and ask questions to the directors. A lot of kids don't like to talk to people, or they don't wanna talk on the phone. They're like, our generation of texters, so forcing them out of their comfort zone to call and ask some questions about what there is to do in an area.
I plan a budget and I try to keep to it. I am not opposed to PBJ every day for lunch while traveling. One time a kid complained to me about how we eat the same thing over and over and over, but I had to stop them. I said, listen, what happened the day before. And he paused and kind of looked at me. I said remember we went to Ripley's Aquarium in Gatlinburg, Tennessee, and we swam with stingrays. We had five children at the time and two adults. It was not a cheap endeavor. It was quite expensive.
And so I told him, we just did this really expensive activity, and that's why you eat PBJ's every day when we're on the road trip. So, he got the memo, and that is how I plan, in a brief summary, trips for our family.
Matt -
And I think the other aspect of it is, too, a lot of times when we're traveling, you seem to leave room for spontaneity, right? We're not so tied down to one spot or another, and that's all there is. Sometimes we get to places and we discover new places. And we find a museum that we have never heard of or seen and so, that might drive a lot of homeschoolers crazy. We love to like, have things under, you know, under wraps, and really tight with our schedules and that sort of thing to help with the kids. But sometimes you gotta leave some room for some spontaneity to find that hidden gem that you didn't know existed in terms of maybe a history museum or a site, or even some sort of science museum or something like that.
So, don't be so wrapped up in a schedule sometimes when you're traveling. Leave some room for that spontaneity because that's when sometimes, I think we've had the greatest fun.
Brandy -
Yeah, I remember one time, we were in, again, we were in the Gatlinburg, TN area and the kids were fighting in the car, they were driving us crazy. And there was this beautiful bubbling stream beside the National Park roadway, and we pulled over and they got out and played in the rocks and the water. And we ate lunch right there. And we got back in the car and they were happy again.
Matt -
Yeah. Yeah, and there was actually like innertube rentals and that kind of thing you could do. Rent an inner tube and float down the river. So there's all kinds of exciting things out there to do and that we just don't know about until you get there. So, leave some room for spontaneity when you're traveling.
Brandy -
Thank you, Matt, that's right. Spontaneity is important.
So I have another question for you, honey.
Matt -
Alright.
Brandy -
What is your favorite educational trip that we have taken, and briefly tell me why?
Matt -
Well, the one I can remember offhand that was recently, was to Morgan County, Ohio, which is South, in Southeast Ohio. It is about an hour and a half, I think, away from us and they had a tremendous amount of history there. They had a museum in McConnelsville, Ohio that the kids just loved to go through and see. It was really like a community museum that everybody donated various things to it. So it was really, really cool. Had a lot of Civil War history. They had an antique fire truck there. The ladder truck. And so there was all kinds of cool artifacts, even in that museum.
But Morgan County has...they had Morgan's Raid cut through there, from the Civil War. One of the few times the Confederates had come up into Ohio. They had the historic locks from the Muskingum River that these boats would go up and be able to go up and ascend into the Muskingum River. They still had a lock there at Stockport, Ohio.
And then, of course, there was the Stockport Mill. And that was a mill that has been standing there for years and year and you can actually stay there. It's a lodge, and the kids really really loved that. Climbing up into the fifth floor of the hotel room there, inside that mill, and seeing all the...how the pieces worked together. So that was a really, really cool trip that I can remember.
Brandy -
You know what I remember about that trip?
Matt -
Yeah?
Brandy -
Is that there were stairs and no elevator, and five flights with luggage. I thought I was gonna die.
Matt -
??? for that one, but, yeah. It was a great spot and then of course I mentioned earlier, the massacre at Big Bottom. And which, we're reading The Pioneers, by David McCullough. That piece came into play into their memory, as we're reading this history book, and they had been there. So it was kind of a neat connection.
One of the other ones, just if I could mention offhand, is Ohio Pennsylvania. Again, that was just, we just decided to go over there because they had the water slides and that's kind of what it's famous for. We get there and we find that there's Fort Necessity there. Where it wasn't General George Washington yet, but he was just a soldier in the Continental Army, or in the British Army, I believe. And so there's that historical site there. Braddock's Defeat, one of the greatest defeats in...from the Indians against the British at the time. And that site is there.
And, so there was, they had a lot of great sites there. They actually had Falling Waters, which is a Frank Lloyd Wright home, also. But you could go check it out. So that was a really really cool area and we definitely wanna go back there, because that was one of those spontaneous things, where we didn't know all those things were there. And we ended up finding them. Now we wanna go back and check 'em out.
Brandy -
Yeah. I appreciate you sharing the history because you know, the thing I remember the most? Is Abby grabbing me by the hand, saying "Come on, Mommy! Come down the natural water slide!" You know? Mom of eight kids going down the natural waterslide. I thought that's another moment I thought I was gonna die. I think I'm gonna die a lot on these trips.
Matt -
Yeah. So that was definitely a unique experience. So, how do you make a trip unique for your kids?
Brandy -
I think that's a great question. So, one of the things I like to do is use living books as a springboard for ideas. So if we're reading something and I find out that there's something nearby that I can do with the kids, or something not more...you know, too far away, we can make a day trip out of, I like to do that.
One of the things I remember is buying costumes to wear in Williamsburg. So we dressed up all the kids and myself, and my husband, bless his heart.
Matt -
And if you do that, people will want to take their picture with you. So keep that in mind.
Brandy -
So, we actually have a Christmas picture of all our family dressed up in Colonial garb in a horse-drawn wagon ride through Colonial Williamsburg. But it really, like, that really helped the kids engage in the learning. Because they felt like they were part of Colonial Williamsburg.
Matt -
Yeah, and the reenactors really engaged them too, when they were all dressed up. And treated them like they were part of the time period, so they really got a kick out of it.
Brandy -
Yeah, so if you ask the kids, they will definitely be able to remember that. Even our 27-year-old son now, he really has good memories of that.
Also, like to use Junior Ranger books in advance, so you can get online at the National Park Services website, and get the book mailed to you, or printed off of there, and do the work before we go. So that they kind of have a good knowledge of the area.
Matt -
Yeah, they actually love to do that. We had a... one of the rangers from Acadia National Park... did a little sightseeing trip for Abby when she wrote to her. And went around and took pictures and wrote of all about it, and it was kind of a neat little personal thing that they did. It was great.
Brandy -
Yeah, and when we went to Acadia, we looked up that ranger and Abby got to meet her. That was a really neat opportunity.
Pick something that we've never done before. I always try to pick a place we've never been. I have never done this tour, but a girlfriend of mine did the Little House on the Prairie Tour. So they went to out West, and they visited all the places for the Little House on the Prairie. You can set up a private tour of a museum, and on this upcoming road trip that we have coming this week, actually, I am doing a fishing charter. I'm renting a fishing charter with the kids, and they're gonna be learning about the waters of Lake Eerie. We're also gonna go talk about fish anatomy, wind direction, boat safety, navigation, things like that.
And listen, I know some of these things, you're like, well, we don't have any money. And listen, we've raised eight kids on one income, and we get it. So, there's lots of local treasures. You do not have to plan the world's greatest trip to make the world's best memories. The best memories we've made have been in our own community and in our backyard. And so I'd like to mention like, Metro parks to you. These are small parks that are run by your community or like, Columbus, Ohio has Columbus Metro Parks. So you're bigger cities will have those as well.
These can be very unique times. Your area will have endangered species to learn about. You can picnic in a park and look for wildflowers. You can make a fort in a wooded area and then go inside of it and read. And recently, because of COVID-19, I took our kids into our small town, and they thought I had lost my mind. They're like, mom, why are sight-seeing in our own town? And I said, no, we're gonna park the car in like, a public parking lot, we're gonna walk up and down the streets. I want you to look at the buildings and we went into the stores. And we found out, there was a lot about our little town we didn't know. And they had a really great time.
So, even being in our local city can be unique.
Matt -
Yeah, and if I can add on to that, you talked about the Metro Parks, I can remember Toledo Metro Parks. If you wanted to snowshoe, you can snowshoe up there. They provide them for you.
There's a lot of... Delaware Preservation and Parks, which is just north of Columbus, they have a lot of great programs for homeschoolers specifically. And they're free. So, you can go learn about different things. We've done salamander hunting and all kinds of different activities with the kids that are absolutely free. We've done owl hikes at night, to go listen to owls and call them in and those sorts of things. So, a lot of those are absolutely free. You just gotta get there.
Brandy -
Yeah, I agree with that. And so, you guys are all listening from all over the world, so you have to know what's in your community. Just take a minute, get online, do a little bit of research, and you will find that there is more than you ever imagined that you can teach your kids, within 30 minutes of your house.
Alright, honey, I have another question for you. If you have advice for a homeschooling mom on how to get the dad on board for something like this, what would it be?
Matt -
Well, obviously, prayer. It's the number one thing right? You know, just ask the Lord to help him to lead and to do what he needs to do as a dad. A lot of times, you know, most dads are really pretty busy. But, you know, for me, it was just kind of like, just taking what I have been learning and passing it on to the kids. And, for example, I've got here on my lap, the book called, The Pioneers, by David McCullough. I think I got it as a Christmas gift, and started reading it, and read through it, and I thought, man, that'd be a great history book for the kids to go through. It's basically about the settling of the state of Ohio, and how it was founded and how it got started, primarily by a gentleman by the name of Manasseh Cutler. And it walks through that time period of history pre-Ohio, pre-1803. And how it was founded. And you know, the cool thing is, it's like, the things are within driving distance for us to go see. So we're really excited. We're a little half...about halfway through this book and once we get done, we plan on heading down there and some of these houses that are built are still there. They're still standing. So we'll go take a trip there, really, and see those sights.
But one thing, I guess for me, what I've done to help, I don't know, engage the kids, is I usually read two or three times and then I give them a test. You know, just to kind of...
Brandy -
Oh, they love that.
Matt -
Just to kind of see. But I think, you know, I make the tests fun too. You know, I give them... you know, I don't know, most people... how many people that are listening have been in college. But you know, a lot of times, they give you a test and multiple-choice, and two of them are just completely off the wall for an answer, but the other two answers are kind of like, close to one another. I think they... I think a lot of teachers like to do that sort of thing. And I did that too. And so, when I ask a question, of the kids, I said that, you know, like, here's a question I asked, was like this, if the first constitution, the first state constitution of the United States, was written in 1779 by 'blank' for the commonwealth of Massachusetts. And I gave them four options to choose from. Was it John the Baptist, John Adams, John Hancock, or John Jacob Jingleheimer Schmidt? You know?
So, they loved that. They think that's funny. It was John Adams, obviously, in case you're wondering. But you know, you incorporate fun into the learning, and they seem to just really enjoy it. And I've enjoyed it, doing it for them. So it's kind of a new... I don't know, a unique situation. But you know, obviously, the answer to that first question, that first part of the question, is prayer. And just trying to figure out, you know, dad's are busy a lot of times. How could we disconnect from things that help them to get engaged in their kids? That's a difficult thing. Difficult, I think, to answer. But, I think it begins with prayer, obviously.
Brandy -
I do wanna add here, if you are a single mom or your husband's not able to help, it's still a way doable to create these kind of activities. So, whether dad gets involved or not, it's okay. You can still do this on your own. My husband works 24 hours on and 48 hours off. When he's on duty, sometimes I'm out doing things by myself and creating things. And, you know, you can do this whether your husband gets involved or not. So I do wanna add that little piece of information.
Well, we're winding down a little bit, and I wanna circle back to what got us started in planning trips a little more intentionally for education. And that was about the Rocky Mountain National Park backcountry hike that we took as a family. This really was the springboard that got me hooked on making sure that I was intentional about planning trips and learning. So, what we did is we began... it took us a year. It was not something... like, we started it, and then by the time we purchased the tents and the sleeping bags and the backpacks and the food and everything that... and learned how to do it. It took us... okay, maybe it was six months... but it took us a good long time to get everything together.
Matt -
We just didn't do it overnight. That's for sure.
Brandy -
Yeah, and it wasn't cheap, so we had to think about ways to do it economically. We went to every REI garage sale. I would get up, like, at four in the morning so I could be like, number one or number two in line, so I could grab the returned backcountry backpacks so we could have things to use.
Matt -
Yeah, and I want to just say, whoever returned their tent and say they did not like the shape of it. Thank you. We got quite a deal on it because you didn't like the way it looked when it was setup. So.
Brandy -
Yeah, so, just figuring out how to do things. So we learned how to... we taught the kids how to filter water. So that was one thing we learned to do. We taught them how to prepare food in the backcountry.
Matt -
Yeah. You know, we actually did, like, some dry runs locally here. And there was a place in Columbus you can set up your backcountry tent and do your cooking and all that kind of stuff. So, we did some dry runs where, you know, you're a hundred and fifty yards away from your car. And still be able to set up your tent and sleep and, you know, they liked it. They ended up, you know, kind of nervous at first. But they really had a good time.
Brandy -
Yeah. I also learned that, if you take Benadryl in the backcountry, you don't worry about bears attacking you quite so much, cause you're sleeping a little bit better. We called Sam our cat shovel carrier. So, if you don't know what a cat shovel is, we had to learn what that is. So, it's where you dig a hole and you go to the bathroom, and you cover it up. And you pack in and you pack out all your trash. The kids learned about recycling and how to care for nature and the things you can find there.
Also, realized the different terrains. So, we're from the Midwest. A hill, we think, is a mountain. And then we got to the Rocky Mountains and we found out what that really was. So to wrap up a little bit, because time is going so fast, and before we need to sign off, I want to share with you how to keep a paper trail and be able to count this time no matter what you're doing, as a learning experience. So, we're talking about paper trail and things that you're gonna show at assessments.
First, I'm gonna talk about pre-trip. You need to know where you want to go. Research it. Study it. Read some books on it. What I did is I set up a blog to blog about where we were going and what we were doing. Or you could do a journal. You can set up some social media to keep track of your pictures. Keep track of all the books that you're reading, coloring, drawing. Worksheets. Videos watched. I'd also pre-purchase a travel journal for the kids so that while you're out and about you can write down or they can write down what they're seeing and learning.
On the trip, you will, every day, maybe write down where you went. So, for example, I'm just gonna give you a general day for us. So, on the day you have your date when you're gonna write down where you went. So, say you went to Gettysburg National Park. and then you're gonna write about what you did. Gonna keep little notes. Sometimes, I do that in my notes on my phone. I have an iPhone, so I can keep notes there. I don't always have ot write it down. You took the driving tour, you went to the panorama, you went to the museum.
I'm gonna add a little side note here. I shouldn't do this. But, I took one of my students, one of my kids, with me to a speaking engagement that I had in Pennsylvania, and she and I went through the museum. And we were just having such a great time. About halfway through it, now mind you, she's sixteen at the time, okay? Halfway through the museum, she comes up to me and she goes, Mom, did you know the South succeeded from the North? And they had their own president? And their own currency? I was like, whoa, whoa, whoa! Yeah! We've already studied this. And she's like, Mom, I don't remember you ever teaching me this. And I was... that was called a "homeschooling moment fail." I was just freaked out.
So, we got home from the trip and I looked up pictures, and said, see? You were there! She was four. So, when you have eight kids, sometimes you have to circle back and re-teach stuff.
So, that was a moment. So, you keep track of what you did. And keep track of the things that you've learned. So, if something comes up, something's highlighted, just jot it down. I always keep track of the books that I've purchased. A lot of times I'll buy a book to read to the kids later, or books for them to read. I think another thing that's really important to write down is who you met. Sometimes you'll meet a ??? or a museum curator, and they'll have given you really neat information. Jot their name down, and just remember what they told you.
Write down your favorite highlight and write down what surprised you. Many times, you're gonna be out and about and you're gonna be surprised at what you find.
When you get home, your post-trip, you have a memory box. You're gonna create a chat book or something like that for your pictures. Have your kids write a research paper. Have them draw a picture. They can blog about. You can write about it. These are just great ways to keep track.
In the show notes of Homeschooling.mom, there's going to be a link to a downloadable sheet about how to do record keeping. So everything I just talked about will be in there for you to be able to download. If you have any questions on how to do this, please reach out to me at GleasonFamilyAdventure.com, under the contact me section, and I'll be happy to answer any questions you might have about planning and record-keeping. Just remember, when you are out traveling with your family, it can be sometimes, really frustrating. I mean, how many times we joke about, do you want me to pull this car over?
Matt -
Yeah, there's a lot of times that we're ready to go, and we're excited. We kind of know what we're getting into, and the kids are just dragging, you know? Not excited to leave. But by the time they get there, and they go through those places, they're glad they went. And they, nine times out of ten, really enjoy it. And, you know, one of the really cool things, if I can mention on a side note too, is when the kids get to engage, you mentioned about meeting the ??? or curators and those sorts of things. And I thought about Mott's Military Museum.
Brandy -
Oh, yeah!
Matt -
When he was... he took us into some of the back rooms and he had a fire truck from New York that was damaged in September 11th. And there's just all kinds of things. The kids just seem to love to engage the people. And when they do, they just, they end up having a great time, by the time they're done. They might grumble and complain on their way out the door, and getting in the car, and that kind of stuff, but by the time we're done, they actually enjoy it. And I think, you know, hopefully, they're learning something as they're there. So….
Brandy -
Yeah, I remember another time that we were driving down the road, headed to a destination, and all of a sudden we realized somebody didn't have their shoes. So those kinda... these things happen. These things just happen. I mean, you just kind of roll with it. You find the nearest Goodwill or Walmart and buy a pair of flip flops for the kid. You know?
Matt -
That's right.
Brandy -
Just try not to become too overwhelmed with trying to make it something, you know, so perfect. Just roll with it.
Matt -
So for those of you moms and dads that are maybe out there listening, and you've experienced that, there's hope. They actually do remember their shoes eventually. So. Keep on persevering.
Brandy -
Oh, my goodness. It's no joke. So, when you get in your car, just turn on the radio. One of the things I have found, Adventures in Odyssey. So if you're thinking about how to engage your kids while you're traveling, Adventures in Odyssey, it's a Great Homeschool's online Convention. They actually have a special with them. So if you've never had Adventures in Odyssey on a road trip, you are absolutely missing out. You need to get Adventures in Odyssey. Books on tape are great ways to engage our family while we're traveling.
So, I wanna leave you with this. Enjoy the homeschool journey. This is a great piece to the puzzle of homeschooling, and don't miss out on it. You don't always have to be at the kitchen table. You can be out exploring and doing things.
Thank you so much for joining us today on Homeschool Solutions Show. We hope that you were encouraged. I hope that this has equipped you to be able to homeschool better, come up with new creative ways to get out there and teach your kids and unique and fun environments. So this is Matt and Brandy Gleason wishing you happy adventures and safe travels.
Wendy -
Thank you for joining us this week on the Homeschool Solutions Show. As always, you can find show notes and links to all the resources mentioned at Homeschooling.mom.
I hope you'll take a moment to subscribe to the podcast and, if it was especially meaningful to you, share it with your friends via email or social media. This is just another way we can all encourage and love and support one another.
Speaking of love and support, we are so grateful for the support of our sponsors. Have you joined us at one of the Great Homeschool Conventions? The Great Homeschool Conventions are the homeschooling events of the year, offering outstanding speakers, hundreds of workshops, covering today's top parenting and homeschooling topics, and the largest homeschool curriculum exhibit halls in the US. Find out more at GreatHomeschoolConventions.com. I hope to see you there.
But in the meantime, let's gather together again here.
Thanks to our sponsors:

Medi-Share