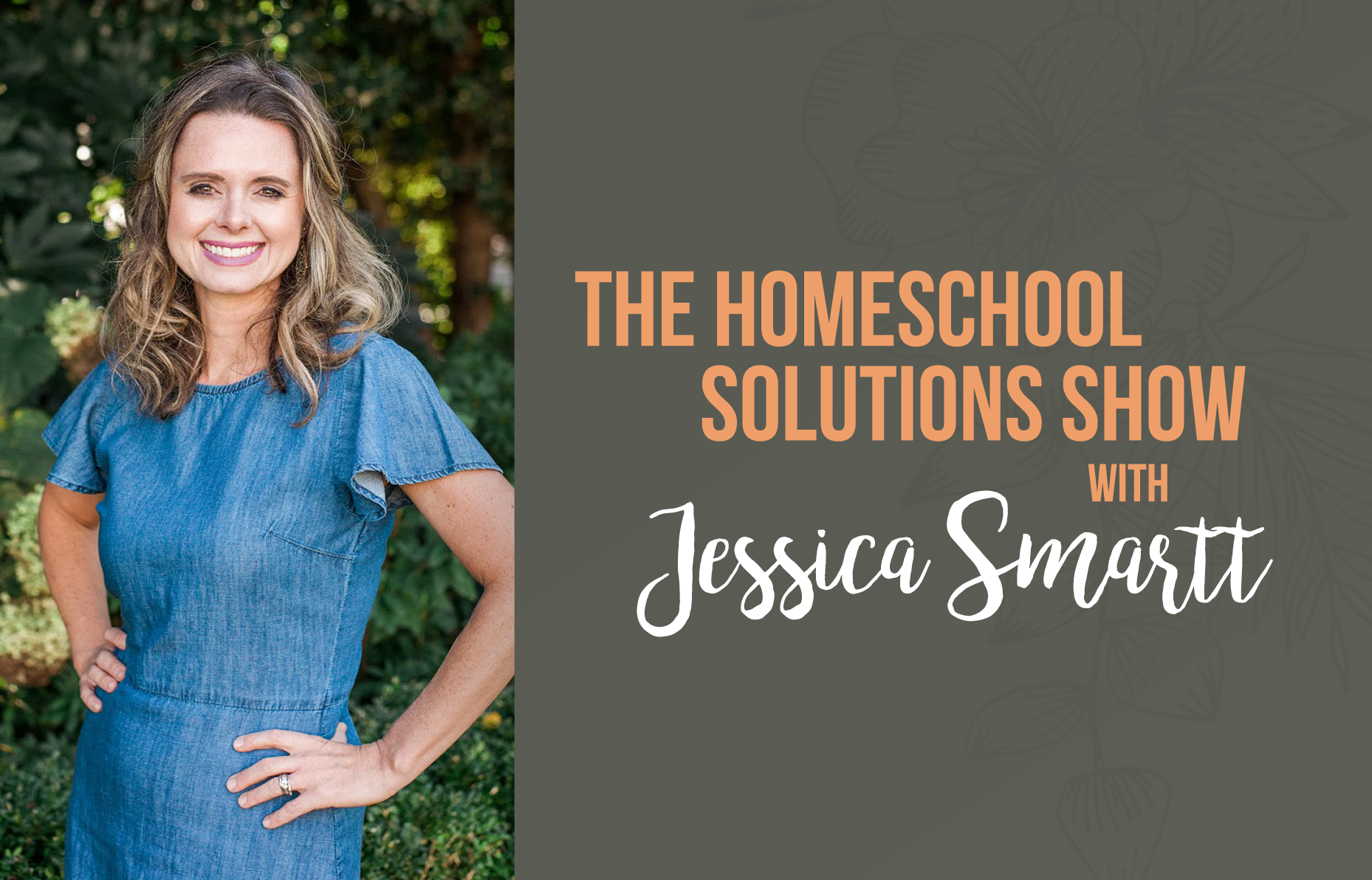 HS #245: Creating A Plan for Your Family's Summer- Jessica Smartt
Show Notes:
DESCRIPTION This episode includes a discussion about building a summer daily routine, helping kids to work, creative ways to make memories as a family, goal-setting over the summer, and how to help parents truly rest without letting the household structure disintegrate!
TODAY'S GUEST Katie Clark has worked in non-profits and prison ministries and now is a homeschooling mom of four children, passionate about encouraging and helping families thrive and grow together. She lives in Charlotte, NC with her husband and four kids and they love reading, studying the Bible, being outdoors, enjoying family meals and having people in their home.
RESOURCES (Resources mentioned in the podcast episode):
"Release yourself of any guilt based on what other people are doing."
"Think about the end of summer. What would you consider to be a success? As a mom, I want to feel really rested, read lots of books, made memories, organized my home, and planned for the year well."
"Build your summer based on how you hope to feel at the end of the summer.

CONNECT WITH HOST:
Jessica Smartt is a homeschooling mom of three and the author of Let Them Be Kids: Adventure, Innocence, Boredom, and Other Gifts Kids Need and also Memory Making Mom. She lives in sunny North Carolina and loves biking, eating, and RV camping. Follow Jessica on Instagram.
Show Transcript:
Wendy -
Hello, and welcome back to another installment of the Homeschool Solutions Show. My name is Wendy Speake and I am one of the many hosts we have here on the podcast. Each week, you'll hear from one of us, inviting one of our friends to join for a conversation about this busy, blessed season, as we educate our children at home.
Now the title of the show is Homeschool Solutions. While we don't have the answer to every question, we know that all the solutions to every stress and every struggle can be found in the Person and Presence of Jesus Christ and His Living and active and applicable Word. We are so glad that you're here to join us for today's conversation. But before we start the show, I'd like to thank our sponsors.
Medi-Share. An affordable and Biblical healthcare alternative. Find out more at mychristiancare.org for their ongoing support of homeschooling families just like yours.
Operation Christmas Child. Many of you have packed gift-filled shoeboxes but the duty of a shoebox doesn't end there. Discover how Operation Christmas Child's shoebox gifts lead to evangelism, discipleship, and the multiplication of believers and planting of churches at SamaritansPurse.org/makedisciples.
And now, on to today's show.
Jessica -
Hi. This is Jessica Smartt. I am one of the new hosts of the Homeschool Solutions podcast. I'm so glad to be here with you guys. You can find me on my blog, SmartterEachDay.com. Smartter has two "T's". And on Instagram, I'm Jessica.Smartt. I'm the author of Memory Making Mom and, available now, my new book, Let Them Be Kids: Adventure, Innocence, Boredom, and Other Gifts Kids Need.
I'm so excited to welcome my friend, Katie Clark, to today's podcast. Katie has worked in nonprofits and in prison ministries and is now a homeschooling mom of four children. She's passionate about encouraging and helping families thrive and grow together. She lives in Charlotte, North Carolina, with her husband and four kids. And they love reading, studying the Bible, being outdoors, enjoying family meals, and having people in their home.
Katie, welcome to the show.
Katie -
Thanks, Jessica, it's great to be here.
Jessica-
Good to have you. So, tell us a little bit about yourself, as far as, how did you and your husband end up choosing to homeschool? Briefly.
Katie -
Well, yeah, it was a process. It started... my oldest son, Titus, was at a charter school, locally, and he started asking to homeschool pretty much right off the bat. But we just weren't at a great stage with the other babies. So I didn't even consider it at first. But as time went on, I started finding it was harder to teach a lot of the things that Gram and I really wanted to teach our kids with the time left after the school day. And, so we started talking about the possibility of homeschooling, and talking to... we have a number of friends, and my sister, that homeschool, and just kinda got excited at the ideas of what it could be and started reading books. And just as time went on it just became more and more evident to us that it would just be a really good change of pace. It would allow a lot more space for our family. And to be able to learn the things that they wanted to learn, that I wanted to teach them, and just to have a lot more family time together.
So we have been...we've only been at it for two years now. We're going into our third year. But we have absolutely loved homeschooling.
Jessica -
Well, that's great. Yeah. I love that. I never had my kids in school and so I've always kind of been curious about that side of it. But it's neat to hear your story and kind of how you guys ended up at it. And I know you're probably just doing a wonderful job with your kids.
So, today we're talking about summer, and kind of just getting a game plan for summer. That's something that I'm always interested in. But I feel like this year, as we're recording it, it's 2020 and we've been cooped up in the house as we look at our summer, some of the camps and vacations that we planned are maybe not gonna happen, or gonna look different, and so I feel even more motivated to make sure that I have a really good game plan for summer going into it. And so, and I know you are too, and that's one of your passions.
So, what do you think, if a mom is listening and thinking...a little apprehensive going into the summer. What am I gonna do with all of this free time? I kinda wanna have a little bit of routine, but I also want somewhere to be fun. What would you say would be the first step that a mom should take if she's trying to come up with a game plan?
Katie -
A great question. I think I would say two things. One, I would just encourage any mom considering the summer to release themselves of any guilt based on what they're seeing everybody else do. I think we're in a time where people have to do what's working best for their families and what will bring the most peace within their own home. So, regardless of what ideas you may hear, today or otherwise, just to not feel guilt if that's not what would bring life into your own home.
The other thing I would say is, it helps me a lot to think about the end of summer and what I want to feel like and how I would look back at the summer. And what I would consider to be success. So, as a mom, I want to make sure that I'm really rested, that I've had time to read lots of books and organize our home, and have a good game plan for the year, and I've had lots of fun and memories of my kids. And things like that. And so, I feel like, it makes sense to build your summer based on how you hope to feel at the end of the summer if that makes sense. And I find, with the kids, the same thing, I want to know what do they think a good summer would consist of, and what would make them feel ready to go back into that next school year and feel like they also achieved rest in their own form. And the change to do the things that they've been eager to do. And to have a lot of fun and see the friends or cousins or whoever it is that they want to see.
And so I think just kinda...it was helpful for our family to sit down all together, and just brainstorm all of those things. What would be the fun things that we could do this summer? What would be meaningful? What are new things we want to learn? And just kind of make a big list so to speak. Not that you have to do all of those things. But I think it just helps to create a picture so that you can kind of work it back now, week by week, or day by day. And kind of pull out a little bit at a time so that it's not so overwhelming.
Jessica -
I think that's a great start. So, you...and I love the way you talk about bringing the kids into it. Because I can tend to be a little more, like, I'm the mom, and here's how it's gonna go. And, that works okay when you have really little kids. But as our kids are increasing in maturity and kind of ending up, you know, looking towards adulthood, we want them to start taking ownership themselves, you know? It's not gonna be too many years, both of us have oldest kids who are 11, and so, you know, it's really a couple more years and they're gonna be at the helm themselves, of deciding, how do I spend my free time?
And so, I love the idea of letting them start to kind of learn how...what it looks like to make a plan and how do you implement that, and all of that. So, after you have your discussion with your kids and your husband, then where would you go? So you've sat down with them and you've said, okay, here are some fun things we wanna do. Here are some, you know, hobbies I would like to, you know, work on, maybe. Here are some goals that I might have. And of course, mom sometimes has goals for the kids, and that's perfectly fine that they don't have for themselves.
But, so after you have that talk, where would you go from there to make sure that something actually happens? What would you do next?
Katie -
So, our next step was to...I made a template for each person in our family that has...I've labeled categories just to help them think about what they would want to do. But it's basically a chart for one week. And they can lay out however many goals they have. Things like reading and exercise and spiritual...you know, things that I would like them to focus on. But I also included things like, you know, fun, you know, items. And a couple of those. A new skill, a hobby. My kids are really into baking and cooking, so put that, you know, so they can make a new recipe if they want to. Entrepreneurship is one thing that we really try to push with our kids. Like finding new work opportunities and particularly things they really enjoy doing. So, taking care of other people's pets or being out in the yard or, you know, raking or mowing or things like that.
So, just helping them be intentional to look for those opportunities and things like that. So, we set out, and all six of us sat down and kinda just laid out some goals. And then throughout the week, each day, after we kinda have our morning time with devotions and they each are given a chore, I'll say, okay so which things do you want to work on today? What's, you know, what's your plan.
And what it helps to do, is just... that way I know in advance if there's something that they need me for, or they need materials for, or they need somebody else to help with. We can kind of map out our week with those things in mind. And then they can take charge of it. They make it happen on their own and I can just kinda touch base and, you know, what are you gonna do today? Do you need anything? Okay. Like, go ahead and go and do it.
So, you know, one learning we had pretty quickly, we just kinda reviewed the first week and started our second week. And, you know, our family, and probably most people, we were a little ambitious about what we felt we could get done in one week. And ??? you know, you can lower that bar. That's okay. This is supposed to be a guide. Not something that you're a slave to, or that you need to feel guilty if you don't do. But it's just, it just helped in those moments when they're walking around a little bored. You can say, well what did you wanna work on? What was the thing that was exciting to you at the beginning of the week, and they go, oh yeah, I wanted to juggle! Oh yeah, I wanted to learn this, you know, go out and roller skate. Or whatever it was. And then they could, you know, find their way. But it takes a lot off of me to have to find things for them to do. They thought of the things and then they can take control of their own day, which I like.
Jessica -
Yes. So, I love that. So, big picture. You know, we do a lot of fun things in the summer and you're not saying that you're not going on vacation or that every single day, you have to like follow this exact spreadsheet to a "T", I know that you're not really saying that. But, what you're saying is those days where things can kinda get monotonous and they get in your hair and they're like, I'm bored, and, you know. You're trying to kind of nip that in the bud by having a game plan. Am I understanding that right?
Katie -
That's exactly, yeah. Rainy days, or the days where we don't have a play date or we're not on vacation. And we, you know, part of what we've been talking about when we're planning for the week, we kind of talk about, what's the fun thing we're gonna do on family night this week? What's a fun, you know, incentive, that we can all work towards that, you know, everybody...so they get to weight into those things of, oh, we wanna do smores this week! Oh, we wanna, you know, ??? a family night, and popcorn or...So it's, you know, the intention is to make it fun and rewarding, but also purposeful. And be intentional with their time.
Jessica -
I think what you're touching on is, nobody's fulfilled or satisfied by just mounds and mounds of leisure free, no-nothing-accomplished time. Like, that's okay for stages, or a day, you know, to catch your breath. But that's not a fulfilling MO of life, and I think we've all had those times where summers or seasons where you, you know, you need some purpose in your life. And so what you're describing is just a way to have intentional time and so that you can really enjoy that free time because you've worked and you've had some structure and routine.
So, I love that. And you and I chatted a little bit before this conversation about just kind of summer, and how we might approach this topic. And after you and I talked, and I do wanna say too, for the listeners, that you have mentioned some of those spreadsheets and templates that you made. And I have those available...I'm gonna put the link in the show notes. So if you'd like to see kind of a little bit what Katie did, I'll put that link in there. And you can even download it and kind of fill in your own blanks.
But one thing that I did is kind of just broke up into all the categories like you said, I gave everybody a worksheet because I'm a former teacher, and so I like worksheets and I have an unhealthy attachment to them. So, I made mom, dad, all the kids fill out the worksheet with, like a summer plan. And so I broke it up into exercise, kind of like you said, exercise, academic, service, a new chore, a business goal, entrepreneurial, like you said, I love that. Five hobbies I'd like to explore. And then I totally copied your cooking and baking, because mine are also interested in that. I think a lot of kids, like this is... that's just like, it is an interest and it's something they wanna learn more about. And then spiritual goals. And then five things I'd like to do this summer. And I'm looking at one kid's, and he went crazy and actually have fifteen things that he wants to do this summer. The chores were like, not so much. Isn't that funny? But ???
So, then from there, you could kinda use that weekly check-in, and I love the weekly whatever you called it, worksheet. Because I think, like, I'm so prone to making these big goals and then I'm like, well how do I actually implement that. And I'll look back and, like, didn't actually accomplish some of the things that I wanted to. And so, that weekly printing it off. And I thought, I might do that on Friday, because that would give me a couple days over the weekend to, you know, like you mentioned, kind of making sure I have supplies on hand, so if I see, okay, somebody wants to learn how to make a chocolate cake this week. That gives me a day or two for the coming week, you know, to get the supplies.
But that's kinda how I implemented what you're saying. And you know, everybody, like you said, I love that you said everybody can kind of, you know, pick and choose what works here for their family. But I thought...I love the way you laid out those different categories. So, after you've had them fill out their weekly things, any other things that you've learned from that that you would say to somebody starting out?
Katie -
So, another thing that's helpful for me, I'm a planner. Which also means I'm really not good on my feet. And in those moments when things are a little crazy, or they're loud and I'm trying to get a meal on the table, and they're squabbling, or whatever, I'm not very creative. I'm not gonna think of some great idea...painting something or whatever. And so I've kind of learned that, to be successful on the rainy days, in those moments that aren't so ideal, it's really helpful to me to have already come up with a list of great activities for different, you know, places. Or, like I said, maybe indoor activities versus outdoor activities. Or things that we could do as friends or, you know, work into our week. Or things like that so that, you know, when I'm not so creative, I have something quick to go to, rather than just, oh, you should just go watch another show. Or, everybody to their rooms, cause I can't think of anything.
So that's been really helpful for me is just to kind of have that... a list. A lot of times the kids like it if they're written and in a jar, and then they go draw something out. It's a little bit of...you know, makes it a little bit more spontaneous feeling for them. So that's been... that's also been helpful, is just to kind of pre-think about the summer. I'm looking at, you know, online, they often have really great bucket lists ideas and the national donut day, national ice cream day, national...you know. Then maybe put those into your calendar to add some spice and fun to the summer.
So just kind of thinking through those things that's been helpful for us.
Jessica -
That's such a great idea. Cause I am also very likely to do that. I'm just like, in the moment. I don't know what to tell you to do, so just, everyone get out of my hair. But if you have the little bucket, it's like... then it turns into something fun. So, can you think of any off the top of your head, just kinda creative things to do? Either inside or outside for those days that you're just super bored? And it can be anything. Like, by themselves, or with friends. Do you have any, like, really fun ideas that you're looking forward to doing?
Katie -
Sure, yeah, one that's been really cool, our neighbor suggested this, so we've started in on it. They really enjoy board games as a family, and so they decided, with covid and all, that they would play a game...I think they do it every night, but they purposely play a different game and then they rate it as a family. Everybody...so they're creating this whole rating system so that they can weed out the games they don't really love and, you know, kinda find again the ones that they do. So that they can, you know, just enjoy that together more. So I think that's a fun...especially for a rainy day, you know, or puzzles, if your family's really into puzzles. Or building forts, or my kids love making slides with mattresses going down the back stairs or...so yeah, and I think also, service ideas...so especially, you know, for a rainy day, like maybe writing letters to Compassion Kids, or making cards for the elderly, or single people that you know are having a hard time, especially with COVID and just...so having an idea things like that that people, that the kids can do. Or making cookies for someone, or make a meal for someone or whatever.
I think having those in your back pocket, so that, you know, again, when you've got a larger chunk of time and everybody's a little stir crazy, just to change it up, I think that's helpful.
For outdoors, one thing that we're working on, that I think is...I'm hoping will be pretty fun, is our neighbor, for our neighbors, we've enjoyed, like, we've been doing workouts at a distance and things like that, for these past couple months with them, but we were thinking about hosting a neighborhood Olympics day, where we are trying to come up with activities that everybody can do from a distance, that each family would, you know, would submit their participants for whatever.
Jessica -
??? activities could we do that would be from a distance. I love this idea.
Katie -
Yeah, so, we...I mean, I think you can do the, you know, egg or balloon toss, or the three-legged race, or you could even have regular races or jumps that they have to do. Or probably things of basketball. I'm sure there could be like some three-point shooting, or something if everybody has their own ball. So, the kids actually latched onto this idea and they are...while we're recording, they're working on ideas for this actually. And, but, I'm excited about, you know, we talked about the, each family can come with their own, maybe make their own flag, maybe come with their own song or chant, and just kinda make it a, you know, just a fun neighbor day on a Saturday. It changes it up.
I mentioned it to another neighbor and she said, oh, and we could end with karaoke night or some, you know, open mic or something. Just to kinda, just fun, you know, I mean, it's not real ??? we thought we could we make some kind of funny trophy for, you know, for whoever wins and...
Jessica -
Oh, I think that's an amazing idea.
Katie -
So, yeah. We're excited. And I think just the planning is also an activity. And then you get to do it. So, we're a backyard VBS, we've been talking about trying to do that. Where each kid would have their own towel and then maybe, you know, again, we'll have to think exactly how to make sure there are games and activities that keep the kids safe. But we thought that might be a way to connect and serve and you know, something fun to look forward to.
Jessica -
Oh, I love it. Yes. And I saw, on your list, you also had secret Santas in family. Tell me about that. Are you planning to do that this summer?
Katie -
Yeah, I thought that could be a fun way just to breathe kindness between the siblings and each other. But just, you know, taking that same concept of what you might do at Christmas and just do random acts of kindness. Leaving notes or maybe, helping out in some way, or cleaning up for someone. And I thought that might...I'm trying to think if there's a way to also do that for our neighbors. To do, just kind of random acts of kindness. Help clean up something in their lawn or do...I don't know. I'm not sure exactly, cause again, you have to be careful of how. But I thought that could be fun...or just sending encouragement notes and maybe, you know, anonymously, or things like that.
Jessica -
Yeah. I love that. Those are so many great ideas and I'll pull those together, as I said, so that people can access them. And there are so many online as well. So, one thing I guess I've been thinking about is, as a homeschooling mom, you know, I feel like I sort of limped to the finish this year in May, and I really need that...I need to be able to rest, but I also want to invest in my kids. And you know, play games with them and round up supplies and do family activities. How do you think parents, moms in particular, can still make a priority of resting so that they're not burnt out from their summer planning schedule? Do you have any tips or thoughts about that, so that it's a life-giving summer for mom, but at the same time, the kids aren't just laying around watching tv all the time?
Katie -
Mmm. It is so important, and I...yeah, I'm with you. We really really need to rest and recover and have the space to think and plan and I find I've kind of set a rhythm...I still have one that's napping, so that kind of helps, but we just all separate in the afternoon. And it's not necessarily a rule, but it's pretty common that I just say, I've gotta go read a book for a little while and so here are the options you have. I made, you know, they separate them all, or they can all go outside. But they can't come back inside. Or, I just kinda set parameters so that I have that space. And they respect it.
I've also found that the more the kids contribute...we've actually had this conversation with them several times, but to say, if you want mom and dad to be able to do these fun things with you at night, we have to still have energy left. And we don't have energy if we're doing all the cleaning up if we're doing all the planning if we're having to come up with everything. But if you guys help, and if you guys plan out the fun thing that we're gonna do together, or you know, the kitchen with doing dishes, or cooking the dinner that night, or whatever it is, then we still have energy left. And then we can go do something really fun together.
And our kids have really latched onto that thinking and I have noticed that when I do kinda say I need to go rest, the kids are starting to realize, okay, if I want to be able to play whiffle ball tonight as a family, I better offer to prep dinner or to clean something up or just, you know, make sure that things can happen and they'll maybe suggest ideas. But that's I think just kind of explaining to kids, it's not something that's always intuitive, that to be able to have space and energy, we also, you know, we also need help. And that's part of being a family. We want to all work, and then we all rest. And everybody has different needs in the family, and just teaching them to be respectful of, you know, I've poured into you a lot this year, and now I need that time to rest. And them learning to respect that, and find their own way to entertain themselves or work on things or serve or whatever.
So, but I do think, just building in margin too, and not planning every minute of the day, I think it really important. I think, in summer, it's a lot less scheduled. It's more of a kind of blocks of time in my mind. But I am pretty consistent about having some block of rest pretty much every day. Because I just, I really feel like I need that to be able to give and to just think clearly. So.
Jessica -
Now, I love that. There's so much wisdom in what you're saying. But I think it's hard for me sometimes to remember that my kids are capable of so much more around the home. And I think you just do an excellent job of this. Tell us, everybody, how old your kids are and then maybe give us an idea of like, the chores that you are working on with your kids.
Katie -
Okay. So, I have a ten-year-old boy, an eight-year-old girl, a six-year-old girl, and then a three-year-old girl. And one of the things that my husband and I have also found is really helpful is using summer to train for new chores that they're gonna do for the upcoming year. Because we do have a little bit more time and space without having as many sports and activities and school and all of that, to be able to kind of focus in on that.
So, this summer, we are trying to increase...so for the older ones, getting them to be much more proficient with all dishes. They've been kind of helpful with breakfast and lunch, and the easier kinds of dishes and loading the dishwasher and unloading the dishwasher and things, but I really want them to be able to clean up the whole kitchen. My husband typically does that, but I think we're really trying to give him more of a relief there.
Also, doing more with laundry. Like actually running the laundry and folding more of it. They each kinda have parts that they do, but they haven't been as consistent with that. With the six-year-old, she's...I've been working a lot more with her in being able to vacuum more thoroughly throughout the whole house, not just, you know, the smaller bedrooms and things. Cleaning bathrooms is one that I feel like probably needs a little bit of retraining this summer, so, we work on that. But I do think that's something that we'll probably work on more this upcoming year. Teaching the younger, the six-year-old, dusting and washing windows and things. But we've been moving our ten-year-old to a lot more of the outdoor, like he handles the lawn for us and he, you know, does a lot more outdoor work. So we're trying to move the girls into more of the indoor chores to...not that he won't do anything. I think it's important for him to be involved inside too, but we're trying to kinda just even out the load.
And then our three-year-old, we have her folding towels. She unloads silverware. I'm teaching her, right now, to set the table more effectively. I haven't gotten her to doing drinks yet, but at least, napkins and forks and things like that. And she wants to help, you know, so it's, I think that's a nice age to capitalize on that teaching while they still like it. I think that that's great. So, those are just some of the ideas I guess.
Jessica -
What would say to somebody who just feels like it's so much work to teach kids how to do stuff? They'd rather just do it themselves.
Katie -
Mmm. And that's, that is a struggle. And it is, it is a lot of work to train a new chore. And my husband and I will often just get, we get kind of exhausted at that stage like you know, the month that we really focus in on it. But, he and I so many times lately, keep looking at each other thinking, this is amazing that we don't have to do all of it anymore. On Saturdays, during our school year, I plan for school. I get the groceries and I do the laundry. And they do everything else. the whole house is cleaned up in a matter of a few hours every week, and they really do it. And they do it well. So, it just...but it did take a number of times of kind of re-coaching and showing, no this isn't done right, let's do this again. And, you know, and so it is, it is exhausting upfront, but it just pays off so much to have that relief valve later, because I can't keep up through the week if I have to do all the chores too.
So it's not that I won't help, or anything. I mean, I will pitch in and things, but it's just nice to know that if I need to, you know I have too many other things, they can make it happen. Or if I go on vacation, it doesn't mean I'm gonna come home to a disaster of a house. They know how to keep it up. So, I, that's a big deal in terms of keeping rest as a rhythm for me as well.
Jessica -
Well, and I think you've captured that so well, of what it can look like and what a relief it can be. And maybe that can motivate you know, those of us who want our kids to kind of do the next chunk of work, to make that a priority this summer. To really invest that time and effort, cause it is, it is annoying to like, no, that's not how you do it. Get it again, you know. Add more soap. Whatever. It's always a little bit of a headache, but you're putting in the time in, and then you reap so many rewards once they are able to do it. And so I agree. I think that would be one thing families could really spend some time in this downtime, and you would be so glad that you did.
Katie -
And if it's okay to mention this, I also would just encourage moms to not try to do it alone and to really involve their husbands, wherever their husband's strength is. So, it may not be in training in chores. You know, maybe they're better at coming up with a plan. Maybe they can organize it or come up with good incentives for the kids. Or check-in with them if they have set goals or things like that. But just to play to each other's strengths so that you're not trying to do the whole summer on your own, as well. And you know, my brother, I thought it was a great example...and actually, I have a brother in law too, where both of them kind of said, you know what I want my kids, ??? all these exercise goals for them and these chores they want them to learn, and what...my sister works, and my other sister in law is just kinda, you know, that's a lot to manage, right? As we can all appreciate. But, for them, just step in and say, you know, making the plan is not that hard for those men, so they made the plan, and set it all out so that it's not nearly as much. It is still something for the moms to manage, but it's not as overwhelming.
Jessica -
I agree. Yes, I'm so glad you said that. And I know the times in our home that I, you know, a lot of times I take the lead as the homeschool mom. But the times that I've kind of like gotten Todd, kind of, you know, as another voice to present a system, it's always taken so much more seriously. It's like, no Dad believes in this too, like, this is actually happening.
Katie -
Absolutely.
Jessica -
So. Yeah, that's a great word. Well, I...we have talked about so many things. I did wanna touch one more thing before we go. I feel like you have a lot of great ideas of just like, hobbies that your kids explore and different interests. can you just kinda give some options of, if you have a kid that, you know, you don't want them doing a bunch of screens, and you'd like for him to kind of like get some other interests. Give us a couple ideas of things that you or you know, your nieces and nephews, or whatever, have been interested in real quick, of just things they could learn this summer.
Katie -
Sure. So, woodworking is one that my son is kinda taken an interest in building and he's building...he started a garden box he made yesterday so that the girls can then plant. Cause they want to garden. And he wants to build a stage so that they can do, they enjoy the acting and singing and stuff. If they're a writer, maybe writing some scripts or some fun, you know, fun stories. My nephew has his really...he gets really into certain things. He got into yoyoing and he got into fishing, and he got...what was his other recent one? I'll have to think of that. But, so the girls, too, they enjoy flower arranging, sewing, or knitting. Making jewelry. Juggling can be fun.
Jessica -
And I have a good sewing...I'm gonna link this in the notes...I have a sewing book I just bought... my daughter...that is amazing. It's like a first sewing project and it has the templates for all of the things and just teaches very basic skills, and she's gotten really into that. She is almost six and has really had good luck with this book. I think it's geared towards, you know, six to ten, kind of, so I'll link that too. But those are all awesome ideas. You're just, you're full of wisdom, Katie, I know that this has been a benefit to moms and, so thank you for sharing. And as you said in the beginning, I do just wanna reiterate, these are all just ideas. You know, you have one personality, I have a different one, and I would encourage anyone who's listening, don't feel tense when you, you know, hang up or turn off or whatever. Just sit down and think and pray and just say, you know, God, I have a lot of ideas. I have some thoughts. I may have guilt or regret over the past or this past year. But where do You want me to go from here? Where do You want me to implement some things into our home? And He's so faithful. He will give you a plan. And so maybe you do just a part of this and that's totally fine. But, I think we've given some good tips, and there's more in the template that I've mentioned. So, Katie, thank you so much for sharing. I'm gonna end with a few very brief questions, and I should have probably told you this ahead of time, cause I know now you've mentioned that you like to have a plan. But, these are just four questions, so, we'll see how you do.
So, the first one is, are you an introvert or extrovert?
Katie -
You know, I test right on the line. Probably a little bit more extroverted, but really close.
Jessica -
Okay. Alright so next is, if you and your husband were to watch a show when the kids were in bed...or movie...what would you watch?
Katie -
We hardly ever do it anymore. We really enjoyed ??? and like, we like period pieces a lot. Masterpiece kind of thing. So, but it's been a while, so.
Jessica -
Okay, so if someone were to walk int he door and say Katie, I brought your favorite meal or something you really love, what might they be holding?
Katie -
Probably a really big salad. We've been really into salad bar and lots and lots of different types of foods in the salad.
Jessica -
Okay. Well, I'm gonna ask you offline for exactly what you put on the salads. Alright, so last question. What's a book, besides the Bible, that you think a mom should read?
Katie -
You know, I actually am gonna say the one... you recommended this on your blog. But, The Vanishing American Adult. I think it is absolutely amazing. My husband and I have had a lot of good conversations out of that book. So, that's one...I don't know if I'd say that's the very top, but that's the first one that comes to mind as a really good help.
Jessica -
Yeah. Okay. Well, thanks so much, Katie, for joining us and we just appreciate all your wisdom.
Katie -
Thanks for having me.
Wendy -
Thank you for joining us this week on the Homeschool Solutions Show. As always, you can find show notes and links to all the resources mentioned at Homeschooling.mom. I hope you'll take a moment to subscribe to the podcast and, if it was especially meaningful to you, share it with your friends via email or social media. This is just another way we can all encourage and love and support one another.
Speaking of love and support, we are so grateful for the support of our sponsors. Have you joined us at one of the Great Homeschool Conventions? The Great Homeschool Conventions are the homeschooling events of the year. Offering outstanding speakers, hundreds of workshops, covering today's top parenting and homeschooling topics. And the largest homeschool curriculum exhibit halls in the US. Find out more at GreatHomeschoolConventions.com. I hope to see you there.
But in the meantime, let's gather together again here on the podcast next week.