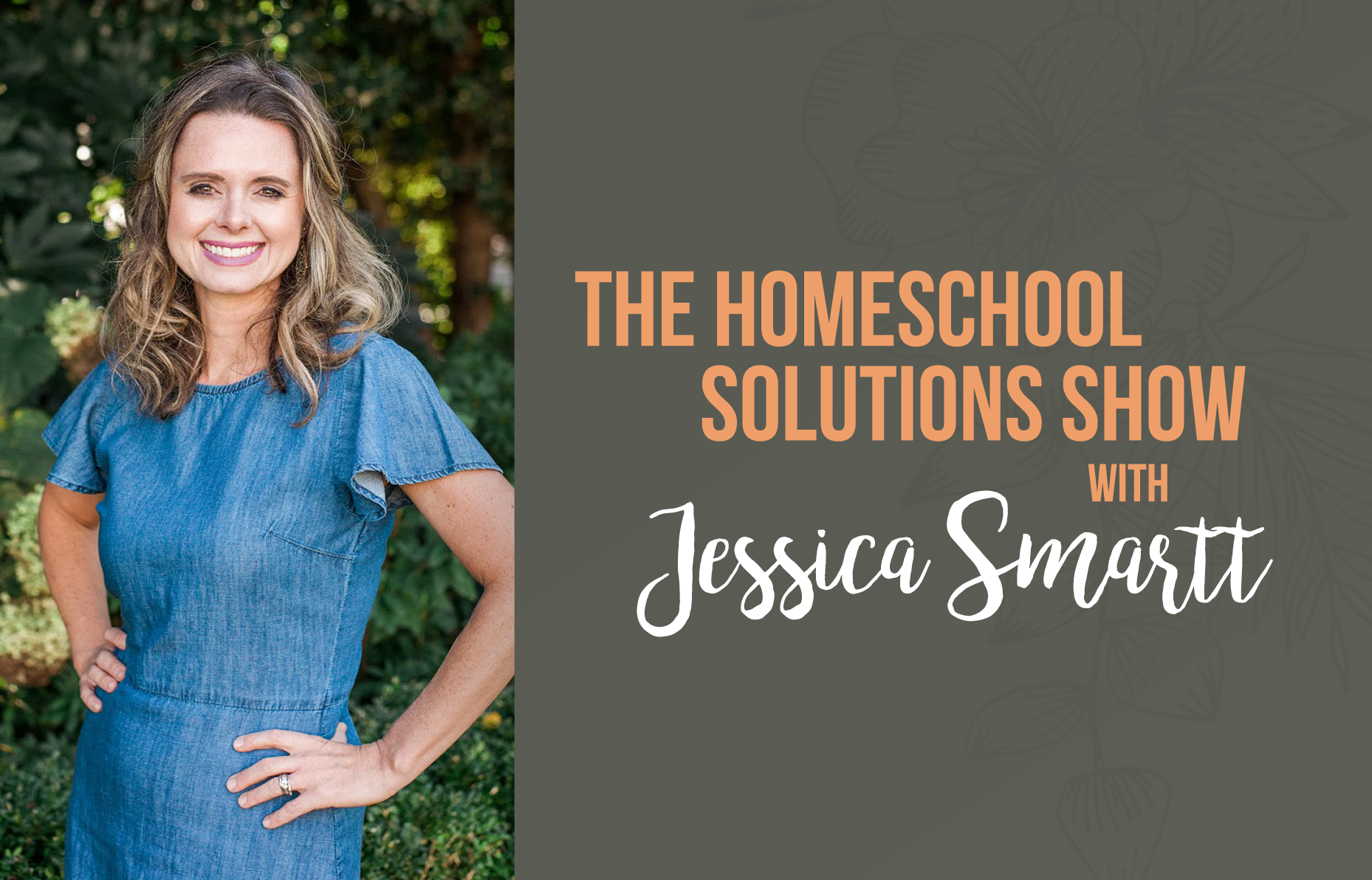 HS #271 Homeschooling When Mom and Dad Work in Ministry or on the Side with Guest Alyssa Bethke
Links and Resources:
Show Notes:
Alyssa Bethke and her husband Jefferson are the New York Times bestselling authors of Jesus > Religion and It's Not What You Think and Love That Lasts. Additionally, they make YouTube videos and host a podcast about relationships and faith that can be found on iTunes. They are passionate about encouraging and strengthening marriages knowing it is one of his primary vehicles to tell the world about Himself. They live in Maui with their daughter, Kinsley, and son, Kannon.
"A lot of people talk about balance, but I don't really think you can balance it all. I think it's more about leaning into the Holy Spirit, asking the Lord at the beginning of each year or season, 'What do you have for me, Lord?' and saying, 'I will do whatever you ask!' "
"If any of you lacks wisdom, you should ask God, who gives generously to all without finding fault, and it will be given to you." - James 1:5
Show Transcript:
HS EP 271
Wendy -
Hello and welcome back to another installment of the Homeschool Solutions Show. My name is Wendy Speake, and I am one of the many hosts we have here on the podcast. Each week you'll hear from one of us inviting one of our friends to join for a conversation about this busy blessed season as we educate our children at home.
Now the title of the show is Homeschool Solutions. While we don't have the answer to every question, we know that all the solutions to every stress in every struggle can be found in the Person and presence of Jesus Christ and His living and active and applicable Word. We're so glad that you're here to join us for today's conversation. But before we start the show, I'd like to thank our sponsors.
Medi-Share. An affordable and Biblical healthcare alternative. Find out more at mychristiancare.org for their ongoing support of homeschooling families just like yours.
Operation Christmas Child. Many of you have packed gift-filled shoeboxes, but the journey of a shoebox doesn't end there. Discover how Operation Christmas Child shoebox gifts lead to evangelism, discipleship, and the multiplication of believers, and planting of churches at samaritanspurse.org/makedisciples.
And now on today's show.
Jessica -
Hi, this is Jessica Smart and I'd like to welcome you to the Homeschool Solutions podcast. We are so glad that you're here today. You can find me on Instagram at Jessica.Smartt. And check out my books, Let Them Be Kids and Memory-Making Mom. Both. I think, super timely for this crazy year that we're having.
And, um, I'm just so excited to welcome our guest today. She's someone that I've really respected and admired and kind of watched, you know, online for a while. And I know that you guys are going to be encouraged by her. Alyssa Bethke is a bestselling author of Love That Lasts. She and her husband, Jefferson, make YouTube videos and host a podcast about relationships and faith that we can...can be found on iTunes. They also co-founded Family Teams, an online initiative to equip and encourage families to be multi-generational family teams on mission, found out familyteams.com. And they live in Maui with their three kids.
Alyssa welcome to the show.
Alyssa -
Thanks so much for having me, Jessica. This is so fun.
J -
Yeah, it's so great to have you here. So just give us a little, like, if somebody is not familiar with you, give us, like, a super brief little overview of your life in your family.
A -
Sure, so I'm married to Jefferson Bethke. Jeff and...we live in Maui. We originally grew up in Seattle and when we started having kids, we just really thought, you know, we work from home, we kind of work online. Where would we want to raise kids? And we knew a lot of young families who love the Lord out here and so we moved for community. And so we live here we get to do a lot of creative fun things, anything we think of in order to share the Gospel and encourage faith and encourage families and marriages. And so we do podcasts, YouTubes, and write books. And then we have three lively and super sweet kids that are almost two to six. So yeah, we just, we live here, we work and we just love being a family.
J -
Well that is just awesome and I didn't realize that that's how you had ended up there. I love the concept of moving for community. I have said that before. I wish, you know, we move for so many other reasons, right? Mainly, like, vocational, like, why would you not just move somewhere for a lifestyle change or a community change? And I love that y'all just did that. Picked up and moved.
So, you have, let's see, your 6-year-old is...are you all doing kindergarten this year, or you did kindergarten last year?
A -
Yeah, we did a slow start kindergarten last year. And then we're starting first grade...we just started first grade this week.
J -
Okay. And so how did you guys come to land on homeschooling? Had either of you been homeschooled or what was, like, the initial conversations that made you think this is a lifestyle for us?
A -
Right. Well, it's funny cause my husband and I both grew up in public school. And then I taught at a Christian school. But when we got married...I think because mainly it started with our lifestyle. Like we...my husband travels a lot and he felt...he speaks and so we kind of were like, you know, I don't think it'll work for our kids to do a normal school. And then we got on the train of just really wanting to be with our kids and, like, spend time with them during the day and be the ones that teach them, and you know kind of do our own thing. Entrepreneurial, really focus on their passions and so and then we moved to Maui because, unfortunately, the school system is just are super great here. We kind of just knew right away, like, okay, we're gonna be homeschooling. And I'm so thankful that we do and I'm thankful that we got a good belt under a year last year before COVID-19. But it has been, it's definitely challenging. And, but I just love it so much. I love intentional time with the kids.
And it really is growing my faith. You know it, ??? it grows a lot of my patience, but I'm so grateful that I get to be at home and be with my kids. They teach me a lot too.
J -
Aww. Yeah, that's, I think that's my favorite thing about homeschooling too, is just the time. And I was just talking to a mom yesterday. You know, so many people are homeschooling now, like, not by choice, because of COVID.
A -
Right.
J -
And she...I've talked to several who are, you know, realize, I really would like to do this long term because they just never even realized that they needed it and their families needed it and their kids are thriving and it's just such a, you know, that gift of, we're all just together and we actually see each other. So that's my favorite thing too, and...yeah.
So, you've got two years under your belt. Or one and a little bit. And you're doing this. What I think is really remarkable and also encouraging is when I think about all that you all have going on as, you know, a couple, and ministry, and vocationally, and that you are allowing homeschooling to become a part of that. Because I think some people may tend to think, like, oh, I couldn't take this on, you know, because I've got a lot going on.
What has God taught you about being, you know, a mom with a passion? Or, you know, a side gig or a job, or however you wanna say it, and homeschooling? What have you learned through that journey?
A -
Wow, that's such a good question. I feel like I'm in the thick of that question. I mean, we've always worked from home, and honestly, as I've just done a lot of it. And then this last year, the Lord's kinda like, just calling me out into more opportunities, more responsibilities, and this, like, burning passion to do more. And so, I really feel like, you know, a lot of people talk about balance, and I don't really think that you can balance it all. I really think it is leaning into the Holy Spirit and asking the Lord at the beginning of each season or each year, like, what do you have for me? What do you want me to do?
And just having this open surrendered heart of, I will do whatever You ask. And I think sometimes we fear asking that because we think it will be so extreme or, you know, so difficult. But really the Lord is for us and He has such sweet plans for us that...and He will be our help. And so, I feel like when I asked Him that, it's actually so much more peaceful because I can be focused on exactly what He wants me to be focused on. And a lot of times that means, like, giving up things or saying this is not my season for that. And then this is what He wants me to focus on.
And when we do that, we know that He meets us there because this is the work that He's called us to do. And it does bring up our limitations, our weaknesses, cause we can't do everything. But it really helps us. He is our help and our strength, and it really helps us to stay focused on what He wants us to. And so, this year, you know, just last week I got away with Him and I was like, okay Lord, what do You want me to be focused on this year? What is Your word from my year? And I felt like He said peace. And then He gave me these Scriptures on peace, and He clearly laid out like, hey, these are what I want you to focus and go after. And these are things that are not for now.
And I'm really grateful because I feel like then I can do what He's calling me to do with intention, and I can do it as best as I can because there's not all these things on my plate. It's like, okay, these are the, these are the meat and potatoes. So, I'm gonna stay here. And you know, I feel a lot, this week, I feel like there's a lot of things going on in my mind and business things, and then the guy in the school with the kids in this new routine rhythm. I almost forgot Kannon's dentist appointment. Just like, these little meetings that I've been missing on, but just giving myself so much grace too, like, okay, the Lord is growing me and I'm learning to be more organized or what really isn't realistic for this season, and so it's good. I feel like He is really calling me to rely on Him and let me trust Him to help me.
J -
Well, I love that. You said that so well and I hope that encourages someone. Cause I think, you know, I mean, just in general, we can be very comparison driven, but even as a homeschool mom, I so often, you know, look at whatever Instagram or blogs or just even, like, talking to people, and you get insecure. Like, well, we didn't make, you know, masks out of toilet paper and wet glue. Like, well, how did we miss that unit? You know, like...
A -
Right.
J -
But, like, I love how you're, like, well, l just stay grounded in, like, your particular calling. And so for you, I don't want to say your time homeschooling is limited, but I think you probably have to be very strategic in how you're spending those hours, right? Like, you're not, like, waking up in the morning, like, I have twelve hours to completely pro to homeschooling, right? Cause, right, yeah, like you have other things on your plate. So I'm curious to know, as you look back on kindergarten year and...are you doing, also, a preschool program, kinda, for the littles, or just...
A -
Yeah well, Cannon is for this year and he's actually really smart. And so I'm kind of...it's so funny, homeschool, it's like I don't know what grades are right, like the Pre-K-K. Like, I feel like he's starting math but I don't really expect much for handwriting. So, yeah, we're just easing into it.
J -
Hey, that's fine. That's great. But, so, when you think about, like, last year and then this year, where do you feel like God is saying, like, this is worth your time? Like what are the activities or even, like, curriculum if you want to be that specific, that you feel like are like are, like, gold for you right now? And if nothing else, you're going to do that in a day or a week or a year. Does that make sense?
A -
Yes. That's so good. Well I...one of my friends told me once, and maybe this will encourage moms, especially ones that are doing it because of COVID. You know when there's certain seasons that we have that are just require a lot whether you have a new baby or you move or your house is under renovation or COVID. Where you can kinda focus on the bare bones. Like, okay, if we don't do anything today but we get these little things done, then we're good.
And so, you know, a little bit of math. A little bit of reading. I always actually forget the other one, which is so funny, but, and I think when she told me that I was like, with kindergarten last year, it just helped me so much because it took all the ideals and expectations that I put on myself and the comparison away. And it's like, okay. Cause you know, we had a little baby, and I was learning for the first time, preschooler. Okay, if we can get a little bit math, I can teach a little bit of reading, and let's say we, like, read aloud book, a little bit of a book. Then we're good. And you know, kindergarten really doesn't take that long. It's like a half hour, maybe 45 minutes a day.
And so then, looking at this year, I just kind of keep building on that. So okay, now I think we need X, Y&Z. And for us, you know, I really went back and forth with curriculum.
For so so long I just struggled with making a decision. I felt like, okay, this is gonna be the course for the rest of our lives. What are we gonna do? What philosophy do I have? Which isn't true at all. But I just, at the end of the day I realized, okay, we the best keys are readers. We just love books, we learn, we have like a crazy library. We just are book people. We're authors, and so I decided to do a curriculum based on literature.
And then also I realize as a mom, I can easily not be a peaceful mom if I go into my task, you know, my task box. Like, okay, if we just check this off, check this off, and I'd get in a hurry. I'm not very loving and intentional with the kids. I'm like, hey, I don't want that for my school year with the kids. I don't want them to think of me as a taskmaster. Just realizing my weaknesses. And so I realized when I'm reading, that's when I'm like my best self and I'm at the most peace, and I love that time with the kids. Like them cuddled around me or being able to be interactive with babies on the table and...or take it to the park in reading.
So, for us this year we do a lot of reading. You know, a lot of fun books, science books, Bible, whatever that looks like. And then, and I'm kind of realizing as we're getting into the rhythm, like, it really doesn't take that long. And so now I'm trying to ask, hey, what else? Is there anything else, Lord, You want us to be about? And realizing the passions. And my kids, they love science and crafts. More like hands-on things, so I'm like okay, how can I add a little bit of that, a little bit of spice each week?
I'm doing that and so, I don't know, I think I just, I realized, you know, one of the things I want to be good at as a mom is being intentional with my kids at school. Like, this is a priority. The Lord has given...gifted me these children. He's allowed me the opportunity to teach them. And so I want to do it well. But also knowing that it's not going to be perfect at all. And that doesn't matter. What's more important is my presence, and so, bringing in a presence of peace. That's kind of my focus for the year.
J -
I love it. And one piece that I just, I feel like I missed in the very beginning when I thought about our life as a homeschool family, I felt really super academic. Like, okay, here is, like, the goals for, like...because it's school. But I think over the years my mindset has shifted through the Lord to see, you know, I don't want my kids to necessarily grow up and be like, 1600 on their SATs, and full rides. Like, that's not my goal at all, actually. Like, I want to raise children who are loving and kind and living out their mission in life, and who are bonded to us as a family. And so all of those goals that are actually, by the way, the most important ones, can be accomplished outside of the academic hours. And that's what I love, or academic time. Like, that's what I love about, you know, just intentional time as a family, kind of. Looking at home school in that lens. And I think you guys really do that well, like, what I've seen through pictures. And obviously, you're living in Hawaii. I mean, I, just selfishly, I'm like, just tell me what your life is like. I mean, as glamorous as we're all thinking it is.
But you know, what are the ways that you, as a family, kind of like go on adventures and make memories and spend time together in this amazing, awesome environment that your kids are so blessed to be raised in? You know, just tell us a little bit of what that looks like, cause I'm just kind of interested.
A -
That's funny, cause I'm like, oh man, you're gonna live on land. It sounds so dreamy. No. And I love what you said, it's so true, and I think that brings so much pressure off of moms, knowing that kids are learning when we're not learning. Like playtime, imaginative play, being outside, having those family memories. And then also, exactly what you said, like, what do I want my kids to be like by the time they're 18? And it's so true. It's more the heart and the character and their faith than scoring a super great score on the ACT and so I just love that.
And I think for us, we...last year we did like a field trip day every week. So, on Wednesday, we will go to the beach or, you know, go on a little adventure, and Jeff would have a couple hours off so we would all do it together. And so that was just a really sweet thing to look forward to in the weeks, to see, our oldest daughter always talked about, like, oh, today's field trip day. And we're still...I'm trying to figure out how to implement that. This week, I think it's gonna be more on Fridays, like, just some adventure that we go on or just family time where we don't necessarily do schoolwork but school outside. And then we always do a Sabbath from Friday night to all day Saturday. And so, we just really believe in taking a day off and being together as a family, resting, working from our rest. That's what you know, the Lord teaches in Genesis, and that we can rest because God is in control. And so we really on Saturdays, we really try to do something as a family. Whether it is just hanging out at home, building Legos. A lot of times we like to go outside, go for walks, hikes, bike rides. And most of the time really it is going to the beach. But yeah, just getting outside and being together.
And then also in the afternoons, we try to just have a lot of playtime and so we'll go outside and just play around the neighborhood. I know it's funny, I feel like, we live in Maui and it's sunny all year round, which is so wonderful, but it doesn't look so much different from the mainland, just playing in the neighborhood, biking, doing, you know those things.
J -
So, oh my goodness. I mean, the pictures are just so pretty. Like, I'm thinking, are your field trips, like, volcanoes and scuba diving. But I guess they're probably just normal like parks and, like, the beach. How far do you live from the beach?
A -
Were like a block away.
J -
Oh wow.
A -
I mean I guess, Jeff spear fishes, so he'll take Sissy snorkeling and spearfishing, so that's pretty unique. Instead of being....I think, for me, I don't get in the water ??? just like building sandcastles and, you know. But, it is, it's pretty beautiful.
J -
I love the idea of the Sabbath, and I...it's a unique idea to me to do it Friday to Saturday, like, I guess, just always in my head I was like, well, if you have to do it, it has to be Sunday, which, if you have little kids, and are actually going to church, there's nothing restful about that experience.
A -
It's true!
J -
So, I'm really intrigued by that concept. What do you guys do? Like, do you and your husband completely shut off from all work and email? And do you make meals ahead of time? Or is it just kind of like, don't put anything on the calendar?
A -
Yeah, so we start at dinner. We both turn our phones off. And that's more for us just because we work online. And me, I just really love Instagram, and Amazon, so it's good for me to be off of it for 24 hours. And we just have a really, like, family meal. My parents usually come over and it's just, yeah, it's funny how our hearts just are less full when our phones aren't around, and...
J -
So, just, this is...I'm in enneagram six. What if there's an emergency? Like, do you have a landline? What...did you like?
A -
Exactly. Well, see my husband's at eight, so he's like who cares? We'll be fine.
J -
Yeah.
A -
You know, and I think, oh okay, I'll say this. Usually, sometimes my phone is on, I'll just delete all my social media apps. Where Jeff will turn off his phone completely. So it just kind of depends. And then sometimes it's like, we do have a flip phone. We also have the Internet. So I don't know. I just...I know I totally...
J -
They'll find you if you...no. That...you're totally right. That's just me freaking out.
A -
No, I know, I think that's a valid question.
J -
No, I just...I love that and I'm kind of jealous. I would really like to do that. I kind of do it. Like, I'll just try to not, but I really need to be, like, very direct about the hours, and I should also try to, probably try to loop my husband in, cause I bet that's good accountability too.
A -
Yes, it is. Well, Jeff did it way before me because he is way more online than I am. And then I just started to realize, like, I would start deleting Instagram for, you know, 24 hours and like, wow, I feel so at peace. Like I just, I don't feel this busyness. And so, then I slowly would, you know, turn off things more and more. But it definitely helps if you have accountability. Or if you just put it in the cabinet so you don't even see it. So yeah. This thing can rest.
J -
Yeah, and I, what I think, another thing that that brings up, you know, cause I know you... kids probably seem so little, but, like, they grow, you know. In a blink, they're, like, almost as tall as you. Cause I feel like it was just a minute ago that mine were, like, you know, in diapers and all that. And as they get older they're going to be having phones. And so I've been thinking so much about, you know, you can...one side of the technology piece is the tone you set for your kids, and the rules and guidelines and boundaries, but they're watching you, and one day they are going to have phones. And so, I feel like our next big piece is for my husband and I to think, like, how do we model this, you know well?
In a way that they have an example to follow, that's a good one. And that's super convicting for me to think about.
But I just love that piece and it kind of reminds me a little bit of another thing I wanted to ask you about because I saw on your Instagram that you had...you were doing what you called copy work. And, you know, we think of that like for our children, you know. to do, like, handwriting practice or whatever, right? Write their verses, and you were doing that too. And so, I love...you know, they may be too little to kind of appreciate that you're, like, doing what they're doing, but I think that's such a good...I just, I love that you are learning in addition to them. And I thought, especially with Scripture, cause it was Scripture, right? Tell us about what that copy work was.
A -
Yeah. Well, I was reading there Mackenzies teaching from rest. Have you read that one? I've read it, like, four times. I'll probably ???
J -
Yeah, every year. It's good to pick up every year.
A -
It is so encouraging. Anyway, in it, she was talking about copy work. And it was so true. I was like, oh, that's interesting. I feel like that's something for 2nd graders, and it was right when COVID was starting and I just felt like, man, I just...during quiet time...cause we have tried quiet time in our house. I just want to, like, fill myself with something good. And I actually...it started with...now that I'm remembering. I felt like I was reading the word of God and, like, studying it in the morning, but it just wasn't staying with me throughout the day. I guess, like, I could read it and then close my Bible and almost forget about it for the rest of the day and I just was really longing to have it sit and be treasured in my heart.
And so, when I read the copy work thing I was like, oh, that's so cool. I'm just gonna, you know, I'm just gonna spend five to ten minutes in the afternoon, when the kids are in their quiet time, and I'm just gonna copy some Scripture. And I think I started with, like, the book of Philippians. And it amazed me. I only took five, sometimes ten minutes a day.
And just writing out the scripture, it, like, clung to my heart. The rest of the day, I was thinking about it. I would bring it up, like, during my walks and when I was making dinner. It was just like I was chewing on it, but what was so amazing to me was it was something so simple. Like, it was almost like I had written it off because it was so elementary. And yet it really was starting to transform my thinking and just applying God's word in my heart.
So it was really...and I just kept going, like, book after book. It was really great and I need to get back to it, cause I lost the habit but...
J -
Did you write straight through all the verses or did you just pick portions?
A -
Yeah, I just kind of kept going through the verses. Like I think it did Philippians and I went to Colossians, and then I think I did some Psalms, so.
J -
Yeah, it was so good.
A -
It was really good. I think this year, now that we're talking about it, I'm like, oh, that would be good to do that along with my kid's handwriting. So then...
J -
Yes. So they see you...exactly. I love that idea. I have a child, won't name names, who dreads that part of our day.
A -
Sure.
J -
But there, some solidarity would...
A -
Right.
J -
But I will just say real quick, the...have you ever seen The Good and the Beautiful curriculum? It's so amazing. This...my child was not loving handwriting, but The Good and the Beautiful is...it's so different from any other handwriting curriculum. And I really have loved it. So if anyone else is, like, my kid hates it, check that one out.
A -
Oh good, that's good to know. I've heard so much about that curriculum. I just haven't seen it in person.
J -
Yeah. It's really sweet. I wish I would have seen it earlier. You should totally check it out. Cause...
A -
Okay.
J -
...I wish I would have done it earlier for some things. But anyway.
So we're running out of time. The one other thing that you absolutely have to talk about is hello, you all have a TV show? Like, what in the actual world? How did this come out and what has that been like for your family?
A -
You are so fun, Jessica. Okay, how did it come about? You know, I feel like I can't remember, I think it...
J -
Did they find you? Like...
A -
Yeah. They, well, all I know...we had done... ??? that last came out, like four years ago. We had done a TV show with TBN. Like a talk show type show about releasing...
J -
And you and your husband wrote that together, correct?
A -
We did.
J -
Okay.
A -
Yeah. So it was really fun to, you know, do a little show together, and we've done a few interviews with them, like, on Jeff's book tours. And so they were starting this new platform called Yippee. It's kind of like a Disney plus. And just, like, kids' shows and super cool, they have like all the Veggie Tales and new ones that are just really fun. And so they were just...asked us if we would do a show with them. But it was during COVID and so it was, like, yeah we can do it. It'll just be kind of, you know, low-key. And more like blog style.
J -
Yes.
A -
And it was so fun. Jeff just really took the charge. He, like, would kind of figure out what we're going to do each episode. And yeah, it was just really fun to see how it evolved. It's more just kind of our family days and our little outings and then adding faith elements to it. And so they...it did really well and so we get to do a second season and...
J -
That's amazing!
A -
I know. I'm really excited about it. So that'll be...we're gonna fill next month and that'll look different. Like it'll be more with a film crew and that's kind of...
J -
So, you've got, like, producers, cameramen, like, coming into your house.
A -
Yeah. But I feel that we're doing it kind of split, so our camera guy, who's, like, was in Jeff's wedding. He's a really good friend of ours. Super awesome. He's going to live with us, like, a month, and get a lot of footage that way. And then their camera crew will probably be with us for like ten days and we'll go around the island and film something so...
J -
So how do we watch this, Alyssa? We go to Yippee?
A -
Yes.
J -
Okay. This is...
A -
Just gonna get the Tess and Alyssa ??? and then our show will come on, and then you just pay, like, a monthly fee that's really minimal, and have access to all the...you know, all their shows that are really good. And we know some new ones coming out that are gonna be super fun.
J -
Okay. Awesome. Wow. You guys are just, you know the next Chip and Joanna, is what I think.
A -
No. Oh, would I be dreamy?
J -
Yeah.
A -
You would be doing...it was like during...when everyone was at home. She did a couple shells with the guy from Johnny Slim.
J -
Yes.
A -
The outlet. They, like, did their bakeoff.
J -
Yes.
A -
Now, what is it...
J -
She's the cutest thing ever.
A -
Oh, I know. And then the ???
J -
Yes.
A -
Those are like, I think those are the highlights of my covid season.
J -
Oh. Joanna Gaines. That's so funny. Yep, that's gonna be you guys, Alyssa. One day. Well anyway, thank you so much. This has been super fun.
Before we leave, I always have four questions that I ask, super quick, that I didn't tell you about. But hopefully, none of them are too hard. So, would you say you are an introvert or extrovert?
A -
Introvert.
J -
Really? Hmm.
A -
Yes.
J -
So, the second one is if your kids are in bed and you and your husband are gonna, like, watch a show, is there a certain show that you would...or a movie kind of thing? What would you guys usually watch?
A -
Right, well, sweet Jeff. I'm, like, really sensitive when it comes to shows, so I only watch is what...yeah...so he usually watches what I wanna watch. So we watched a lot of Hallmark. My favorite show of all time is Heart of Dixie. And then I really liked the new one on Netflix, the Sweet Magnolia.
J -
Okay.
A -
And then we watch, like, all Gilmore Girls and...
J -
He is a good guy. I mean, that is...
A -
I know!
J -
That's funny. Okay, so next one is, what would you say your favorite...if you could have your absolute, like, favorite meal right now, what would someone make you? And I know it's breakfast, while we're talking, but that's okay.
A -
Oh, man. Honestly, I think my favorite meal is steak and, like, a really good salad.
J -
Oh, wow. Yeah, you gotta have the bread cause otherwise, I feel like I may always need a carb right? Like...
A -
I did. I know. I feel like when I try to eat really healthy, I'm like, I feel like I just need some bread with it.
J -
Exactly. That's...no shame in that. Okay, so last is, do you have a book that you would say everyone listening should read besides the Bible? And you maybe already answered that cause you did talk about teaching from rest. Is that what you would say?
A -
For homeschooling, I would say that for sure. Oh. Oh man, there's so many. Let me see, there's...okay, I'll just say two. Can I say two?
J -
Sure.
A -
The one that comes to mind is called The Gift of Being Yourself, by David Brenner.
J -
I've never heard of that.
A -
Oh, he has three books, like, God's will. Something about God's love, and then the gift of being yourself. And I feel like that one...those three, and then especially that one, really... oh man, it just taught me so much about who I am in Christ, and I loved it. I think that every Christian should read that. And then the other one that comes to mind is John Mark Comer's, My Name is Hope, and that isn't necessarily for every Christian, but if you struggle with anxiety or discouragement, depression, I feel like...I read that book multiple times and it has been such an encouragement in my walk with God.
J -
Well, that's awesome. I have actually not heard of either of those, so thanks. But I definitely need that second one.
A -
I know. Yes, I feel like...I've read that book after every baby that has been born, cause I struggle with, just, like, postpartum anxiety. And...
J -
Yes.
A -
It's been such an encouragement.
J -
Oh wow.
A -
So I highly recommend it. And it's like this easy to read, practical. It's a really great one.
J -
Yeah. Well, awesome. Well, thank you so much, Alyssa. Thanks for what you guys are doing for parents and for moms and if people wanna check you out, where do they find you?
A -
Yeah, so definitely have a website called JeffandAlyssa.com, and then you can find me mostly on Instagram under Alyssa Joy Bethke. And, yeah. So I would love to hang out with you guys and chat.
J -
Yes. Alright, well, thanks for being here.
A -
Thanks so much, Jessica.
Wendy -
Thank you for joining us this week on the Homeschool Solutions Show. As always, you can find show notes and links to all the resources mentioned at homeschooling.mom.
I hope you'll take a moment to subscribe to the podcast, and if it was especially meaningful to you, share it with your friends via email or social media. This is just another way we can all encourage and love and support one another.
Speaking of love and support, we are so grateful for the support of our sponsors. Have you joined us at one of the Great Homeschool Conventions? The Great Homeschool Conventions are the homeschooling events of the year, offering outstanding speakers, hundreds of workshops covering today's top parenting and homeschooling topics, and the largest homeschool curriculum exhibit halls in the US. Find out more at greathomeschoolconventions.com. I hope to see you there.
But in the meantime, let's gather together again here on the podcast next week.
Our Sponsors: