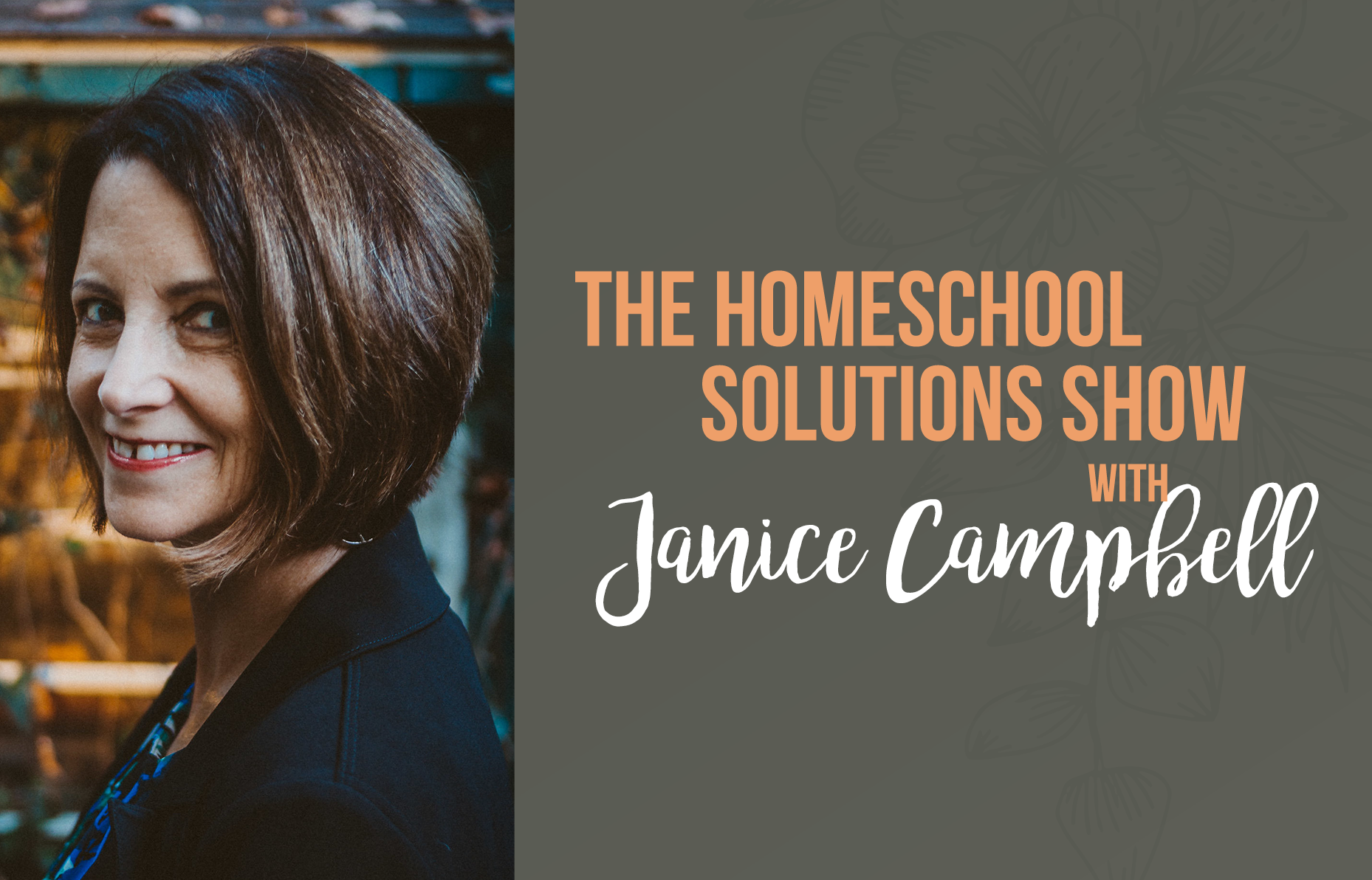 HS #276 Creating a Family Culture of Reading, Writing, and Creativity with Guest S. D. Smith
Links and Resources:
Show Notes:
New book: The Archer's Cup: Green Ember Archer Book 3
The Green Ember series
https://sdsmith.com/store/
Show Transcript:
HS EP 276


Wendy -
Hello and welcome back to another installment of the Homeschool Solutions Show.
My name is Wendy Speake, and I am one of the many hosts we have here on the podcast.
Each week you'll hear from one of us inviting one of our friends to join for a conversation about this busy, blessed season as we educate our children at home.
Now, the title of the show is Homeschool Solutions. While we don't have the answer to every question, we know that all the solutions to every stress and every struggle can be found in the Person and presence of Jesus Christ and His living and active and applicable Word. We are so glad that you're here to join us for today's conversation.
But before we start the show, I'd like to thank our sponsor. Medi-Share. An affordable and Biblical health care alternative. Find out more at mychristiancare.org for their ongoing support of homeschooling families just like yours.
And now on today's show.
Janice -
Hi, I'm Janice Campbell and today I'm here with Sam Smith to talk about reading, writing, and rabbits with swords. Sam, better known to his fans as SD Smith, is the author of the Delightful Green Ember series which has been described as new stories with an old soul.
Welcome to the podcast, Sam.
Sam -
Janice, thank you so much for having me on. It's so nice to talk to you. We haven't spoken for a little while.
J -
I know, it's been a long time, actually, it seems like. Seems like GHC's...we've missed 'em. And that's the first place I actually encountered you. I remember seeing your booth first. Big ole poster with a rabbit with a sword and a huge crowd of kids. And that's pretty much your conference personality, right?
S -
Well, you don't wanna put a big picture of me up there. That would drive people away. So, they come for the rabbits. We suck em in with the rabbits and then they have to deal with me once they get up there.
J -
Hey, it works. But you know, the fun thing about that was, I don't know that I would have ever been able to wade through the crowd of kids that...it was like that first night that I saw you guys, I think, that you ended up at the same dinner, you know, we ended up at, and happened to sit right across and Josiah was busy telling me all about Green Amber and so I picked up a copy and that's all she wrote.
S -
Aw, that's, well, that's my brother Josiah. We have, we remember that dinner, and I think we've had a few since then with some groups of folks, interesting people, that, at first, I was very intimidated by, and then later I was just more scared than ever. Some good people. I miss being out on the road and having friends that are from other parts of the country. But we made up in California and Ohio and South Carolina all over the place.
J -
Yep. Yeah, I'm looking forward to it. Next time we can do it, it'll be good.
S -
Yeah.
J -
But tell us a little bit...I think there's probably a reader or two out there who's, or listener, who's not familiar with Green Ember and rabbits with swords and is wondering what in the world are we talking about?
S -
Well, thank you. Thank you for letting me come on here and talk about this. That's very kind. I'm excited to speak to you today. And I, the Green Ember is, I think that the description you gave was really cool. Rabbits with swords is sort of the surface level, maybe, engagement for a lot of kids. It's adventure. I think it is pretty exciting stuff. A medieval setting. They are rabbits. Personified rabbits. So, I think there's a lot of, you know, there's archery and there's a lost Princess and escapes and all that kind of stuff that it's really fun, that I really like a lot.
And then I think maybe that resonates with kids a lot on these levels, but I think it really resonates with adults and older readers, and maybe some young readers too, with that description you gave of new stories with an old soul. It feels like there's a little bit of a well of meaning beneath it, that's connected to, I think a lot of like sort of deeply human things, like suffering and loyalty and pain and facing death and facing very difficult decisions and pride and, all that stuff. I feel like there's a little bit of the two levels, maybe, that it works on folks, and either one, I think, can bring some enjoyment.
So, it was a story that started out as just stories for my own kids and so that hospitality at their generosity at the heart of it is something we've tried to carry over into, not just the stories, but hopefully how we interact with people who read them is sort of our heart. And I think my brother Josiah, who you mentioned, who works with me, is a great example of that. He's got a real heart for folks and wants to love and serve them. And it really helps me on that mission so the reader has been a wonderful, surprising opportunity for us to love and serve a lot of families and kids, which is really close to our heart.
J -
I think it's given a lot of families that read aloud opportunity, the opportunity to talk about some of those bigger issues because it's not a fluffy little rabbit story, even though you look at the cover of it and, those are a couple of cute rabbits on the cover. But seriously, stuff happens to them. It got it serious pretty quickly. And I just, I mean, I was actually taken aback. I was surprised at the depth in it and delighted really, because, you know, once kids have read Narnia and different things like that, they want more in their stories than just fluff. And so, and parents always want that sort of thing, I think. So, but were you a reader when you were young?
S -
I wasn't honestly. I was probably a middle teenager, middle part of the teen years before I started reading a lot myself. I did always like stories. My Mom read to us a lot when I was little and so I always loved it. But you know you have a lot of examples of boys or men that read a lot, and it was kind of unusual where I grew up. And so I was a little slow to the, slow to get started on that and that's part of these when I get real excited when I hear from families. I get a lot of mail and email that kind of thing from folks who talk about, this is the book that got my kid, of both sexes, started in reading.
But I hear a lot from people who said my boy, my boy started reading because of this. And even folks who struggle with dyslexia have sort of like, that's been a gateway, a little bit of a gateway drug for them into the world of reading and that just makes my heart really happy to hear cause boys are just so far behind girls in so many ways. But I think in reading, it's a real pronounced deficit. And my heart would be to try to not to bring girls down at all. You girls keep going, you're doing great.
But just to kind of bring more boys into that would be, seems like that's happening more and more and they sometimes it happens with my stories. I really love that.
J -
Yeah, I have four boys and so I've always been pretty well attuned to boy tastes in literature.
I have a list on my website of books boys like, which Green Ember is on there because, they do. But, you know, having protagonists, different kinds of protagonists, in the book, it makes it accessible to everyone and delightful. And it is, it's a good beginner book for getting someone into the story, or a story that they won't want to put down. Because really, you keep turning pages and you think okay, it's going to have a break here somewhere. And it doesn't always.
S -
That's true, that's true. Some people say the first book has a little, and I agree, that it's got a little bit of a soft middle as far as it's, slows down a fair amount in the middle and moving toward the beginning, it can be a little slow. But there's not a whole lot of slow parts after that in the whole series.
J -
It's a 'read under the covers with a flashlight' kind of thing pretty much.
S -
Was there a book that got you reading? I'm turning the tables on you, maybe that's not fair, but is there a book that got you reading as a child? Like it was a, do you remember, like, that's the one?
J -
Oh, you know, I was immersed in books from the time I was a little kid because I was raised by my grandparents. I was the only child. They took me to the library a lot and I remember Where The Wild Things Are as being my picture book that created that taste or depicting something that's real, but in a dream-nightmare way. Sort of a, I don't know, it gave me that feeling of elsewhere. And I went from that into, you know, I tried out all the series books that were popular back in my Mother's Day, which, you know, mid-century to mid-20th century. You know, there's all kinds of odd things.
But, it was books that had the touch of elsewhere for me that, you know, Bedknobs and Broomsticks was one that came, you know, David and the Phoenix was another book. Have you ever read that?
S -
I have not. Nope. I've not heard of it.
J -
Delightful book. I was, in fact, I was reading it on a train as an adult just because I wanted to and the gentleman next to me asked me what was I reading. And I showed him the cover, he says, oh, that's my next-door neighbor. Turned out he knew the author. So, anyway. But...
S -
I wrote it down. I'm gonna check that out.
J -
Yes, funny and delightful. And, again, elsewhere I mean really a Phoenix. So yeah, yeah, I've been immersed in books forever.
So do you have a favorite book or book that was influential on you getting you started or?
S -
Yes, I think so. There, I was just talking to my son about this the other day. My oldest brother, and we were living in Africa at the time, and I flew back home. We lived with my oldest brother for a little while and he gave me a copy of Ender's Game by Orson Scott Card. And, you know, not 100% the most family-friendly book for many people, young kids, but for me, where I was, it was, I just, I enjoyed it so much. I loved it so much and it was such a fun experience and I just didn't know. I think I always thought of book reading as not, you know, a particularly difficult time reading, but it was just, it felt like work and I felt like I don't know. I was intimidated by it. It just felt like that something is too hard for me in some ways in that book, just reading it, I couldn't, like, I couldn't put it down and I thought wow reading can be so fun and it quickly there from into Tolkien, pretty quickly, actually, the Shakespearean stuff.
So it was like, we just all got uncorked there with that Ender's Game was massively important for me.
J -
I love that book. I don't, you know, it's funny I didn't encounter it until I was an adult. But in high school I did get to take a speculative fiction class which was very much fun. Fahrenheit 451, 1984, Brave New World, Animal Farm. All of those things. And you know, if people have boys that don't like reading, if they weren't attracted to Little House on the Prairie or, you know, books of the real life. Nature. It's worth a try. Give them something that is a little bit elsewhere. It's a little bit speculative, it's, it gives them that science, technology, dystopian, whatever you know, whatever angle. I think we all have a particular bent there.
S -
Yeah, I think you're right. I'm probably less mechanical than a lot of boys, but that is, I feel like that's really true, that boys often do like stories where there is some kind of schematics, machines, or something happening, even if it's just related to that kind of thing. And then a quest, you know, request something to conquer or something to win and to, just some kind of good cause to fight for.
I do just feel like there are some hooks that work, that I'm looking back, I can say I kind of work for boys, for sure.
J -
Yes, I think the Quest theme is a perfect one. And I mean I love it myself. You know good old, Virgil and Homer, but you start the kids out on the young quests and takes 'em right into those slightly more complex, detailed, and classic quests that are the basis of most everything, it seems like. But, what took you, I mean, took you a little while to get started reading, but what took you from reading into writing?
S -
Well, what's funny is I probably right before I read. I could read, you know, I learned to read at a pretty normal age, so I was capable of it, but that whole, the whole storytelling and stories in general. I described it often as being, I felt like I was haunted by the vocation of storytelling from a pretty young age and I just didn't know how to put my finger on what it was. But I I used to write little stories. I remember, well, I can tell you exactly how it started and that was because of, I had a teacher that read Little Women women to us. And I was so fascinated by the character of Joe. Again, it's funny. You talk about, like, what kind of stories maybe some boys would not be attracted to Anne of Green Gables or Little House, that kind of thing. With Little Women, Little Women, I absolutely loved as a young boy. Really young. And I just, I was so fascinated by that story.
And then, you know, we got to the part where Joe was a writer and I just thought, well, oh, you people do that. You know? It just sort of made sense for me. I got to see sort of the location of the storyteller a little bit, and I kind of thought like, well, why would you do anything else? Like, that's the coolest thing. And I kind of had this love of it embedded from the reason...and just learning more about her in the connection that, whatever our teacher shared with this, which was some kind of ??? That kind of a, hearing a little bit about that and sort of being inspired that, no, Louisa Alcott, she's an American. And she's, you know, she's not too far from me and I just for some reason that felt closer. She felt like someone was accessible in a way that maybe I thought about storytellers as British or long gone and, or you know, just disconnected from like an ordinary kid who honestly, you know, at that time, I lived in a holler. I lived in the hollow between two mountains and I was a West Virginia kid and living in the Hills and so that...anyway, that was just so accessible to me.
So, ever since then I started writing...like, and our teacher read us Lassie and the Boxcar Children and little Lassie stories. And then I wrote, at a pretty early age, I did some science fiction, I guess. The great Space race interruption was a little story about a war breaking out and during this sort of Interstellar Olympics kind of thing. Those were small, but I always loved like anything that was adventure, and Indiana Jones sort of kind of things. I think I wrote a little knock off of that, and just would write little things here and there.
I love poetry. My Papaw was a poet. He was a ball turret gunner in World War Two from the same, well one hollow over from our, from where we would, country gentleman, but he was, he loved poetry. He got a lot of the books when he was in England. He was kind of an Anglophile, which sort of, I was a, kind of anglophile from a young age just from hearing his stories about war and about traveling around Great Britain and some of the books he brought back. And so, I was sort of was exposed to poetry. My dad wrote poetry as well.
So, I wrote poetry at one point, and I, kind of from a pretty early age and kept doing that, and eventually kind of got into songwriting. When I was a teenager, as well, inspired by people like Rich Mullins and Michael Card and Keith Green and Bob Dylan, Johnny Cash and that kind of a...I started writing songs a lot. And I, and that's what I kind of thought I would do, is I thought it would be a songwriter and that just never...I had some health trouble, actually, that really sort of interrupted the trajectory on that. That made be sort of, I felt like ??? my dreams that were dashed.
And I thought, well, I remember, I like to write stories, and even if I'm not, like, super healthy or I can't go out and sing or I can't do those kinds of things, I could still write a story. I could still reach people. ???
So I started sort of getting back into that here and there is sort of a slow. It seems like the Green Ember just came out of nowhere and came really fast. And in a sense, that's really true. It's only been six years, I think, since we started, since that first book came out. So it's certainly, what happens, and it's surprising, but there was a lot before that. As far as a lot of work and a lot of time getting a little better at my craft and, of course, had kids and started telling them stories and that's where the specific Green Ember came from.
But that's kind of long, short-ish version of going from reading to writing. ???
...like, oh, good. I experience this amazing thing with reading Lord of the Rings, or reading ??? or Ender's Game and, or Robin Hood. I'm like, could I, something that made people feel like that? You know you have that sort of same thing. I listen to Rich Mullins and think, can I write a song that moved someone the way that that moves me? And not even necessarily in envy, but just doesn't, like an inspiration that you just sort of wanna keep passing on. And I definitely had that experience too, which I think it's pretty common to writers.
J -
I think that's what starts a lot of storytellers is the desire. You've been in the world of a story and you want to see if you could create something like that. I remember reading At the Back of the North Wind by George MacDonald, and I felt like I'd been somewhere. And I wanted to live there for a while. And so I would write fanfiction for that. And it's funny that you mentioned Little Women. That was the inspiration, seeing Joe write was one of my inspirations too, just, and I started looking for other books about people who wrote because, oh my goodness, I want to do some of that myself. Wrote tons of fanfiction when I was young, just different, whatever I was reading at the time, you know and even dreamed in books. If, I don't know if you've done that, but reading a book and dreaming that I was reading that night and coming up with different endings.
S -
You didn't just dream living in the book. You lived in the author's place.
J -
Yes, it was the strangest thing.
S -
Wow. I've dreamed my whole life, dreamed very intensely, like, that sort of storytelling is just like firing like crazy of all kinds of elaborate stories and doing all the time, still to this day, I can't stop. My stupid brain frame is firing in these narrative forms, you know. But I've never done that. That's really fascinating.
J -
Yeah, I did it for a number of years at, you know, at a certain age, I guess and then it just sort of stopped. It was sort of sad. I think it was when I grew up that it kind of finally stopped cause I didn't have as much time to read in a practical, yeah, just getting perfectly practical about that.
So you've been doing this for a while. You've been telling stories and going for the whole process from beginning to end, imagining the other worlds, that kind of thing, character development, plot, words on paper, and revising. What's your favorite part?
S -
I love...there's parts of it all that I love, but I think my favorite, you know, I'm a bit of an anxious person at times, pretty intensely, so that's been a real crippling kind of thing at times. And I think like a lot of people that are sort of in this type of work or calling, you know, that struggle with, maybe, some mental health like challenges. You know that's not, that's always been there for me.
And so I love, one of the things that I love is I love sort of...you know, sometimes anxiety is, you can't stop thinking about, like, yourself or what's gonna, you know, it can be very self-centered and very...I'm not trying to say whether something is bad or good or whatever. I'm just, it's just sometimes, it's just, actually, it's a crippling focus on, few years and what might happen or what...it's very self-involved in a lot of ways.
And so I love, like, giving the walks. I love the, getting into sort of a state of flow in writing and there, not at the very beginning and not at the very end. But somewhere along the line, you are just gone. And it's a very similar experience to people who read and understand it and it's just like, you don't even feel like you're really creating. You don't feel like you're, you're just participating. It's almost like having a dream where you're writing because you're...it's just coming through you and it's it's not super spooky, but it's a little bit spooky in a good way. It just feels so...I love the feeling of forgetting about myself in a healthy way. And in a way, I feel like more myself than ever because a lot of the tension is gone and I'm just creating and it feels like such a...especially when it's good, and which it isn't always, but I feel like there's just such a gift in that for me, and it feels so good to know, especially since I've had this experience of having a lot of people, you know, responding really positive to the books. That feeling of like, oh, these people that I love and want to give something to, it's happening. You know, I, it's coming around, it's almost, you know, it's such an isolating experience, being a novel writer, different than, being an actor or a musical performer. Something that where you get some of that feedback in real-time. Laughs from a standup comic or something like that. I don't have that, but I have, it's an imaginary, maybe spiritual, maybe that's new. That's being too grand, but some kind of a connection with the audience where I know I can feel this is going to be, they're gonna love this. They're going to cry like I'm crying now. They're going to laugh like I'm laughing. And so it feels shared to me and I love that part more than anything. That feels like, oh, that's a great...I feel like a, I do feel like I am become more myself in, during those times. And in the aftermath of that, I feel like, oh, I've done what I was, sort of like, what I'm on earth to do. And it makes me actually more energetic. It's draining in a sense, that it makes me more energetic for the other good things I need to do in life. Like, I'm so much more quick to wash the dishes and, you know, to exercise and do the things, you know, take care of my kids. Do something...and I'm so much more...it feels like things are clicking when that happens. So that's, so it's not just the moment, but also sort of the byproduct of that is a lot of joy and self-forgetfulness is such a gift. If that happens, sometimes it happens in the worship or, you know, even sometimes playing sports. I've had that experience of feeling like, oh, I'm not even thinking. I'm just going, it's just happening. I love that in sports. And I love that in storytelling.
J -
I love that because truly when you write, you are putting a bit of your soul on the page and when you are in that state of flow, which is, there's a whole book about it. It's truly a wonderful state. It's a...you are united with the idea and with the inspiration and it's an amazing thing. I really, I love the way you described it.
Do you read your books when they're done? I mean, after they're between covers?
S -
I haven't ever yet, no. Well, the only time I've done that is, I've never done it apart from a job.
The job of like, oh, we've got to reprint this so, you know, will you run, sort of, going back and fix some errors or something. But that's not really proper reading. It's kind of work. So no, I don't. No, they're, after I'm done with 'em, they're, I don't want to. I don't really.
I don't have anything against 'em. I love them, but...
J -
You're done. I know what you...I know exactly the feeling. It's done, it's done. You don't need to go back because you've lived there.
S -
Yeah. Then sometimes I have to do it for, to some degree, especially in the series, so the Green Ember series. And there's nine books, and so I forget. And there are so many kids. There's a couple of, like, sort of, fan sites out there. And I've actually had to go on some of those sometimes and, like, find out what's, you know, about a character. But sometimes then I'll have to go back and read portionally. And, yeah, sometimes I really enjoy that. Sometimes when I'm doing it, I'm like, oh, this is...okay. Because you know, I sort of, you have a critical lens of yourself and you, you know somebody can tell ya. You can hear a thousand compliments and one, you know, negative comment, and, you know, what do you remember?
So I, sometimes I have a critical, like, approach. And so often, when I'm doing that sort of research or reading parts, I'm just, oh, that's not terrible. You're okay. But that's kind of a relief.
J -
Yeah, I can see where the fan sites would give you that little different perspective, because really someone who loves something and writes about it, but they're not you. It is, they're going to bring an insight you may not have even realized was there. Which is kind of cool.
S -
Well, it is, and it's important for that stuff too. It's just details. Like, I don't know you know. What did this person say? You know, when did this happen that...and you know a lot of these sites are really, really thorough. There's a couple of really cool ones. They just have, like, a little article about this character. Oh, okay, I don't remember what they did and who they were. You know, so it's just details. I can't keep all that in my head.
J -
You'd have to wallpaper your whole study with, you know, character charts and genealogies, and, you know, timeline. ???
S -
I'm not that thorough. I'm definitely, I'm not a Tolkien, for sure. I'm not gonna get an invented language from me. You're barely gonna get a coherent...ah, you'll get a, hopefully, pretty coherent thing.
J -
So has writing been contagious in your family? You're sitting there doing a lot of it, so, have your kids picked it up or your wife or anyone?
S -
Yes, my wife is, she doesn't write like I do, but she likes a lot and she journals like crazy. She takes a lot of notes and so she's kind of processing through writing a lot. And I think that that...she's really intensely involved with the homeschooling and the family, like right now in this stage, and she's, that's kind of what she wants to do, who she wants to be, and she's really great at it. She's a really hard worker. But she does a lot of processing, like, through the Bible and through...so I think that that's really going to bear fruit at some point in the future, in a way that's generous to other people. And I think she's just sort of like, there's this...I think there's going to be a season where we're going to see some cool things from Gina Smith, I think. I'm not going to put any pressure on her to do that, but she's great.
But my oldest daughter is a wonderful writer. She probably, I don't know if she'll be mad at me for saying this, but she's writing a play right now. Very, very talented writer. I'm excited about what...she's a lot like me and sort of my foibles and things, so hopefully, some good will come out of it. Some good'll come out with all the bad. B she's a wonderful writer. She's written some songs, she's a good guitar player and good singer. So she's definitely inherited it.
And then, my son. She's about, almost seventeen now. My son's fifteen, Josiah. And then we have two more kids. And Josiah, my fifteen-year-old, now this is kind of interesting. I don't think I've ever said this in an interview before, but he and I are working on something together. And he's a wonderful storyteller. Does, works very, very hard at it. World building. He's getting better as a writer. He's not as good of a writer now as like, Ann's a really skilled writer. But he's going to be, cause he just keeps doing it. He just hustles. He's very, he's a really creative guy. He's an artist. He does a lot of, like, graphic design stuff that we use for our work, to share work. And Josiah, my son, Josiah, does that. He's named after my brother. Very confusing for people who ???
Josiah, my son, put out a book together. That's gonna even be more confusing.
But that's, we're working on something now, and it's really, I've really enjoyed it. He's such a great kid. So, we've had a, we've got a great time collaborating. And the other two kids are also sort of... particularly my youngest, the daughter, she likes to kind of like, little stories. She's very creative and...so yeah, it's definitely my poor kids. It's definitely contagious to em, I'm afraid.
J -
So, have you purposely tried to create a creative atmosphere in your home? I mean, I'm sure your wife is very aware of creating an educational atmosphere. And have you guys, together, been working on just fostering creativity? And how have you done that?
S -
You know, I don't think about that very much. But, I did get to talk about that one year at GHC. I can't remember when. But it was kinda like trying to think through, well, you know, what do you? Do you do this? And that sort of thing. I think that's what a lot of questions I was getting were about, you know, how do you foster creativity at home? So, it made me think about it and I don't normally. I'm more of like, a instinct or...and I think, instinctually, I do that a lot. You know, get out the guitar and play along, sing along. That's, leave the guitar out. Have it there, handy. Kids pick it up. You know, you're listening to cool music, talking about it, they ask questions and, that's a very, it's a very informal, organic thing in our family, you know, that, poor kids, and poor wife. Like, when you watch a movie together and I'm like, and this is cool now, because Gina sometimes gets frustrated with it. She's like, let's just, I mean, you know, if there's a mystery or something, I'm like, figuring it out. I think it's probably this guy, you know, I'm so insufferable. And she's like, can we just find out? Can we just watch the movie in private, you know? And so she's not as talking about that kind of stuff, but I've always been like that. And so the kids, as they had gotten older, they're like that too. So after a movie is over or something, we'll sort of talk through. In this way that, I think it is normal, but it's probably ridiculous. Like this sort of forensic, you know, I know what they were trying to do when they said this and then, and I think that, you know, this, they really succeeded. And boy, what a great...you know, so we talk about this like we know what we're talking about. But we, especially on the story side, we just, it's just sort of a natural kind of thing. I hope it's not like, I don't think we're hypercritical. I don't think it's, I don't think there's that kind of attitude.
But we think about things and think about stories and then, of course, there's a lot of Bible in our home. Our church is doing a whole book Bible Challenge this year, where we're reading in one setting, mostly, like, every book in the Bible. And so, like, we had Isaiah last week. And we did that in like four sittings. So, it's a smaller book, so you know, we'll do it in one sitting. And there's just something about, like, sort of catching that whole big, big, long sections that gives you sort of a respect for the whole...you know, and so that we do weird things like that and talk about it. We've always talked about the Bible and talked about narrative, and we're such, we're such story...you know, that's how the world makes sense to us. It's how we understand things.
It's how we love things, it's through stories. When we believe something, we tell people about it in stories.
And so I think that that's in the kind of, that's in the nature of our, of us as human beings, I think, and it's probably more common for us to have those kind of conversations in our home, maybe we're more aware of it. But yeah, I think Gina is really good at like...I'm a big believer in sort of setting traps for kids. So, like, making spaces where they can, you know, like we're, you know, a cozy little nook or something and the setting out stuff or making these sort of...serving the homeschool moms and people who, you know, way more tuned into this than I am. But I love that kind of thing.
Sally Clarkson, who's a good friend, she talks about some of this kind of stuff too, about fostering creativity at home. And I think, yeah, my big thing, I love the idea of setting traps for, like, you can't...I mean, and that's really...we had the whole approach with reading as kids, like again, I had a different experience as you talked about. So, to me, I was never going to say, like, reading is a, something that you're going to get a reward for or, like, if you read this book, you're gonna...it was always like, ah, maybe you'll be able to read that. I don't know. I mean, I hope, it was like a, like, that is the reward. Like, it's gonna be great. And we sort of was like, did the psychological warfare, you know, on our kids, to try to sort of, just like, which I think was just true for us. This is a great world and we're inviting you into it. So it was always that open door there. And I think Gina's done little...Una still needs to learn everyday. And I think there are little, sort of, traps are under our house.
You know, I think that's a good method of being really intentional and trying to snare them into...cause it's not, it's like, I don't know. My dad is to quote, I think it was Spurgeon or something like, like, by the Bible. Like, revival's not something you have to, it's like a lion in a cage. You basically just kinda have to let it out of the cage and it will do its thing. Like, you don't have to baby, you don't have to worry a whole lot. Like, well really now, I know, this is what, you, it's kind of, it's a really powerful Book.
And I feel like that about, sort of like, music or storytelling or that kind...it's just, it's so awesome. Or art. Like, you basically just kind of have to...it's like drugs, you know. You're just like, give em a little bit and then they're gonna stay. Like, it's awesome stuff, you know, so, I think that's...it doesn't take a whole lot. I feel like it's not, I'm not, I wouldn't be, I would be sad if people who are listening to this and, like, feeling like, well, of course, it's easy for you cause you're some kind of author or whatever, or you know, Janice is this expert, and like you get...but I wouldn't, I just think, like, just give em a little bit of sugar. You know, they're gonna come back for the cookies. You know, it's not broccoli. And I love broccoli too, but it's cookies. So give em a little bit of cookies and, you know, it's, it does take effort. I think it does take energy. It does the energy to say I will make a way for you. I will do this. I will buy an instrument or I will set you up with something like...but it's not a, you know, you're not teaching em to break bricks, you know. It's an addictive, wonderful, fulfilling, beautiful thing.
J -
Yeah, if you put out the things, we found in our home, any creative thing that got put where it was available, it would eventually get picked up, and if one of them picks it up, everyone else has to have a try. And of course, we have, you know, the one who can pick up an accordion the first time he sees it and play a two-handed version of a hymn. Who is that kid? I don't, you know. That was not my fault.
But, the joy of discovery is something that I think, if you place those little traps around, but the hammock between the two trees and a warm day and a pitcher of lemonade and a new book. Oh well, you could take that out to the hammock, but, I might be going out there in a little while. You know, just small things. A comfy chair in a sunny window, and the latest book by their favorite author or whatever. It's a joyous thing to create those things for your kids because you know it draws them. And I think it underscores the importance of having time at home, having some open time, some time where everybody is not occupied on separate screens. Everybody's coming together as a family, as, you know, with purpose and joy. And so...
S -
...You're so right, and if you're wanting to talk about, like, excellence and creativity, yeah, cultivating boredom is the greatest gift in the world.
J -
I love boredom.
S -
Give it, yes, that's such a, I mean it is so much harder now for kids to get bored and I was bored and creative. I had to make up games and we don't have a lot of money so I had to, like, make up my own toys. And so I was world-building when I was a kid in the holler, like, and that's such a gift. It's such a gift. So yeah, on an unscheduled time, gift of unscheduled time, it's so powerful. And then I think, too, modeling, you just, I think a lot of people think, well, I'm not a, I'm not a an author or a, I'm not...but that doesn't, if you just try, like, try something, like, if you're never too old, you know, to start trying to paint or somebody get stuff out and do it cause it is hard, I think. You know, I think that the great teachers don't teach only, like, great subjects. They teach themselves. Something to that effect.
But that's what we teach ourselves when we give people, that's what discipleship is, we model something. We were given...it's hard to give people something you don't have, like, I will turn this over to these experts to give you. That's fine if they're around and you got kind of, some kind of, that's hard for a lot of people so, you gotta kinda do it. It doesn't have to be great, but they read. If you're a reader, your kids will read. And if you're inviting them into that world in creative or just basically generous ways, they will. Storytelling, same way. Walk them through it, give them something. Let's try something. Try a musical instrument. Trying to play. Listen to music. Appreciate it. It's gonna, it's, you can't...it's, you know, it's better than taught. And I feel like that's true with all, with these things as well. And then you do not have to be an expert and you don't have to be a bestseller or something like. ???
You know, I'm 58 years old and I tried to write a poem. What do you think of this? I'm like, oh, you know this, just, I'm doing something here. You can, I think kids respond to effort, it feels like, in my experience. Kids respond to like, some kind of, if you care and you would go for something and getting, trying to give him something, they're super hungry for it. So that's been my experience.
J -
And you have to not be afraid to be wrong, you know or do it badly. You know I wanted to learn to draw better and I wanted to do nature notebooks with the kids. And so we did them together. We each had our own and mine were not the best ones by far. We did that, but we learned. But what I also found out was something interesting in our family and I'm sure you're probably, your family had some of it as well. Our younger boys learn from the older boys what the older boys did well, they kind of started passing down. They started exposing the little boys to drawing and music and things that were of fascinating interest. And you know, they would listen to my oldest one is an auditory person, very much, hears and remembers everything. And so they would listen to audiobooks. I think he was four when he listened to Moby Dick, which was crazy, but they ran outside and they reenact the thing. And you know you have your six-year-old out, he was six when he listened to it, cause he was out there trying to harpoon the four-year-old from off the picnic table so.
You know, but the reenacting stories and the total freedom to take those into your life and your being, and then the younger boys saw that and they started living that story-life as well. And it gives them a richer vocabulary. It gives them all these academic skills. But what it does, it furnishes your mind. And it makes you see learning and home and family and all of the things in such a different way.
So you know, there's kids out there who want to be writers. My own granddaughter writes stories and I have four thousand words in a document, Google Doc, right now to look at that she's written for me and, you know it's just...what advice could you give them or to their parents?
S -
Well, I have to work on...I thought about that all this year actually. And I wrote a little something about that. I'm kind of working on a little bit of a course, thinking about, cause I've gotten this question so often from so many kids, so many families.
So, at first, I didn't wanna really address it, I didn't, I just sort of wanted to...feels like so many writers go into the, well, now I've written a book, so now I'm an expert and I'll tell you how to write a book. And it's kind of this whole scheme preying on the gullible, vulnerable writers that are so desperate for some kind of validation, affirmation, direction, anything. And so I kind of hated that whole level. I don't want to be involved with that, I just want try to be faithful.
But then, you know, ten thousand kids asked me how that how to write. And so I, and I find I love those kids. And I find, oh, here's some Golden rule stuff. There are some things that, if I love this person, I want them to, give theirself thought about it, a lot lately. And I think so much of it is about identity, that that feels like, the craft stuff is important, and I've got some thoughts about that for sure. But I feel some of the stuff that tends to be missing in conversations like this often is just thinking about ourselves, not in a self-absorbed kind of a way, but understanding where we fit.
And so, a thing I repeat a lot, and maybe someone else must have heard me say this before, but, a beginning point for me is thinking about the vocation of the storyteller. The love and service is better than fame and self-expression. Thinking about yourself as a, I think of myself as, like, a service industry worker, that I'm what I'm working, but I'm not an elite artist who is, his brilliant soul is so incredible that everything, when I expressed myself, whatever that is, and you know everybody needs to kind of gather around and pick up the pieces of my shattering brilliance.
But I think it's more, no, I'm a storyteller. I'm trying to tell a story that involves two parties, so I'm trying to give this person...what do I think about this person? Well, if I'm a Christian, I'm called to love that person, so I love them and I'm trying to serve them. We give them something good. Does that mean that I give them only exactly what they want? Of course not. We don't do that with food. We don't do that with anything else. When we love someone, we don't just give them, okay, you want a bowl of sugar? Well, here you go. Like, I think a lot of writers do that. That's not what I want to do. I want to, like sugar? Sugar, sure. Desert? Yeah, I love it. Like, let's have the whole thing, but let's have something that's, like, nourishing too. I want to try to love you and give you something, a gift. A consumable gift, honestly, and of course it stays with us, you know, when it's something special. An adventure.
But this, so thinking about yourself, like, think about, don't go in thinking that you're entitled to an audience. And that you're entitled to attention or special status because of your gifts as a person who has this kind of creativity. And I think that we can hear a lot of messages that are different from that. A lot of times when people want to be a writer, they don't actually want to be a writer. They want to be a famous author will want to, for people to give them attention or whatever, which we all want. ??? I get that. And I'm not trying to be super harsh and judgy on that. Like, that's going to be part of the mix. Like, you're gonna, you know, you're gonna want to sell books. You're going to want to get, you know, people to say nice things. All that, that doesn't change because you're, you know, because you're right or whatever.
But I think getting back to the fundamentals. Why am I doing this? I think it's important to even think about, especially when you're young, to think about, there is a popular phrase now, of the minimum viable audience. And that's a very important thing to hold onto. You don't have to, actually, I think it's pretty impossible. There aren't a lot of, like, Elvis Presleys anymore, The Beatles, where, kind of like, everybody in the whole world is fascinated with one thing. There's a lot of, you know, the riches are in the niches, in a lot of ways. I think that's sort of a good approach in general, but even for kids, like, you don't have to write the great American novel or the next Harry Potter or anything like that. But you just write your story for your audience, and if that's for your sister who you love, or your grandma, or your aunt, or whatever, or your dad, write a story for that person and give that to them, and don't, you don't, I mean, when you're twelve, thirteen, fourteen, whatever, you don't necessarily have to write. I think there's a lot of desire. I will be a published author. I wanna be, I wanna get my book out there.
And I get that, I understand. I'm not gonna say don't do that. I'm just, like, you can print something off and give it to your family for Christmas. You can...I think sometimes that's a little bit better approach than thinking, I have done this. It feels like such a job when you finish a book that you immediately...and there are a lot of young people, I'm gonna do a Kickstarter. I'm gonna do a...because you can doesn't mean you should.
And so, I think, if you're a writer in the world right now, you will be subject to endless, endless, endless marketing from people telling you, here's how to do it easier. Here's how to do it simpler. Here's how to, here's how to really reach an audience. Here, if you'll pay me for this, I'll tell you how to really do it. And I got a text one time, I think it was at GHC, about to speak to a room with, like, probably five hundred people. I know the test, it was said, with some kind of marketing. Somebody got their info that said, Hey Smith, get your book written and bestseller. You know, click on this link. And I was like great. So not only is it gonna be a best-seller, but I don't even have to write it.
Somehow, and I understand, like, that's their preying on this sort of like insecurity and vulnerability. And my advice, all those kind of things, like, no you can do it now. You can self-publish right now. You can get on Amazon. You can do all this. Part of, that, everything that smacks of like, here's the shortcut, I would desperately try to avoid, and I would take the long cut. Take the long cut again and again, and again, and again and again. Because nobody who's any good at anything takes, has taken a shortcut to it.
You know, Michael Jordan did not take the shortcut to getting better at basketball. You know, every sort of excellent person, every writer you love, probably been through so much pain. And for most writers, I would say, like, don't do it. If you can avoid doing it, don't do it. Cause it's very hard. There is, and I think that's an important thing to know, like, if you need a little resistant, I just, so when you finish a book, you just feel, I mean, even if you finish a short novel or something, you just feel like I've just conquered a mountain, and you wanna just, like, now I get all the rewards, right? I get to get it out there, I get to be a real author. And I just think, like, you just started, and way to go, that is amazing. That's super incredible. Way to go. But the temptation will be, I'll now listen to people who tell me that I did good and I'll ignore the critics. When really, you're in a period where you still need to kinda go through some of the difficult stuff. I kind of think that not much, you know, is valuable to other people is born without labor pains, without some pain.
And so I think that's tougher when you're young. Sometimes, it's not impossible, there's definitely a lot of suffering in the world. But, I just feel like, all these temptations, to take the shortcut, to try to do it easy, try to make it easier. Like, go through it to get better, right? Basically, just like everything else. We have to write a lot of really bad stuff, and probably the first book you write, especially if you're twelve years old or eight years old or fourteen years old, it's probably not good. And the people who love you, like I love you right now, are probably the ones telling you, that could they tell you it's not very good.
And parents are gonna say, oh, honey it's great. Way to go. Your aunt, who's an English teacher, who did your editing for you, is gonna say good job. You know, you corrected some of the stuff, but...and that's fine. That's what those people are for. But when you kinda get to a real...again, if you think, I am the greatest artist in the world, and I must express myself, then that's your path. But if you think, I'm a storyteller who's a steward of these gifts and I wanna give them a gift, then you kinda gotta work at it. And you kinda, like, when somebody, an editor, tells you, like, that part doesn't really work, or I don't understand what's going on here. When you, don't think, eh, what? How can you say that about this piece of my soul? Yeah, you say, oh, thank you. You know. When I was in college and I was going to try to talk to my wife, who's this beautiful girl who everybody's in love with, I, you know, if I'm going over to talk to her, and my brother stops me and says, hey, hey man, your breath stinks. Here's a breath mint. You know, I don't say, yeah, what do you, don't tell me my breath stinks! I'm going to punch you! Don't tell...that's a mean...no, I should say, oh, seriously? Thank you. Oh my goodness, thank you so much. Alright, now I've got my breath sorted out, I'm gonna go talk to the girl.
That's what you need from people. You need people who love you enough to say, no, hold on. Let's make it better. So, I mean, and that's tough. At the beginning, it hurts. And I get that. But like, developing a thick skin and a soft heart is absolutely crucial. You gotta keep yourself, your heart soft, but you gotta develop a thick skin. You gotta be able to say, all right here. But this isn't good enough. You gotta be able to receive that, and you actually, that's a tough choice too, is picking you to really empower in that way.
But a professional, a serious person, gets to that point where they are not just reluctantly accepting some criticism, but they are seeking, how do we make this better? Oh, this...that didn't make sense to you? Okay, okay, let's fix it. Let's get it to where it makes sense. And so that's how, that's, and if you have, so you have to cultivate humility that's like a person preparing a meal or preparing the sandwiches for a cafe or for a cafeteria or something like. You're serving somebody something. You gotta try to do good. You gotta try to do a good job in love them. So, you can't be wrapped up in your own writing so much in your own, sort of like this idea of this.
But, at the same time, you have to hold on to the fact that it is a magical vocation. It is wonderful, it's beautiful and it's incredible. And there's stardust in it. And so you have to hold on to both of those things at the same time. It's incredible, it's magical. It's a miracle, and it's ordinary. And its service, and it's love, and you're not better than a plumber, you're not better than a pastor or teacher, or a mom. So, you have to hold those two things at the same time, so that's kind of the identity stuff. And, I'm sorry I could go on for a long time on that.
J -
Oh no, I mean, I am totally with you. I think writing has to come from a place of love not just of your idea and your wonderful skills, but a love of the craft. A love of your audience. A desire to serve and present them with something that, where they can see elsewhere, as I mentioned, you know, in the books that I so loved as a child. I saw elsewhere. And that's what your writing can do. And learning the craft is critical. I remember reading Stephen King's On Writing. I've never read any of his other books, but his book, On Writing, is amazing. What are the top-notch ways of discovering what it means to be a writer? A lot of it's sitting there and writing as you said, and so, I love that.
So, we are getting towards the end of this hour here. What's next on your writing agenda?
What's happening with Green Ember? Is it done? Are you, do you have more coming? What?
S -
I do have, so there are nine books in the Green Ember series. The four main books. And then there are, there's a little trilogy of the Archer books, I'm calling the Green Archer books. And those are like a side stories. And there are two back stories that happen, you know, some generations before and I plan to write a third one of that. They're called the Tales of Old Natalia. ??? and there's another, now, that I intend to write. I have it in some kind of beginning stages, called Prince Lander in the Dragon War, and that will be, that will sort of end that, probably, sort of in that little, like a ten-book cycle. But I have more. I have more in my mind. I've got an outline. I've got nine more books outlined, or, in that, roughly outlined, I should say. I'm not much of an outliner, but I've got ideas and possible titles and things. So, I've got kind of a scheme for some more books in that world.
And then I'm writing outside of that world too. I wrote a little novel at this year or last year, I should say, this sort of like close to home here, set in th 80s and then I'm working on this book with my son. And I'm working on some of this writing stuff as well. So, yeah, I don't know what exactly might come out next, but it could be from any of that batch.
J -
That sounds fascinating. I can't wait, you know, and those small books that you would write, those extra ones, like the Wreck and Rise of Wilson Mariner. Those are perfect little appetizer books to give a kid, to say, oh my goodness, you will not believe this series, and they started the little book and then you can lure them right into the full-size novels. So I love the little books myself.
S -
Thank you. I'm all for luring people into adventures.
J -
So, if the...last question. If you were quarantined by yourself for six months or so, and you could only have one book with you, aside from, you know, your Bible or whatever, what do you think you would take?
S -
That is a great question. It's not life, so that's...I can't, I keep trying to think of what I would wanna read besides the Lord of the Rings, but that's the book that I keep coming back to. It gives me so much joy. And life and reality and beauty, and so, I think, I encourage so, I think that, I think that that's the one. That's the one. It's probably cliche, but, I'm sorry, it's so good.
J -
That's okay. I love that answer, cause it could be on my short list. I think the idea of having to take only one book is terribly cruel, though, so I wouldn't do it to anyone.
S -
Thank you, that's good to know that you will not be...when you do oppose me in my six-month quarantine, it'll be a, we all have access to more books.
J -
Yes, definitely. Okay, so it's been a delight to talk to you and I appreciate, you know, all that you shared. It's been fun. I think our listeners, those who are familiar with your writing, and those who aren't, are going to enjoy, you know, getting acquainted with you. And I bet you there's a few have bumped the Green Ember series to the top of their list.
S -
Shew. Very exciting. Who knows what could happen with that.
J -
Exactly. Well, they've got nine to go before the next thing. So, you got a month or two.
S -
Yeah, I do sometimes get like a mom who's made a meal and, you know, they've, like. worked so hard on it and everybody's like, I'm hungry again. I'm like, you just ate! I worked all day, and...so, I feel like, though, as an author, it takes me a little bit a while, give me a second.
J -
I know you, you wanna breathe. But, thank you so much for being with us today. Guests, I mean, listeners, you can connect with Sam at sdsmith.com, and with me, Janice Campbell, at @everydayeducation.com.

Thank you for listening and goodbye.
Wendy -
Thank you for joining us this week on the Homeschool solutions Show. As always, you can find show notes and links to all the resources mentioned at homeschooling.com. I hope you'll take a moment to subscribe to the podcast, and if it was especially meaningful to you, share it with your friends via email or social media. This is just another way we can all encourage and love and support one another.
Speaking of love and support, we are so grateful for the support of our sponsors. Have you joined us at one of the Great Homeschool Conventions? The Great Homeschool Conventions are the homeschooling events of the year, offering outstanding speakers, hundreds of workshops covering today's top parenting and homeschooling topics, and the largest homeschool curriculum exhibit halls in the US. Find out more at greathomeschoolconventions.com. I hope to see you there.
But in the meantime, let's gather together again here on the podcast next week.
Our Sponsors: