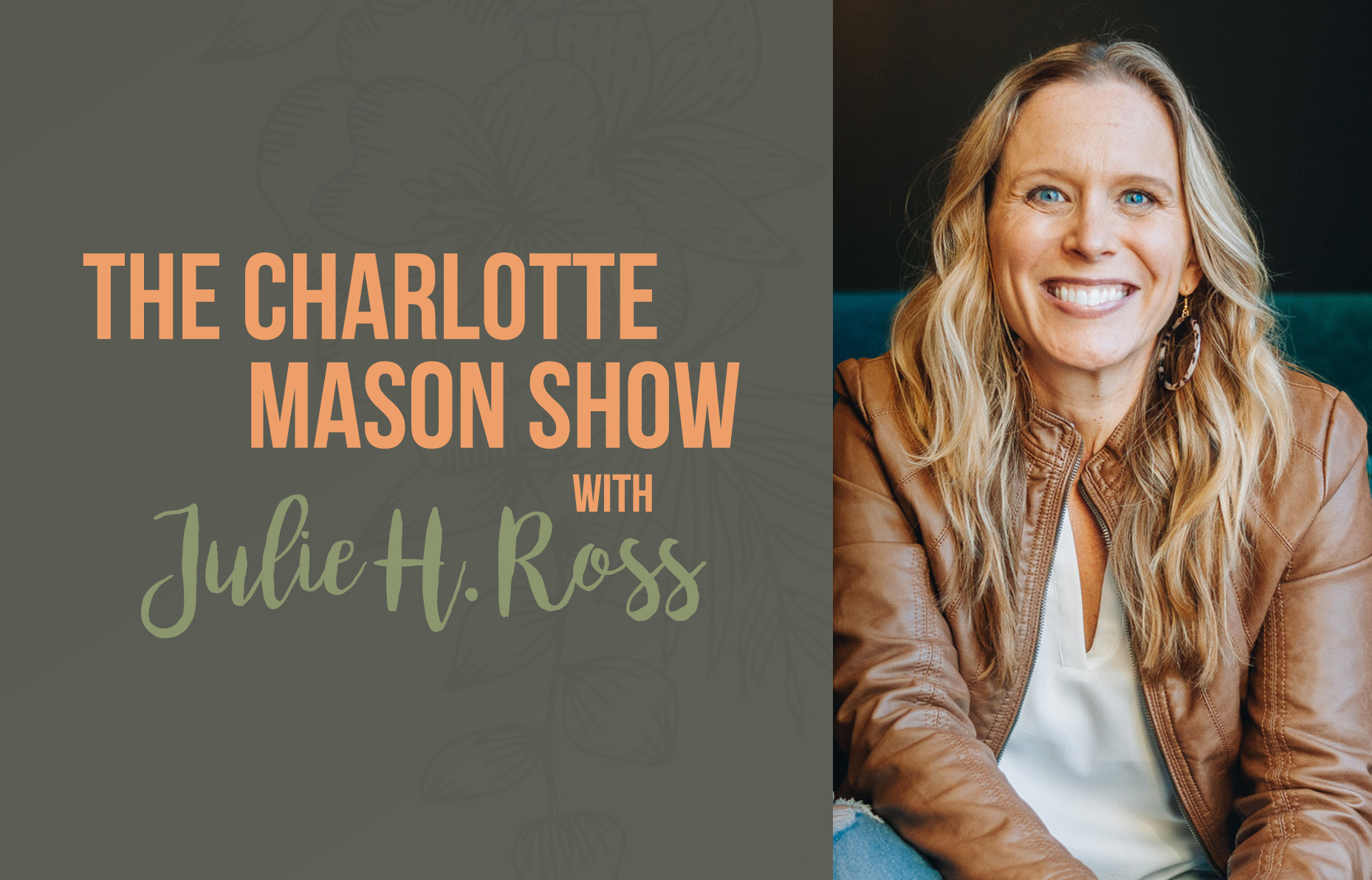 CM 2 Episode #13 Handicrafts with Meghann Dribrell from Rooted Childhood
Links and Resources:
Show Notes:
Meghann is a mom of three little ones, proud lefty, and unexpected country dweller who lives on 7 acres outside of San Antonio. She enjoys spending time in nature and being in the kitchen. Meghann is the creator of Rooted Childhood, a resource to inspire families with young children to create and connect through meaningful, seasonally inspired activities. She can be found online at www.rootedchildhood.com
Show Transcript:
CM EP 13
Julie -
Welcome to the Charlotte Mason Show. A podcast dedicated to discussing Ms. Mason's philosophy, principles, and methods. It is our hope that each episode will leave you inspired and offer practical wisdom on how to provide this rich, living education in your modern homeschool. So pull up a chair, we're glad you're here.
Today's episode of the Charlotte Mason Show is brought to you by Medi-Share. Find out more about this affordable Christian alternative to traditional health insurance at MediShare.com.
The Charlotte Mason Show would like to thank their sponsor, Operation Christmas Child. Many of you have packed gift-filled shoeboxes, but the journey of a shoebox doesn't end there. Discover how Operation Christmas Child shoebox gifts lead to evangelism, discipleship, and the multiplication of believers, and planting of churches at SamaritansPurse.org/makedisciples.
Hi, hello everyone. I'm Julie Ross, welcome to the Charlotte Mason Show. And I'm here with Meghann Dribrell from Rooted Childhood today. And we are gonna be talking about all things handi-craft. So, my daughter asked me before I came in here, said what are you talking about today? And I said, handi-crafts. And she's like, what's that? I'm like, I've just failed as a homeschool mom. I'm like, you know what that...like, the stuff you make with your hands. And she's like, you're seriously gonna talk about that with someone? Well, yes I am, and I'm so excited to have you on, and now our listeners ??? that folks have made from your program, so, welcome. Thank you for being here.
Meghann -
Thank you so much, I'm so excited to be here. And I love talking handi-crafts. So we can talk as long as you want.
Julie -
So, just in case there's people that are not familiar with your work, can you just tell us a little bit about yourself and your family and Rooted Childhood, to get started?
M -
Sure. So, I live in Texas and we live just outside of San Antonio. I have three kids, and my kids are all still pretty young. My oldest is 8, and my youngest is 3, and I have been following Charlotte Mason and the Charlotte Mason Method since my oldest was about 2 when I read For the Children's Sake. And I, it just spoke to me and I knew that this was the way of life, that I wanted to raise my kids and live our homeschool lifestyle. And it really spoke to me that it wasn't just about schooling and we weren't gonna have this separate school time, that it really is this lifestyle. My daughter ended up having...so my oldest daughter has some special needs. She has an anxiety disorder. And I feel like our lifestyle really helps kind of nurture her in the ways that she needed to be nurtured, and that is really where our love of handi-crafts grew, was because she...her anxiety disorder made it hard for her to speak in certain situations, and when it's hard for her to speak, she can always still use her hands. So I was looking for opportunities for her to be using her hands in a purposeful meaningful way. And Charlotte Mason's guidelines on handi-crafts really just fit right into that. So, it really has just blossomed into something wonderful and amazing for us, and my daughter's doing great now. And now I'm getting ready to start my second kiddo in form one next year. And it's just really exciting to see the fruits of, you know, this many years of labor, starting to blossom. And how amazing and magical all these little things that we've done, just little bits every day, can make such a big impact down the line.
J -
Oh, for sure. And I say that all the time, cause I'm like, oh my gosh, it's so overwhelming. There's so many different things. I'm like, but you don't have to do everything all the time. Like, just start, and it's those little bits of sand, and Cindy Rawlings says that, you know, that add up to this life that we're building. And I think with handi-crafts, especially people who be like, ah, especially non-crafty people, right? And get a little intimidated, and go, okay, it's on top of this, or, oh, I can't do this, or, I wouldn't know how...what can I teach my kids, cause I don't know how to do any of this stuff. Right?
M -
Absolutely.
J -
Talk about, kind of, like, your background, and you leading into that. So, it's...I don't know about that, but your daughter's really cool, and I definitely see that with some of my own kids. Like, they're extremely, like some with sensory issues and things that the handi-crafts really do calm them. And it does, it develops that ability to focus, which Charlotte Mason talks about. So, it all kinda ties together too.
M -
Yeah. I definitely think that all...it just kind of naturally progresses into that ability to focus with their lessons. And with my kids, you know, I started on this track before they were even doing their formal lessons, and a lot of that started with me, because I am not a crafty person. And...
J -
No! What? Really?
M -
Yes! I would...in my previous life, I was a wedding planner, so I guess I always had an eye for...
J -
That is so fun.
M -
You know, some of the tests and books say that I am. I'm either a seven or on top of the seven wing.
J -
Okay. My daughter's a seven, and, like, I'm like, you're gonna be a wedding planner. Like, I'm...
M -
And I did...I loved the wedding planning. I loved helping people bring their visions to life and doing some crafty things that way, but I was never one who really loved, like, the actual crafty part. Like, I liked the idea of it, but somebody else does it. But, when I started kind of getting ready for formal lessons, you know, when my daughter was three, four, five. And I started realizing, I had to do some work on myself. And preparing myself for those things. So, I took up a few crafts and started learning some crafts that I wanted to know. And honestly, it did not go well. I remember I bought a set of needle felting, like a needle felting kit. And I sold it at a garage sale, because I just thought, I'm never gonna understand how to do this. Like, this is never gonna work. I'm never gonna have the time to do this. I remember sitting there poking a felted heart for like thirty minutes, and thinking, why am I doing this when I could go buy this at Target? So, it took a little while for me to see the value in it, but...
J -
Which is so fun, because now I've seen several felted things.
M -
Yes. And now, I love needle felting! And I completely see the value in it.
J -
You're like, why did I sell that in the garage sale? Yeah. Right.
M -
And so there were a few things that I took up, like that. Like, I took up embroidery. I bought a really beautiful embroidery sampler from a seller on Etsy. And to be honest, it's still not finished. It has been at least five years since I got it.
J -
Oh my gosh. Okay. This makes me feel so much better. This whole podcast is just totally making my day right now, because I have so many unfinished projects laying around.
M -
Yeah. And you know, I took up knitting. I tried, I took a couple knitting classes. I've done a lot of things. And I really just tried to spend some time on exposing myself to some of these things. Because, when you think about Charlotte Mason's time, or you know, your great grandmother's time, they did these things out of necessity. And it's really just a different life that we have now, with all the conveniences. And we don't learn these things from our grandmothers, like a student in the PNEU schools would have learned from their grandmothers, or their mom, or dad, when they were in school. So, we have to be a little bit more intentional about it. So, I definitely think there's some work to do on the parent's end on exposing ourselves to some of these crafts. And then like we said earlier, I don't think we need to rush into doing everything at once. I think it can be a really slow, methodical process that, over the years, just like, in the five years that I have been working on this, I've done a little bit of all those things. And by the time my kids are graduated from school, they're gonna have been exposed to all of these different handi-crafts and, you know, maybe some of them are gonna take off and they're gonna love them. Some of them, they'll sell at the garage sale when they graduate school. But, you know, not everything is gonna be something they totally love, but they're gonna be exposed to it.
J -
I love several things that you've said. I love that you took it on yourself to learn something first, okay? And I think that's really key. Because, I kinda see this style of education as inspiring our kids, not, you must, thou shalt do, x, y, z. Right? And so, when they see you doing something, and they see you being passionate and like, it's like, oh, can you show me how to do that? You know? Then it's, they're naturally motivated. It's not me trying to outwardly motivate them to do something. So I love that. I loved what you were saying about, kind of how in our day and age, we don't have that family...which is sad...connection all the time. And those people...I know people who do, and I'm like, you are so blessed. Go find a grandma, you know, even if you don't have one near you, that's yours, there's so many...there's still that generation alive who knows how to do those things and would love to teach your kids, maybe one over, how to do all that stuff, right? But, we also are blessed in another way of the fact that we have you two in crafty and fifty-five million videos that can shut...like if you don't know how to do something, like, in thirty seconds, you can find out how to do it. You know, we don't have, really, an excuse of, well, I don't know how to do it, I can't figure it out. I'm never gonna teach my kids. And the fact that, you were also saying, like, you don't, you're not gonna love everything you do. And your kids aren't gonna love everything they do. So, you know, I kinda see, like, in the earlier ages, Charlotte Mason was like, okay, we're gonna teach them some of these practical things. The embroidery and the felting, and the knot making and things. And then, when they're older, they're kinda gonna pick and choose the things that naturally speak to them, and I've been shocked, like, with this whole corona thing, like, my high school kids just started picking up stuff cause they're bored. You know? But they started oil painting and like, things that we really weren't doing that much of before, but that foundation had kinda...that seed had been planted years before from exempts, you know?
M -
Yes. Yeah, I totally see that and we do, you know, each term, we pick a handicraft to work on during our lessons. And then, in our afternoons, it's more free time and I've seen that with my daughter. She will pick up on something that we've done in our lessons, and then just totally run with it. And it might have been something we did, you know, two terms ago or even last year. And it just comes back to her, and then like, we did sewing last term. We did machine sewing for the first time. And just lately, I think all this time at home again, has made it inspiring. And she really just got into sewing and so she is whipping up doll clothes and deconstructing outfits that she already has and making new outfits and making headbands and pillows and all sorts of things, and just really ran with it. And it's really nice to be able to plant those seeds and teach them the basic skills and then let them have a little bit of that accountability and freedom to grow those skills however they want to do.
J -
Yeah. That's neat. And, yeah, you know, you think about, in Charlotte Mason's time, they would have kind of learned these things as a family. So, why do you think she would include them in her programs as a school subject then?
M -
Yeah, I think, like you said, like, today, we might go to YouTube for specific instruction on things. So, while we're being able to practice these tasks in our daily life, having sort of an expert, you know, not that all the teachers were experts on everything, but I know in a lot of the teacher trainings, if you read some of the, you know, background material, they did learn a lot of these crafts and went to workshops and things. They went to retreats where they learned these specific crafts. So, I think having, you know, a set time where you're learning those specific skills, and you know, she talked a lot about you know, having a project that, you know, they could work on and finish in a short amount of time. So, they were able to start and finish a project and know the proper way to do it. The proper terminology about what they're doing. And then it allows them to be able to practice in their life. They're able to go work alongside their parents, or their brothers and sisters at home. I think, just like today, we might go to YouTube or an expert and learn some of these new things. And then be able to bring it back to our home and see how it can fit in.
J -
Yeah. That's great. And she kind of gives this distinction here between handi-crafts and what we might have done when we were in school, the arts and crafts. And she says that, you know, children should not be employed in making futilities, such as pen stick work, paper maps, and the like. And I don't really know what pen stick work is, maybe you didn't like it, but it was like, macaroni mosaic things we use to make?
M -
Yeah. That's exactly what I think of, totally. It's what comes to mind, and I think about...so, even though I say that, you know, I started on the Charlotte Mason path when my daughter was two, there were some bumps in the road, where I went a little more traditional. And I thought, you know, we have to do preschool. And we followed a preschool curriculum when she was like, two and a half and three. And it was one of the times where we were reading. I think it was Blueberries for Sal. It was a book about the bears. Such a cute book. Beautiful book. But I thought, you know, we needed to do like, twenty activities...
J -
Oh of course! Otherwise, they won't understand it an appreciate, right? Yeah.
M -
Yes. So, we got a paper plate and we cut out the paper plate. And we cut brown yarn and made it look like a bear face. And cut little holes in the eyes, and...but then I'm left with this paper plate and yarn and a bunch of glue, and I really wanted it to look like a bear. And my two-year-old really had different ideas how that was gonna go.
J -
A two-year-old with glue is always a good idea.
M -
Yes! So, like, it was after that craft, when I started really going back to what Charlotte Mason says, and it made, you know, that seed stick... made me think. Why are we doing this? And I think that needs to be kind of the resounding question in the back of our minds whenever we're teaching handi-crafts. Why are we doing this? Like, what is the value in what we're teaching our kids? We don't wanna be just doing a bear craft because we should be doing a bear craft. We should be teaching them either some kind of a skill. You know, she has a set of her guidelines of what you know, handi-crafts are. And it should be, you know, a couple of things. It should either be, you know, something where we're teaching the skill that is gonna be a long-term skill that they're gonna have. Something beautiful that might be useful for a gift or something to hang as a piece of art around the home. You know, those are the kinds of things that I prefer to focus on in our home, versus just those things that I'm trying to check off boxes of things that we should be doing. So we think that just look fun that I saw on Pinterest or something like that.
J -
Yeah. That's a great point. And, going back to the ??? Let's dig a little deeper there, okay? Why they might learn a skill. Right? It might be...it could be used as a gift and she talks about that a lot. You know, making blankets for children in the children's homes back then. And you know, things like that. Which I think is great, because it gives you a purpose for that and gives you that, kind of, motivation, but also teaches them to have empathy and care about other people. You know, so like, paper sloyd, I think of, you know, we made those little envelopes. Okay, let's write a card to grandma and put it in this little envelope. You know, there's a purpose for that. It's not just something I'm gonna throw in the trash can. Oops. I confess. But are there other reasons why...like, what other skills...how does that translate, I guess, about this whole education? When you of handi-crafts, oh, that's cute. We can add that on if we have time. Like how does it fit into our whole...
M -
Yeah. I think there's a couple of reasons why it should definitely be included and not just be added in as an extra, like, if you've got time. A Charlotte Mason education is a rigorous education. There's a lot of material going into the brains at a very young age. So even, you know, our six-year-old, that's just starting lessons, is getting a lot of reading and you know, new material and new ideas going into their brain, and they need time to let those muscles rest and to let all of that information assimilate into their brain, and handi-work is just such a natural pause in letting the brain take a rest and let the hands take over for a little while. And I always like to say, you know, a couple years ago, there was, you know, the craze in school, it's like with the fidget spinners.
J -
Oh my goodness, yes. Those things are so annoying.
M -
And kids are using those, I mean, they're flying off every shelf. Parents are getting them for kids. And there is some science behind that, that when our hands are occupied, that we're better able to focus. So, I think that there's a lot of usefulness in that, but I feel like handi-crafts, they can do things like finger-knitting, is such an amazing way to take the focus off the brain, like a fidget spinner would do, in a much less annoying way, and to come out with a really practical useful product at the end. So things like finger knitting, or crocheting, or knitting. You know, that, before we all had our cell phones and could whip out your cell phone to conquer the boredom in the checkout line, you know, every chance you get, you're just looking at your phone. You know, our moms or grandmas would take their knitting with them everywhere. And they would sit and knit while they had a moment of boredom. And I think that those are the kinds of useful skills that help during our lesson time, and beyond. Like, not just lessons, but the whole day, and you know, as our kids get older and older, they're gonna be useful for them as well.
J -
Yeah, that's a great...I think...yeah. I talk about that a lot, that we need downtime in our lives in order to process ideas. So, our job as a teacher is to plant these seeds of living ideas. But they don't have time to grow if our schedules are so compacted with a million different things. And so handi-crafts really does a lot of time for the kids just to sit and be quiet. And not be doing anything else. But when you're working with your hand, like, your mind can go and start to put together all these different things that you were talking about all day long. So it gives them that time for the ideas to be processed. I think, also, like, helps with, like I said, attention to detail. Cause if you aren't paying attention to measuring your lines and your paper when you flip that thing, it's not gonna look like it's supposed to look. Or sewing right? If you're not cutting and measuring properly, your pants are not gonna turn out too good. Or whatever it is you're sewing.
M -
Definitely. I feel like, you know, I'm not, like, a math-minded kind of person. I'm definitely more the creative language arts side. And I never really saw the beauty in math until I started reading about how Charlotte Mason would talk about it. And just to be able to realize that, you know, math is so concrete that it's like, absolute truth and that you're realizing that, when you're working with these numbers, that it's something so finite. And there's just such a beauty in that. I feel like it's the same with handi-crafts that require some of that same preciseness like, something like, sloyd, where you are, you know, drawing lines and measuring and you really have to be exacting to minute detail. Or you're not gonna get the finished product that you wanted. And I think that, you know, our kids can learn a lot of lessons that way in learning patience and not rushing things, and learning how to, you know, measure, you know, twice or three times before you're cutting. Things like that. I think all of those things are really good and have a lot of ramifications that will help them later in life. Not just for the actual craft that they're working on.
J -
Yeah. Right. And the, you know, when they are doing a math problem, if they're doing their handwriting, right? Like, focusing on the quality of the work that you're actually producing. And with handicrafts, you know, it's the purpose is to give it to somebody else, right? Then it's, you don't wanna give them something that doesn't look nice. So then it's that, you know, do you ever get questions about that? I get asked that a lot, like, my child will freak out if this thing doesn't turn out the way it's supposed to turn out. So, when they're little, you know, and I'm like, well that's just the...we're learning the skill. And that's why I think it's good for you to learn alongside with them, so they can see kinda, oh, wow, I don't really...that knitting thing did not come out the way...what did I do wrong, you know?
M -
Yes, I totally agree with that. I think learning alongside our kids is such an opportunity to show them that, we're not gonna do things perfectly the first time. No matter how hard we try sometimes. And, I know, I told you, I was learning knitting. I went and took a couple knitting classes and it's funny, cause I took it with a couple of friends. And of course, my friends were knitting just grand. They knit these beautiful things. I mean, they're knitting hats and socks and I'm still knitting squares, so, this Easter, I thought, I'm gonna knit a bunny. It comes from a square. All you have to do is knit the square and then turn it into a bunny. And, my bunny was so lopsided. It had one short ear and one long ear and a really funny looking tail. And my kids loved it though. They called it a funny bunny. And they just thought it was the greatest thing. And I think it was just a good example to show them that we can try hard and we're gonna do our best, and the product isn't really what matters the most. But, that it was, you know, the thought and the effort that goes into it, and as long as you're putting in best effort, and doing what you can, then, I think, you know, you get an A for effort.
J -
Yeah. Yeah. That's good.
Today's episode is brought to you by A Gentle Feast. A Gentle Feast is a complete curriculum for grades one through twelve that is family centered, inspired by Ms. Mason's programs and philosophy, and rooted in books, beauty, and Biblical truth. You can find out how smooth and easy days are closer than you think at AGentleFeast.com.
So, what advice did you have for a mom who's, like, kind of, like, I don't know how to even start? I don't like crafts. I don't even know, like, what I'm gonna teach my kid. Like, what, where would you even go to get started to go, okay, this would be a great thing to teach a little child?
M -
Yeah, I think I probably have two places where I would draw inspiration. Either things that I'm interested, that I would like to learn to do, or that I'm curious about. So, for me, like that was like embroidery. I, you know, wanted to get started with that. And then my daughter got into it, and embroidery is a really great, simple handi-craft for young children because you can do it on burlap. You can do it on felt. Just, you can do it with a blunt tip tapestry needles and it's just giving them the opportunity to learn, you know, passing the needle from back to front. You know, it's a hand-eye coordination that they're learning. And they can, if they're really young if you have, you know, five and under, they can just free form embroidery. They don't even have to do it to a certain pattern or anything. I would say after they're about five, they might interested in learning to go on a straight line and learn to stitch in a line. You can just draw them some lines on a piece of linen and let them stitch along the line, and teach them a couple different stitches. And then, as they get, you know, closer to their formal lessons, you can make a small project, like my kids have loved making little felt birds that they've just sewn. Or we've done...I have, in one of my collections, I have a project doing a little apple tree on burlap with buttons. So, that's a great project.
J -
Yep. I think we did that one.
M -
Oh, perfect. So, those are all just simple projects that...
J -
You learn to sew a button, so it's actually, like, you're gonna use that for the rest of your life.
M -
Absolutely! Yeah, even when, you know, we started doing machine sewing, and my daughter saw that the machine could do a buttonhole, and then she realized, you know, oh, we still have to sew on the button. You know, you she's not gonna sew on the button. If you feel that skill, even if you're way down the line of the progression of where sewing is going. So, I think drawing on those kind of inspirations of what you're interested in and then just finding really simple practical ways to progress, is really good. And then I also like to follow what my children like to do. Now, our kids, you know, they don't know what's available to them all the time. They don't have the world, you know they haven't been exposed to everything in the world yet. So, I don't think we can rely on exactly what they want. And I think, you know, a Charlotte Mason education isn't necessarily a child-led education, but I think handi-crafts are a time where we can, you know, cater to some of the things they're interested in. So, like, my middle child, he just turned six. And so, we'll start our formal lessons in the fall. But he has been super interested in tying knots. And he just started with just yarn, and he was just kind of tying it so it kind of looked like a knot. And so, my mom actually sent him a knot book and a little card deck with some different knots. And he started tying knots. Now he's super interested...
J -
That's great, man. He's gonna be tying his shoe, like, soon.
M -
I know.
J -
We're still working on that skill.
M -
We're big on Velcro. So... but I thought, you know, he's so interested...
J -
That's also another life skill, that...
M -
Absolutely! So useful and I mean, knots. You don't realize how useful knots can be, cause we're tying them all day long, and if you actually know the right knots for the right situations, it can be even better. So, for our first, I'm planning our year for next year, and for our first handi-craft in the fall, we're gonna do macramé, because he's super into knots...
J -
And it's so, like, in style too, like...
M -
Yeah. You can do so many things with it, I thought, we'll probably do a few things that we can give as Christmas gifts and use that for our first term. So, that's just an example of going off of what our kids are interested in. And being able to incorporate that into our lessons.
J -
Yeah, that's so fun. And I get that question a lot too. Like, well, what about boys? What can...like, my boy does not wanna sew. Right? Or do embroidery. Like, what are we gonna make, you know? So, I love the knots. Whittling. My son, every stick he finds on a hike, it becomes a, you know, length of sword, you know, and so I'm like, oh, you need to learn how to whittle wood because you are always getting sticks. Like, you know, like you said, going with what they like, but doesn't mean that there's no handi-crafts for boys, or that boys don't need to sew a whole in their socks when they're grown men, like, they still need to know how to do this.
M -
Yes. I, just a few months ago, I was super impressed. My husband broke a zipper on his pants, kind of busted. And he went and he bought a new zipper and bought a denim needle. And he's ready to sew that zipper back on, and I thought, oh my goodness, his mom, my mother in law, is an amazing seamstress. And thank goodness, that you know, he's learned these skills.
J -
Cause most people would just be like, I've just gotta give these to Goodwill.
M -
Right! And it's, that's such a gift, I feel like, by teaching our boys these things that maybe aren't typically considered boy crafts, that we're giving a gift to their future wives and children, and I think a lot of it is our attitude. You know, I have girls, and one boys, so, maybe it's easier than if you had all boys. But, in our family, we just do things all together. So, there's no, this is boys, and this is girls. So, we're just gonna do it all together. And again, I think there's flexibility and freedom once they've learned these skills. So, we're gonna do this all together in our lessons, and then what they choose to do in the afternoons is up to them. And, my boy definitely prefers turning everything into a sword. Or, like we learned finger knitting, and my daughter, she's always making necklaces and bracelets, and my boy makes eye patches, like pirate patches. Handcuffs, you know, things like that. It's a different end result, but they're using the same skill. So, I'm not gonna be picky about what they're doing, because he's enjoying it and he's...
J -
And I think that's the key too, is like, when they're little, and till their form one, you know, handi-crafts were a part of the morning lesson block. Then once they got to be form two, they were really taking that and making it their own on their own time, you know? And so, like, everybody needs to learn these kind of foundational skills, right? And then, as they get older, I mean, I have two teenagers whose...you know, their other homeschool friends that are boys, are all like, super into cars and construction. But I'm like, that's totally a handicraft. Like, that is really valuable and really gonna help you in life. Like, one's going like, school to fix airplanes. I mean, just, like, crazy stuff, but that all starts with finger knitting and making knots, right? And then...
M -
Yeah, I think learning, yeah, being able to use your hands in that way, you know, not only does it help, you know, just being able to strengthen those muscles. It's gonna help with handwriting and making, you know, the beginning of that schooling a lot easier. And then I think, when they get older, they're gonna be so accustomed to using their hands for things, and just learning new skills. And just being able to take on anything like, you know, when I...the first time I looked at a sewing pattern, I mean, I was like, what is this? Like, I mean, it's like a foreign language.
J -
Yeah, it really is.
M -
It was frustrating and really took a long time to work through. But, once you conquer all of these little crafts, you know, conquer all these things, you're gonna be able to do whatever. So, yeah, you're gonna go look at a, you know, a map of, you know, an airplane engine. You're gonna be able to figure that out.
J -
Yes. Cause you looked at sewing patterns and you looked at those things as a kid, which, you know, boggles my mind, that that, like, I couldn't tell ya how a car is put together, let alone an airplane, right?
M -
Right.
J -
So I was like, that's amazing. And yeah, one of my daughter's, he literally just built a car from scratch. Like from parts. And I'm like...
M -
That's so amazing.
J -
That is incredible, right? But, it's that gift of time that we give our children with this style of education. Even as teenagers, I mean, I know they have more time than we have, cause, with this whole COVID thing, but like, in general, still, I've noticed between my homeschool, their friends that are homeschooled, and their friends that go to school all day, like, the difference in the kind of way that they spend their time, you know? It's huge. Because they do have that time. And so, I think a lot of people are like, ah, handi-crafts. We got too much goin' on, I don't know how I'm gonna fit that in there. But, really, like, it's just the little seeds, like you were talking about.
M -
Yeah, and I think it's important in the beginning, to really set aside that time. To make sure that you have it as part of your lessons, and you know, you're gonna spend the time on it, and for us, I set aside at least one day in the afternoon, for us to do it together as well. But that gives us, you know, a couple of hours to kind of dive into it. I found, you know, my kids, you know, once they got the instruction during our lessons, we really needed some time to be able to practice it, so. So we might sit outside and spread out a blanket, you know, I have a basket of yarn there, and we can all go sit there and finger knit for a while. Of course, my little ones might run off, they're gonna come back. We might stop and read a book. I'll read to them while they're doing their craft, so, if, you know, really organically happens. But I feel like we have to set aside the time for it, or it's going to become one of those things that gets forgotten. That gets pushed aside for the things that we might think of as more important.
J -
Yeah. How much time do you spend, like, would you say, during your morning lessons on the instruction part?
M -
I usually try to do two to three times a week, we do like twenty to thirty minutes, as part of our lessons.
J -
Yeah. So still that short lesson time that's focused in figure this out, but then we're going on to something else.
M -
Yes. Yeah and we're usually...I usually try to plan it where we're really focused on something very specific. So, like, for my daughter's sewing machine lessons, you know, we might be learning, you know, how to thread the machine. And that's all we're gonna focus on during that twenty minutes. Or we're gonna learn how to do a zigzag stitch. So, something very focused that we can learn and practice once, at least, and feel accomplished that, okay, we've got that, during the lesson.
J -
That's, I think, one of the other key components about handi-crafts. It gives them that sense of accomplishment. Like every little kid wants to be like, look what I made, right? But like, this is an actual useful practical beautiful thing. It's like not, ew, look what I made. I made a stick man out of crayons. Not that that's not fantastic, but like, having a potholder is a little bit like, oh, I can use this. You know?
M -
Yes, I completely agree. I think it gives them a special sense of pride. And it's a legitimate sense of pride. Not just keeping praise on your child, but you know, more of an internalized sense of pride that they were able to accomplish something and do something and then, especially when it's those useful things that we're using and seeing in regular life, like, they get, you know a lot of joy out of seeing those things. And I think, once they start to realize that feeling, then they're more apt to create even more. So, like my son just burned his hand a couple weeks ago, and we were at the hospital for one of his follow up appointments, and I got home, and my daughter had sewed him a little resting pillow for his hand. So he can kinda put his hand down. And, I just think she was so proud to do it. And he was so thankful. We were so proud, and yeah, I just think that shows how, you know, once you teach them these skills, like, they're able to turn this into a blessing and a gift for the world. Which is a really incredible thing.
J -
And I think it's great, too, for kids who might not get that accomplishment feeling from their reading lesson or their math lesson. Like, at some point during the week, I'm going to finger knit an eye patch and it's gonna be awesome. You know. And they can get that feeling from that. Where they might struggle in other areas, but that, you know, so you're really are meeting a whole bunch of different children, I guess. At by having that as part of your day and not like, oh, that's, we don't have time to get that either. Like you never know what thing your child's gonna latch onto and be like, ah, I can do this!
M -
Yes. I totally agree with that and I think, even my daughter, she's really, you know academically driven. And I feel like she does great in all her lessons, but even those kids are not gonna be 100% all the time. You know, they might have those down days, where they're just not feeling that great about how things went or had trouble, you know, doing a certain something. And this is an opportunity for them. You know, there's not really a lot of comparison in handi-crafts, because you have such creative freedom to be able to...everybody's finished product will look a little bit different. So, I feel like it's a really great way for them to just be working, you know, just looking at themselves. Not comparing themselves to anybody else. There's no right or wrong way, necessarily to come out with a finished product. So it's a really great opportunity for them.
J -
Yeah, that's really neat. So, I always close, I like to ask them if they have a favorite Charlotte Mason quote, which most are like, how can I answer that? Or one that goes like, with what we've been talking about.
M -
Yes. Okay. So, I have a lot of favorite Charlotte Mason quotes.
J -
Yeah, everybody says that, they're like, I can't pick one.
M -
But, I feel like, this one comes from Volume Six, and it's on page 328. And it says, we know that the human hand is a wonderful and exquisite instrument to be used in a hundred movements, exacting delicacy, direction, and force. Every such movement is a cause of joy as it leads to the pleasure of execution in the triumphs of success. And I love that, yeah, I love that quote because it just encompasses and embodies just exactly what we've been talking about. That you take these fine-tuned movements and these little acts of making things right, and you're able to turn them into something just exciting. And wonderful to share with the world.
J -
Yeah. And it gives them, like you said, it motivates them to wanna keep doing that. And I definitely see that, even in my older kids that we're not doing handi-craft time, right? You know? But they want to make something cause they see that value in that. And they have that joy, and that's what we want, right? We wanna fill our days with things that bring back a sense of accomplishment for our kids and fill our homes with joy. And handi-crafts really is way to do that. It doesn't mean it's not gonna be frustrating. There's plenty... I won't lie. Like there's been days when we've had tears because it does, like, my stitches didn't work out. I had to rip out the whole thing cause I sewed it backwards. I'm like, we're talking about myself crying. But, that's like, okay, well, you know what, this is life. Sometimes you gotta rip it all out, the things we've done, and start all over.
M -
Absolutely. It's a lesson in perseverance.
J -
Exactly. And now when I get to their reading lesson and the words are really hard, but remember yesterday, when we had to redo that whole sewing thing. But then it turned out, and it was so awesome? Keep going, you know? Like, it does really encompass the whole person. So. How can people find out about ??? I love the little collections you make. They're just a great way, especially for people who are like, I have no idea where to even start to try to teach my kid how to do anything.
M -
I have a collection of seasonal crafts and there's some extras that go along with it, but there's one for each month of the year. And each month has eight different handicrafts and three recipes, cause cooking is also another great handi-craft.
J -
Yes, and that's a really good point. She did handi-crafts and work. So. It was also cooking, gardening, cleaning, life skills, really.
M -
Life skills really are practical life things, so, so for my collections have a lot of those things. It's really geared toward younger kids, I would say about ten and under. And, it's really a whole family resource, especially if you have little ones and one student in lessons, or something like that. It's a great opportunity to do something together. And it just has ideas of different projects where you can use some of those skills, some of the ones that we've talked about today, like, embroidery or different things. Like, there's paper quilling or needle felting or wet felting. So, learning some different skills and one specific project that you'll be able to carry and do more projects and expand on those skills.
J -
And to make great Christmas presents. Like, those are so fun.
M -
Birthday presents. You know, all sorts of gifts.
J -
And, even though, you know, I do have older children, I don't know if I should share this or not, but, it's been great for me to go, hey can you go do this with your sister?
M -
Yes. I...
J -
Cause I work from home and I do have to have sometimes have that resource, you know?
M -
Yes. And I have, I have a lot of large families who use the monthly collections who'll tell me that it's a good opportunity for... No, because, well, and a lot of times, is mom's, you know, we might have me time to do a one on one reading lesson, or something with one of the kids, and it's an opportunity for the other kids to be able to do something and feel like they have something for them also. Without being academic.
J -
So, that's RootedChildhood.com.
M -
Yes. You can find me, RootedChildhood.com, or on Instagram at Rooted Childhood.
J -
There's a hashtag too, right? If they wanna, see, like...
M -
Yes. You can so a search for Rooted Childhood hashtag and see some of what our families have been doing.
J -
Well, great. Well, thank you so much for chatting today. That was super fun.
M -
Yeah. Thank you.
Julie -
Thank you for joining us today on the Charlotte Mason Show. I'm your host, Julie Ross, and I would love to meet you in person. All of the Great Homeschool Conventions have been rescheduled to 2021. Go to GreatHomeschoolConventions.com to find a convention near you.
But you don't have to wait until 2021 to experience the amazing speakers and vendors at the Great Homeschool Conventions. They now offer an online convention that you can find on GreatHomeschoolConventions.com.
Also, if you would like the show notes for today's episode, go to Homeschooling.mom. If you would take a moment to subscribe to this podcast in iTunes and leave a review, I would greatly appreciate it. It helps get the word out about this podcast to our audience.
Thanks for joining me today. Until next time, may your home be filled with books, beauty, and Biblical truth.
A Special Thanks to our sponsors:

Medi-Share