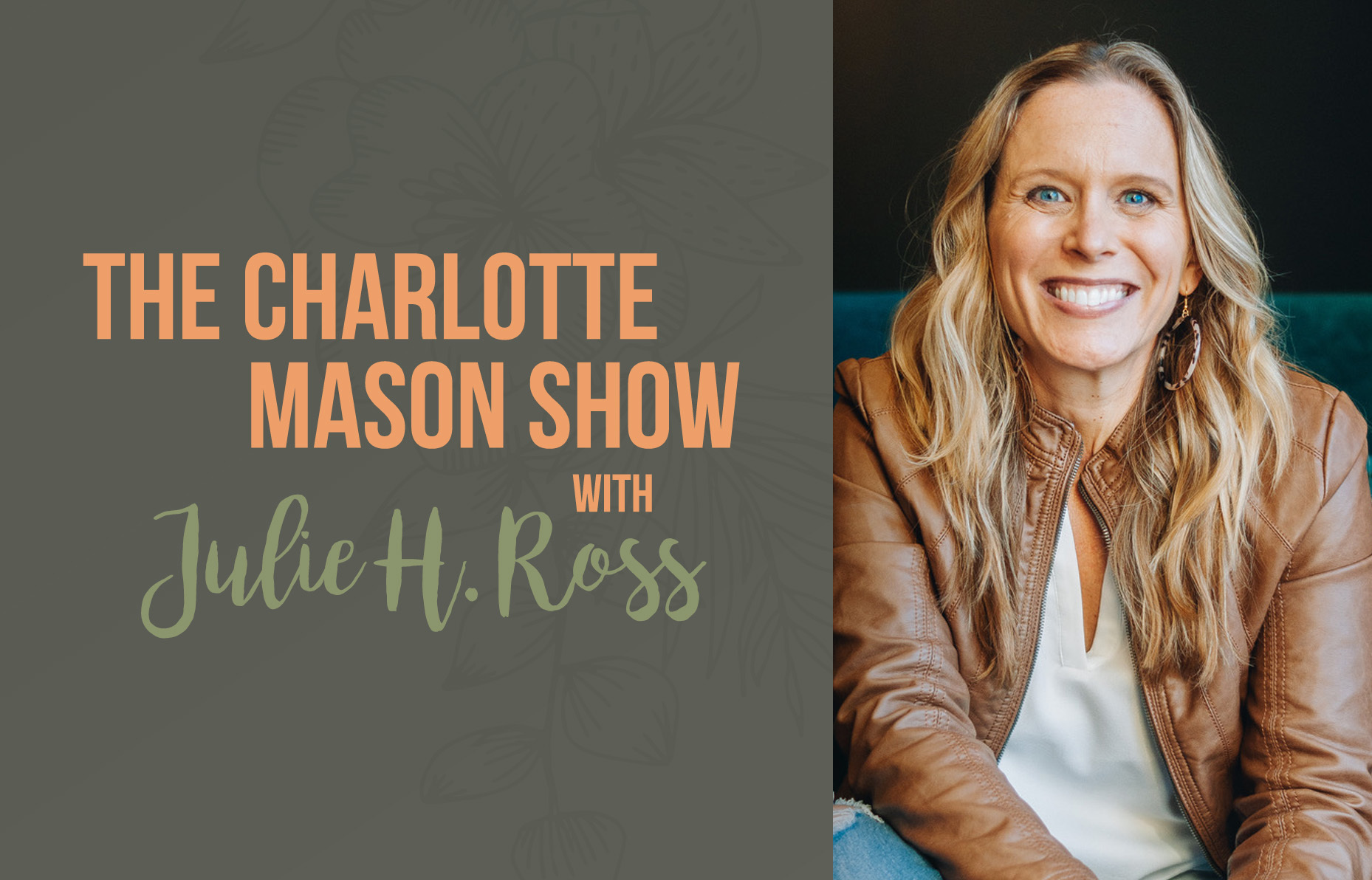 CM 3 Episode #17 Adding Beauty to Your Days with Physical Education with Julie H. Ross and Erin Underwood
Links and Resources:
Show Notes:
Erin Underwood is a homeschool mama to 4 boys and a functional movement coach from Oregon that specializes in prenatal and postnatal health and creating a family movement culture. She is passionate about education about the pelvic floor and core strength and function as well as creating an environment for her kids to move their bodies freely to engage all their five senses as they learn. She has studied biomechanics, movement ecology and has continued her education by certifying and training with the top minds in the country connected to holistic pelvic floor and core strength. She currently is focusing on supporting her community with online education and classes that support both mama's and their families in moving their bodies freely, without pain, and with a deep appreciation for their design in an accessible and fun way.
https://www.erinunderwoodmovement.com/
Show Transcript:
CM EP 17
Julie -
Welcome to the Charlotte Mason Show. A podcast dedicated to discussing Ms. Mason's philosophy, principles, and methods. It is our hope that each episode will leave you inspired, and offer practical wisdom n how to provide this rich living education in your modern homeschool. So pull up a chair, we're glad you're here.
Hey, before we jump in today's episode, I just wanted to give a listener shoutout to Mrs. Santa Maria. She wrote this review in iTunes: Once I was convinced to pursue a Charlotte Mason style education for my children, for by the Children's Sake, in an amazing trailblazing friend, I found A Gentle Feast and never looked back. I'm so thankful to the Lord for this resource that so wonderfully brings together living ideas and books, as well as the enjoyment of nature. Julie and Shay have been like dear friends, holding my hand on this adventure, lighting the path ahead of it for the every time they post a new podcast. I couldn't agree more with the other reviewers who have commented that Julie is down to earth and makes the Charlotte Mason education approachable. I'm so grateful for this podcast and only wish I had known about it sooner. Thank you, Julie, and thank you, Shay, and thank you, Mrs. Santa Maria for leaving that review in iTunes. I really appreciate it.
I know our lives are so busy, but if you like this podcast, and could take a few seconds and leave a review on iTunes, or rank it, that would be super helpful.
Today's episode of the Charlotte Mason Show is brought to you by Medi-Share. Find out more about this affordable Christian alternative to traditional health insurance at medishare.com.
The Charlotte Mason Show would also like to thank their sponsor, Operation Christmas Child. Now, more than ever, children need hope. As the world struggles with the coronavirus pandemic, we want to let them know that God loves them and has not forgotten them. The best way to get involved is to pack a shoebox yourself. As you specially select each item, packing a shoebox becomes a blessing for you as well as the child who receives it. Be sure to include a personalized note and photo. If packing a traditional shoebox isn't an option for you this year, we can do it for you. Build a shoebox online. You can find out more at SamaritansPurse.org/occ. Again, that's SamaritansPurse.org/occ.
Now, on to the show.
Hi everyone. Julie Ross here. In today's episode, I'm going to be interviewing Erin Underwood, and we're gonna be talking about the importance of functional movement, so, if you're not familiar with that concept, functional movement's the ability to move your body in a pain-free, effortless way. Proper muscle alignment, proper joint function. Just being able to move your body in a healthy way. And I think, as homeschooling moms, this can be so important, cause we need to incorporate this movement into our day in a way that makes sense when we have a lot of little ones, but also if we are sedentary, homeschooling our kids.
How could we move our bodies in a way that is healthy, especially if we have had a lot of children. You know, our bodies can take wear and tear from that, so how do we work to recover from that properly? And then, how can we incorporate functional movement with our children as well, so that they learn these healthy habits from a young age.
So, today I'm gonna interview Erin, and she is a functional movement coach in Oregon and she specials in prenatal and postnatal health. And creating a family movement culture. She's passionate about education, about the pelvic floor and core strength function, as well as creating an environment for her kids to move their bodies freely to engage all their five senses as they learn. She studied biomechanics and movement at colleges, continued her certification and training with the top minds in the country connected to holistic pelvic floor and core strength. She's currently focusing on supporting her community with online education classes, that support the mamas and their families in moving their bodies freely without pain or the deep appreciation for their design in an accessible and fun way. And Erin has a ton of energy. She is super passionate about this subject, and she just has some really neat practical tips on how to incorporate this kind of functional movement into your day as a homeschool mom, but also for your children to help them learn better.
So, let's jump in to today's episode.
Hey, everyone, welcome back to the Charlotte Mason Show. I'm your host, Julie Ross. And I am here today with Erin Underwood. Hi Erin.
Erin -
Hello, Julie, how are you?
Julie -
I am good. I am thankful that I'm feeling better that we are gonna record this a couple weeks ago, and it was just not a great time. So, yes, I am thankful for health, and I'm excited to get to you today. I think this is a really super important topic for homeschooling mamas, and we need to remember to take care of ourselves in the midst...
E -
Yes.
J -
...of homeschooling too. That's so important. So, I'm so glad that you get to talk to us today. So, thank you for being willing to come and chat with us.
E -
I'm so excited.
J -
Yeah! So, can you just give everyone a little information about you and what you do and about your family?
E -
Yes! So, I am a mama to four boys, ages almost twelve to six. And..
J -
So, your house is really quiet?
E -
Oh yeah, so calm. No noise. Yes. Yes, it's crazy chaos, and I love it. And boys are so much fun. I was just...they just keep me on my toes. They keep me busy. Lots of talking and noises, and I have lots of extroverts, and I'm more introverted, so, you know. Lots of...
J -
Oh yeah.
E -
It's just busy, busy, busy, and it's wonderful. And we are a homeschool family, and so, I work a little bit from home and I'm mostly home with my boys. And, yeah, we're a crew, and we have fun with it.
J -
That's awesome. Well, I think a lot of people are in that boat now, that, maybe weren't before, of trying to balance working from home and homeschooling at the same time. Like, I used to think that, you know, I was kind of one of the odd ones, when I was working and homeschooling. But now, it's like everyone I talk to, like, oh yeah, that's what I do too. So, yeah, it's definitely more common. But it is a challenge, for sure. And, can you tell us a little bit, just about how you got into homeschooling in general, or Charlotte Mason specifically?
E -
Yeah. Yeah, so I have the blessing of, I was homeschooled myself. My dad was in the military, so my mom didn't want me...just pulling me in and out of schools, so it was, you know, newer. It wasn't as common, but she was like, I just knew, developmentally, it wouldn't be good for you to be uprooted every six months to...
J -
Oh wow, yeah. Oh my, yeah.
E -
...into a new system.
J -
Yeah.
E -
So, she took that on, so brave. And, it was a really good fit for me and my brother, and we were able to go through college and were able to launch successfully into life, and so...
J -
Yay! Woohoo!
E -
Yes! So, it wasn't a scary concept to me, and actually...
J -
Oh, yeah.
E -
...I married another homeschooler so...
J -
Oh wow, that's so cool.
E -
...my husband grew up homeschooled, and he was able to launch successfully to whole college, you know.
J -
Yeah.
E -
But, he would, traditionally hope for, for your children.
J -
Yes.
E -
And so, it wasn't really a question in our head, just 'cause it was the culture we grew up with, and we both had really good experiences with it, and so, we always knew we wanted to homeschool, but I hadn't heard specifically of Charlotte Mason. And then, when my son was, you know, starting to enter kindergarten, I was like, oh, I guess I need to figure out exactly...
J -
Yeah.
E -
And, just like most people, I read For The Children's Sake, and that was really impactful to me, cause I was feeling...even though I was homeschooled, I still felt some nerves, and I still felt like, oh, you know, exactly how am I gonna do this? And do I have what it takes? And, I just remember the feeling when I read For The Children's Sake, of like, this, calm, and like, I can do this.
J -
Oh wow, yeah.
E -
...is accessible, this is doable, this can be integrated into our lives and they can...it make so much sense to me, in a very non-pressure way.
J -
Yeah.
E -
And so, that's when I was like, it was sold. I was like, this makes so much sense, but also, it felt, not just like it made sense, but it felt right for our family and for our values. And it felt very accessible, and I was like, yes. So, I was real excited about that.
J -
Yeah. I love the way that you put that. Like, I felt that too, when I read that. Like, it's like, this is what education should be, and it doesn't feel like you're trying to fit a square peg into a round hole. Like, it is this very...you know, Charlotte Mason talks about the laws and the principles of nature and the way that we're created, right? And so I just...it fits so naturally, and that's a really good point.
So, so, yeah, so you have four boys and you've been homeschooling for a while. Can you talk a little bit, then, about your business and what you do for that as well?
E -
Yes. So, we are ??? We use Gentle Feast, and we absolutely love it so...
J -
Thank you.
E -
...just kudos to you...
J -
I think I know someone... ah!
E -
...I'm like...I'm talking to THE Julie. Um, no, I'm playin' it cool. I'm so cool right now.
J -
Oh yeah. Yeah. Totally. And I'm so not cool. That's what makes me...that's what cracks me up when people say stuff like that. I'm like, if you only knew what a dork I really am in real life.
E -
I get it. I am so not cool. So, yeah, we're in the club together. Awesome.
J -
Yes.
E -
So, I had four boys within five and a half years. So, my oldest was five and a half when my youngest was born.
J -
Okay.
E -
And, we had a miscarriage in between. So, I was constantly pregnant or nursing, or both...
J -
Yes.
E -
...for the span about seven years, which is, it's a blessing, and I'm so grateful that we could get pregnant, and that we could have our babies, and that they're healthy, and so I don't ever wanna come across as ungrateful, but it was a lot on my body.
J -
Yes.
E -
And so, I then struggled with a lot of physical issues after my fourth was born. I had pelvic organ prolapse, which is where your pelvic floor no longer supports your organs the way it should. I had ??? which is the separation of the abdominal muscles. And so, my connective tissue was what's trying to hold my organs in in the front, rather than the muscles. I had a lot of back pain. A lot of headaches. Like, I felt like I was falling apart at 30.
J -
Oh, wow.
E -
I felt very old and fragile and it didn't feel right to me. I was like what? Like, if I...if our bodies are designed so well, which I do believe, like, why is my body falling apart? And so that put me on a journey to search out for some answers, and I was able to come across this idea of functional movement, and how we can integrate movement into our everyday lives because that's what was accessible to me as a young mom. Like, as a young mom, I'm like, I don't have the ability to go to the gym an hour a day. Like...
J -
Oh yeah.
E -
...it's just not gonna happen.
J -
Right.
E -
So, on my healing journey I started kinda zooming out and seeing the big picture on culture, and how sedentary we are and how modern conveniences have...while they're super amazing, and technology is amazing, it's robbed our body of a lot of tiny opportunities to move for itself. And it's been outsourced. And so, when I started making all these connections, it was very similar to the experience I had when I read For The Children's Sake, I kinda had this calm come over me, of like, I could do this. Like, I could make tiny little changes that would support my body and that was really accessible with the lifestyle I had, with the...all the tiny little kids that I had. And I could support my body in a really holistic way. And so, eighteen months later, of doing this really consistently, I was completely healed and asymptomatic. You know, you read some of these issues of the doctor said would only be resolved through surgery. So that was really exciting, and I kinda just had this revelation, of, I figured out what I wanna be when I grow up. And, I realized, I just loved helping people understand their own bodies, and one the things I just loved to say is, like, I wanna help people become the expert of their own body. I feel like there are certain realms where we just outsource to experts, and we have so learned to not trust ourselves, and to think that we're not capable of understanding certain things. And you see this all the time. And anything with homeschooling. We think, how can I homeschool my children? I'm not good at math, or I'm not a good...great with English. Or I'm not good with anything. We can disqualify ourselves...
J -
Yes.
E -
...rather than think, well, I could learn alongside my children. And I can find the beauty in the subject and we learn to fall in love with it together. And feel like the language in the in the idea, the perspective in our head could be, what if I could? And, yes, there's outsourcing, and yes, there's, you know, finding your community and support, but there's also this idea of, we're a lot smarter than we think we are. And a lot more capable than we think we are.
So, giving ourselves that benefit of the doubt. So, it was...it's been a really amazing journey for me to be able to share these tools, and just, see a lot of my students feel free in their own skin, which is amazing.
J -
Yeah. And it really does fit in...I think, of just, you know, so many homeschool moms, we do have a lot of kids, right? And it does take a...and I had three kids in three years. And then, I'd already had two older ones at that point. And it, like, child number five, it had taken a huge toll on my body as well. And, it affects your ability to homeschool well. And to be a good mother, you know? When you're not feeling good in your own skin, and you're having these health problems, right? Like, it's just another obstacle to being your optimal self, and homeschooling well.
And so, I think, you know, as homeschool moms, we can get so focused on, what curriculum are you using for math? Or, am I doing all the things my lesson plans say I should be doing? And we lose sight of, kind of, ourselves in that. And taking care of ourselves. And, yeah, so I think what you're doing is just so important. And I think, as homeschool moms, we really just need to, sometimes, step back from all of the nitty-gritty details, and realize, like, we have to take care of ourselves if we're gonna homeschool out children well. This is a long marathon, people. Trust me. I got two in college. Like, it's a long time. And you will have to really just be taking care of yourself and your body well, to kinda have that stamina.
E -
Yeah, for sure. And pain takes you...it really brings you into more of a survival mode. Rather than...
J -
Yes.
E -
...we validate the pain or the ability to fully be present and enjoy the moment. You're very much in a survival mindset. And so to be able to transition yourself out of that, and to support yourself out of that survival fear, hopelessness. Anything along those lines. Or just even settling. Like, oh, I'm getting older so, of course, this is happening. Or, I'm a woman, so, of course, my body's falling apart. Like, that bleeds into how we're modeling all of life for our children. And so, it definitely influences our ability to really enjoy homeschooling. Which is, to me, it's a huge plus. That's why I'm doing it. Like, I wanna enjoy my children and enjoy their education as much as they're enjoying it.
J -
Right. For sure. So, can you just give kind of a brief overview for folks that aren't familiar with what functional movement actually means?
E -
Yes. So, functional movement, I like to just compare it to sport-specific movements. So they're just, they're very different from each other. So, sport-specific movement would be, you're training for something, and you wanna develop that skill. So, whether it be running, or bike riding, or swimming, or whatever your sport is, you're gonna develop very specific movements and strength for that activity. Nothing wrong with that. Functional movement is based on real-world situations, and it's very influenced by biomechanics. So, basically, it's movement that supports your real-life and helps you balance out the movement of patterns that you might not have access to in your real life because modern conveniences and all that. So, that we can feel strong and fully functional in our own skin. No matter what your age or gender, or any of that.
J -
Can you give me an example of something that you would use...like, I can think of, okay, I'm training to run this half marathon. I need to learn, you know, my stride and what to do with my arms. Like, I can think of it in terms of sports. But give me an example of what you're talking about, with functional movement. What would I actually be doing?
E -
Yes. So, breaking it down, I have a whole class on the squat. So there is a resting position that is outside of our culture, especially historically, would be, your feet are on the ground, your knees are bent, and your pelvis is dropped down towards your ankle. So, it's that resting, deep squat.
J -
Yeah.
E -
And that is a movement that is not necessarily accessible to our bodies a lot of the time in Western culture, just cause we're used to chairs. And we do a lot of, like, that ninety-degree sitting, but how often do we actually bring our pelvis towards our ankles? And, so, functional movement would be training you how to do that functional movement in a, like, really progressive way. So, I work on your ankle mobility and your knee mobility, and your head mobility. But for its... transitions you into real-life so that you can sit on the floor with your kids, and you can comfortably be on your hands and knees and scrub that big bowl of soup that your two-year-old just dropped all over the floor. And you can search for the special lego that someone can't find and they're about to have a meltdown. And, like, there's just all these little real-life applications of being able to get up and down off the ground, but functional movement rather than, just say, get up and down off the ground and you're like, but my body doesn't do that. It's very similar to if you tell someone, you should eat healthy.
J -
Yeah, right.
E -
...like, we all could...we could all 100% agree with that statement. Yes, we should all eat healthy, but what in the world does that mean? That's such a complex statement.
J -
Yes.
E -
Well, then how do we make that really practical? That's functional movement does. It says, yes, in...your body has this ability to move in all these different ways, but it might not be accessible to you right now. Let me lay out a game...a path for you to give back your body to move in the way so that you can move in your real life, so that you can pick your kid up out of a...the crib, without throwing your back out. So you can really... you turn around and help the kid in the car seat and do that weird twist, and hold your arms back there...
J -
Oh my gosh, yes.
E -
That's the patterns ???
J -
I feel like that's the human pretzel sometimes. Like, right? Here's your sippy cup, here's your pacifier, like...
E -
And doing all these movements that are, you know, required of real life, but how do you actually support your body in a, you know, more than nitty-gritty ways.
J -
Yeah, that's so neat. And that...yeah, it's definitely so needed. So, how does this, then, tie in with what Charlotte Mason had to say about our bodies and movement and that kinda thing. Have you looked into that?
E -
I have, and I love making all these parallels and so...
J -
Cause education is the science of relation, that's why.
E -
Absolutely is. It absolutely is. And so, I would start with...she talks about how we often categorize things in secular and non-secular categories. And how that isn't...it's a disservice to our Creator. Because, you know, God has created everything. And she talks about how we can't categorize...like, there's some education that's secular and some that's non secular and some that's holy and some that's not, and she's like, what if it was all ordained by God? What if we can find God in everything? In the math. In the nature walk. In the habit formation. In the...like, all the little things that, when we find the beauty in those things, we realize that it is all holy and it's all amazing and a gift, and so rather than categorizing things, then I feel like, Greek thought has permeated, like, so many cultures. But there's this idea of the physical being separate from the intellectual realm. And we have let that influence...and it's...I mean, it just is. It's an influence. It's like oxygen, and it's not like anyone's less than, cause it's influenced them that way. But it's very easy to fall into the category of, I...when I think of my child's education, I think of their brain.
J -
Yes.
E -
And maybe I'll think of their character. But it's very hard to think of their whole being of their body being a part of that process of education. And so, I love talking about how movement really is a entire...it's a full-body experience. And so, Charlotte Mason is really...she makes that distinction, which is really powerful. And then, you know, when you think about...and this is where I wanna say something and then I wanna, like, kind of put a copy out in there.
J -
Okay.
E -
So, she talks about, like, being in nature.
J -
Yes.
E -
And I feel like this, the phrase and the, like, gets thrown out there where it overwhelms a lot of people, as she talks about, four to six hours a day...
J -
Yeah. Right.
E -
...and that's where everyone's eyes glaze over and they're like, what? Like, how in the world...like, because it's so countercultural. It's so different than, even, just the idea of... historically, we would be walking from point A to point B and, hey...
J -
Yes.
E -
...there's an hour and a half of your day...
J -
Yeah.
E -
...was outside. Now, it's, like, getting in the car. And so there's just a lot of cultural shifts that make...having to take a...it takes more creativity. And so, I think, we can do that with movement. We can have it in a box and we can just say it's completely inaccessible to us. And, you know, we do the same thing with nature study. We're like, start small. Like, just start with something. You create a habit. She's really great with habits too and talks about the value of that, and it can be...they call these habits that you can start that are really small. Keystone habits. And they have this amazing ripple effect on...
J -
Yeah.
E -
...the rest of your life. So there's like...if you choose to drink water, all of a sudden you're eating healthier without even trying. And it's...
J -
Yeah. Or like, making your bed was one I told my kids, I was like, people who make their bed make more money.
E -
Exactly. And so, you know, there's...we understand that we need more movement, and so rather than saying...and I'm not saying the goal shouldn't be to be out four to six hours a day, but they're absolutely amazing. But if that overwhelms you, starting with something small, and being, like, this is accessible. Like, how are, you know...being outside ten to fifteen minutes a day, and starting there. But you...then you create a love for it. Then you create a relationship with it. Then you see the value in it. And because you have, and your kids have that buy-in, it's like you can...it...I feel like there's an element of stamina that is necessary for nature, and it's necessary for movement. And so, it's not like, just go outside. It's actually physically exhausting to be outside. Because your brain is having to process all these sounds and these smells and these senses, and you're having to move in new and different ways that are working different muscles. And so, to just go from zero to six hours is actually...like, you wouldn't start with no running and then say, go run for six hours.
J -
Yeah. You would be in a lot of pain, right?
E -
Exactly. And so, having that compassion, even with our own children, like, maybe we have the stamina to be outside for four hours, but like...especially little kids. Like, it takes them a little bit to develop that stamina and so, to value those small things as much as we value the big things is also a cultural shift, which I think, Ms. Mason does an amazing job of valuing, not just, you know, there's reading, writing, and arithmetic, and then you move on, you know, like...
J -
Yeah, right.
E -
...she's like, there's so much in all of it. There's so much beauty in the poetry and the songs and the skills of observation that you get outside. And it's just holistic approach, and so, when we can incorporate our bodies into that, we can have a lot of neurological connections that we wouldn't get otherwise if we were just sitting in a room without moving our bodies, and just mentally trying to process all the information.
J -
Yeah. And, so many studies have recently shown that, like, the benefits of being physically active on student's ability to retain information and to make those connection among subjects, and unfortunately, that still hasn't really translated into a public education system. But I think with so many more people homeschooling now, trying it, they're seeing those benefits of, like, okay, my kid was just sitting in front of this computer for this virtual learning that we had to do, and it, you know, they weren't learning anything. And it's like, well, you...yeah, they're just sitting there. Like, they're just these passive receptacles. And, you know, Charlotte Mason talks against that, that, you know, all education is self-education. The student has to be actively involved in that, and she did see them as a whole person. That holistic view of the child. And so, you know, I have episodes about the thousand hours outside and just the benefits. And she talks a lot about those different kind of studies too. The gross motor skills that they're developing when they're outside. The different sense that they're using. And then, I have an episode on Swedish Drill, too, that she included in her programs. And just kind of that, the benefit of those kind of movements in there. She did games. She did dancing with the kids, you know? It was a very important and integral part of her entire philosophy. It wasn't like, okay, here's all the subjects that they need to know. And then, if there's time, we could squeeze in some of this other stuff. Like, she saw it had to be a complete picture of your time and the value that you're spending with your children.
Today's episode is brought to you by A Gentle Feast. A Gentle Feast is a complete curriculum for grades one through twelve that is family centered, inspired by Ms. Mason's programs and philosophy, and rooted in books, beauty, and Biblical truth. You can find out how smooth and easy days are closer than you think at AGentleFeast.com.
We know some of the importance that Charlotte Mason put on her students being physically active, so, in terms of this function movement, what are some of the benefits of including that, specifically, into your homeschooling?
E -
Well, like you said, there's all these neurological connections, because the body and the mind and our nervous system, everything is so interconnected. So, when there's really been interesting studies where children who struggle with anything from, like, ADHD to like...even some dyslexia. If they have the kids who walk barefoot on gravel, like, the round gravel, not, like, pokey, like, gonna like make them bleed...
J -
Let's say, walk over hot coals, they can pay way more attention.
E -
Then you set out a row of knives...no, I'm kidding. So, when they walk over this gravel, the neurological system...because then, the feet are designed, basically, to be a sensory organ. There's so many nerves in the feet and...
J -
I am so...my feet are so ticklish. Like, anywhere near my feet, and I, like, freak out. I totally understand that. Very sensitive.
E -
There's so many nerves in the feet, and it's designed like there's 26 bones and 33 joints and it's very...it's a beautiful complex system. And, I think it was Michael Angelo, talked about how the feet are an amazing piece of art. And then, they have in...like, incredible benefits from that, and they see all these...rather than regressions...
J -
Yeah.
E -
...it's progressions in all of these, like, nervous system issues. And so, I don't feel like we fully understand how interconnected the body is. Cause how would your feet, being...having those nerves, basically wake up and do their job, how would that help your brain function? Like, we think of, sometimes even in proximity, it's so interesting...
J -
Yeah.
E -
...and, I have a friend, her daughter had a head injury, and so she's going to physical therapy and they have her standing on an exercise ball, which is...
J -
Yes.
E -
...basically like a...
J -
Uh-huh.
E -
...exercise ball. So it's, like, stable on the bottom, but you're, like, standing on a squishy airball. And, they're having her practice, like, say these...this list of words in alphabetical order, but they're having her do it, like, while she's throwing a ball and while she's balancing. And, they're basically talking about how we're rewiring...like, we're getting all the parts of your brain to connect. Like, not just one thing at a time. But when we combine movement, balance, with the actual work of whether...whatever the education part of the puzzle is, it connects all these different parts of the brain that one thing...the brain is more connected, it just moves faster and smoother, and it's a little less clunky. And so, I just find that super interesting, where, functional movement, even with my boys, I see, like, if they wanna memorize something, sometimes, you know, while they're bouncing, and sometimes when they're moving their body. Or sometimes, while they're walking. Or sometimes...like, they'll somehow incorporate this movement into memory or, work, or into...while they're giving me a narration. Like, they're kinda trying to draw from their memory while they're doing this work. Even while we're doing, you know, times tables, or whatever it is that we're doing, they will, by allowing them to incorporate their body because...it's interesting, even as parents, in culturally, we're trained that any kind of wiggling is a distraction. Like any kind of fidgeting or...
J -
Ah, that's so, like, I just feel like that was just drilled into us in school, so as parents...so hard to get...
E -
Don't fidget. Don't wiggle. Because there's this idea of like, you have, you know, a certain amount of brain capacity, and if some of your brain capacity is going towards...that energy is going towards movement, that means you're not using all of your brain capacity for the...
J -
Right.
E -
There's kind of that oversimplification or over-idea, you know, overarching idea, of, like, if you wanna use a hundred percent of your brainpower on this one activity, so don't send it anywhere else. Especially don't put it into movement. But really, it's like, what if my whole body being engaged, it's helping my brain connect different parts of, you know, the different sides, cause, there's even studies that show, like, kids who skip out on crawling...like if they straight from sitting to walking, they will have a hard time connecting the left and the right sides of the brain. And so, I've even had friends, like, they bring their kids back to PT and they will force the children to learn to crawl again, even though they're like, seven, eight, nine, because, it's like, we need to get both sides of your brain connected. And, crawling is a really amazing skill to be able to have that, and so, I feel like the biggest thing for me is to not base my children's behavior off of my own ideas. But to watch the actual outcome.
J -
Yes.
E -
So, rather than assume this is going to distract them, I kind of let them try it, and then we observe, together, what was the reaction to that. So, if they're, like, rolling around on the floor while I'm doing your reading, and they can give me an amazing narration, I'm like, that's awesome. Like, you got it.
J -
Yes. Yes.
E -
If I'm, like, I...if they're doing that, and then I ask them to give me a narration, and they're like, I have no idea what you just said...
J -
Yeah.
E -
I'm like, okay. Well, let's observe...let's make an...I feel like it teaches children to have a relationship with their body. So, just like, I want my kids to learn, like, when I eat two bowls of ice cream, I get a tummy ache. Rather than them having to trust me, like, because it's more of a control thing, of me saying, don't eat ice cream, my kids now have that relationship with, you know, consequences and they're like, ah, if I eat that, I'm gonna get a stomachache. So I'm gonna pass. Like, that, to me, I'm like, that's education. That is them owning...
J -
Yes.
E -
...their education.
J -
Exactly. Right.
E -
And so, it's the same thing with their bodies, and I'm like, I want them to own their education with their bodies and, like, okay, let's notice how you're responding to this. And sometimes it's, we have movement breaks in between what we need to focus on. So, I'm like, okay, everyone go run up and down the stairs, like, five times. Or, everyone go hang on the monkey bars. Or everyone go...like, we take, like, these little five minute spurts, because I can see it building in them, but I know it won't necessarily overlap really well. And so, rather than trying to...I see it as a partnership with their bodies rather than trying to suppress their bodies. Of, they feel the need to wiggle, I wanna figure out how to support them in figuring out a really supportive way to get the wiggles out...
J -
Yes.
E -
...rather than, like, okay, just wait till the end of the day and then...
J -
Explode! Yeah.
E -
...and then I'm gonna wonder why they're just, like, not focused on anything.
J -
Yeah. I really like what you said about letting them try different things and then seeing, asking them, like, did this help you focus or retain the information. Because I have one child who loves to get up and dance during morning time. But then, she cannot give me a very good narration after she does that. But if she draws pictures of what I'm reading, she's able to go back through the pictures and tell me what, you know, the story was about, and give me a great narration. And then I have another child who cannot do the drawing part during a story, but he'll get up and do, like, ninja moves, usually, with some kind of kitchen utensil, and gives me a fantastic narration after he's been doing that the entire time. And so, it really, it's... what works for one kid's not gonna work for everybody. And then, of course, you know, I have another child who's just sitting there, like, can you all just sit still, because...It is distracting. You know? Because she likes to be still when she's listening and really focused, you know? So it's like, okay, close your eyes, and just focus on what you're hearing. Don't look at everybody else, and what's happening. And so you really do have to kind of allow your children the opportunity to kind of experiment with that, which can be really hard, like you said, when you have that mindset of, if you're not sitting here, you're not learning. And that is so not how our bodies were created. But we have that, just, mindset of that's how we grew up in school that we think that that's normal, and it's really the antithesis of that.
E -
MmmHmm.
J -
So, yeah, I really like that point. I like the idea, too, of just taking breaks. Like, there're some subjects where you just really have to sit down. Math, for instance, right? You just gotta kinda sit and do those problems. So, you know, you can't be rolling around on the floor while trying to add four-digit numbers. Like, you have to be looking at it on a piece of paper, right? Sometimes. So it's like, okay, well let's take a break. Let's go do this before then. And I do try to do, like, the mental math. Let my kids ride their scooter while they're solving the problem. Or go on the swings. Or, you know, go on a trampoline, or anything like that, when we're doing the mental math, they're kind of...you know, like you said, the times tables. But sometimes, when you're figuring something out, you have to focus, so, taking those little breaks in between is a really great...a way to kinda fit that in to your schedule. So, I really like that idea as well.
So, talk a little bit about, kinda this idea of schole to find that for people who don't know what that is. But then, how can that be a part of this physical movement routine?
E -
Yes. So, schole is a Greek word, and doesn't have an exact, exact translation, but it comes from the word leisure, and also education, which seem very contrary in our culture, of how we would think of leisure. We think of a lot of inactivity. We would think of not engaging the brain. We would think of, maybe not as purposeful. And, education, we think of very intentional and very purposeful and very mentally engaging. And so, it's very...I love this word because we have to kind of sit there and think about it and process and what I love about Ms. Mason's philosophy is I feel like she does focus on the beauty of life, like finding the beauty in life, and learning how to apply that beauty to our character and to our relationships. And so, then when we learn to value that beauty, we can learn to cultivate beauty, and it just, it grows on each other. Each step. And so, when, with the idea of schole in relationship to movement, cause that's just what I'm gonna focus on here, is, I believe the body is, like, just like Michealangelo talked about with the feet is just beautiful. I think the physical body is beautiful, and I do believe if we are created beings, and I believe anything you can learn about that was created, you get a better glimpse of the Creator. So, everything from observing a butterfly to observing...you know, anything in nature. You're gonna understand a little piece of the Creator behind it. So, just like if we're more studying art, we can, we ask our kids, like, what does this picture, what does this piece of art make you feel? What does it make you think? Like, we start, kind of, musing around what was the artist thinking? Like, oh, okay, so they loved landscapes or they loved painting people and portraits. Or they loved outside, they loved inside, like, they like playing with light and shadows, and we start understanding more about the creator behind. Then the kids can start recognizing, even with music, like, oh, that sounds like Mozart, or, oh, that sounds like Beethoven. Like, they start understanding more about the creator because they've studied the creation, and I believe the physical body gives us this amazing glimpse into one, our own design, but two, like, the Designer Himself. And so, when we can see movement, I believe cultural, we are in a culture that we are pretty sedentary. So we are the busiest we've ever been, but we move the least we've ever moved. In all of history.
J -
Wow. Yeah.
E -
So, we have the least amount of rest. We have the least amount of social engagement. Like, not engagements, but like, just social connections.
J -
Yeah.
E -
That family and community and in more of that relaxed atmosphere of just being together for the purpose of being together. And, I mean, it, you know, culture, some cultures, they value their naps, and they value their tea time and they have, like, lots of...
J -
Oh, there are...those are like, you're talkin' my language. Those are my two favorite things in the whole world. Naps and tea time.
E -
Yeah. With our culture, we're so busy, like, it's so hard to fit these things in time-wise, and yet we move the least we've ever moved. So, we sit in cars and we sit in classes and we work on our computers and we're staring at our phones. And so there's this really weird disconnect between actually connecting to our bodies and actually having rest. And that's what I think schole is connected to, is this idea of leisure, of what if physical movement wasn't a job you had to do? Or, in most people when you think of exercise, it's like, ah, it's that one thing I'm not doing enough of. I'm not doing good enough. I'm not...like, it's something on your list that you're, like, it's on there cause it has to be on there, but, like, you feel bad every time you look at your...
J -
Yeah.
E -
...cause you're just like, ah! You know? And so, I really like taking that narrative and flipping it over, of, like, what if your movement time could be a joy? Like, it could be a time of exploration. It could be a time of discovery. It could be a time of beauty. And play. And really just connecting with yourself, because then you're gonna be connecting with your Creator. You're gonna be understanding how you work, how you can support yourself. And how you can live and take that to support yourself and your everyday life, and so you can actually just feel really good and strong and dream and engage in life and engage with your children and laugh at their jokes, rather than being distracted or feeling guilty or feeling fearful or hopeless in your own body. And so, I love this idea of schole, because then we can model that for our kids.
J -
Yes.
E -
Because how...they pick up on our habits.
J -
Oh yes.
E -
And we know, you know, we've culturally talked about, like, okay, you shouldn't talk about your weight in front of your kids cause you don't wanna create, like, weird connections with food or...
J -
Yes.
E -
And it's like, I feel like the same thing with movement. It's not like you have to go run a mile or run five miles or do this or you're not good enough. But if we're telling ourself that, then they're picking up on that. And whether or not we're verbally telling our kids that, the way we live our life is what we're communicating to our children.
J -
Yes.
E -
Because our values are...they're taught. They're not...but they're taught through actions.
J -
Yes.
E -
They're not necessarily taught through words. and so, you know, what I really have been convicted on, and what I really wanna model to my kids...it's like, I wanna treat myself the way I hope my children treat themselves.
J -
Yes.
E -
And, we create a culture, I think, of normalizing being really negative to ourselves. Like, the way we would talk to ourselves, we're like, would you talk to your best friend that way? Really? Like, someone you actually, like, liked? And so, when it comes to physical movement, again, I think that Greek thought permeates, like, okay, like, God made my brain, and, like, I can, you know, I can mentally figure...you know, start working on my self-confidence with my homeschooling. And I'm educating myself while I'm educating my kids. And that's all really incredible work, but I like to take it too, into the physical realm. You can honor your body through...in a really not judgmental, not harsh, not like a punishing way, you can actually enjoy the process. And then, you're able to give that gift to your kids.
J -
Yeah. It reminds me, I was looking at this one gym, and I went and toured it and, like, the child care room had a bunch of tv's all over the walls with video games. And so all the kids were just sitting there playing video games and I'm like, so I'm gonna tell my kids that it's really important that we take care of our bodies and we exercise, and I'm gonna bring them here, while they play video games, I'm gonna go take care of myself? But not...like, shouldn't they also be doing something with their bodies at the same time? So, it's like, I like that, you know, these kinda things, it's like, okay, we're doing this together, and that's just, fits so well with the Charlotte Mason philosophy of all of it, right? Like, I'm learning alongside of you. I'm...my tastes are changing as your tastes are changing for these beautiful things. And I love how you said about just tying that into...to our Creator.
So, we've talked a little bit about, okay, here's some ways, you know, fitting little movement breaks into your day. You know, letting your child explore with their bodies while they're learning and see what is helpful for them. But, we haven't really touched on, yet, how, like, a mom would be working on these kind of movements for herself during the day.
E -
Yes. Absolutely. I love getting practical, even just way out there, and just...
J -
Well, I love me...I love me some philosophy, don't get me wrong, but yeah.
E -
Yes. Some of the philosophy, and then bring it down.
J -
Yeah.
E -
So, I feel like it starts by celebrating the small things. Because, in our culture, we celebrate big things. We celebrate...
J -
Yes. I'd ran a half marathon! Woohoo! Yeah.
E -
Yes. Running, you know, thirteen miles. We celebrate these really big feats. Which, they should be celebrated.
J -
Oh yeah, girl, cause...let me just tell you, I did that, and it was hard as...yeah.
E -
Absolutely.
J -
It was pretty hard. But yeah, I get ya. Like, I'm not gonna go do that every day.
E -
Right.
J -
Yeah.
E -
And, so, for me, with a mom, and, like, how I started, it was very ??? to just understand my body, so I actually started with education. Hey, typical Charlotte Mason mom. Get a book. And so, I started with a, you know, one of the books I really love is, there's a biomechanist named Kitty Bowman, and I actually trained under her. And she has a book called Move Your DNA. And she really talks about the cultural aspect in moving your body, and everything from your feet to your pelvis, and alignment. But doing it in a way where it's not, like, hard and fast rules, but it's more like, hey, let's learn some tools of how you can support your body just cause no one's taught you this. And, like, no one...like, we didn't come with a manual of, like, how to support y our body. Like, all of us are kinda trying to figure out on our own, and there're some things that, just actually aren't intuitive. Like, we mimic...we have these mirror neurons, and so we move the way we see other people moving, and sometimes we need to give our brain new information, cause if that's just not working, then, we just need to learn to support ourselves. So, one thing is learning where you carry your pelvis. So, when you stand in front of the sink, and you're doing the dishes. Let's get real practical here. A lot of times, we'll rest our pelvis, or our tummy, against the counter, and you'll get that wet line on your shirt. And, we've all done it. And so, what we've done there is we have outsourced some of our work of holding our body up and we've moved it to the counter. Nothing wrong with that. What we've done also, is when we move our pelvis forward, that compresses the lower spine. So, the pelvis shifts forward and the lower spine gets compressed. And that can cause some crankiness in the lower back. So, how many of us after, like, doing a half hour's worth of dishes, our lower back is not feeling...it feels a little stiff. Or it feels a little uncomfortable. So...
J -
Especially when you have a toddler on one of the hips while you're doing the dishes. Yes.
E -
Climbing on you. So when you can shift your pelvis so that it's stacked over your knees and over your ankles, then, you're actually asking your whole backline of your body, your hamstrings, and your glutes and your...the back of your...the lower back to actually engage. So it's actually a mini workout to stand and do the dishes, by doing it with that little bit of mindfulness into the picture. So, we can do that. We can choose. For me, it was an adjustment also for my attitude towards movement. So, I think it came from being pregnant all the time. When something would fall in the floor, I would sigh. Great. Now, I have to bend over...
J -
That was so hard.
E -
I gotta pick it up. Okay. So. And then I would pick it up. And, when I started introducing and understanding this idea of functional movement, I could realize, hey, there's an opportunity for a quick squat. And, so, when I could flip the narrative in my head and, I mean, yeah, when you're nine months pregnant, it is not fun. Like, nobody wants to get anything off of the ground. But, I was like, okay, I'm not griping anymore. Like, I don't ... that's dramatic, but it's like I'd almost trained myself to be averse to movement opportunities and to see it as an inconvenience. And when I retrained my brain of, hey, I can get on my...I can sit on my couch and watch my kids play Legos. Or, I can get on hands and knees and I could be sitting on the floor and I could be changing positions here and there. I'm actually getting some amazing hip mobilization. Like, think about how...the stretches you would do in a workout class. Have your legs out to the side, and you're leaning one leg, and then you're leaning towards the other, and then you bent one knee, and you're getting a nice stretch on one leg. And, like, you can do those moves while you're playing with your kid on the floor. And so, looking for tiny opportunities like that, was a huge...like, thing for my... a foundation for me and my healing. And you can do simple things like modeling that for your kids but make it fun. Like, we're gonna eat a picnic lunch on the floor. And, it can be inside or outside. Just throw the blanket. You know it's gonna be messy. Embrace it. And, like, you're choosing to use our bodies, to support our bodies, rather than a chair. And, we're gonna move in all these different ways. And creating inviting spaces for movement, so rather than having...like, I'm...okay, I'm a weirdo, and I will, like, announce it to the world. We have monkey bars in the...our, like, our play area and our living room are connected, so, like, you can totally see it. We have money bars in our play area.
J -
Oh, that's awesome.
E -
And, we live in the Pacific Northwest. It rains, like ten months out of the year. and so, it was like, it was important to me to be able to redirect my kids, so rather than, okay, we don't hang on doorknobs. They're not designed for that. But then, I could redirect them. Go hang over there. Like, I see that that is a lot. A very human need that you have. You're designed to hang. Go hang on the monkey bars and climb on the wall there. I have a picture of it on my Instagram. Every time I post it, everyone's like, oh my gosh, that's amazing.
J -
Well, I have a swing in my living room. So. There ya go.
E -
Yes. Yes. So, I see, like this is celebrating the small things, and then there's just practical things of like, we take family walks, and this is where mentally it can be a challenge because we wanna get miles. We wanna get so many steps in to feel really effective. And, when you are walking with a two-year-old, you will not be getting, you will not be walking miles.
J -
Yeah, it's like a sloth. Right.
E -
You will be wandering and stopping and observing, and you will be, like, okay, maybe they made it through the rocks. But, then, I'm so afraid, cause, what is harder to ride a bike faster, or to ride a bike slower? If you read a bike very slowly, it takes a ton of effort to maintain your balance. So, when I celebrate, okay, I'm gonna take a really slow walk, but I'm gonna incorporate a few stretches and I'm gonna do it, you know, with some of these skills that I've learned in my functional movement. So, I'm training. Then, I'm actually...I'm okay that I didn't log ten thousand steps. I got to be outside. I got to connect with my kids. And, hey, when they're squatting on the ground, I'm gonna use that as an opportunity for me to squat. I'm gonna get down there. And I'm gonna look at the ant colony. And I'm gonna, like, observe that leaf. And I'm gonna get down on their level. And then they're more apt to continue that movement pattern, cause it's not...they're not mirroring all the adults that are like, we just stand.
J -
Yes.
E -
And so, for me, when I changed my movement patterns with my youngest, I started, you know, being on the floor a lot more intentionally and squatting, and I saw him, as a one-year-old, his squatting tendencies...he squatted way more than any of my other kids. Like just as...like, that was an option for him because I modeled that for him. And he had those mirror neurons. So, even when it comes to teenagers, like, I've even been like, we have to do the thing. We're going for a family walk. And everyone's like, oh, my gosh, Mom.
J -
I just had that conversation this morning. You're coming whether you like it or not.
E -
And there are times and places we're helping facilitate the habit of movement, but there's also like, they see, I have buy-in for me, on a personal level. When they hear me talk about how good my body feels because I moved my body. When they hear me talking...like, when they see me squatting, when they see me moving, like, whether or not they say anything, like, their mirror neurons are picking up on that and they're starting to develop a healthy relationship with movement that's facilitated by mine. So, that's what gets me super excited.
J -
Yeah, I love that. Like, just those small, little mind shifts, like, I feel like that...I struggle, like, if I need to go get something upstairs. It's so easy for me to tell one of my kids to go do it rather than me get up and go upstairs and get it, right? But it's that little, like, by them sighing, like, ah, I forgot my hat upstairs. You know, whatever. Or somebody forgot their levee upstairs, can you go get it. Like, to, you know...that little, those few extra steps, you know, is really adding into my health and wellness as well, just to kind of refrain that. I love that idea, cause I'm gonna try to do that because I do tend to sigh when I realize I have to go all the way back upstairs. So, we're like, oh, wow, I get to, like, cut out the Stairmaster and just get up the stairs myself, right now.
E -
Yes. And it's also...I just wanna throw a real something in real quick, cause I think sometimes we can catch our thought patterns, and then we can have a negative thought about our thought patterns. And really, just realizing, that's human nature, like, an object in motion wants to stay in motion. And object that's not, doesn't wanna move. And so, if I haven't been moving, my body is going to wanna conserve energy.
J -
Yes.
E -
Like, that's just a natural inclination...
J -
Especially, I don't know if you're into the...I don't if you're into the enneagram or not, but yeah. For all those other enneagram minds out there, moving when you are not moving is so hard. But. ???
E -
But just noticing that habit and being like, okay, I'm gonna read...like, it's habit formation. It's, I'm gonna choose...
J -
It's thinking for kids, yeah.
E -
...to, you know, the whole, you know, taking thoughts captive. Like, all the different ways you wanna look at it. But be like, I'm gonna support my...like, I'm gonna support this process of actually learning to celebrate the opportunities I have to move. It's not gonna come naturally. That's okay. I'm not gonna feel like it. That's okay. But I'm gonna do it.
J -
Yeah. It's funny, all of my kids love to dance, and the other day they just all just kind of spontaneously started dancing. And one of my friends was like, wow, like, where did they all learn how to dance like that? And, it took me a second, and then I realized, like, oh, that's because we just take dance breaks all the time. And, I just let do whatever they, like, you know, but they see me dancing, and they mirror that, and...I mean, not that I'm, like, an amazing dancer, but, like, they picked up on the things, the movements that I do and my rhythm and, you know, and those kinda things, and just incorporated that naturally. It wasn't like they had years of lessons or, you know? And that comment just made me think, it was like, oh yeah, like, we do dance all the time. That does make sense that that's how they are. But, for me, that's...that helps me relax. It's kinda like, you were saying, like that schole part. It brings me joy to dance, and finding things that you like, I think, too, is so key, you know? It might not be X, Y, Z, workout of the day that someone tells you to do, and I'd just be like, okay, what do I actually like doing, in terms of movement? Let me add some more of that into my life.
E -
Exactly, yes.
J -
But. Yeah. So, that's super practical. I really like that. So, how...if someone is, like, okay, I realize I'm not moving as much as...Oh, wait. I have one more example of...from my life, too, that...cause we think of, like, our kids should be sitting still when we're doing school. We feel that need too, I think, sometimes. So, okay, we're all sitting around the dining room table doing our morning time, and I've started standing during morning time and walking around as I'm reading. And, like, pacing back and forth, or, I can tend to be a little dramatic, so, you know, acting out the story from our island story. As I'm reading it to them, in different voices, you know? To incorporate more movement myself while I'm reading or doing the lessons with my kids. Like, okay, I'll sit next...I'll be next to you while you're doing your math, but I'm gonna be sitting here, you know, like you said, doing squats or...and a plank, or changing my movement as well, so I'm not always sitting all day long as a homeschooling parent as well. It's a really fun way that I found to do it. And I like swinging on my little swing in my living room too. So, it's for everybody.
But, if a mom was like, okay, I don't...I, you know, I'm inspired, but I don't know...really know, okay, what are some function movements that I should or should consider? Where would they go to kinda find out some more information about that?
E -
Yes. So, I have a website. I'm at ErinUnderwoodMovement.com. And I have free resources there, and blog posts there, and then I'm about to launch to my online studio, where I have my classes online, cause of COVID, and now I can't have my in-person classes, so I'm dropping everything and recalibrating like so many other people. And so, I am bringing those online. I have a YouTube channel. I'm on Facebook and Instagram where I try and just do ideas and pictures and, kind of, just talk about my life and how I'm incorporating it, and, just, my very biggest hope is to try and make this deal really accessible and doable for busy moms, especially, because, I think, so often, it's so easy to get overwhelmed and sometimes we do just need someone to kinda take our hand and just say, here, why don't you try this? And it's like...put a ton of creative energy into trying to figure it all out on our own.
J -
Oh yeah, for sure. That's...I mean, that's why I created the Gentle Feast, right? It's like, okay, most people could probably do that themselves, but sometimes it's just easier for someone else to kinda do that for you. And go from there. At least having a starting point and having someone go, okay, this...start small. This isn't as intimidating as you think. We can do it, if I'm kinda walking with you. So yeah, I love that idea.
Do you have a Charlotte Mason quote that kinda relates to what we've been talking about, or a favorite one that you'd like to share with us?
E -
Yes.So...well, I mean, of course, picking one is always like the worst thing ever. I could read off 25, but I won't. So, the one I picked for today is certainly back to this idea of the secular and the non-secular. So, Charlotte Mason says, This idea of all education springing from and resting upon our relation to Almighty God. We do not merely give a religious education, because that would seem to imply the possibility of some other education, a secular education for example. But we hold that all education is divine. that every good gift of knowledge and insight comes from above. That the Lord, the Holy Spirit is the supreme educator of mankind, and that the combination of all education, which may, at the same time, be reached from a little child, is that personal knowledge of, and intimacy with God in which our being finds its fully perfection. And I just...so powerful. But I just love how she talks about, like, we can't separate it. We can't say, one is spiritual and one is not. Because then it removes God from certain aspects of our lives. And so, I just love this idea of modeling...finding God in all of it. And the joy of that.
J -
Yes.
E - And the joy of that, even for little children, and that, it's all... it can be accessed by them. It's just, it's so beautiful.
J -
Oh yes, for sure. Well, thank you so much. This has been a...such a delightful conversation. I feel inspired and to, you know, think about things a little different too, in terms of what I've been doing, even though I feel like I do a lot of different movement things during the day. But, just kind of hearing your passion for it, and then just kinda seeing the bigger picture too, I found really helpful. So. Thank you for taking the time to chat with us today. And I will put your website, and all these kind of resources that you mentioned, in the show notes for people if they wanna come check it out.
E -
Thank you so much, Julie.
J -
Thank you for joining us today on the Charlotte Mason Show. I'm your host, Julie Ross, and I would love to meet you in person. All of The Great Homeschool Conventions have rescheduled to 2021. Go to GreatHomeschoolConventions.com to find a convention near you.
But you don't have to wait until 2021 to experience the amazing speakers and vendors at The Great Homeschool conventions. They now offer an online convention that you can find on GreatHomeschoolConventions.com.
Also, if you would like the show notes for today's episode, go to Homeschooling.mom. If you would take a moment to subscribe to this podcast in iTunes and leave a review, I would greatly appreciate it. It helps get the word out about this podcast to our audience.
Thanks for joining me today. Until next time, may your home be filled with books, beauty, and Biblical truth.
A Special Thanks to our sponsors:

Medi-Share