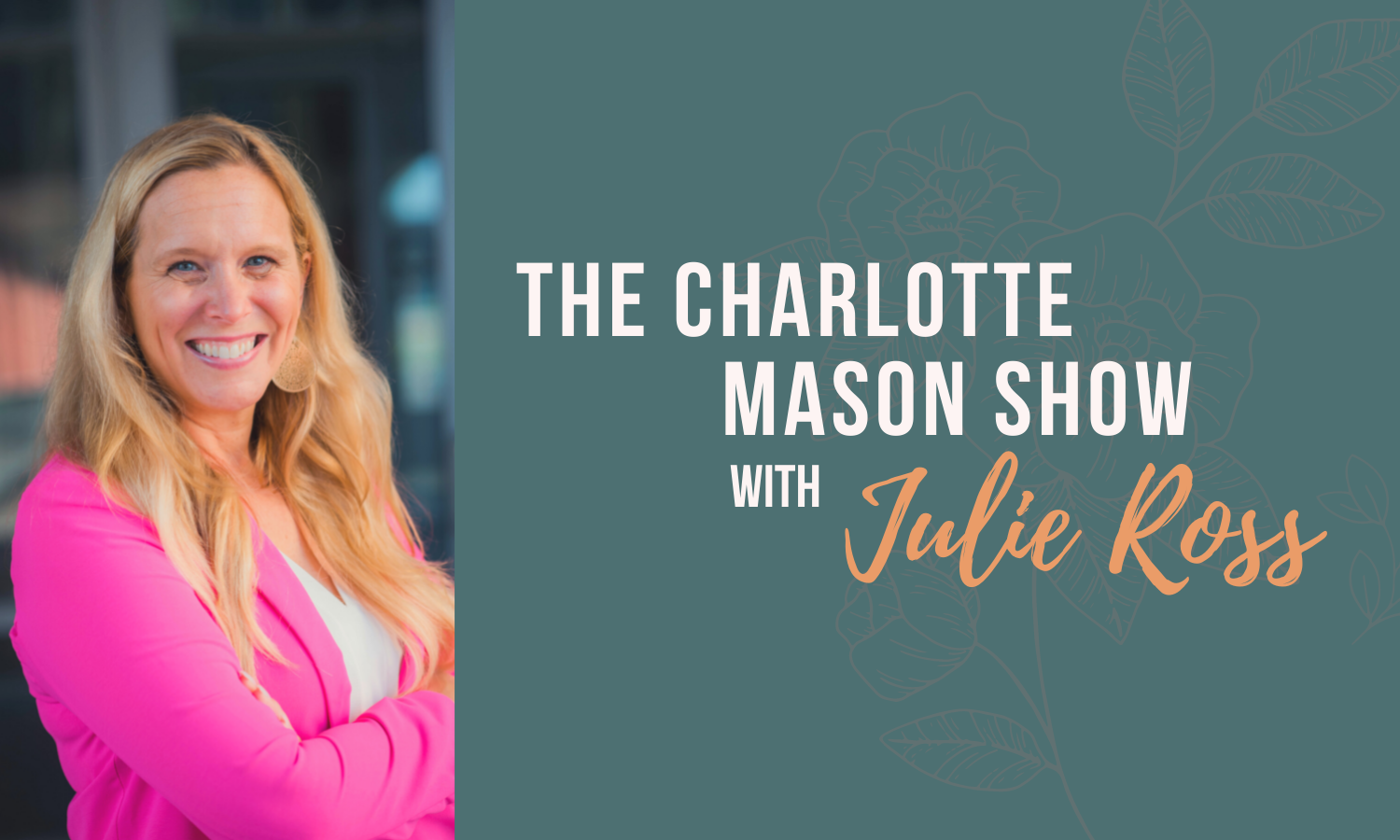 S6 E18 | Homeschooling Through Life's Challenges: Adoption (Julie Ross with Rebecca Butcher)
Show Notes:
As we continue on in our series on homeschooling through life's challenges, I am excited to introduce you to my friend, Rebecca Butcher. Her story of motherhood, loss, homeschooling, and adoption is full of God's grace and faithfulness. Whether or not adoption is part of your family's story, this conversation with Rebecca will encourage you as you walk through the many beautiful and challenging moments of life as a homeschool mom.
About Rebecca
Although she'd say that her husband's suggestion to homeschool was a shock to her, Rebecca knew deep down that one day she would teach at home when she began practicing on her little sister nearly 40 years ago. She has been married for 20 years this summer and is the mother to 5 children…three born of her womb and two born of her heart. After the deepest grief of losing her second child and firstborn daughter to hypoplastic left heart syndrome, Rebecca's perspective shifted and God began the gentle awakening of leading her away from a career in the world and more towards nurturing hearts at home. With backgrounds in both vocal performance and English literature, Rebecca seeks to cultivate the same adorations in her home where someone is always playing an instrument or they can be found piled together under a cozy blanket on the sofa reading aloud. Rebecca enjoys long walks on the beach that usually require her to turn around at the end of the island, late nights at the ballpark, her treadmill and the daily therapy that it brings, and endless cups of Earl Gray on her front porch talking to Jesus.
About Julie
Julie H. Ross believes that every child needs a feast of living ideas to grow intellectually, emotionally, and spiritually. As a former school teacher, curriculum coordinator, and assistant director of a homeschool academy, Julie has worked with hundreds of students and parents over the past 20 years. She has also been homeschooling her own five children for over a decade. Julie developed the Charlotte Mason curriculum, A Gentle Feast, to provide parents with the tools and resources needed to provide a rich and abundant educational feast full of books, beauty, and Biblical truth. Julie lives in South Carolina. When she's not busy homeschooling, reading children's books, hiking, or writing curriculum, you can find her taking a nap.
Resources
The Connected Child by Karyn Purvis
Raising a Modern-Day Knight by Robert Lewis
Adopted for Life by Russell Moore
The Connected Parent by Karyn Purvis and Lisa Qualls
The Healing Path by Dan Allender
Holding On To Hope by Nancy Guthrie
Keep a Quiet Heart by Elisabeth Elliot
Teaching from Rest by Sarah Mackenzie
Mother Culture by Karen Andreola
Charlotte Mason Companion by Karen Andreola
Connect
Rebecca Butcher | Blog | Instagram | YouTube
Julie Ross | Instagram
A Gentle Feast | Instagram | Facebook | YouTube | Website
Homeschooling.mom | Instagram | Website
Thank you to our sponsors!
A Gentle Feast: a Charlotte Mason curriculum for the entire family
Want to know more about the Charlotte Mason method? Visit www.agentlefeast.com and click on LEARN MORE to receive a FREE four-day introduction course.
Have you joined us at one of the Great Homeschool Conventions? We hope to see you there!
For more encouragement on your homeschooling journey, visit the Homeschooling.mom site, and tune in to our sister podcast The Homeschool Solutions Show.

Show Transcript:
Julie Ross [00:00:04] Welcome to The Charlotte Mason Show, a podcast dedicated to discussing Ms. Mason's philosophy, principles, and methods. It is our hope that each episode will leave you inspired and offer practical wisdom on how to provide this rich, living education in your modern homeschool. So pull up a chair. We're glad you're here.
Julie Ross [00:00:25] Hello, everyone. Welcome to The Charlotte Mason Show. I'm your host, Julie Ross, and I'm here today with my sweet friend Rebecca Butcher. And we are going to be talking about something I get asked a lot about, which is homeschooling through adoption. And so I thought of you, Rebecca, just because you're such a wonderful person and such a dear friend, and I just have loved watching your story and seeing your pictures of your sweet girls and just kind of following you. And so, again, I wanted someone who is kind of real and doing this and can just talk from the heart. So I know you have such a passion for this and such a heart for people that you'd be the best person to have. So thank you so much for coming on today.
Rebecca Butcher [00:01:09] Wow. Thank you so much for having me.
Julie Ross [00:01:11] You are so welcome. So could you tell people a little bit just about kind of your family story if you don't mind?
Rebecca Butcher [00:01:16] Sure. From the beginning— I've been married to Scott almost 20 years. We had a surprise pregnancy one year in nine months and one day after we got married. And that was our first born Wyatt. So we like to remind him that he was our anniversary baby, our first anniversary baby. That keeps him humble. And then after Wyatt, we got pregnant again with our daughter, Annabelle. She was diagnosed in utero with something known as hypoplastic left heart syndrome. If there's ever a heart condition you don't want your baby to have, that would be it. That was a very scary, risky pregnancy. She was able to be born and perform open heart surgery when she was four days old at MUSC here in Charleston. And then she passed suddenly once we actually had her home for a few weeks. After her— and I'll get back to that. A lot of her story goes hand in hand with where the Lord called us with adoption. After her passing, the Lord gave us one more child with Luke, our rainbow baby, and he is now almost 13. So I have 18— just turned 18. Graduated my first. He's been homeschooled the whole way through. Luke is 13, and then after Luke, I had experienced a lot of medical problems. I lost my mother when she was 42 to years and years of different cancer diagnoses. And I started having some of the same problems after Luke was born. So we performed a radical hysterectomy a week later, and so I knew that although my womb was closed, my heart was still very much wanting to add to our family. And I jokingly told my husband in the doctor's office that day, "Well, we're just going to adopt our next kid." And she was like, "Honey, whatever it takes at this point." So several years passed, and that joke became a reality. When I started thinking back to that time in the hospital with Annabelle, and there was one little baby in particular that was a few beds down that had a much minor heart condition compared to what we were having to walk through, but there was nobody there for that baby. They would have volunteers come in just to rock that child in the ICU. And it was just devastating. At the time, Wyatt was three-and-a-half, almost four. And so he started asking, "Where is that baby's mommy?" And so I think through that opportunity and then the ministry we began out of that after Annabelle passed, we started realizing that there are children that—in our country—are taken care of their medical needs, but they still need home. And at that same time, we had friends that were living as missionaries in Asia, and their organization was doing some work in China. And there was a child that had the same diagnosis that Annabelle had that they made me aware of that we were praying for. China would not put together a file for this child because her need was so severe.
Julie Ross [00:04:32] Right.
Rebecca Butcher [00:04:33] And so basically she was just going to be left to die, and eventually she did pass. But that also then took what we had learned at MUSC years prior and opened eyes to realize there kids all over the world that need homes that we could provide and that have much lesser needs than what we had gone through with Annabelle, and so we then started praying, and the Lord just kept pricking our hearts towards adoption and the fatherless and specifically medical needs that we knew, in America, we could easily let a child that had a more minor heart condition come here, get the help they needed, and have a home and family. So the Lord worked on me first, not so much on my husband, and I started just praying, "If this is your will for our family, I can't move his heart. You're going to have to." And Scott was not— he just wasn't moving. And adoption is a really hard, risky thing. And it's very uncomfortable.
Julie Ross [00:05:39] Yes. And I can imagine losing a child the way you all did, too, that was hard for him to want to risk something again and open his heart. Yeah.
Rebecca Butcher [00:05:48] 100%. Yes. Yeah. He could not protect us anymore if we stepped into that hard again and that trauma. And the other thing is, we knew we also needed to have ourselves in a place where we were not going to be parenting out of fear. And so anyways, the Lord got us there, and eventually one day, Scott walked in the door from work with tears in his eyes. And I think he had listened to a sermon as he was driving or something and just said, "I'm wrong. I've held us back. This is the Lord's will. And it's going to be hard, but we have to be obedient and faithful." And so we started the process the next day. Of course, the Lord would have it this way— our first file that we were shown was a little girl who it was the day before her first birthday, and she had a very minor heart condition on paper. And we both looked at each other like, "This is nothing. I mean, this might be a cath lab procedure. This is totally doable. This isn't going to be hard at all." And little did we know. Little did we know. But we ended up saying yes to her. The Lord just said, "This is your child." And so in February of 2014, we were in China—my husband and I and our two boys—adopting our first daughter. We quickly realized that it was a lot more than a small heart condition. She— over the next year and a half, we realized she had a brain condition and she needed brain surgery. And she eventually was diagnosed with a full blown genetic syndrome known as Noonan syndrome. And so we spent years shuffling through what was institutional trauma, what was a genetic delay, what was holding her back that way. And yeah, and so I thought our plate was full. We always just kind of joked and said, Andi Grace counts for 12 kids. We were full of therapists and all sorts of busyness and still homeschooling through this entire thing. And then a few years later, October of '17, then my role shifted to I still want to see these children placed in homes that my plate is full. And as God would have it, he worked through Facebook, of all places, where I was on a forum for children with Noonan syndrome. Saw a picture of another little girl and this woman asking, "Do you think she has Noonan syndrome? We're going to adopt her." And you have all these white mamas on there saying, "Oh yeah, she has a flat nasal bridge." And "Oh yeah, she has a heart condition," which can go along with Noonans. And then you've got me who's the white momma with an Asian baby saying, "Well, she's Asian. Of course, she has a flat nasal bridge. That's how she's going to be." And I just reached out to her and said, "I'd be happy to have our specialist look at her file, give you any sort of peace at all. I'm not a professional, but I do not believe this child has Noonan's because I can tell you what we deal with with it in this child in these videos and these photos." But fast forward, that was April of '17. October 17th of '17, she texted me one morning that the final paperwork had come to adopt this little girl and she said no. She did not have peace and they would not be traveling. And so we had a weekend. We knew at that point how adoptions worked, and this would be essentially a scarlet letter on this little girl's file. And I was done. Julie, I was working hard.
Julie Ross [00:09:32] I know you were.
Rebecca Butcher [00:09:32] I was reaching out. I was advocating. I was trying to find a home for this child. And I kept saying, "There's nothing wrong with her. She has a minor, minor, minor heart condition. But she's thriving. She's healthy." She was speaking in complete sentences in Mandarin. I mean, just a brilliant little thing. And she's—at this point—about a year-and-a-half in age. Anyways, over the weekend I couldn't find anyone. Anybody I found either was approved for a boy or they weren't far along in the process or something. And my husband walked in the door from a men's group Monday night and he just said, "Did you ever find a family for that baby?" And I said, "No." And he goes, "Well, is that what she needs? A family?" I said, "Yeah, that's what she needs." "Becase we got one."
Julie Ross [00:10:25] Aw.
Rebecca Butcher [00:10:26] The role completely reversed where I was the one years ago, just saying, "We gotta do this. We gotta do this." And now he's the one saying to me, "No, we have to do this." And I look at him and—I kid you not—I called the adoption agency the next morning and I said, "I know the mother that was going to adopt this baby. I have worked with her for months trying to help her receive medical information, any sort of piece that would help her bring this baby home." And I said, "But I know she didn't sign the paperwork Friday. I know you were going to get it this morning. And all I can tell you is my husband says we're going to adopt this child." And she was like, "Does that mean you want to?" And I was like, "I think. I'm not sure." But that was because with our first adoption, it was so hard. There was no immediate attachment. It was work. It was so much work. And I just felt like, "Lord, I don't know if I have anything else to give." And anyway, six months later— fastest adoption on Earth— from October 17th to April 16th, so one day shy of six months later, my oldest son, Wyatt, and I are on the other side of the world adopting this little girl. And quickly realized that really all she truly needed was a family. She has required no medical care whatsoever. And it's just a glimpse of all of God's goodness to us. She's just our little sunshine and joy bringer and exactly what our family needed.
Julie Ross [00:12:13] Yeah. And I love the pictures of them in their cute little matching southern outfits. We have to find a picture to put in the show notes for people who want to see. But it's so sweet, and I think— has that been really helpful to have the sister bond, too?
Rebecca Butcher [00:12:30] Oh, it's huge. They are truly best friends. Because of Andi Grace's differences— she's nine now, almost 10. She keeps reminding me that because she gets her ears pierced at 10; that's a big rite of passage for her. But Ailee James is six— she just turned six in March. And so we've had the girls home eight years and four years, respectively. But although, you know, there's a little bit of age— they truly are the best of friends. They entertain each other. They have been wonderful. Andie-Grace is just a natural. I do have to wonder if she—in her biological family—was the firstborn because she's so much that nurturing, mothering personality that it's just like we gave her her baby, her person, and it's just been a beautiful thing to watch their sisterhood unfold. They really, truly are— we get the question all the time, "Are they sisters?" And I'm like, "Well, yeah, they're sisters."
Julie Ross [00:13:32] Right.
Rebecca Butcher [00:13:33] And then it's, "No, are they really sisters?" I'm like, "Mm. Yep. They are. They have no DNA that they share, but they are as strong of a bond as you'll ever find."
Julie Ross [00:13:45] Oh, well, thank you so much for sharing all that. I've just been so encouraged by watching that, and I know it will really help a lot of people to hear that. And I think just a testament to you all's faith, right? And the Lord's faithfulness in giving you all such a sweet story to see him kind of just bless you all through all of this. And it doesn't make it easy. And so, part of the series is homeschooling through challenges. So it is challenging, right? But there's so much blessing in that. So how have you seen that homeschooling has helped? And then we can talk about some of the challenges. Let's talk about the blessings first.
Rebecca Butcher [00:14:25] Sure. Yeah. The blessings of homeschool is obviously— I had already seen through our oldest son and the grief and trauma— he was with me when our first daughter passed. And so I had already seen the benefit to homeschooling and that attachment. We—even now at 18—I mean, we have an incredible friendship, and I know that that was fostered through homeschooling. And those— our first year when he was a kindergartner, I started homeschooling him and was nursing Luke simultaneously. And it just— at that season for all of us, it was crucial that we were together, that we had time, and that we were sitting on the couch. And having a background in English, for me, it's books. It was all about books. If we didn't accomplish anything else, we were going to cuddle up on the couch and we were going to read a good book. And so I quickly realized that those rhythms that we had already put in place— I am very much type A, and so what I've learned many years ago is I wanted a schedule. Now it's more of a rhythm and a routine to our day, just this natural flow that we have that we've built in. And it's so interesting. I mean, our children thrive off of that. My boys, even at a young age, were— okay, this is what comes next. And having those rhythms in there has immediately helped my girls to transition into this is what a family looks like. They had no context of family. They were both from institutions. For Andie-Grace, especially, she was severely neglected. So for her, whatever woman showed up to give her a bottle was just the next person. And there was no attachment whatsoever. So for her, I had to teach her. And it took years. I'm actually staying, sweetheart. This mama is not going anywhere.
Julie Ross [00:16:29] Yeah.
Rebecca Butcher [00:16:30] And when your first year and a half of your life is just whatever you have to do to survive, whoever you have to manipulate to accomplish that, and then to fall into our family where it's like, whoa, there's actually somebody that's going to feed you every meal and it's going to be the same person. There's going to be someone that has expectations that's habit training you, that's reading to you, and it's the same person. That person's not going to change. And so having those things already established in homeschool school for us was absolutely huge, absolutely huge for the girls to transition. Another blessing is that we were able to receive in-home therapy where I could set the standards and the boundaries with the therapists that we had coming in. So I am unapologetically number one mama here. I am Mother Goose 1000% through and through. And so knowing and having them trained so well— one book that I highly recommend is The Connected Child. But having gone through so much training during the adoption process that I knew I needed,—especially a child from so much trauma—I needed to make sure that I set boundaries with those therapists. Julie, we went through therapist after therapist that first year because they would not honor my boundaries, and I'd say, "I don't want her in your lap. I know it sounds silly to you, but there's a real reason because she's going to attach to you, and then she's going to see you just like she does me." And so we actually still have one therapist—or speech therapist—that has been seeing her since a month after we brought her home for the past eight years now.
Julie Ross [00:18:15] Wow.
Rebecca Butcher [00:18:15] And she was the only one that continually— when I'd say, "Okay, now I can't have this happen. I don't want on your lap. You can do therapy, but she's going to stay with me." Just right off the bat, things that Andie-Grace would go, "Wait a second, I'm attached to her." And so I would do babywearing with her, even in the presence of other people, and I did it with Ailee James, too. And that sucker was— she had just turned two when I brought her home, and I'm like, "I'm going to have to see a chiropractor now because this one is getting heavy." She was a big girl coming home. Andie-Grace was always my little tiny peanut, so she was much easier to wear. But cocooning— all these things that you are taught when you go through the adoption process that you have to be trained in. I think pretty much every agency now requires some extent of training and trauma in hard places. And they talk about things like felt safety and cocooning. And the more and more we're going through the process the first time and I'm reading these things, I'm going, this is homeschooling. We do this. We cocoon. We're home. My kids have these habits and these routines and this schedule that's going to help them know what a family looks like and just being together all the time. They were able to— especially my second daughter, bringing her home, it took her no time to figure it out. She fell right into it immediately and was like, "This is home. This is family. And she fiercely protects that now."
Julie Ross [00:19:53] Yeah, I think that's great. Because I talk about routines and rhythms all the time and how beneficial they are. And I actually did another episode on kind of trauma and homeschooling through different trauma and how that affects children's ability to learn and whatnot. And it's those consistent rhythms that are so healing, and you're not having to restructure your entire life. I mean, you are a lot of ways, but the major things you do every day are such a nurturing and beautiful thing to bring an adoptive child into already. Which is awesome.
Rebecca Butcher [00:20:24] Yes. Yes.
Julie Ross [00:20:26] And I've really seen in some of my other friends that I know and I taught your oldest a little bit— just their kind heart that your boys have and their empathy. And I know that's from having adopted siblings and being with them all the time. Do you feel like that's true?
Rebecca Butcher [00:20:44] Yes. 100%. Both of my boys— I am always continually blown away by their kindness. They are constantly thinking of other people. Luke, my 12-year-old— deeply burdened when people are not treated justly. It truly bothers him to see— even in— my boys have been volunteering for our Vacation Bible School at church and he came home last night and he was just like, "Mom, this kid was not very kind." And it just blows his mind that that happens and that children will be mean to one another. And my husband set a great precedent for that, too. He read—many moons ago—Raising a Modern Day Knight. And so he's been very intentional at different stages on their lives of— "Okay, now you're entering this phase of manhood and you're transitioning out of little boy into a young man." And with that, they they take that— they're both wonderful protectors of their sisters. I'm sure you've probably seen in photos, too, there's always a boy grabbing a girl. And part of that, too, has probably been from in our home and in our homeschool, it's, "Okay, partner up kids." Like if we go to the zoo. Even when they were younger. You've got your person. You protect your sister.
Julie Ross [00:22:08] Yeah.
Rebecca Butcher [00:22:08] Because we know, too, that our girls—and with any child that's from a hard place—it's going to be even harder for them to make good choices in life because they haven't been given those opportunities from the moment they were born to choose good over wrong or right over wrong. And so, as the choices as they get older, those choices get harder and harder. And one day, ultimately, we want them to make a good choice in a partner for life if that's what the Lord has for them, and making sure that they see that played out in their brothers of this is how a young man treats a princess. And those girls will tell you that they are princesses 100%. That's really what— it also— they've seen, especially Andi-Grace, they've walked with her through brain surgery and so many doctors appointments. She lost her tooth the other night, and Julie, she has this literally one in a million bleeding disorder.
Julie Ross [00:23:14] Oh, wow. I didn't know that.
Rebecca Butcher [00:23:17] Yeah, we had no idea. It was kind of a a crazy thing because her surgeon at MUSC was like, "This child is just like— we've got a lot of unanswered questions, and before I even operate on her, I just want to make sure there is nothing going on hematology wise." And so we tested and it came back that, yeah, she had something, but it wasn't that. That precious hematologist literally ran every single test on bleeding disorders until finally he called me and said, "Ms. Butcher, I mean, there's one more out there, but it's like a one in a million chance that she has this, but I'm going to do it anyways, because that's all I've got left." And I remember sitting in the Aldi parking lot thinking, "Of course she has that because we get the one in a million and it's such—" I mean, it's just God's sense of humor. I mean, he's like, "Oh, yeah, this girl is something special. She's unique and fearfully and wonderfully made." And so now that we knew that, like her tooth the other night bled forever when it fell out. We're rolling up paper towel after paper towel, and we're like, "Okay, that was just a tooth, but surely she's going to clot at some point."
Julie Ross [00:24:31] Yes, hopefully.
Rebecca Butcher [00:24:31] And she loved it. She has the resilience about her that's just amazing, but even little things like that in the daily life that the boys realize, and we've not made a big deal of it. It's just part of life. Everyone is going to be different in some way, and those differences should be celebrated. And so they now have that perspective when they're with other people. And I know that kindness is just— it is a gift. They are very empathetic. And it's hard lessons learned in the trenches, for sure.
Julie Ross [00:25:08] Yes. That's such a blessing for them, and the person that they have grown up to be and their character. But also, I just want to touch on something you talked about— like the medical appointments, right? And then the, "Oh, the tooth fell out and now we're bleeding everywhere. Everybody go get paper towels," you know? I think some people feel like if I don't have this idyllic life with this beautiful little schedule that doesn't have any interruptions, we can't homeschool, or we're doing something wrong, or this isn't going to work because we have to interrupt because we have to go, blah, blah, blah. So how did you kind of balance all of that?
Rebecca Butcher [00:25:46] Oh, but that's the beauty of homeschooling is that we can just interrupt and we can say, "This is more important right now." And it's always been—for us—their hearts are first. So if something else has to happen before school, it'll happen. Someone told me— I would recommend always having someone just one step ahead in the journey that can give you some insight and wisdom, and this woman has been with me from day one. And I'll reach out to her. I have sent her everything from curriculum recommendations to dating advice, and she's someone who told me— and I'll never forget when I was sitting down beginning kindergarten, really wrapping my mind around the fact that we are doing this thing. And she just said, "Rebecca, if nothing else, do very little, very well." And that has been something that stuck with me for the last 13 and a half years of on those days that we might have interruptions because our rhythm is going to be thrown off a little— we have to go to the geneticist today or we're going to spend two hours driving to Charleston, going to see clinic, which is going to take an entire day for Andie-Grace has to be— her chiari malformation where she was decompressed, she has a patch that holds her brain in place now. And so we have to check in on that every so often, and she has to be put to sleep for that. And then we immediately meet with her surgeon who she adores. She thinks he looks like Maui, but it's just— she's the funniest thing. He said, "I always know my neuro patients because they come in here loopy because they've just been sedated for their procedures." And she's just the sweetest thing. I have these pictures of her half out of it, still just laying on him smiling because she knows this is the man that fixed my brain.
Julie Ross [00:27:40] Yeah. Aw.
Rebecca Butcher [00:27:40] But our rhythm does get thrown off. And that happens, and it's going to continue to happen. And so we learn to adjust. And we just learned that, you know what? Sometimes we're calling school an audiobook in the car on the way to Charleston because that's what we can do that day. And there's been harder seasons of that, especially right after we brought our first daughter home from China. Hard seasons. And I look back on it now because that son was in fourth grade at the time, and now he's going to college next year. And I just think, "Lord, how did you do this?" But he did because that's where the divine teacher comes in and just fills those gaps and fills those voids and takes over. And just somehow you look back and say, "I don't know how you did it, Lord, but you did."
Julie Ross [00:28:28] Yes. That's so encouraging. I love that, how she said that— do a lot of little well. And we can feel like we have to do everything well, and that just actually can lead you to burnout real fast. So it's focusing on okay, what can I do in this different season, and being creative. And, I mean, if anyone has listened to my podcast, I'm sure they've heard me say that a million times, right? It's thinking outside the box and how can we be creative? But all those little seeds. Reading that, listening to that audiobook, sitting in the doctor's office and reading this thing, learning patience, right? Learning how to navigate the medical world, all those life skills as well. You know, all those little seeds, all those little ideas shape a whole person, and I love how you were saying you just focused on, "We're focusing on the heart here. We're doing the things that we can do. We're doing them well, and we're trusting the Lord to kind of fill those pieces." That's a beautiful statement.
Rebecca Butcher [00:29:21] Yes. Absolutely.
Julie Ross [00:29:24] Today's episode is brought to you by A Gentle Feast. A Gentle Feast is a complete curriculum for grades 1 through 12 that is family-centered, inspired by Ms. Mason's programs and philosophy, and rooted in books, beauty, and biblical truth. You can find out how smooth and easy days are closer than you think at AGentleFeast.com.
Julie Ross [00:29:44] So your two girls— how has it gone homeschooling them? They're both school aged right now? I can't remember.
Rebecca Butcher [00:29:55] They are. Yeah. Nine and six.
Julie Ross [00:29:58] Nine and six. Okay.
Rebecca Butcher [00:30:01] So Andie-Grace has been more difficult mostly because the enemy had heyday with me a few years ago, and really just said, you know, I might have a background in education, but you don't have special ed. And I think this comes from a long line of educators in my home. My sister is a special ed teacher. My mother was a special ed teacher. And they did and do their jobs beautifully for the public school system. But I kept thinking, "I don't have these qualifications. I can't do this." And I was listening to these outside voices. And what I eventually realized was just not truth. And I did go through a process of having Andie-Grace evaluated by public school, thinking that might offer her a better opportunity only getting— the night before I'm to have her IEP meeting with everyone there, only to realize that my sister calls me and just says, "Rebecca, home is always going to be the least restrictive environment for her. Always. I 100% believe in what I do, but I know that you can do this too." And that's kind of that. I needed to hear it from someone else other than myself.
Julie Ross [00:31:18] Right.
Rebecca Butcher [00:31:18] I knew that that's where the Lord was leading me. My husband was very patient to let me work through those doubts. And so I showed up to the IEP meeting the next day and just said, "I'm sorry. Thank you for your time. I appreciate you evaluating her. I don't agree with your recommendations for a lot of reasons." They were just not to her benefit at all. And it was so incredible, Julie, because as soon as I let the light in on educating her and continuing that process, I really—at that time—started seeking out more Charlotte Mason methods because I knew I need a gentle learning environment for her. This has to be something that's just going to nurture her— mind, body and spirit. And so she and I began read-alouds where I was told she has no reading comprehension ability. But then I could— that year we went through the entire Chronicles of Narnia, and we were reading— I mean, and I've always made a point to read to the higher level, I guess.
Julie Ross [00:32:25] Oh yes. Right.
Rebecca Butcher [00:32:25] More of my—at the time—fifth, sixth grade son's levels. And so we're reading A Wrinkle in Time. We're going through the Witch of Blackbird Pond, and although she couldn't just answer a read and regurgitate question for them, you can ask this little precious child, "Can you narrate to me? Can you just tell me what you learned? What did we talk about?" And the details are incredible, the things that would stick with her and still do, and the things she remembers. It absolutely blows my mind. Her memory is incredible. Math skills, where they were going to put her in a self-contained class with non-verbal students— now, her therapist did have a problem with that, too. But even with that, I see this child that has done nothing but thrive. She is completely what I would— I guess the world would say is on level with her math skills. She blows our minds with it.
Julie Ross [00:33:23] Wow.
Rebecca Butcher [00:33:23] And so being able to homeschool her in a manner that really suits her as as a whole person has given her an opportunity where I really— I would never have expected her to do this well in any other setting. It's also pushed along my younger one. So they kind of tell you when you adopt that, based on the amount of time they've spent institutionalized, you can kind of take some of that time off, and you're going to essentially start over in a lot of ways. So it wasn't a big deal—especially with Andie-Grace's other needs—to delay school a bit for her, some formal lessons.
Julie Ross [00:34:02] Yeah.
Rebecca Butcher [00:34:03] With Ailee James, on the other hand, this child is just, "I'm going to do what they're doing," because we had these rhythms and routines in place, and she's just kind of getting burnt out with the magnets and the Montesspri type things. And she's hopping in there to do watercolors, and and she loves when we're doing hymn study and when I'm holding up know Monet and DaVinci and she's just, "Wow, Mom!" And she'll even now point out paintings and know things that I just— I was like, "I'm not holding this child back. We're going ahead. We're including her in this. She's ready for it. She loves it." And it has been the the biggest blessing because—what I've found—truly, I think I needed it more than they did. These children just have have an ability far beyond anything I could ever articulate or put into words appropriately, that the Lord has clearly always had his hand on them. What he needed to do was deep work in me. And so now I'm at this place where we're functioning and just loving where he's gotten us through, being able to really mold our homeschool to our children and to our family and what works best for us.
Julie Ross [00:35:25] That's great. Yeah. I definitely feel— and we talked about a lot through this series of how the blessing of a Charlotte Mason education for children and parents going through difficulties and trauma— just how healing all the different aspects of what she includes. Like you're mentioning, like the art and the music and the being out in nature, and how therapeutic all those different things are. And literature and poems. It heals our soul at the same time it's helping our children. And I loved what you mentioned about narrating because I feel like we can think, "Oh, we have to kind of check all these boxes, and if they're not checking these boxes because either trauma or medical needs or delays that we're not measuring up." And seeing the value of the other things that they're getting, and putting emphasis on those. And being able to narrate is such a higher level thinking skill and being able to recall who ate first. And it shows—like you're saying—like her personality coming out being able to do that. And Charlotte Mason even says that. She gives an example and she uses—I can't remember the word, not a word we use now—to describe somebody who's neurotypical, but that kind of child even can narrate Shakespeare, Plutarch, I think Bacon's essays with ease, and you're like, "What? No." And then you see it happen, and you're like, "Oh, no. Wait. She was right."
Rebecca Butcher [00:36:54] 100%.
Julie Ross [00:36:55] So yeah, that's been super encouraging.
Rebecca Butcher [00:37:00] Yeah. The things that will come out of her mouth—even at dinner—and we kind of look at each other shocked. We're like, "That stuck." It is absolutely amazing. And our copywork this past year has just been scripture, and a lot of our memory work also. And this child can rattle off verse after verse that she has just tucked away, and it's incredible.
Julie Ross [00:37:23] Yeah. That is so encouraging. So we've talked a little bit about some of the challenges. Were there any other ones that you feel like we should address?
Rebecca Butcher [00:37:32] I will say, personally, one thing that has been a prayer of mine for a long time was a mother's helper because one thing that a lot of adoption moms— I think other people perceive adoption moms as, "Well, if you're working so hard to cocoon and keep this child more to yourself, then we don't need someone coming in to watch them." And for a short period, yeah, I think that's true, but over the long haul— especially as a homeschool mom, I am with my children all the time. And so if I was going to have a moment alone, I had to create that much earlier in the day, which is hugely important self-care, by the way, in this journey.
Julie Ross [00:38:18] I'm so glad you brought that up. Yeah.
Rebecca Butcher [00:38:20] Oh, huge. But on top of that, I've just been trying for years of a mother's helper, someone that could come in and spend some time with the girls so that I have a minute to do something else. You know, first things first. And if the hearts are first, then that might mean that the laundry's not done that day or it might not happen until later. I even have a routine with laundry because that's type A firstborn child here. But like if I don't fold it until 8:00 at night when everyone's in bed, it's just— I didn't lose. I didn't lose. I gained that time with them. But I would say that's a challenge because other people don't really know how to approach you. They don't know, well, how much is too much? Should I offer my child as a helper? Should I offer myself if you're in a season of life where you might be an empty nester. I don't have a— I have my dad, but that would be a little weird. He loves to fish and do all kinds of boy things, so he's wonderful with the boys. And he he is a tremendous help. But he's not going to come in—unless I really ask him to—and help to give me a minute. So thankfully, there is 12 years between my oldest and youngest, and so I almost a little bit had that mother's helper built in.
Julie Ross [00:39:41] Mm hmm.
Rebecca Butcher [00:39:42] And the relationship, I think, is even stronger because of that, because we didn't have anyone else through the years. But that's something even thinking to this next year when he's out of the home completely and away at college of what's that going to look like? You know, how am I going to create that time for myself? And so that's definitely a challenge, and not being too needy with it, but also knowing that that is something that would be life-giving in this environment.
Julie Ross [00:40:11] No, I'm so glad you brought that up because I think—
Rebecca Butcher [00:40:13] We love our children.
Julie Ross [00:40:14] Yes, right. Yes. But we can't do it all. And so it's asking for help. And that was actually one of the other questions I was going to ask you is, how can us as a homeschool community support best? What has helped you in terms of people coming around you? And I get you don't want a bunch of people coming in and out, especially at first when you're building that attachment bond. But what— was there other things or do you have thoughts of, "Oh, I wish I would have had somebody do X, Y, Z."
Rebecca Butcher [00:40:44] For me, more so, it's I wish I would have had that. I think, too— you know, I'm just not a natural person— it's not my forte to ask for help. I'm one of those that just says, "I can figure this out. We can do it."
Julie Ross [00:40:57] I don't know what you're talking about. That's not me at all either. No.
Rebecca Butcher [00:41:02] Not at all. And it's just, okay, this is kind of the cards that I've been dealt. This is how we're going to do it. And so, I haven't really had that, but I've also not been—
Julie Ross [00:41:15] Asking.
Rebecca Butcher [00:41:16] Hugely open with it either in asking. But in hindsight I do think that that would have been very beneficial. Something that— the homeschool community is incredible in and of itself. So is the adoptive community. And so through social media, I was able to find two women— one that lives in Georgia, one that lives in Texas. I've never met them face to face, but I could tell through what they were sharing with their posts, their blogs, etc., that these are like-minded women. These are women that— because, as you well know, not all homeschoolers are created equal. For a season of our life, something like a hybrid might have worked better. But that's not where the Lord has us now, and we thoroughly enjoy where we are, so I want to learn and glean from others that are like-minded, kindred spirits in this journey. And so we Voxer each other. I mean, everything from, "Hey, what's your best science living book recommendation?" To "Is this art study working for you?" Or I mean, it's been all kinds of things as well as medical stuff because they're working through hard things also. They have children with medical needs. They understand attachment and the benefit of homeschooling. One of them was homeschooling before she adopted her children, so we have a lot in common with that too. She has some older boys as well. The other one, interestingly enough, public schooled her three older children, and then homeschools her adopted children for a lot of the reasons that we've discussed. But having someone else that's in the journey that you can just reach out to at a moment's notice, know that we're busy. It might be a day or two before you hear back; sometimes it might be five minutes. But just knowing, okay, I know someone who would get this question and would understand why I'm asking it. There's been a lot of books that have done wonderful for me, too. Yeah, it's interesting.
Julie Ross [00:43:19] Yeah. I'll put them in the show notes, too. That'd be great. Yeah.
Rebecca Butcher [00:43:23] Yeah. Yeah. Lots of books that I've enjoyed reading and rereading that I'll find myself going back to for encouragement. I'm trying to think. Also if you have a co-op, if there is something like that that would be beneficial to where you are— I know for us, when we first brought Andie-Grace home, my boys went to a hybrid homeschool mostly because I needed to fit in therapies, and I didn't want that to compete with our time together as a family. So I would schedule our therapies on the days that they went to that hybrid homeschool. So understand that it might just be a season that you're going to have to utilize these different resources. Outsource things if you have to. I can't stand math. I mean, I really can't.
Julie Ross [00:44:13] Me either.
Rebecca Butcher [00:44:13] I'm liberal arts through and through. I somehow graduated university and never— I took astronomy to get out of a math class. And so for me, once they get to that higher level math, I'm going, "Oh yeah, this is going to be a problem." And so, outsource those things. Find other opportunities for your kids to be able to get help with that from someone who does have a natural bent towards it.
Rebecca Butcher [00:44:43] Yeah. That's great advice. Yeah, be willing to ask for help to see that—even if it's not forever—that it's not a weakness, that's a strength to be able to see. And we are so blessed to live in the world that we live in where you can communicate with people through Voxer and there are these different options to get help with your homeschooling and you don't have to do everything for everybody all the time. That's been so great to hear. So just to close here, what advice would you give to someone who's kind of starting this journey of homeschooling their adopted children?
Rebecca Butcher [00:45:18] Give yourself grace. More than you think you need. Every single day. This is a new space for not only your new child, but for your family as well. So give your other children— if you have those, give them grace as well. It's going to have a huge learning curve with it, and it's going to be one step forward, two steps back for a while. Make sure you take time for yourself, whatever it is. I've always said three things. There's going to be something every day that I get to do—that I get to read and that I get to either eat or drink—that brings me life.
Julie Ross [00:45:58] I love that. It's so great. I love those three things.
Rebecca Butcher [00:46:03] Thank you. Yeah. So for me, a lot of times it's stacking habits. That's another tip there. So a stack habits that you have because you need to maybe create more margin and more time in your day for other things. And so I love podcasts, I really love books, and I don't get to sit down and read as long as I'd like. I got burnt to a crisp the other week at the beach because my two precious girls were playing in the surf for three hours, Julie.
Julie Ross [00:46:29] That's awesome. Aw, so sweet.
Rebecca Butcher [00:46:29] Three hours just in creation. Absolutely loved it. And I got to sit there and read a book cover to cover, and I paid for it because I didn't have any sunscreen on. But I don't have three hours in a typical school day to sit down and read a book cover to cover. So I'll stack habits. I have to move my body, especially with my autoimmune diseases. Moving my body first thing in the morning is huge. So I will get on the treadmill or go outside up and down— when it's not so hot, I'll go walk up and down our dirt road for a while, and I'll listen to a book because then I get to read and walk at the same time. So stacking those things— huge. I listen to podcasts also. Sermons. I love a good sermon. There's a couple of pastors that I like to listen to, and so I'll do those things at the same time. Don't be afraid to ask for help. Just don't be afraid. It's really scary to do that. And if you can't find that community, create it.
Julie Ross [00:47:35] Yes, that's great advice.
Rebecca Butcher [00:47:35] I had to do that after our second adoption. I just found— locally. I had a couple people further away, but I needed someone that I could sit down on Saturday morning and have a cup of tea with and just say, "This is hard. And I know I can't share this with anyone else because they're just not going to understand." So creating that community and finding those people, and it took a lot of work. I mean, it was months of different people coming in and out, of hosting Bible study that's more towards adoptive and foster families, and then realizing okay, well, this is somebody that we really are on the same page with things, and finding that community and then making time for it. So for me, I can't easily do that. It really bothers me if our morning rhythm gets off too much.
Julie Ross [00:48:27] Oh, yeah, me too.
Rebecca Butcher [00:48:28] And so a lot of times, I'll make that on Saturday mornings where I know that the kids can be watched, and I can get away. It gets me out of the house for a couple hours, so I really enjoy that. And back to do very little very well, if that's all you can do. Just know that you don't—like you said—you don't have to check all these boxes. That God's grace is sufficient, that He will fill those gaps and those voids for you. Just stay faithful in those little things just right where he's planted you. You don't have to take on the world. Just focus on where he has your feet. My husband says to the boys all the time, "Be where your feet are." And I have to repeat that to myself to be where my feet are. If my feet are right here, then I'm not going to worry about what's going on in the world. I'm going to be here and show up and be present for the children that the Lord's entrusted to me.
Julie Ross [00:49:25] Yeah. Oh, my gosh. That is such— all of that is just like mic drop, great advice. Stuff I say a million times over, so I'm glad everyone's hearing it again. I can't emphasize enough the importance of self-care. I love that you're moving your body, that you're feeding yourself good things, and that you're feeding your emotional tank, too, with friendships and relationships. And it can be— like you said, that's hard work. You really do have to be intentional about making that a habit and scheduling that time because you won't find that extra time. It will never happen if you don't make that the first thing.
Rebecca Butcher [00:49:59] You have to create it.
Julie Ross [00:50:01] Yes, but it can be so hard—especially when you are such a giving, caring, loving person like you, and you have these adopted children with all these needs—to put yourself last, often happens, and then the burnout can happen real fast after that because you are giving from a completely empty tank over and over and over again. So yeah, that is really good advice. So thank you so much for taking the time to talk to us, and I'll put it in the show notes some of the— I wrote down a few, but yeah, if you could let me know some of the more books that you've read, too, that would be great.
Rebecca Butcher [00:50:30] Absolutely.
Julie Ross [00:50:30] All right. Well, thank you, Rebecca. I really appreciate you talking to us.
Rebecca Butcher [00:50:34] Thank you.
Julie Ross [00:50:40] Thanks for listening to today's episode. If you would like to know more about the Charlotte Mason style of education, check out AGentleFeast.com and click on the Learn More button or a free four-day introduction course. I would love to meet you in 2022. I will be at all five of the Great Homeschool Conventions. To find out more about attending one of those go to GreatHomeschoolConventions.com. If you'd like the show notes for today's episode, you can find those at Homeschooling.mom and click on The Charlotte Mason Show. Until next time, I hope your days are full of books, beauty, and biblical truth. Thanks for listening.