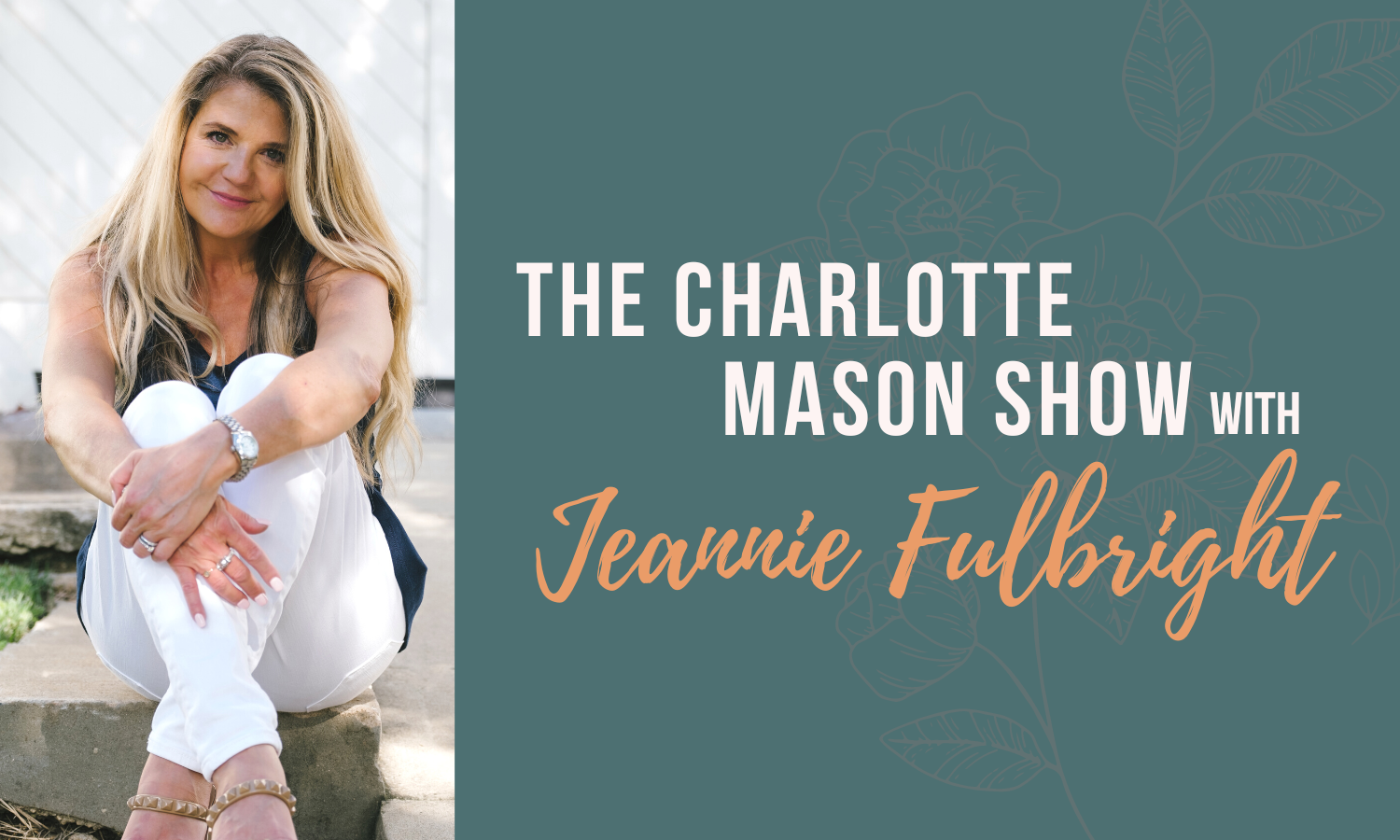 S7 E3 | Seven Strategies to Empower Your Prayer Life (Jeannie Fulbright)
Show Notes:
When we are busy and life is a series of tasks to complete, problems to manage, and emotions run high, we often find ourselves trying to do it all ourselves. We forget that God longs to bless us. We forget to turn to Him. Yet, when we do seek Him, when prayer becomes our daily conversation, we find strength and peace beyond our comprehension. In this talk, Jeannie will share 7 strategies that will empower your prayer life, make your prayers more effectual, and enrich your family's faith.
About Jeannie
Jeannie Fulbright, a 24-year veteran homeschooler, is the author of the #1 best-selling, multi award-winning Apologia Young Explorer science series: Exploring Creation with Astronomy, Chemistry and Physics, Botany, Zoology, and Anatomy & Physiology. She is also the author of the action-packed historical time travel book series Rumble Tumbles Through Time, as well as preschool science books and activity kits, the Charlotte Mason Heirloom Planner, and many high-quality Charlotte Mason based products. Jeannie and her husband Jeff became empty nesters in 2019. All four of their children all went to the University of Georgia on scholarship (homeschooling works!). For more than 20 years Jeannie has traveled around the country speaking to homeschoolers at conventions, covering a plethora of topics from Charlotte Mason to marriage and prayer.
Resources
Dwight Moody
Next to the wonder of seeing my Savior will be, I think, the wonder that I made so little use of the power of prayer.
1 Thes 5:18
Pray without ceasing, in all circumstances give thanks for this is God's will for you in Christ Jesus.
Romans 12:12
Rejoice in hope, be patient in tribulation, be constant in prayer.
Philippians 1:32-34
For to me, to live is Christ, and to die is gain. 22But if I go on living in the body, this will mean fruitful labor for me. So what shall I choose? I do not know. 23I am torn between the two. I desire to depart and be with Christ, which is far better indeed.
Mark 6:15
But if you do not forgive others their sins, your Father will not forgive your sins.
Mark 11:25
And when you stand praying, if you hold anything against anyone, forgive them, so that your Father in heaven may forgive you your sins."
Col 3:13
Bear with each other and forgive one another if any of you has a grievance against someone. Forgive as the Lord forgave you.
James 5:16
Therefore, confess your sins to one another and pray for one another, that you may be healed. The prayer of a righteous person has great power as it is working.
Ephesians 4:32
Be kind to one another, tenderhearted, forgiving one another, as God in Christ forgave you.
Matthew 18:21
seven times?" Jesus said to him, "I do not say to you seven times, but seventy-seven times.
Luke 17:3
Pay attention to yourselves! If your brother sins, rebuke him, and if he repents, forgive him, and if he sins against you seven times in the day, and turns to you seven times, saying, 'I repent,' you must forgive him."
Connect
Jeannie Fulbright | Instagram | Facebook | Facebook Group | TikTok | Pinterest | Website
Homeschooling.mom | Instagram | Website
Thank you to our sponsors!
Medi-Share: an affordable Christian alternative to traditional health insurance
Tuttle Twins: children's books to help you teach your kids how the world really works
Have you joined us at one of the Great Homeschool Conventions? We hope to see you there!
For more encouragement on your homeschooling journey, visit the Homeschooling.mom site, and tune in to our sister podcast The Homeschool Solutions Show.

Show Transcript:
Jeannie Fulbright Welcome to The Charlotte Mason Show, a podcast that is all things Charlotte Mason and her tried and true philosophy of education designed to help you homeschool with more confidence, joy, and success. It is our hope that you'll find golden nuggets that will transform the way you think and the way you homeschool. I'm your host, author of the bestselling Charlotte Mason Science Curriculum, Jeannie Fulbright, and I am so glad you joined me today.
Jeannie Fulbright As you're well aware, it's open enrollment season. That means you're probably lost in a mountain of paperwork and doing Ph.D.-level research to find a healthcare option that's the best fit for you and your family. Well, I have good news for you. My friends at Medi-Share are the most trusted name in healthcare sharing, and members save 50% or more per month on their healthcare costs. To learn more, go to GreatHomeschoolConventions.com/MediShare. That's GreatHomeschoolConventions.com/MediShare.
Jeannie Fulbright Here's a riddle for you parents: Homeschoolers love them. Enemies of freedom hate them. What are they? It's the Tuttle Twins books. With millions of copies sold, the Tuttle Twins helps you teach your kids about entrepreneurship, personal responsibility, the Golden Rule, and more. Get a discounted set of books with free workbooks today at TuttleTwins.com/Homeschool. That's TuttleTwins.com/Homeschool. And now on to today's show.
Jeannie Fulbright 1 Thessalonians 5 tells us to "Pray without ceasing, in all circumstances give thanks, for this is God's will for you in Christ Jesus." God's will for you in Christ Jesus is to pray without stopping, to continually pray, being constant all day long in that dialog with God--constant back and forth with the Lord all day long. And as homeschool moms, this can be rather challenging with all that we are accomplishing each day, or trying to accomplish each day. Romans 12 says, "Rejoice in hope, be patient in tribulation, be constant in prayer." And some days (some homeschool days) it does feel a little bit like tribulation, and that we do need that patience. But that constancy in prayer is the power of God in our lives. It is so powerful. God will increase His joy in our hearts. He will unleash his power in our lives as we do His will to be praying without ceasing. So today I want to share with you some stories and seven ways that you can-- Things you can implement to help empower your prayer life and make it more effectual, because prayer is our source of power. It's how we change the world. It is how we unleash the power of God to move in our families, in our hearts, to protect us, to change people's hearts, to grant repentance, to give our families the joy that God wants us to live in. Prayer is an incredible gift from the Lord. And so often we fail to utilize this gift. We fail to recognize this gift and see it for what it is. Dwight Moody once said, "Next to the wonder of seeing my Savior..."-- He's talking about when he passes away and he's in heaven. He says, "Next to the wonder of seeing my Savior, will be, I think, the wonder that I made so little use of the power of prayer." And this is a man who prayed on his face for three hours every morning. I have personally seen, and you probably have too, many answers to prayer--hundreds and hundreds of little miracles like not running out of gas when you are empty for 30 miles to make it to the gas station when you have kids in the car--little prayers like that and big ones that God has just moved mountains in my life.
Jeannie Fulbright One story comes to mind in particular because it really is just a miraculous story of God's work in my life. When I was pregnant with my third child, circumstances happened that I ended up with a specialist doctor because of some problems that I'd had. And he found-- He was just feeling my thyroid and he felt a little bump on my thyroid. He said, "You've got a little nodule in your thyroid, but it's probably nothing. It's like 95% of these things are nothing. So we'll not worry about until after you have your baby." So I had a baby and then about six months after I had him, I went back to the doctor and the nodule had grown significantly. And the doctor said, "Yeah, well, these don't grow that fast usually, unless they're cancer. So let us take it out and see what's going on." So they took out the nodule. They actually took out my whole thyroid, and then they found that it wasn't just cancer, it was a very rare and highly malignant, aggressive form of flowered cancer called tall-cell variant that has a very unfavorable prognosis. So I had the radioactive iodine and the radiation after my thyroid was removed, but there was no guarantee it was going to work because this type of cancer spreads quickly to your lymph nodes. So I went back for scans regularly, but I was getting on with my life. I had little children that I was taking care of. But at the same time, I just believed whatever God's will is will be done. And if His will is for me to live, I will live. And if His will is for me to be with Him, I will go be with Him, as hard as that would be for my little family. So my life verse--and I just prayed this and believed this and hung on to this with all my heart--was in Philippians, where it says, "For me to live is Christ and to die is gain. But if I go on living in the body, this will mean fruitful labor for me. So what shall I choose? I do not know. I'm torn between the two. I desire to depart and be with Christ, which is far better indeed."
Jeannie Fulbright So I had that-- I thought, "Okay, well, if I die, God has a plan for my family that doesn't include me. And that's sad. But I trust God. I trust that whatever God has for my family, it is for the best." I mean, I started praying, just in case, for the woman my husband would marry next that she would be a good mother for my children. And I just was truly submitted to God and all the things that this was involved in. And around that time we had moved to Atlanta and I went in for a scan, and unfortunately, I had another mass, a bigger mass in my neck that had just blown up. But it was nowhere else in my body; it was just on my neck. They did an ultrasound on it and it was rather large. So there was evidence that I needed to probably have it removed again and then also get more radiation. And at that point, my husband was working for a company that was filled (and still works for this company)-- that is filled with individuals that are truly men and women of God, all over the world who pray and just see miracles. They're just praying, praying, praying people. And so my name went out on this prayer chain all over the world, and I wasn't even really aware of this. And I knew that prayer was important, but I just...I was not probably as convinced about praying for healing. Just that wasn't-- Those weren't the kind of circles I ran in. But I just prayed for God's will to be done in my life. God's will! "Not my will, but your will be done." And that is what I prayed regarding this mass in my neck. And I just prayed that the Lord would show me what to do--.
Jeannie Fulbright This story could take an hour, so I'm not going to tell you the whole story. But in the end, I would meet people that I had never met. I would see people that I'd never met, and they would come up to me. They would say, "You're Jeannie Fulbright, right?" And I'd said, "Yes." And they would say, "I have been praying for you." Or, "God's woken me up in the middle of the night to pray for you every single night." People I didn't even know. When we went on my husband's company trip, we would meet people-- Some of them didn't even speak English well, but when they found out who I was, they'd say, "Oh, I have been praying for you every single day." And I was so flabbergasted. I thought, "Wow, that is so comforting. That is so amazing. And I love that. And I wonder what God is going to do with that." But I didn't know and I didn't question Him. And I met a pastor who had who really believed in healing. And I wasn't on that track, so I was happy for him to pray for me. But he also gave me prayers. He gave me scriptures to speak over my life regularly. And so I began speaking God's word over my life. And they were scheduling me to go get more surgery and get more radiation. But the Lord really gave my-- My husband's an attorney. He's the attorney for this large corporation. And he is a very logical person and very much believes in the American Medical Association. So when he came up to me one day and he said, "I feel like God doesn't want you to get any more radiation or any more surgery." And I thought, "He's gone crazy. What?" But I knew that I could trust my husband. I knew that God led my family through my husband, and the decisions that he made were God's leadership in his life. And so I chose not to do anything about it, but I just continued in prayer. And my doctor was furious with me. It was just-- And he kept measuring this thing and it was growing. But we prayed and I just said, "You know, I don't know. I don't know why I don't feel like we're supposed to do this." And he couldn't believe it. And then about six months later, we went back in for a scan and this mass had disappeared. They couldn't...they really just couldn't understand it. They didn't-- They were flabbergasted. They brought in a higher-level radiologist. It was just-- They were all stunned. And I was stunned, to be honest. And I realized, "Wow, my prayer was all through that time that God's will be done." And His will, at that time for me, was for me to live. And so that is the story of prayer in my life, because I do believe that that was an answer to collective prayer, which is a powerful thing.
Jeannie Fulbright But individual prayer is really important as well. And so I want to talk to you about ways...things you can do in your life to bring prayer to the forefront of your daily life. And the first thing I really recommend, that God just showed me early on in my walk with God, is to begin a prayer journal. A prayer journal is simply where you sit down and write out your prayers to God. And what's really powerful about a prayer journal--not only that you can go back and look and see all your answered prayers, because it's always stunning--but also, what's really nice about a prayer journal is that when you're writing a prayer, it takes you longer to write the prayer than it does to think the prayer. So when you're writing it out, you are spending more time on that prayer. You are immersing yourself more in that specific prayer. And sometimes you have ideas about that specific situation you want to write about, you want to talk to God about. And a lot of times there's a quietness in your soul that sometimes God shows you, through His Holy Spirit, the answer to your prayers, because we have to sometimes be still and listen to that still small voice. And that's hard to do in our busy, daily, run-about lives. But if we will sit down and journal to God, He has-- We are quieting our spirit and His still small voice is more easily heard. And so I highly recommend beginning your-- Having a time every day-- And it doesn't have to be in the morning. I know when I was a homeschool mom the mornings were really busy. I did my quiet times in the afternoon. But journaling was such an integral part of my life and it has always been. And I just recommend that you begin to prayer journal. But also encourage your kids to keep prayer journals. I still have some of my children's prayer journals from when they were little, and they're just the most precious things. So that's a wonderful way to begin making prayer a regular part of your day.
Jeannie Fulbright Another important thing that I did, is I had a prayer partner. Collective prayer, as I mentioned before, is so powerful. "Where two or more are gathered." And I have heard story after story of missionaries, and many miracles, of things happening through collective prayer that were absolutely impossible. And God does use collective prayer, but just having one prayer partner is such an important thing to do. So I had a friend that we'd always talked about, "Oh, let's get a prayer group together. We need to get a prayer group together." And then of course we finally would get a prayer group together, and we would meet one time, and we would talk the entire time and not pray at all, or try to pray very quickly at the end when we all had to go home. It just was not working, this whole desire to pray together. And so eventually, my friend and I, we said, "Well, let's just talk on the phone when the kids are down for naps." And so we would talk on the phone; we'd just try to talk about what we wanted to pray about. But we would talk the entire time and we didn't have really a longer time to pray. So we realized, "Okay, we got to do something different here. When we get on the phone with each other, let's just only pray for each other. I'll pray for you. You pray for me. But I will send you the list of what I need prayer for. I will send you an email with all the stuff I need prayer for, and you send me yours. And in that email--all those explanations"-- Because a lot of times when you're trying...when you're having people pray for you, you have all these explanations of why this is happening and what's important about it. And so all of that was put into the email. So once a week on Mondays, we sent our emails and we called each other up and we only prayed. And during-- About, I would say about two weeks or three weeks after we started this, I was astonished to see God...how God could work, just little small things that were absolutely incredible.
Jeannie Fulbright I mean, one of the things: My daughter was terrified of dogs. She, if she saw a dog in the park a mile away, she would start screaming. She was so afraid of dogs, any dog anywhere. She was like terrified. And I didn't know why. And she was about three years old. And so a friend of mine needed me to take her huge bulldog to the vet. And she just couldn't do it, she was working. She was at my church. And so I had to go and pick up her bulldog and put the bulldog in our car with my daughter and take this bulldog to the vet. And I just knew this was going to be a very traumatic event. And so this was my main prayer request for that day. (And sometimes we would just call each other up and like have a prayer request emergency.) And so we prayed earnestly that my daughter would be able to handle this...it wouldn't be very traumatizing. And literally, my daughter saw me walking the dog to my car. She watched the dog get into the car--this huge dog right behind her--and didn't make a peep, didn't say anything. That was a miracle. And these are the kinds of miracles that we would see. Many, many-- One of the incredible things that happened was my marriage was on the rocks and God just began to heal my marriage. There were so many wonderful things that I saw and I thought, "Oh, just like Dwight Moody says, 'Next to the wonder of seeing My Savior, will be that I made so little use of the power of prayer.'" And I realized like, "Gosh, me and this friend of mine just pray once a week and it's not this big, you know, emotional event. It's just like, 'Okay, we just pray for each other,' and God is doing all these wonderful things in my life through this prayer. And how many years had I lived not doing that and just living a harder life?" Life was harder when I didn't pray regularly. It just was. And that's what prayer does, is it makes...it gives us the blessings. God just pours out His blessings on us when we seek Him regularly. And so finding a prayer partner is such a powerful thing. And this friend of mine--she had a daughter that was three years old as well. And now those two girls are both twenty-nine and they pray together. They live in different states and they have started praying together. They're both married and have their little families and they pray together regularly.
Jeannie Fulbright There's a problem in our country that seems to go forever unsolved, and it's affecting 60% of Americans. It's the cost of health insurance. Year after year, it just keeps going up and up. But there is a solution. Here and The Great Homeschool Conventions we endorse Medi-Share, the most trusted name in healthcare sharing. With a 98% customer satisfaction rating, their members love being part of an authentic Christian community. If this is your first time hearing about Medi-Share, they are an affordable Christian alternative to health insurance that could be saving your family hundreds of dollars every single month. Plus, telehealth and tele-behavioral counseling are included with every membership. How amazing is that? Since it's open enrollment season, that means right now is the best time to make the switch. To learn more about Medi-Share, check out GreatHomeschoolConventions.com/MediShare to see how much you could save. That's GreatHomeschoolConventions.com/MediShare.
Jeannie Fulbright Okay, So that's number two, prayer partner. Number three! One of the most important things that God used in my life--through not even just the cancer healing, but also through many different scenarios--was praying Scripture...the power of praying God's word. Because the thing is that God's Word is more powerful than our own words. If we speak God's Word into our prayers, if we use His Word, we are praying His will. Because His words-- It says, "His word will never return void." You know, Jesus was an example of this when He was tempted in the desert. He used the Word of God to fight the enemy. And we can use the word of God to fight the enemy, to bring transformation in our lives. I have another story: When I was a young mom and we had moved to a city, and it was kind of a strange situation where I had been immersed in Bible culture in Dallas and then I moved to California, and I found it really hard to find people who just wanted to talk about the Bible all day. And so I got really judgmental, and it was kind of an ugly spirit that came upon me. And I just felt like I was so much better than all these people. And God just convicted my heart. One day I was reading Galatians and it says, "The only thing that counts is faith expressing itself through love." And I realized that I didn't have love in my heart. I was not loving these people. And so what I did is I wrote down the scripture in Philippians 4:8 about focusing on the things that are "true and honorable and praiseworthy and excellent and pure and lovely". And so I wrote that scripture out. And then when I took my children on their daily walks, I had that scripture and I started just speaking that Scripture. I started reading it out loud every single day while I was walking the kids. And it was incredible because all of a sudden I had love for everybody. I was looking at everybody with happier, sweeter eyes, with a better spirit. I didn't have that negativity and that judgmental spirit and that critical attitude. It just dissipated. And I didn't try to be better, it was like the power of God just changed me and made me different, made me more like Christ through His Word. So throughout my homeschooling years and even today, I find scriptures to pray for each of my children. (And I'll tell you about some of the tools I use to make sure I'm praying every day.) But I have a scripture for each child that I'm praying--whatever their situation, their circumstances, are at that time I find a scripture that declares God's Word and declares God's victory over them. And God's Word is powerful. So we need to be praying, we need to be speaking, God's word. So that's number three.
Jeannie Fulbright Number four. I would say that this is really important, and I know this is hard, but a really important part of my healing, and just all the power of prayer in my life, is that you have to begin with forgiveness. Matthew 6 says, "But if you do not forgive others their sins, your Father will not forgive your sins." And of course, that's not eternal forgiveness. You are forgiven and Christ and you're in Christ Jesus. But there is a joy in living in this world that we have that is...the mercy-- "He who is merciful, God will show mercy to them." And so our need to forgive people is an important part of seeing the power of God activated in our lives. Mark 11 says, "When you stand praying, if you hold anything against anyone, forgive them so that your Father in heaven may forgive you your sins." And your prayers are more powerful if you make that decision to choose forgiveness. Colossians 3 says, "Bear with one another and forgive one another if any of you has a grievance against someone. Forgive as the Lord forgave you." And this is hard. There's been times in my life where I have been gravely wronged, and I know you have too, and we have to make the choice-- Because forgiveness is not a feeling, it is a choice. We have to make the choice to forgive the person because forgiveness doesn't release them from responsibility for what they did to us. But it releases us from the prison of the pain of unforgiveness, and the way unforgiveness saps our lives from the power of God and the joy of the Lord. And so every time I have experienced really trying circumstances and maybe, you know, grieved and railed and been upset for a couple of weeks, and then I realized, "Okay, my life is going downhill. I have to make a choice to forgive this person or these people." And I just choose to forgive them. And God just always every time-- That's when I just, I can feel God working in my life again. So begin with forgiveness. Number four.
Jeannie Fulbright And also when you pray, begin your prayer with praise. That's number five. Praise the Lord. Praising God is not for Him; it is for us. Because what happens when we praise the Lord, it chases away the enemy and ushers in the power of the Holy Spirit in our lives. And just beginning with praise-- Praise the Lord for who He is. Praise God. Listen to praise music and sing it out loud with your heart. Praising God to begin your prayer life is so important. If you're not feeling it, you can turn to the Psalms and just start speaking some of the praises and Psalms over your life and over the Lord. And that's an important part. It just it...sometimes it doesn't make sense to us, but it actually is a gift from God that, when we praise Him, power is released into our lives. Praise brings power. And so we want to begin with praise. So that's number five.
Jeannie Fulbright Number six: first Thessalonians 5--again, I'm going to read this verse--"Pray without ceasing in all circumstances. Give thanks. For this is God's will for you in Christ Jesus." Pray with thanksgiving. I remember listening to a podcast or a story. Actually, there was no podcast back then. It was just a radio station or some story, and I think it was Beth Moore or somebody telling a story about how they were-- A child had died and they were very, very upset. Then they were going to this funeral and the mother was-- They were bringing the mother with them to the funeral. And the mother just decided, "You know, what God says in all circumstances, praise Him and thank him." And so she said, "Lord, thank You. Thank You that You took my baby. I don't know why You did it, but I trust You." Because what happens is when we thank God and we trust Him, we are showing that we have faith that He has power over our lives--that all the circumstances of our lives He is going to use for His good...our good and His glory. And that's what thankfulness is: when we thank God even in the midst of our circumstances. And this was something that I discovered-- I remember hearing that radio station thing, and I remember thinking about it when I was early in my younger married life and had young children. And, you know, married life is really fun and just, you know, lots of joy and excitement when you don't have children. But when you bring children in, oh my goodness, we struggled so much in those early years. And that's when I started praying with my friend. And then I remembered to thank God. And so my marriage was a very-- It was very challenging. My husband's a lawyer. He was working at a law firm. He was working until midnight every night and all weekend long. And then he had to entertain clients and he was gone. Any time when he had time off, he had to go and entertain clients. So there was no time for me and my little babies. And I began thinking, "God"-- when he would leave to go play golf with a client-- I would just say, "Thank You, Lord, thank You that he is leaving and playing golf with his client. That's hard for me. And I feel rejected and I feel like I'm not being cared for as a wife. But I thank You. I thank You for this circumstance because I trust that You are going to use this for good in my life in some way--that You're going to grow me, You're going to bless others, You're going to use this circumstance for good." And as I began to thank God, instead of getting angry with my husband-- As I began to thank God, God began to heal my heart and give me peace. Even in the midst of this trying circumstance. And I remember my husband told me one time he was going to be home at ten or maybe nine. And so I had dinner ready at nine and he came home. It was like ten, and then it was eleven, and then it was midnight. And normally I would have been angry, but instead I put his dinner in the oven on just really low and kept it warm. And I went to bed. And when I heard him come in, in the midnight hours...in the early morning hours, I said, "Oh, honey, are you home? I have your dinner in the oven." And I remember him looking stunned, because usually he was used to me grumbling and complaining. And instead I had a peaceful attitude and a sweet spirit.
Jeannie Fulbright And God began to transform my marriage, as I began to thank Him for the struggles that we were suffering with. I've done this in many circumstances that I've gone through in my life: is thanking God when it's hard. For it being hard! Not trying to find something good in the circumstance, but thanking God for the difficulty, for the trial, because it just shows God your faith in Him, that you trust Him with your life. And it also, I believe, handicaps the devil. Handicaps the enemy who wants to keep us in bondage and keep us miserable and keep us unhappy and complaining about the unfairness of all the things that are happening to us and how hard it is. Focusing on how hard it is rather than thanking God is a sure sign of that you're going to be miserable. And so pray with thanksgiving. Be thankful in all-- Be thankful when you pray. And there's so many other scriptures that speak to that, and I'll post those in the show notes about how important thanksgiving is in prayer.
Jeannie Fulbright Okay. Seven. Number seven. This is the final one. And I just want to say that being reminded to pray, especially if you're kind of busy and you're just doing a lot of stuff, it's...sometimes you have to get in the habit of being reminded to pray. And so when my kids were little, I had reminders on my phone to pray for them, and then I would have the scripture in my mind that I would be praying for each child or my husband. And those little reminders will come up throughout the day. I now have discovered this-- If you have an iPhone (and I don't know if this is the same with other types of phones) but the new iPhone update has the lock screen-- You can put several different pictures. And so every time your lock screen comes up, I put one of my children and each one of the lock screens and my child's face comes up every time I pick up my phone and I just begin praying for that child. It happens all day long, and the more you pick up your phone, the more you're going to be praying. And so I highly recommend that you put all the people that you need to be praying for on your lock screen, and every time you pick up your phone, you will see them and be reminded to pour your heart out for them and bring them to the throne of God. So number seven was: find ways to remind yourself to pray. But there are numerous ways to remind yourself. I have also put scriptures around my house. There was one time I had joy scriptures in my car praying over my daughter because she had gotten in the habit of whining, and she stopped whining. It was the power of prayer. So there's lots of ways that you can remind yourself to pray, but it just takes a decision to do it, that you are going to be praying for your children. You're going to be praying for your lives. You're going to put them before God. Instead of trying to solve every problem yourself or worry over the outcomes, you can bring it to the Lord and He wants you to do that, and He wants to show Himself faithful.
Jeannie Fulbright One final story: When I was at the Arizona convention this past year, a mom came up to me and she said, "When my children were little, about ten years ago, I really wanted to use your Exploring Creation with Anatomy and Physiology book, but we couldn't afford it. We were dirt poor. But I so-- I wanted to use it with all my children, and my children wanted to use it. We just-- We longed to use this anatomy and physiology book, but there was no way that we could afford it. And so my child said, 'Mom, we should pray that God will just bring us this anatomy and physiology book.'" And she was talking to me, she said, "I just was scared to pray because I didn't want I didn't want my children to lose faith. So I was afraid to pray this prayer with them because I thought this could cause my children to begin to doubt God." However, she felt convicted that she should pray it with her children, so she and all her children gathered around together and they prayed that God would give them this anatomy and physiology book. A few weeks later, I was holding a contest on my Facebook page, which I occasionally do, and one person was going to be chosen to receive any of my books that they wanted to have. And by some miracle, I chose her. She was the winner. And she received that anatomy and physiology book. And she said her children's lives were completely transformed by that. Their faith grew. And we need to pray boldly. We need to pray with faith and know that God wants to bless us. He wants to bring us good things. And we need to know that our prayers can build our children's faith. And God wants our children's faith and prayer to be built by answering the prayers that we prayed together as a family--that collective prayer. So make prayer a family affair because God is faithful and He will show Himself faithful to your children. Well, thank you. And I hope that this helps you and encourages you in your homeschool, and that this is a new season in your life--a season of prayer, a season of watching God work in your life through the power of prayer, a season of growing your children's faith. May 2023 be the best year ever.
Jeannie Fulbright Hey, a couple more things: Do you wish you had a Charlotte Mason mentor? Someone to keep you focused on the things that matter: the Lord and His word and prayer and habit training and living books, nature study, and, of course, the most neglected thing of all, self-care? Well, I have the perfect mentor for you: the Charlotte Mason heirloom planner. It is much more than a planner. It's a guide and a mentor and a place to chronicle your treasured moments and memories. All the things you want to remember and keep sacred and special from this homeschool journey. Check it out on my website at JeannieFulbright.com and learn about that and so many of the other Charlotte Mason curriculum and tools that I've created to make your homeschool journey the richest and most fulfilling experience of your life. Thanks again for listening to The Charlotte Mason Show.
Jeannie Fulbright If you haven't already, please subscribe to the podcast. And while you're there, leave us a review. Tell us what you love about the show. This will help other homeschooling parents, like you, get connected to our community. And finally, tag us on Instagram @HomeschoolingDotMom. That's @HomeschoolingDotMom. And let us know what you thought of today's episode. And don't forget to check out my friends at Medi-Share because you deserve healthcare you can trust. To learn more about Medi-Share and why over 400,000 Christians have made the switch. Go to GreatHomeschoolConventions.com/MediShare.
Jeannie Fulbright Have you joined us at one of the Great Homeschool Conventions? I would love for you to come. On my website I have a special coupon code that you can use when you register. The Great Homeschool Conventions are the homeschooling events of the year, with amazing speakers, hundreds of workshops to help you homeschool well, and the largest curriculum exhibit halls in the United States. People travel from all over the United States to Missouri, South Carolina, Ohio, California, and Texas to find encouragement, friendship, and curriculum. Be sure to go to my website JeannieFulbright.com for your coupon code. And when you're at the convention, please come by my booth and say hello, because I love meeting homeschoolers in real life. It's always fun to have new homeschool friends. So thank you so much for listening and I do hope to see you at the convention. Have a blessed rest of the week.