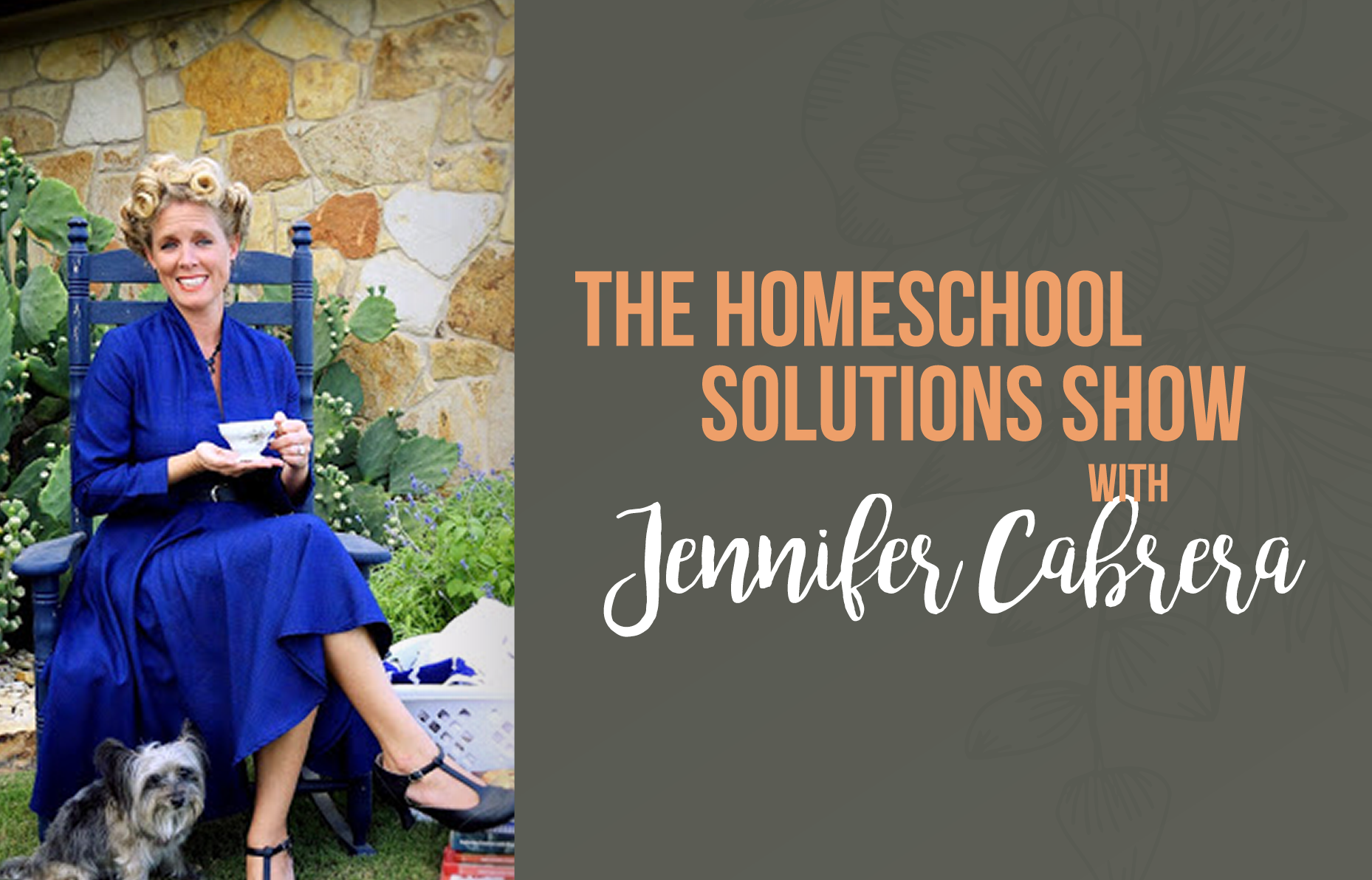 352 | Oh There's No Way I'm Homeschooling for the Holidays (Jennifer Cabrera) | REPLAY
Show Notes:
Step away from the Yuletide unit studies! Put down the glitter and the glue guns. You can't add "making merry" to a homeschool transcript. Why try? One of the best things about homeschooling for the holidays is… you don't have to! But if you insist, listen in for Jennifer's Christmas tips for seasonal sanity, and ways to get the kids involved without ending up as nutty as a fruitcake.
About Jennifer
Jennifer Cabrera, the Hifalutin Homeschooler, is the writer of homeschool truth, humor, and inspiration. Jennifer lives in Salado, Texas with her husband and three brilliant boys. She is a licensed Physician Assistant/MPH, but set aside that career for her ultimate life's work. She is also the author of Socialize Like a Homeschooler: A Humorous Homeschool Handbook and Revolting Writing, a hilarious writing, vocabulary, and illustration journal for reluctant writers. She is a featured speaker with Great Homeschool Conventions and her memes and witty insights are widely shared on social media.
Connect
Jennifer Cabrera | Website | Instagram | Facebook | Pinterest | Parler
Homeschooling.mom | Instagram | Website
Thank you to our sponsors!
Medi-Share: an affordable Christian alternative to traditional health insurance
Tuttle Twins: children's books to help you teach your kids how the world really works
Have you joined us at one of the Great Homeschool Conventions? We hope to see you there!
For more encouragement on your homeschooling journey, visit the Homeschooling.mom site, and tune in to our sister podcast The Charlotte Mason Show.
Show Transcript:
Jennifer Cabrera Oh, there's no way I'm homeschooling for the holidays. Is the season to be overwhelmed and covered in coupons, flour, wrapping paper cuts, and desperation.
Greetings y'all. Merry Christmas. Jennifer Cabrera, the highfalutin homeschooler here again, and this is homeschooling for the Holidays. Or not. Not homeschooling through the holidays. Actually, this episode is an intervention. And I've staged it to rescue the homeschool moms hoping to turn Advent into an accredited course of study.
For those of you working to write the Christmas spirit into a syllabus or trying to figure out how to list making merry on a high school transcript.
And now, step away from the Yuletide unit study Mamas, and listen. Put down the glitter and the glue guns. Don't make the teens recite Dickens in hopes that they will forget their Ebenezer like ways and suddenly see reason. Also, roasted chestnuts, yuk. Figgy pudding, nah. Christmas crackers. Not as fun as they look. And yes, there might be a unit study story somewhere in all of this, but more on that later.
For now, take a deep breath and repeat after me. Bah humbug!
No, I'm just kidding. Repeat this. I will not kill the Christmas spirit in this house with useless crafts, excessive experimental cooking, and candy cane-shaped comprehension quizzes. now somewhere, someone listening just slammed her crafting apron down and yelled, well, why not?
Well, first off, you'll wear yourself out. And secondly, you'll just miss the best part of homeschooling for the month of December. And possibly January. And maybe the whole year to boot.
And what is the best part of homeschooling in December? Well, it's the freedom to not homeschool at all. Cause its Christmas, hello. And you need a break. Not just the kids. You. Now, one of the goals I had right out of the chute for our first year homeschooling was to make our calendar work for us. Reclaim our us time. And taking the entire month of December off was at the top of our list.
Now when my oldest two were in school, they never really did anything during those weeks between Thanksgiving and Christmas break, anyway. If you went to public school or any brick-and-mortar establishment, you probably remember we returned from Thanksgiving break for a few days of real lessons, but it quickly devolved into time-wasting chaos. Nothing but glitter crafts, games of heads up seven up, and quiet water still water, and days taught by the TV cart, so the teacher could finish her Christmas lists at her lamplit desk in the back of the room.
Now, if the schools aren't really doing anything, then why should we have to either, right? Wrong. You know who you are. Overachieving homeschool moms never waste a good opportunity to ruin a holiday by turning it into a unit study. And for review, what exactly is a unit study? Well, for this term another homeschooling speak, go to my blog and read my post entitled Talk Like a Homeschooler.
But what is a unit study? Well, it's when Mom picks a topic or area of study and then beats it to death with reading, writing, watching documentaries, cooking-related recipes, field trips, and any projects she can even thinly link to the subject at hand. All this to ensure that any onlookers will see she is doing her utmost to educate her children, above and beyond that of the masses.
And then she goes to bed to sleep restlessly, wondering if she's doing enough and whether she is leaving anything important out, like teaching them to use a combination lock.
So naturally, by the time we were heading into the holiday season that first year that we homeschooled, I had planned enough projects, field trips, crafts, recipes, and topics of study to murder the merry in our home. But we weren't just staying home and doing lessons. No way. All those holiday concerts, festivals, family parties, traveling exhibits, the ones that we never had time for before, while they were on the agenda. Oh, look kids, holiday music with ancient instruments at 11:00 AM. Let's add that to the calendar on Tuesday between Christmas decorating in the 17th century at 9 and gingerbread houses for beginners at noon.
That year we entered a gingerbread house competition. One of my sons starred in 10 performances of Oliver Twist. We saw The Nutcracker, the Symphony, studied Christmas around the world, made an ornament and a food item for each country, and basically our first year to take the holiday season off was insane. And visions of the return to the humdrum danced in our heads because we didn't actually take the season off after all. We were running around as nutty as a fruitcake, which, now that I think about it, our efforts were like a fruitcake, really. We crammed all this stuff into this season that overwhelmed the experience. Like all those little gummies, nuts, and boogers that they cram into a fruitcake. And if you ever had one, you know what I mean.
Sometimes I amaze myself with such insight. Now listen, when your kid cries, please not another ornament to glitter, maybe it's time to rethink your good intentions and be more intentional about family time, sharing joy, and holiday fun, and some much-needed relaxation. Not homeschooling through the Holidays can be the best part of your year. Or at least the coziest with less bickering and nagging and pushing to get one chapter ahead in the curriculum, just to be one chapter ahead. Ahead of what exactly or who exactly?
This is my disclaimer. I am not a mom who advocates for letting the dishes fester in the sink till they grow legs and attack us in our blanket Fort that we've built from our piles of dirty laundry and held together by the history books we're learning via osmosis so that we can spend quality time together. Ew. What I am suggesting is, let homeschooling go. If you're truly going to take the Christmas season off, let it go. Don't worry about impressing your biggest critics with your Advent calendar of academics.
Let it go, let it go. Don't stress out anymore. Let it go. Let it go. In January you can homeschool more. No one cares if you learn or play. Let the kids take a break.
The skeptics never bothered us anyway. Now only people that listen to my podcast episodes and my poor husband and children get to hear me sing. For another great homeschool parody, check out my December blog post at highfalutinhomeschooler.com, The 12 Days of Christmas Homeschooling.
Sing along if you must.
And even when you think you are looking good and having it all together and impressing the onlookers with your well-behaved knowledge of Noel-filled homeschoolers, something will inevitably happen. Like the time I took my three Christmas shopping for their grandmother during the school hours in this boutique-y little local shop. They were angels, looking politely through the items. We selected what we wanted to get her and I went to check out and they went to the door to wait, cause, well they'd met their time limit for shopping, which is about 20 minutes.
Now the ladies that work there cooed and complimented my handsome gentleman and couldn't get over how well-mannered and patient they were. Help. Now about this time, my littlest comes running to me gagging and as white as a ghost and saying that one of his brothers was bleeding.
Bleeding? So, I run to the door to find one child clutching his nose, blood pouring down, and the other crying hysterically and gasping out, I didn't hit him that hard. Now, in his defense, the kid did get nosebleeds easily at the time. And I told the store ladies that they had jinxed me with their praise. So, no matter how much you plan, stuff just doesn't go right sometimes.
Still, if you simply cannot let it go and feel you need to at least keep up the appearance and having it all together or keep the kids off the tech and engaged with family this season, and engaged in reality, here is my Christmas list of homeschooling tips and insights for seasonal sanity.
Number one
Plan at least one holiday field trip a week. If for nothing else, to get them out of their pajamas and Minecraft comas. Running to the grocery store for eggnog and tree-shaped little Debbie cakes counts as a field trip. You're welcome.
Number two
There are plenty of holiday arts and crafts that do not involve glitter. Also, past the age of 9 or 10, most boys, and even some girls, are only crafting and decorating because they feel they must, not because they enjoy it. Provide alternatives. Make them edible. You're welcome.
Number three
Rolling the windows down and headbanging to Trans-Siberian Orchestra's Christmas album counts as caroling. And let's face it, it's probably the only way to Carol meet the COVID social distancing restrictions in some areas. Rock on.
Number four
Studying holiday customs from different countries is interesting. If you need a Yuletide unit study. but don't assign written worker essays, boo. And no pop quizzes, unless you have prizes like a game show. And then, do make sure to include food. You're welcome.
Also, CS Lewis lied. Turkish delight is disgusting. Just FYI.
Number five
While they still want to, let all who wish, even your littles, help decorate the tree. One day you will have to force them, or you'll be doing it all by yourself. Even if they put all of the ornaments on the same branch. We're making memories here. Now, some get broken, that's just less you have to box up and carry back to the attic. Or you can get them their own to decorate over and over. When mine were little, my mother always put out a little four foot or so tree for my boys to decorate when they came over. She had them a box of ornaments that they couldn't hurt and if they did, no one cared. And they even made their own out of junk they found in the yard or around the house and then they would decorate and redecorate that tree 52 times throughout the season. And these days I have to throw myself a pity party to get them to help me.
And so, I've diverted my energies into complementing their strength and height and pointing out my lowly stature and fragility. And that's how I get the lights hung up outside. Follow me for more Christmas hacks.
Now back to the list of homeschooling Christmas tips for merry mental health.
Number six
If you are fast and stealthy, you can remove the grocery store bakery packages and place the cookies on a decorative cake pedestal. Put just one in the oven and burn it slightly for the smell effect. Toss some flour around the kitchen, smear some across your shirt, and then look exhausted but pleased. They'll be so excited to see what you've made them. And you slaved all day.
Number seven
If you're worried about maintaining math skills throughout the break, take your kids to do their own Christmas shopping and gift-giving. But first, have them write a list of who they want to give a gift to. Then they must form a budget. Allow no scratch offs of the list just because they don't think they have enough. Work it out, folks, work it out. This covers math and a lesson in sacrifice in giving.
Even making homemade gifts or regifting something they no longer use. And later when you unwrap your writing pen, your refrigerator magnet, or your homemade crooked birdhouse, it will feel like unwrapping a diamond. Explode with appreciation.
Number eight
Read all those wonderful holiday books that you have saved over the years. Make the older kids sit and listen too. They're just pretending to be exasperated mostly.
We have a scratch and sniff book that barely smells anymore, but the memory is there and so I read it and they roll their eyes. But I know it makes them warm and fuzzy on the inside.
Take it easy on yourself if what you're worrying about fitting into your Christmas curriculum won't matter when January rolls around, don't make it a priority and let it ruin your Holly Jolly.
Number nine
Always err on the side of memory-making. If the kids will not enjoy or grow from a holiday activity enough to remember it, don't stress yourself making it happen. Over here we're all still trying to forget the taste of Turkish delight from eight years ago.
Number ten
Christmas is about celebrating the birth of Jesus Christ, not baiting our kids to do more grammar with tinsel covered busywork. We can slow down and put aside our worldly, academic, athletic, and artistic pursuits and celebrate, and be in awe of the One True Gift of the season by just being together, doing activities that everyone enjoys without grades and grammar attached. By volunteering to help others less fortunate in local food and toy drives or bringing a smile to a lonely neighbor.
See the best part of homeschooling for the Holidays is not homeschooling at all. The Christmas spirit isn't found in a syllabus. And when people leave the office in brick-and-mortar schools for their holiday vacations, it is easier to set things aside and enjoy the season. As a homeschool mom, it's hard to step away from our many roles. Virtually impossible at times.
And then the holiday season adds extra work. Something must give to enjoy it. Don't let it be your sanity or the real reason for the season. And that's why I'm not homeschooling for the Holidays.
Of course, I am very aware of what happens in a lot of our homes when we call off regular homeschooling lessons and regularly scheduled organized chaos for an unorganized break. The kids get zombie-fied to screens of all kinds. Computers, tablets, phones, TVs, video game consoles. And so, to combat those times, I use good old-fashioned threats and intimidation. Such as, teacher says every time a bell rings to get off the computer or she'll get out the math books.
Get those kids in on the gift wrapping. I bet some of y'all get those horrible knots in between your shoulder blades from hunkering over gift wrapping too. Ugh.I used to want to make each gift look just absolutely perfect, with the right bow and the matching paper and it looks so wonderful nestled under the tree. Shoot, now if all the surfaces are covered and they aren't using seven feet of scotch tape on each box, wrap on honey child.
Other things your homeschooled darlings can do to share in the jolly making jobs include, well, they can each bake their own favorite batch of cookies or favorite desserts, and then surprise each other with a variety. Or they can do all the laundry while you continue the baking.
What else can kids do? Well, cover the ears of the little ones. I'll wait. So the older kids can move the dang elf at night. Or you can send his mischievous rear end packing or melt him in the oven accidentally on purpose. Kids can cook a turkey, decorate a table, iron their own Christmas attire, refill your eggnog, and rub your feet too. If my boys agreed to rub my feet, I wouldn't be more surprised if I woke with my head sewn to the carpet.
If you have teens with 'tudes', merrymaking and staying merry yourself may be somewhat more of a challenge right now, and my New Year's resolution from last year might help you there. It goes like this. This year I will not take any smart-mouthed comments personally. I will stand my ground and keep my feelings off of it. They are teenagers. They can't help they know everything already. This too will pass. So I'm told anyway. It is important though that they learned that Christmas and any holiday is not made magical and memorable by Mom working herself to death while they sit back and sip cocoa. We reinforce that misconception though when we just do everything because it's easier. I'm guilty of this myself. Being taskmaster is almost as tiring as just doing all of the work by yourself.
Is it because we want it all done right? Do we want it done right now? That's probably more like it for me. I'm not one of those fabled patient homeschool moms. And maybe you want to make it magical and fantastical and... but wait. Stop watching Hallmark movies already. You know who you are. Snow doesn't just appear on green grass, perfectly aligning the sidewalks and capping the eaves of sweet little bungalow homes, all nestled in a row where everyone has perfect teeth and an unlimited platinum visa card to LL Bean's winter collection. That's not reality.
Now a real Christmas magic is the whole family pitching in to make it happen, in mismatched PJs with crooked trees and broken ornaments, burnt cookies, and undercooked first attempts at Grandma's best casserole, and worn-out books reread for nostalgia. Late-night games of Domino's, homemade gifts made from power tools, and science leftovers. It's tradition. It's a Christmas miracle, really. And you won't find it in a planner. You have to let it happen naturally. And everyone will feel more in the spirit if they've had a hand in it. Not by checking off some more history lessons in the planner, not by forced crafting, not by an unbridled need to create candy-coated unit studies, but by really saying you know what? We're not homeschooling for the Holidays. We're going to just be a family and celebrate and spread joy as far as we can. Or something close enough. And we're going to sleep some extra cause there is much homeschool work to be done, and that's going to happen soon enough, but it can wait for a moment.
So Merry Christmas. God bless us, ever-body. And a much happier new year to us all.
So now it's your mission to share this podcast and all the information that you found useful here with your friends that are maybe overachieving homeschool moms and just need an intervention to enjoy the Holidays better because their eyes are beginning to twitch, and someone needs to stop them before they do harm with glitter.
I don't know how you are doing with your social media accounts, but please stay in touch. I am at Parler now. My handle is @highfalutinHS. That's highfalutinHS. You can find me there. I'm a little bit more mouthy, some might say. Free to say what I want. Also, I'm still holding my chin up over at Facebook and Instagram and every now and then I'll pin something to Pinterest. I'm not really great at it.
Of course, you can always find me at my website. Highfalutinhomeschooler.com. Lots of goodies there. Read lots of homeschool humor. See my memes. Share with your friends and sign up for my newsletter at that location as well, and you can get laughs and home school offers and highfalutin news directly into your inbox. You just gotta make sure it doesn't go to your spam folder.
Give me a shout out. Write to me. Let me know what it is you want me to talk about on here. I mean, I could probably talk all day about all kind of nonsense, but I'd rather be a little more effective and inspirational. So, let me know. And until next time, stay weird and homeschool on.