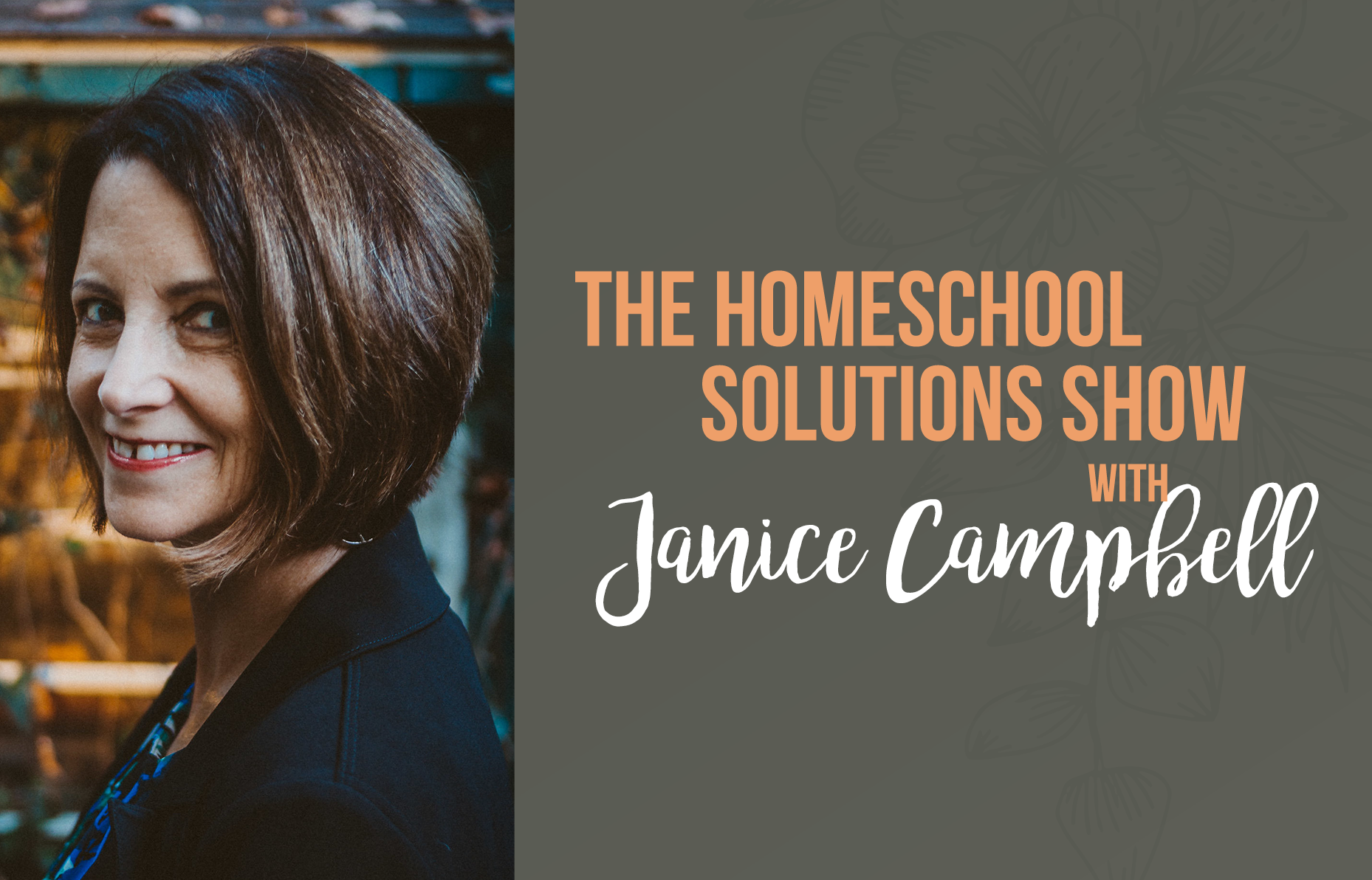 382 | How to Add Literary Fun to Summer Travel (Janice Campbell)
Show Notes:
If you're planning a family road trip, you might enjoy adding a literary element to it by visiting an author's home or the site of a famous story. Here are suggestions for finding and enjoying literary sites without spending a lot of extra time or money on your vacation.

About Janice
Janice Campbell, a lifelong reader and writer, loves to introduce students to great books and beautiful writing. She holds an English degree from Mary Baldwin College, and is the graduated homeschool mom of four sons. You'll find more about reading, writing, planning, and education from a Charlotte Mason/Classical perspective at her websites, EverydayEducation.com, Excellence-in-Literature.com, and DoingWhatMatters.com.
Resources
Add Literary Context to Travel
Tom Sawyer and Huckleberry Finn
Connect
Janice Campbell | Instagram | Facebook | Twitter | Pinterest | Website
Homeschooling.mom | Instagram | Website
Thank you to our sponsors!
Medi-Share: an affordable Christian alternative to traditional health insurance
Tuttle Twins: children's books to help you teach your kids how the world really works
Have you joined us at one of the Great Homeschool Conventions? We hope to see you there!
For more encouragement on your homeschooling journey, visit the Homeschooling.mom site, and tune in to our sister podcast The Charlotte Mason Show.

Show Transcript:
Janice Campbell Hello and welcome to The Homeschool Solutions Show. My name is Janice Campbell and I'm one of the many hosts here on the podcast. Each week we bring you an encouraging conversation from this busy and blessed journey of educating our children at home. While the title of the show is Homeschool Solutions, we don't pretend to have all the answers to all the homeschooling questions. It is our hope that this podcast will point you to Jesus Christ that you may seek his counsel as you train your children in the way they should go. Parents, here's a riddle for you: Homeschoolers love them, enemies of freedom hate them. What are they? It's the Tuttle Twin books. With millions of copies sold, the Tuttle Twins series helps you teach your children about entrepreneurship, personal responsibility, the Golden Rule, and so much more. Get a discounted set of books with free workbooks today at TuttleTwins.com/homeschool. And now on today's show.
Janice Campbell Hi, I'm Janice Campbell. And now that it's officially summer in the Northern Hemisphere, it seems a good time to talk about adding a bit of literary flavor to any road trips you might have planned. Many of my Excellence in Literature curriculum modules have suggestions for places to go--things like authors' homes, places where famous literary events have taken place, and more. However, you don't have to wait until middle or high school to add a literary component to your travel. There are many places your younger children might enjoy, as well as literary sites that you've always wanted to see. So planning a vacation to include literary stops can be as easy as doing an internet search for the phrase "author's home" plus the name of your destination, or the phrase "near Route 66" or whatever main route you're traveling. A surprising number of homes have been turned into museums, and visiting them can be like taking a step back in time. Houses from earlier decades or centuries feel so different from modern homes. There's differences in scale, the purpose of the rooms, colors, and architectural styles. Visiting those homes can help students enter into the author's world and, in many cases, see the furniture, the landscape, the views from the windows, and the belongings that the author also saw and used. This can be a gateway to better understanding the stories that the author wrote. Just as we hear about Jane Austen writing stories in the parlor and slipping a paper over them when someone came in to be discreet. If you see that parlor--if you see what an English parlor looks like--you can visualize this and it makes more sense.
Janice Campbell Another way of finding literary destinations is to search using the term "literary travel." This will get you a list of results that include, not only author homes but also sites where books or movies have been set. It's usually best to visit sites that are related to authors or books that students have read, listened to, or watched. Otherwise, the stop will have little meaning for them. Ideally, you'll have a bit of time before traveling to read a few of the relevant books or watch a movie or two. But if not, all is not lost. You can still play relevant audiobooks on the way. In 1997, I took our four boys and drove all the way around the country--12,000 miles of driving--and we touched the route of the Erie Canal, we touched Route 66, and did all sorts of national parks and other sites on the way. It was an extremely low-budget trip, but we had a lot of fun and you can better believe that we played lots of audiobooks on the way.
Janice Campbell One of the most important tips I have for educational stops on a vacation is to not overdo it. It's perfectly fine to pause briefly at a mildly interesting site and then just drive on. You don't have to write a report, do a narration, or draw a picture of it, whatever. If you have a student who is passionate about a particular author or site, try to spend a bit of extra time without exhausting everyone else. But just as visiting a museum isn't about seeing every last thing or getting your money's worth, educational stops--literary stops--aren't about spending hours and hours. A brief stop can whet a student's appetite for learning more and provide at least an introductory view of an author or a book setting. But staying until everyone's tired and bored and their patience has worn thin is almost a guaranteed way to ensure that the memories created won't be the pleasant kind.
Janice Campbell Once you realize how easy it can be to make literary travel a part of your family's summer, there are some especially delightful destinations you might consider. There are so many literary sites that are worth a visit, but here are a few that seem extra special, especially for homeschooling families. Don't worry about writing any of them down, there'll be links in the show notes to each of these. So first, Walnut Grove, Minnesota, is a really popular destination for fans of the Little House on the Prairie series. You can visit the Laura Ingalls Wilder Museum, the actual little house on the prairie, and the town of Walnut Grove. Hannibal, Missouri, is a great place for fans of The Adventures of Tom Sawyer or Huckleberry Finn to visit. You can visit Mark Twain's boyhood home, Tom Sawyer Island, and, of course, the mighty Mississippi River. You can also visit Twain's adult home, which is located in Hartford, Connecticut.
Is there anything worse than spending a lot of money on something you're unhappy with and feeling like you're stuck with it? Or spending hundreds of dollars every month on health insurance only to find out that it doesn't cover what you thought it did? Well, I do have good news for you. You've probably heard me talking about the sponsor for our podcast, Medi-Share. Members of Medi-Share save up to 50% or more per month on their health care costs. They say the typical family saves up to $500 per month. And here's the best part, you can become a member at any time, so that means it isn't too late to switch to a more affordable health care option that will save you money and help you sleep better at night. If this is the first time you are hearing about Medi-Share, it's the best alternative to health insurance. It allows Christians to share one another's medical bills, offers access to over 900,000 health care providers and has a proven almost 30 year track record. Plus, in addition to saving hundreds per month, telehealth and telebehavioral counseling are included with membership. It literally takes 2 minutes to see how much you can save. To investigate this for you and your family, visit The Great Homeschool Conventions website at GreatHomeschoolConventions.com/Medishare.
Janice Campbell So a third site that you might enjoy... It is Prince Edward Island in Canada. It's an absolutely wonderful place for fans of Anne of Green Gables book series. You can visit the Green Gables house, the home of Anne Shirley, and Cavendish Beach where Anne spent many summers. There are a lot of sites that are outside North America. So if you have students who love Peter Rabbit, you might enjoy visiting Hilltop. It was Beatrix Potter's 17th-century house in the English county of Cumbria, and it's now taken care of by the National Trust. And it's a beautiful little place to go see and get a real flavor of what English architecture is. So if you're over there and you want to stop, that would be a fun stop. There's also a Beatrix Potter garden in a little town called the Bowness-on-Windermere. (And I'm sure there's probably a better way of pronouncing that. I don't have the proper English accent.) But there you can see the garden that inspired the author's work and even meet some of her beloved characters. I'm not sure how that works, but it sounds like fun.
Janice Campbell So on a completely different note--also in England though--is the Bronte Parsonage Museum. That's in Heyworth, England, and it was home to the Bronte sisters--Charlotte, Emily, and Anne. And it would be an interesting stop for fans of Jane Eyre or Wuthering Heights. And finally, for an even farther away and more exotic location... Although if you're living there, not quite so far away. But Narnia fans might enjoy visiting New Zealand to see the filming locations for the movies and other sites. New Zealand is full of beautiful landscapes and beaches and all kinds of lovely things to see. So that is a fun destination, and seeing the filming locations just helps you give it a little bit of a literary flavor. But if you just want to stay in your home, especially with young children, how about A Where the Wild Things Are adventure? Just read Maurice Sendak's book with your children--it was one of my favorite books when I was a kid--and then visit the nearest patch of woods for a What-kind-of-wild-things-do-you-see? Walk. You might even enjoy camping out for the whole weekend. Literary travel doesn't have to be long, expensive, or elaborate. Just remember that wherever you go, you can probably find a literary site on the way or nearby. The stories that go with the sites can make the miles fly by and create family memories that will last a lifetime. I wish you joy in the journey.
Thank you for joining us this week on The Homeschool Solutions Show. You can find show notes and links to all the resources mentioned at Homeschooling.mom. Don't forget to check out my friends at Medi-Share because you deserve health care you can trust. To learn more about Medi-Share and why over 400,000 Christians have made the switch, go to GreatHomeschoolConventions.com/MediShare. If you haven't already, please subscribe to the podcast and while you're there, leave us a review. Tell us what you love about the show. This will help other homeschooling parents like you get connected to our community. And finally, tag us on Instagram @HomeschoolingDotMom to let us know what you thought of today's episode. Have you joined us at one of The Great Homeschool Conventions? The Great Homeschool Conventions are the homeschooling events of the year, offering outstanding speakers, hundreds of workshops covering today's top parenting and homeschooling topics, and the largest homeschool curriculum exhibit halls in the US. Find out more at GreatHomeschoolConventions.com. I hope to see you there. Finally you can connect with me, Janice Campbell, at EverydayEducation.com where you'll find my Excellence in Literature curriculum, transcripts made easy and more, as well as at my blog DoingWhatMatters.com and my literature resource site Excellence-In-Literature.com. I wish you peace and joy in your homeschooling.