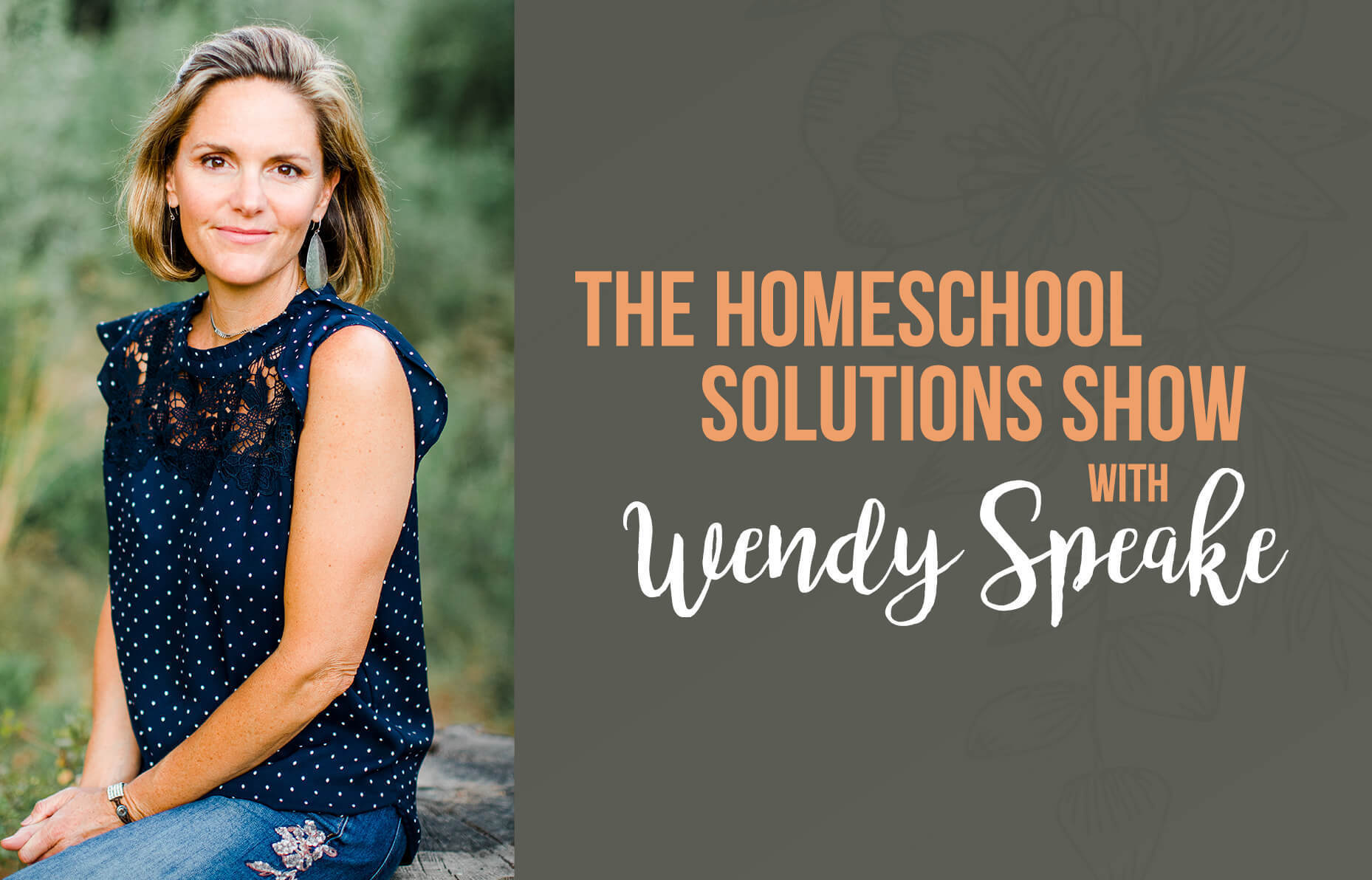 HS #233: Homeschooling on Any Budget
Links and Resources:
Show Transcript:
HS EP Homeschooling on Any Budget Level
Wendy -
Well hey there, welcome to the homeschool solutions podcast. I'm your host, Wendy Speake. Here on the podcast we start each week with a longer, more traditional podcast, most often with guests, but sometimes we simply open the word together and apply it directly to our homeschooling days.
On Thursdays, however, we share shorter episodes that I like to call blogcasts, where one of our favorite homeschool bloggers simply encourages us with the content with one of their recent blog posts. I hope this message serves you and your family today.
As always, I'd like to thank our sponsor, Sonlight Curriculum. The wonderful people at Sonlight Curriculum offer complete homeschool curriculum that you are guaranteed to love. And now, let me introduce you to one of my friends.
Homeschooling on Any Budget Level
Written by Stacey Well, read by Brandy Gleason
Many families are hesitant to take up homeschooling simply because they view the option as very expensive. It's true that some people spend hundreds or thousands of dollars on homeschooling. But that doesn't need to be the case for everyone. Just because you are unable to purchase the latest and greatest packaged curriculum, along with all the supplements and add-ons, doesn't mean that you can't homeschool.
The truth is that there are homeschooling families who have homeschooled without spending a dime. This route takes a lot of preplanning, searching, time, and piecing together a curriculum, but it can be done. In the world we live in, technology has given us more knowledge at our fingertips than many students have at an Ivy League University. And there are surely plenty of resources that make homeschooling a breeze for your children.
So, how much does it cost to homeschool? Like many other questions related to homeschooling, this question has no single answer. Most will tell you that homeschooling costs an average of between $300 and $500 per year, with some homeschoolers spending much more, some much less, and some, nothing at all. The real question is, what do you want to teach, how do you wanna teach it, and what are you willing to spend on it all.
The packaged curriculums that come complete with textbooks, workbooks, lesson plans, grade books, and resources, you can spend well over the average amount. But for some homeschooling families, this is what works best. For instance, a single mother homeschooling two children doesn't have time to put together a full curriculum from the ground up. Nor does she have the time to sit for a couple hours creating specific lesson plans. In this case, a packaged curriculum is the answer to prayer.
On the other end of the spectrum, there are countless ways to homeschool for absolutely nothing. Unschoolers do this most often, but so do many others, using other homeschooling methods. For instance, the year I tried free homeschooling, I used a combination of what you might call unschooling, eclectic, and relaxed, and I paid nothing, or very little for the materials I used. I utilized websites like gutenberg.org for free educational books and textbooks, as well as a free library like the McGuffey Readers and hundreds more than can be found on Amazon for your Kindle or cloud reader.
Other low-cost materials can be found in thrift stores. If you keep a close eye out, some homeschoolers donate their used curriculum pieces here, and sometimes, you can even put together a near-equivalent of what you would spend hundreds of dollars on if you don't mind creating your own lesson plans and workbooks. Thrift stores are great places to find super cheap living books that can be used with the Charlotte Mason Method. And the list goes on. I've also found microscopes and other lab resources at thrift shops that were in perfect working order, and I only spent pennies on the dollar.
If you're looking for a kind of middle of the road price range, consider online classes or coursework. You can sign up online and all courses and materials are there online as well. I do strongly suggest that you don't simply purchase this and sit your children in front of it with no guidance. It can be a great tool, but it can also cause problems if children become bored with this lesson. So, use caution.
When you're ready to move forward with putting together a curriculum for your own, there are plenty of websites that make learning easily accessible and many times completely free of charge. Some homeschooling curriculum providers offer extensive online learning content and charge a great deal for it. But you'll find many similar lessons online in a video format absolutely free. Is it as good as the paid content? Some would say so. Others would say no. But if it suits your particular needs, it doesn't matter what anyone says.
Let's take a look at some of the resources you can utilize on the web. Khan Academy offers excellent online video classes for grades K through 12, as well as interactive programming, test prep courses for the SAT, GMAT, and the MCAT. Easy Peasy All in One Homeschool is not only completely free, but it breaks down subjects into daily lessons with links, printouts, and tons of resources to help along the way. It truly is "easy peasy".
Quick Schooling is a web-based curriculum that also is completely free. Every day offers a different theme so you'll always know what to expect. Star Fall is a reading website that focuses on early education, especially preschool, and is interactive in teaching prereading skills. Time4Leanring. This one is not free, but it does offer low-cost online learning for pre-K through grade 12. It doesn't cover every subject that legally required in every state, so be sure to check your local regulations to see how this website would work with that.
These are just a precious few of the websites that provide free or nearly free learning material. A simple search will yield thousands more, and you can skim for the ones that look like they will work best for you. Scour the website bloggers. These bloggers offer some of the most exceptional content available for homeschoolers, both old and new. Many bloggers take the time to put together countless resources posts and the ultimate guide lists that are meant to give you a great start on any topic at any grade level. Others create link roundups that offer freebies and other resources and materials that are always helpful for the homeschool family.
Even if you come to a homeschooling blog where the writer isn't degreed with a college-level learning in that field, you can usually trust the content they provide. These are the ones who do countless hours of research to make sure you have the information that you're looking for. A good example are those blog posts where they compile tons of links and resources per subject. For example, an entire post might provide extensive information on homeschooling a special needs child, applying for free college aid money, or preparing a homeschool on the road.
Don't forget to use your library. This, by far, is one of the best opportunities for free education. In a library, you can study anything at all. Choose to read any living books that are available. Teach the Dewey Decimal system. Yes! It does still exist! And extensive other topics including methods of research and so much more. In fact, it could be a great way to simply break the monotony of regular academics by going to a place that's different.
Take advantage of discounts. In case you didn't know, many field trip destinations such as an amusement park, zoos, and museums, offer special dates on which they offer discounts for educators, sometimes, even free. The same holds true for stores like Staples, Joanne's and Michael's, who often extend their discounted rates to homeschool teachers as well. This is a great way to cut your supply costs for many of the resources you'll use during the year.
Another discount we often forget is the back to school sales, where you can find, at most department stores and school supply centers. At stores like Target, Walmart, and Walgreens, you can find tons of educational items, priced at between fifty to ninety percent off the regular retail price. This is great for notebooks, note cards, flashcards, activity books, pencils, pens, binders, you name it. These work just as well in homeschool as in a public school, so be sure to take advantage, because they'll certainly be put to good use.
There are lots of ways to homeschool on a variety of different budgets. But under no circumstance should you think that because you don't have a stack of expendable income, you can't homeschool. As the old saying goes, where there's a will, there's a way. Long before public school was ever a mandate, people were educating their children with what they had on hand, if they used anything at all. It's true that times have certainly changed, but the fact remains, if you want to homeschool your child, especially this age of information, there's not a thing stopping you, especially a budget.
Wendy -
I hope that today's blogcast equipped and encouraged you. Remember that next week I'll be back with another great conversation, right here on the homeschool solutions podcast. My name is Wendy Speake, I'm your host, and I am so glad that you tuned in today.
But before we sign off, I'd like to invite you to subscribe right now to The Homeschool Solutions podcast through Apple or Google Play. And speaking of invitations, won't you join me at one of the Great Homeschool Conventions this year? These conventions are my favorite, offering dozens of wonderful speakers and hundreds of inspiring exhibitors. Go to greathomeschoolconventions.com and find one near you in 2020. This year I will be at the Ohio, Texas, South Carolina, and California conventions. Make sure to stop by and say hey if you'll be at one of those events.
But in the meantime, we've got this podcast and homeschooling.mom as other great resources to support you as you educate your kids in math and science and literature, yes, but also as you train them in Godliness and love.
Until next time, this is Wendy Speake. I hope that you and your family have a wonderful day.
Thanks to our sponsors: