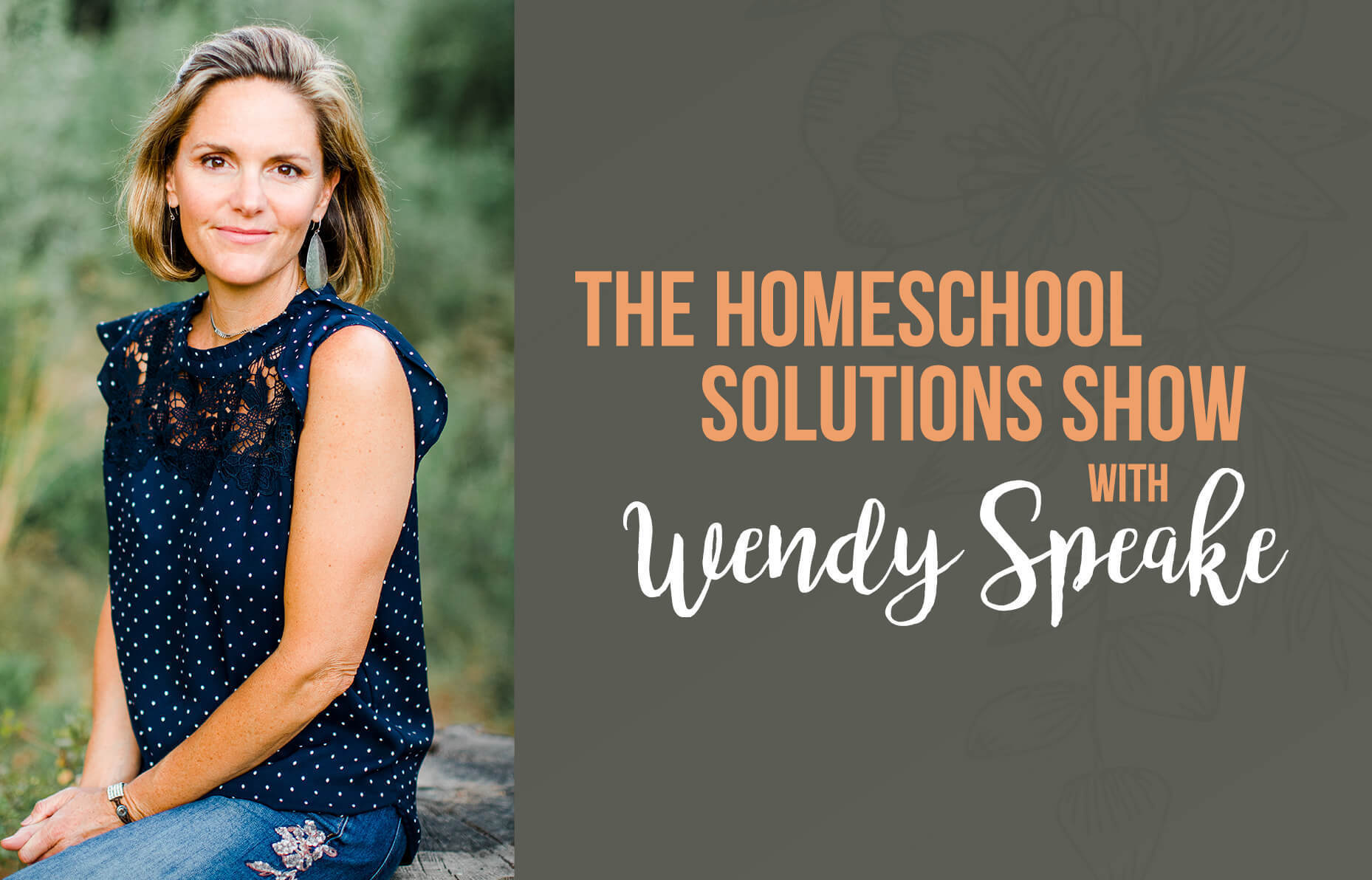 HS #237 Letting Your Kids Struggle Erin Kunkle
Links and Resources:
Show Notes:
Erin Kunkle is the co-founder of MAVEN (www.maventruth.com). She is a speaker and co-host of the MAVEN parent podcast. She has spoken to parents, mom's groups, homeschooling groups, and women's retreats. She's also a veteran homeschooling mom of 12 years. She received her bachelor's degree in sociology/political science from Biola University. Erin lives with her husband and 4 out of their 5 kids in Southern California. Her oldest daughter is married and has made Erin a grandmother to two of the cutest little girls you have ever seen!
Show Transcript:
Wendy -
Well hey there, welcome to the Homeschool Solutions podcast. I'm your host, Wendy Speake. Here on the podcast, we start each week with a longer more traditional podcast, most often with guests, but sometimes we simply open the Word together and apply it to directly to our homeschooling days.
On Thursdays, however, we share shorter episodes that I like to call blogcasts, where one of our favorite homeschool bloggers simply encourages us with the content of one of their recent blog posts. I hope this message serves you and your family today. As always, I'd like to thank our sponsor, Sonlight Curriculum. The wonderful people at Sonlight Curriculum offer complete homeschool curriculum that you are guaranteed to love.
And now, let me introduce you to one of my friends.
Erin -
A few years ago, my 10-year-old daughter joined a swim team. As a new parent to the team, I would watch the other parents to learn what was expected from moms and dads. Immediately, one thing, in particular, was clear. Parents did everything for their kids. When picking up their kids from swim practice, not only would they gather up all their kid's equipment, they would carry it for them to the car while their children walked empty-handed. I wondered, was our swim practice so strenuous, and the children so exhausted that their young arms weren't capable of lifting a thing afterwards?
Did parents just not want to trouble their children with the small amount of work it required to carry their own stuff? Or were they just in a hurry and wanted to get to the car quickly? However, after a few practices, I realized, this wasn't just a rare occurrence. It was the norm. The parental routine was the same practice after practice. These parents had no intention of letting their children exert any additional energy. It all became crystal clear at my daughter's first swim meet. I watched, with jaw dropped, as a 10-year-old teammate played on his iPad in between races while his mother sat next to him and every minute or so, held up a banana to his mouth to take a bite.
Apparently this kid couldn't be allowed to even lift an arm to his mouth to feed himself. His mom was there, by his side, at the ready, to relieve any such burden. This is just one snapshot that captures much of parenting in our culture. It's no longer just helicopter parenting, where we're constantly circling our kids to make sure everything is alright. The new norm is now lawnmower parenting, where we go before our kids and cut down anything and everything that's in their way. The end goal? To prevent our kids from encountering any kind of struggle or difficulty or obstacle. And such actions reveal a larger view of life that has come to dominate the modern American mind.
For many Americans, the overriding goal of life is now pleasure. Want some clear evidence of this? Just think about how we appeal to fun with our children. Did you have fun at your soccer game? Did you have fun in Sunday School this morning? Did you have fun and Grandma and Grandpa's house? Let's do this lesson. It'll be really fun.
It's as if the point of everything we do is to have fun or to experience some kind of pleasure. Of course, if pleasure is the goal, then anything that hinders our pleasure-seeking is to be avoided at all costs, and therefore, consciously or unconsciously, we have come to think that the easiest life is the best life.
Let our kid struggle? No way. Mom and Dad are here to clear your path to the good life. Don't like a meal? That's okay. We'll prepare a separate meal that you like. Feeling bored? We can't have that. We can solve boredom instantly with a screen. Don't want to do something? That's okay, we won't make you.
This is the culture we've created for our kids. And a culture that holds ease and enjoyment as idols will push back against struggle or discipline or hardship of any kind.
American culture has not always been this way. What we consider struggle was just part of normal American life many years ago, and children were not shielded from such hardships. Want to see the stark contrast between today and yesteryear? Read the Little House on the Prairie series to your kids. We get a glimpse into earlier American life and see that children participated in the difficult work required of families, and were not shielded from all of the struggles and difficulties. Indeed, parents saw such struggle as good, knowing it was vital to develop their children's character. Virtues like perseverance, courage, and fortitude were cultivated by struggle and sacrifice.
Of course, a life focused on satisfying the self with pleasure will find Jesus's words quite odd and even alarming, when He says, in Luke 9:23, whoever wants to be My disciple must deny themselves and take up their cross daily, and follow Me. Well, that sure doesn't sound like much fun to modern ears. Throughout Scripture, struggle, hardships, and even at times, suffering, are things we're told to expect and embrace. James 1 says consider it pure joy, my brothers and sisters, whenever you face trials of many kinds. Because you know that the testing of your faith produces perseverance. Let perseverance finish its work so that you may be mature and complete, not lacking anything.
Romans 5 says, not only that, but we rejoice in our sufferings, knowing that suffering produces endurance, and endurance produces character, and character produces hope. Psalm 119 says it was good for me to be afflicted so that I might learn your decrees. Hebrews 5 reminds us that Jesus learned obedience to the father's will from the things he suffered. Genesis 2 shows us the scene in the garden before sin entered the world. It says the Lord God took the man and put him in the garden of Eden to work it and keep it. Work is struggle. But work is good. And it's dignifying.
Scripture paints a radically different picture of struggle and difficulty than American culture.
So, how can we cultivate this mindset in our homes? First, in our home, and with our kids, we've tried to live by a general motto. Never do for your kids what they can do for themselves. From a young age, we have them carry their own belongings, put on their shoes, get dressed on their own, clean up their toys, clear the dinner table, and wash themselves in the bath. Of course, this requires teaching them to do these things and guiding them at first. But eventually, we must allow them the time and the space to struggle and grow in their abilities. All the while, we encourage and cheer them on.
Sometimes it may even require organizing the house in a way that your younger kid's things are accessible for them to reach and do themselves. As they struggle through each task, or situation, and push through it, they'll come to see the struggle itself as good. As they get older, not only will they get better at things, they'll be able to help contribute to the family workload. And the self-confidence they'll gain by caring for themselves and others, will be life-giving.
Second. Don't always give your kids what they ask for. Make them earn it. Even if they have to struggle over time to do so. Often, we truly appreciate things when we've earned them ourselves. I was reminded of this when one of my daughters saved her money for almost a year to buy an annual pass to Disneyland. After earning those final dollars and achieving her goal, she could not contain her joy and satisfaction as she was beaming with pride. The good kind. For days. Too often, maybe just to get our kids to stop begging for that new toy in the aisle at Target, we simply give them what they ask for. And over time, our children begin to see something like a toy, not as a privilege but more of a right.
Instead, next time, show them how much it costs, tell them they can work hard enough to earn the money and buy it for themselves. And then, give them ways to earn the money and watch their motivation take off.
Third. Have your children participate in the work required around your home, and have them do work that benefits, not just themselves, but others in the family as well. Yes, that means even including some of the more difficult chores. Everyone who lives in the same house should contribute to the wellbeing of that household at an age-appropriate level of course.
What might this look like? Here are some ideas. Two to four-year-olds can set the dinner table, clear the table after meals, empty trash cans, clean mirrors, help with laundry, make their bed. Five to seven-year-olds can unload the dishwasher, help with dinner prep, vacuum. Actually, I purposely bought a lightweight vacuum recently so that my youngest son could easily vacuum all around the house. They can sweep, dust, sort laundry, or put clothes into the dryer from the washer. Eight to eleven-year-olds can pack their own lunches, make grocery lists for the family, take sheets off the bed and help put on new ones, plan a dinner one night a week, and help prepare it, wash cars, take trash cans to the curb for trash day, scrub the bathtub, and help in the care of younger siblings.
Our kids who are twelve and older, the sky is the limit. Anything you can do, they can do. Recently, one of my daughters was folding laundry with me and commented on how fast and easy it seemed for me to do it. I assured her that she too could grow in her speed and ability to do laundry the more she did. And because I love her so much, I was going to continue to allow her to work on that skill. As you can guess, she wasn't thrilled to hear that.
As parents, we must realize that struggle can teach our kids in ways that we cannot by simply telling them. Work, failure, success, hardships, joys, and disappointments are all a part of life. And when we teach our children to see these things through a Biblical lens, the way God sees these things, we are equipping them for a life lived in obedience to Christ. As 1 Peter 1:6-7 says, in all this, you greatly rejoice, though now for a little while, you may have had to suffer grief in all kinds of trials. These have come so that the proven genuineness of your faith, of greater worth than gold, which perishes, even though refined by fire, may result in praise, glory, and honor when Jesus Christ is revealed.
Wendy -
I hope that today's blogcast equipped and encouraged you. Remember that next week, I'll be back with another great conversation right here on the Homeschool Solutions podcast. My name is Wendy Speake, I'm your host, and I am so glad that you've tuned in today.
But before we sign off, I'd like to invite you to subscribe right now to the Homeschool Solutions podcast through Apple or Google Play. And speaking of invitations, won't you join me at one of the Great Homeschool Conventions this year? These conventions are my favorite, offering dozens of wonderful speakers, and hundreds of inspiring exhibitors. Go to GreatHomeschoolConventions.com and find one near you in 2020. This year, I will be at the Ohio, Texas, South Carolina, and California conventions. Make sure to stop by and say hey if you'll be at one of those events.
But in the meantime, we've got this podcast and homeschooling.mom as other great resources to support you as educate your kids in math, and science, and literature, yes, but also as you train them in Godliness and love. Until next time, this is Wendy Speake. I hope that you and your family have a wonderful day.
Thanks to our sponsors: