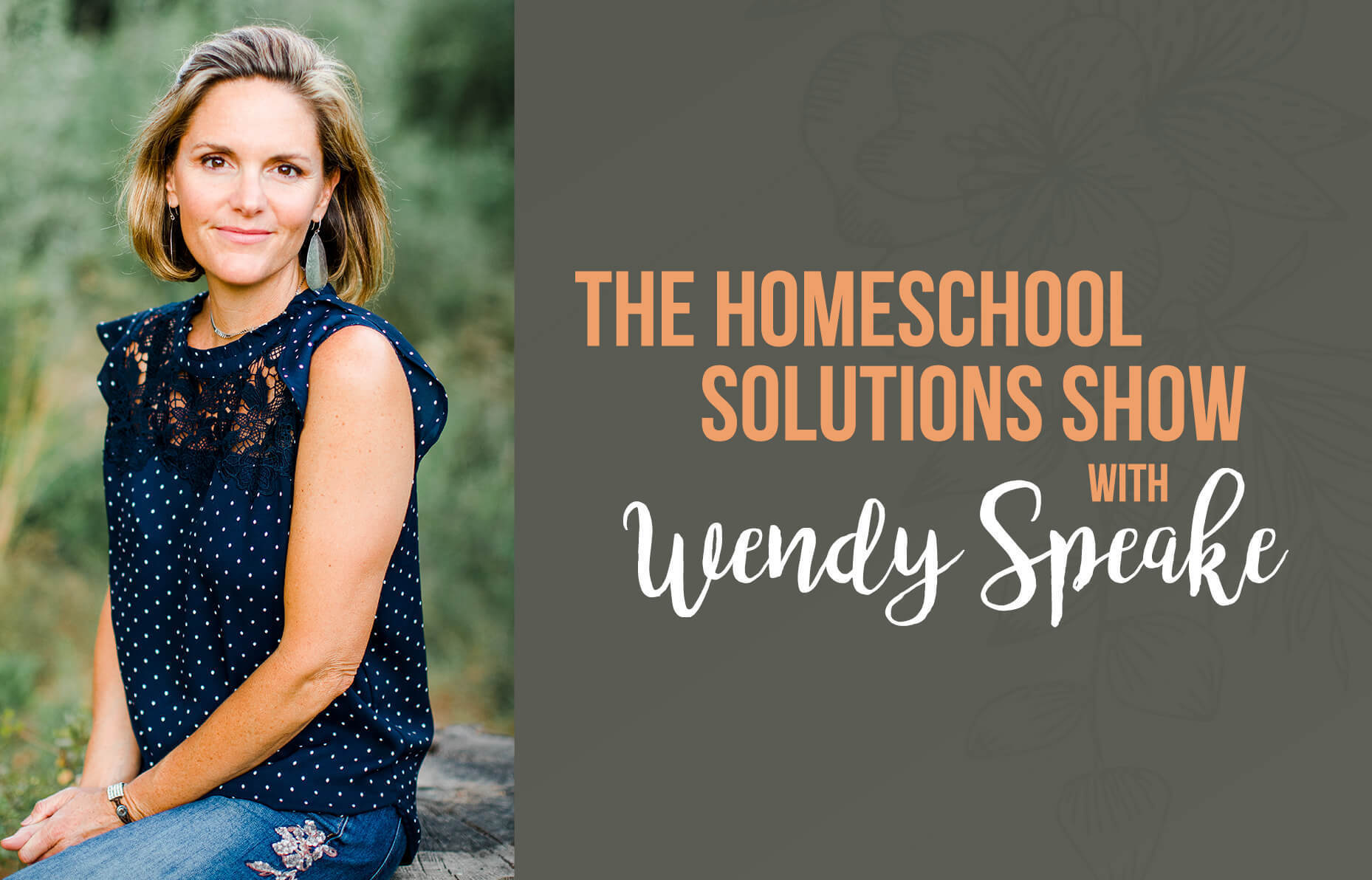 HS #223 Audioblog The Secret To Surviving Bad Homeschool Days
Links and Resources:
Show Transcript:
HS EP The Secret to Surviving Bad Homeschool Days


Wendy -
Well hey there, welcome to the Homeschool Solutions podcast. I'm your host, Wendy Speake. Here on the podcast, we start each week with a longer, more traditional podcast, most often with guests, but sometimes, we simply open the Word together and apply it directly to our homeschooling days. On Thursdays, however, we share shorter episodes that I like to call blogcasts, where one of our favorite homeschool bloggers simply encourages us with the content of one of their recent blog posts. I hope this message serves you and your family today.
As always, I'd like to thank our sponsor, Sonlight Curriculum. The wonderful people at Sonlight Curriculum offer complete homeschool curriculum that you are guaranteed to love. And now, let me introduce you to one of my friends.
The Secret to Surviving Bad Homeschool Days
Written by Stacey Wells, Read by Brandy Gleason
The secret to surviving a bad homeschool day. So, if we're all being honest, a bad homeschool day is still better than a good public-school day. And yet, just knowing that really does nothing to help us through the bad day while it's going on.
There are some ways we can deal with bad homeschool days that will make them totally survivable and much easier to shoulder. I'd like to share some of those with you.
Whatever you do, make sure that you intentionally plan on not giving up. Bad days will happen. You can jot that down in your planner long before the school year starts. We are human. Our children are little humans. And we live in a world where things happen that are out of control. That is truly the first step in making bad days easier to walk through.
Take time to pray. I feel like prayer is often one of the most overlooked elements of a Christian homeschoolers plan. We so often fall prey to feeling like God is somewhere beyond the ceiling of our lives, and that our prayers, if we have time to pray them, just bounce off the ceiling.
But we have some precious promises in the Word for days that seem especially tough. Just consider these:
But they that wait upon the Lord shall renew their strength. They shall mount up with wings as eagles. They shall run and not be weary. They shall walk and not faint. (Isaiah 40.31)
Trust in the Lord with all thine heart and lean not on thine own understanding. In all thy acknowledge Him and He shall direct thy paths. (Proverbs 3:5-6)
I can do all things through Christ which strengthened me. (Philippians 4:13)
Wherefore comfort yourselves together and edify one another, even as also ye do. (1 Thessalonians 5:11)
These are just four Scriptures that most of us already know very well. There are so many more that we can find in our own personal devotion time that will strengthen and encourage on a day to day basis. I would encourage you to take some time, before you ever start your day, and get alone with God. Even if it's just for five or ten minutes to start. You'll see the difference this makes for the rest of your day and soon, you'll be excited for that time alone with God, when you can share with Him all of your worries and concerns about your homeschool day. He certainly does care about them.
Connect with a friend or another homeschooler. Sometimes, realigning your day can be as simple as reaching out to another homeschooling mom or connecting with someone from your local co-op or private homeschool group. If you don't have anyone locally, there are many good support groups online and on social media that are usually quick to jump to the aid of homeschool mom that's having a bad day.
Hearing a few encouraging words can make the difference between a failed day and a salvaged day. So, don't sit around and wait for things to just magically change.
This is especially the case if the root of your bad homeschooling day lies in something other than just a bad day. It could be that you're using the wrong homeschooling method for the child's specific learning style. Or maybe you have a curriculum that simply doesn't cater to your family's needs in content, schedule, or some other characteristic.
Again, there are so many different ways to assess the situation, even from this one angle. But if you pay attention and heed sound advice, you'll come out on top every time.
Change something. If in the midst of your bad homeschooling day, you suddenly realize that it always gets like this at a specific time, then you might need to change something. For example, are Fridays always harder because it's payday, and you have to do more running around than usual? Or could it be that you've been using the same schedule for months or maybe years on end? We all fall prey to empty scheduling that really doesn't profit anything. Don't get me wrong, habits are important. Especially when it comes to devotional time, eating meals together, or personal hygiene.
However, some routines we find ourselves in just offer no real benefit. And if that's the case, maybe you should try doing a unit study for a week instead of cramming tons of textbook notes. Or, watch an educational film. Read a great book over the course of the whole week. Take a nature walk. There are lots of things to do and a simple Google search will yield more than you'll be able to keep up with.
Take an impromptu field trip. There's absolutely no reason why you simply can't just stop what you're doing and leave the house for an impromptu field trip. In fact, this unexpected turn of events could immediately change your child's perspective, replacing disdain with excitement at the adventure ahead.
Remember to take along notebooks, writing and drawing instruments, cameras, audio recorders, anything that might make the field trip more memorable and easier to record. It's a good idea to create an extensive list of field trip possibilities at the start of the school year for quick reference at times like this. In fact, you could pull the children to help create the list, so you're sure to include things they will enjoy the most.
Remember recess. It is entirely possible that a child's bad day can be the result of having too much energy and not enough outlet for it. Fresh air, sunshine, and a good chunk of playtime can often cure many ills when it comes to your child. They can't always explain to you what's going on, because they aren't always able to understand it themselves. But it's worth a try.
Just getting outside, into the backyard, or taking the dog for a walk can completely change the landscape of your day. Doing this right before lunch instead of getting right back into the lesson portion of your day, can also draw out the experience, giving you time to discuss your outing, relish the good feeling that comes from it, and then refocusing activities instead of lessons.
Textbooks and curriculum strategies work well most of the time. Especially in theory. However, there are times when activities not only present the material in a way that's easier to understand on a particularly tough day, it also helps to throw off the routine just enough to feel new and refreshing. Keep puzzles and educational games, books, and art supplies handy, so you can turn these into good opportunities for play. This definitely is a secret stash worth taking time to create.
Just take the day off. If nothing else seems to be working, or is feasible, just call the day off right where it stands. Public schools do this from time to time in the event of bad weather or some special event, and you certainly have the option of knowing that emotional bad weather can cause you to fare much worse while accomplishing absolutely nothing.
There's no reason to push through sometimes when you can already see the situation is lost. Of course, this isn't a recipe for every day, or for every little problem, but simply stepping away, knowing that you can make up for the lost time when everyone's feeling better is sometimes just what the doctor ordered.
In closing, as I said when we started, bad days are going to come. And sometimes, they're more frequent than we would like them to be. They don't always mean that things are necessarily wrong, but they can point to the need for a quick change in routine.
Think about your own days and your own activities. Don't you sometimes just have a bad day for no apparent reason? During these times, it's important to allow grace for yourself and for your child instead of throwing up your hands in despair.
When you approach it in this way, it's more possible that you might actually learn something from the situation that you can pass along to another flailing homeschool mom at some point. And then, you'll be happy to help.
Wendy -
I hope that today's blogcast equipped and encouraged you. Remember that next week, I'll be back with another great conversation right here on the Homeschool Solutions podcast. My name is Wendy Speake, I'm your host, and I am so glad that you tuned in today.
But before we sign off, I'd like to invite you to subscribe right now to the Homeschool Solutions podcast through Apple or Google Play. And speaking of invitations, won't you join me at one of the Great Homeschool Conventions this year? These conventions are my favorite, offering dozens of wonderful speakers and hundreds of inspiring exhibitors. Go to GreatHomeschoolConventions.com and find one near you in 2020.
This year, I will be at the Ohio, Texas, South Carolina, and California conventions. Make sure to stop by and say hey if you'll be at one of those events. But in the meantime, we've got this podcast and homeschooling.mom as other great resources to support you as you educate your kids in math and science and literature, yes, but also as you train them in Godliness and love.
Until next time, this is Wendy Speake. I hope that you and your family have a wonderful day.
Thanks to our sponsors: