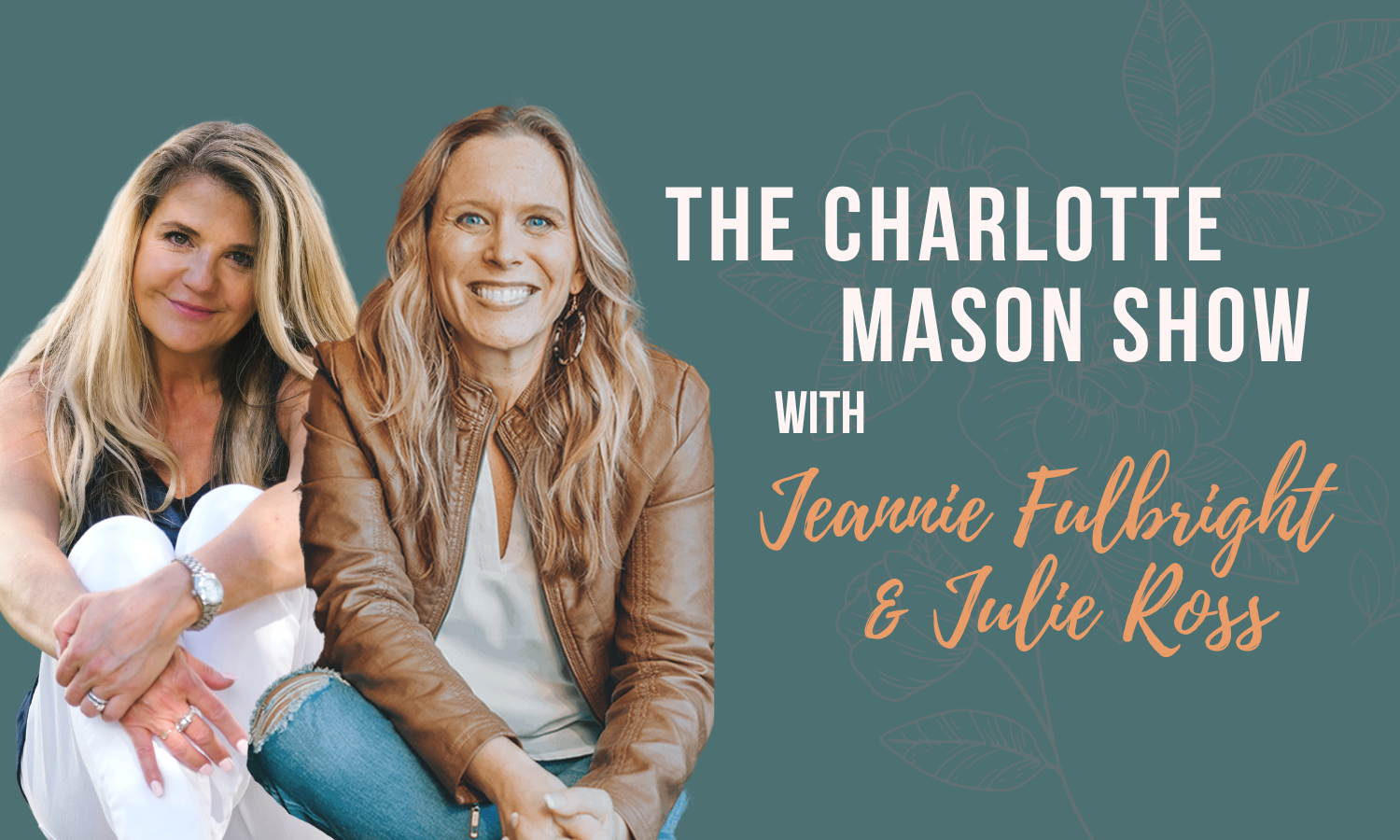 S7 E1 | Why You Should Attend a Homeschool Convention (Julie Ross & Jeannie Fulbright)
Show Notes:
Considering attending a homeschool convention in 2023? In this episode, Jeannie and Julie discuss four benefits of attending: Research, Refreshment, Resources, and Renewed Vision. Join them for the first episode of season seven and see if you need to add a convention to your calendar!
About Julie
Julie H. Ross believes that every child needs a feast of living ideas to grow intellectually, emotionally, and spiritually. As a former school teacher, curriculum coordinator, and assistant director of a homeschool academy, Julie has worked with hundreds of students and parents over the past 20 years. She has also been homeschooling her own five children for over a decade. Julie developed the Charlotte Mason curriculum, A Gentle Feast, to provide parents with the tools and resources needed to provide a rich and abundant educational feast full of books, beauty, and Biblical truth. Julie lives in South Carolina. When she's not busy homeschooling, reading children's books, hiking, or writing curriculum, you can find her taking a nap.
About Jeannie
Jeannie Fulbright, a 24-year veteran homeschooler, is the author of the #1 best-selling, multi award-winning Apologia Young Explorer science series: Exploring Creation with Astronomy, Chemistry and Physics, Botany, Zoology, and Anatomy & Physiology. She is also the author of the action-packed historical time travel book series Rumble Tumbles Through Time, as well as preschool science books and activity kits, the Charlotte Mason Heirloom Planner, and many high-quality Charlotte Mason based products. Jeannie and her husband Jeff became empty nesters in 2019. All four of their children all went to the University of Georgia on scholarship (homeschooling works!). For more than 20 years Jeannie has traveled around the country speaking to homeschoolers at conventions, covering a plethora of topics from Charlotte Mason to marriage and prayer.
Resources
Julie's 2023 speaking schedule
Jeannie's 2023 speaking schedule
Connect
Jeannie Fulbright | Instagram | Facebook | Facebook Group | Pinterest | Website
Julie Ross | Instagram | A Gentle Feast | Instagram | Facebook | YouTube | Website
Homeschooling.mom | Instagram | Website
Thank you to our sponsors!
Medi-Share: an affordable Christian alternative to traditional health insurance
Tuttle Twins: children's books to help you teach your kids how the world really works
A Gentle Feast: a Charlotte Mason curriculum for the entire family
Want to know more about the Charlotte Mason method? Visit www.agentlefeast.com and click on LEARN MORE to receive a FREE four-day introduction course.
Have you joined us at one of the Great Homeschool Conventions? We hope to see you there!
For more encouragement on your homeschooling journey, visit the Homeschooling.mom site, and tune in to our sister podcast The Homeschool Solutions Show.
Show Transcript:
Julie Ross Welcome to The Charlotte Mason Show, a podcast dedicated to discussing Ms. Mason's philosophy, principles, and methods. I'm your host, Julie Ross, and it is my hope that each episode will leave you inspired and offer practical wisdom on how to provide this rich-living education in your modern homeschool. So pull up a chair. I'm glad you're here.
Julie Ross Here's a riddle for you, parents: Homeschoolers love them. Enemies of freedom hate them. What are they? It's the Tuttle Twins books. With millions of copies sold, the Tuttle Twins help you teach your kids about entrepreneurship, personal responsibility, the Golden Rule, and more. Get a discounted set of books with free workbooks today at TuttleTwins.com/homeschool. That's TuttleTwins.com/homeschool. Alright, now on to today's show.
Julie Ross Hey everyone! Welcome to The Charlotte Mason Show. It is our first episode of 2023 and our first episode of season seven. And today for fun we are doing a doubleheader. Hey Jeannie!
Jeannie Fulbright Hi! Glad to be here! It was a great Christmas and I'm ready to start the new year with a bang.
Julie Ross That's awesome. Yeah, so we have lots of great topics and episodes and interviews planned, coming your way for the rest of season seven. But we wanted to start off the year talking about the importance of attending a homeschool convention. So as you're planning out 2023 and blocking off your calendar, one of the things you might want to consider is attending a homeschool convention. Jeannie, you may not know this, but my first time attending a homeschool convention, I heard you speak.
Jeannie Fulbright Oh, really?! That's crazy. What did we...what was I talking about?
Julie Ross I'm trying to think how many years ago? It had to be like fifteen!
Jeannie Fulbright That is a long time ago. You know, some of my best memories of my homeschool years were going to the convention. It was just an annual thing that all my friends and their children-- We all went together. And it was so much fun. It was just such great memories. My kids loved it. I mean, they just looked forward to it, and they all had a little bit of money that they got to walk around-- We had-- There was no cell phones back then. They had walkie-talkies, which I think are still quite helpful.
Julie Ross Yeah, actually, that's a really great idea for people because, you know, depending on people's ages, they don't all necessarily have phones either. So having walkie-talkies, I think that's a great idea.
Jeannie Fulbright Yeah. So my girls would all run off and the boys would all run off and everybody had their walkie-talkies. And I would get to meet and visit with my friends--people I hadn't seen. Because, you know, in the homeschool world you run into people that you did a class with or that you didn't realize was homeschooling. And it's so much fun when you go to conventions because it's this whole excitement and this energy that you can't get in the homeschool community anywhere else.
Julie Ross Right. Yeah, I think that's a really good point. And I'm so grateful that-- You know, we had these years where we're doing things virtually and I think a lot of people are ready to get out and be around other people. And like you're saying, that's this energy that comes when you're meeting people face to face and in person. And I do think a lot of homeschool conventions are family oriented. I know for the Great Homeschool Conventions, the children's program--the Great Cat...or the Giant Cow, I think is what it's called--for the little kids. My kids absolutely love it. It's just like one big giant Vacation Bible School. And there's inflatables and games, and this guy brings his puppies, and it's super fun. And then, you know, the teen track, my older kids really enjoyed going and attending classes for themselves and just learning things as well. So it was-- It counts as a school day, but I'm not necessarily the one doing all the work, so that's kind of nice.
Jeannie Fulbright Yeah, it is great. There are so many great things about it and I feel like with the Internet age, people are getting so much information on the computer and on the Internet that they don't think that they would benefit from going to the homeschool conference. But it really does give you-- It changes-- It gives you a renewed vision. It gives you just an excitement and an energy that you needed to keep going, to get excited about homeschooling again. And you learn so much.
Julie Ross Yeah. So that was kind of some of the things that we had talked about. We had a little alliteration for people, because I guess we both really like that! Four things...four benefits of going to a homeschool convention. And the first one you mentioned was a Renewed Vision. And then you have Refreshment. You have Research and you have Resources. So let's dive into that first one that you mentioned, a Renewed Vision. So how does a homeschool convention help with that?
Jeannie Fulbright Well, I think that when you are walking in the vendor hall and you're seeing things--you're seeing things in close hand and you're talking to people (other homeschoolers or the vendors, people who are producing curriculum)--you began to get a vision for what your homeschool is going to look like and what changes you need to make or what you want to do. But especially when you go to the talks, choosing the talks that are really going to speak to what you want to hear about, what you need. And there's so many! Especially at GHC. There are so many top speakers, so many different talks to go to, that everybody has an opportunity to get just some words of wisdom, some new encouragement, some...just a renewed vision for their homeschool. And I think that's one of the best things about homeschool conferences.
Julie Ross And I think vision is so key and so important because we can get really bogged down in the details and like "What math curriculum are we using next year?" And that's super important. But, you know, come Tuesday, when you're totally burned out, if you don't have the vision, you're not going to be able to sustain that. So the vision, the why behind what you're doing, is what's going to keep you going and keep you motivated and keep you focused. Because there are a lot of different ways to homeschool and a lot of different resources. And it can feel like you're getting doused with a fire hose sometimes if you don't have a vision, and "This is what we're doing!", and kind of able to filter out things.
Jeannie Fulbright I agree. And I love what you just said about the why. Because I think remembering the why is a big part of renewing your vision. Getting a new vision, getting some new ideas, implementing them, deciding how you're going to do that's great, but also remembering your own personal "why" you are doing this, why you chose this, whether it was that God called you to it and you knew that this is what God wanted you to do, or you had some other specific reasons. Remembering those reasons why helps you to continue when things are hard. Because let's face it, homeschooling is hard. It is really, really hard. I mean, being a parent is hard enough, but being a homeschool parent is something else entirely. But it's worth it. I'm done with the three. As y'all know, my children are all grown and mostly gone. I have two that are graduating from college this year, and then I've got four young adults and my grandchild now. So I had my first Christmas with my grandchild. My daughter's already talking about homeschooling him. And it's just...it was worth it because of the people my children became...the adults my children are because of homeschooling. The relationships they have with one another is just-- People comment on it all the time. All their friends comment on their relationship with one another and how envious they are of that unity and that bond. And that really does happen through homeschooling. And so, yes, a renewed vision so that you can have motivation to plow through those really hard days.
Julie Ross Yeah. And I think it's really apropos that a lot of the conventions are in March in the time of year when it's like-- I call it like the-- If you're running a half marathon or a marathon, they call it "hitting the wall", and that's what happens in March. It's like your body's just so depleted, like all that energy and excitement you had coming off the holidays and things, you know, you're just in the middle of winter still and it can become very dreary. So going somewhere where--at these conventions--and being around other people and having that energy and excitement and seeing what they're doing, that does renew your vision and inspire you. And like you're saying, it's really great to see these families. And a lot of the times the people working the booths are these young adult children that were homeschooled. And getting to see them and talk to them is really encouraging as well.
Jeannie Fulbright It makes you feel like you're part of something bigger, like a bigger community. This is: "I'm part of this. These people are my people." And there's nothing more thrilling than seeing people face to face and seeing them in real live person.
Julie Ross Yeah, it's so encouraging to know that you're not alone. And I think we can be in our houses and it can feel very isolating. And, you know, getting around this community is so vital. It does give you that Renewed Vision. It also gives you Refreshment. So how does a homeschool convention refresh you?
Jeannie Fulbright Well, I think it's very close to renew, the Renewed Vision. The Refreshment happens when we feel like we have relaxed and we feel refreshed and ready to go again. And that's what happens when you're with people in real life and you're listening to speakers and you're talking to people in the booth who have wisdom, who want to give you that wisdom. They're there to share their wisdom with you. They're there to give you— and God is there to give you those golden nuggets, to put you in contact with somebody who has a special word the Lord wants you to hear. And I feel like that He uses those homeschool conferences to do that. And, you know, I always tell people, "Curriculum is wonderful, but we do need to be with one another and encourage one another." As it says in Hebrews, "Do not stop"-- I don't know. It's a different word than "stop", but--"Stop meeting together daily as you were called to do." And we just-- It's hard to meet with anybody when we are homeschooling. It's really hard to make it a regular thing. But the yearly convention, I think, is something that you don't want to forfeit because it really is what God intended when he wanted Christians and believers to meet together, is that encouragement, that refreshment, that just being able to give each other the advice and the wisdom and the "I'm there for you" and "I'm in the same boat as you are" and feeling that, that is very refreshing.
Julie Ross Yeah. And I love it when I see like groups of friends that they make this their girls' weekend and stuff and you know, you can just tell like they're having such a great time together. And they're staying in a hotel room all night chit-chatting, and it's so precious, you know. Have some friends and make this your kind of refreshment girls' weekend too.
Jeannie Fulbright Exactly! I was so envious when-- I started speaking at conventions. So every convention I went to, I was speaking at. But I had all my friends and they would get together and they would get a hotel--even if it was a hotel in the same city that they lived. And they would all get a hotel, they'd stay up all night and, you know, eat chocolate and convention together. And I was just so envious. "Oh, that looks like so much fun." I'm so glad that people...I see people doing that all the time and they just-- People fly to cities together that they haven't seen each other in a while but they're homeschooling moms, and they fly together to these cities and they make it a special reunion. You know, a special-- Like a women's retreat! Is exactly what it is!
Julie Ross Is there anything worse than spending a lot of money on something you are unhappy with and feeling like you are stuck with it? Well, I have good news for you. You probably heard me talking about our sponsor for our podcast, Medi-Share. Members of Medi-Share save up to 50% or more per month on their healthcare costs. They say the typical family saves up to $500 per month. And here's the best part, you can become a member at any time. So that means it isn't too late to switch to a more affordable healthcare option that will save you money. If this is the first time you are hearing about Medi-Share, it is an alternative to health insurance that allows Christians to share one another's medical bills. Offers access to over 900,000 healthcare providers. And has a proven 30-year track record. Plus, in addition to saving hundreds per month, telehealth and tele-behavioral counseling are included with your membership. It literally takes two minutes to see how much you can save. To investigate this for you and your family. Go to GreatHomeschoolConventions.com/MediShare. That's GreatHomeschoolConventions.com/MediShare.
Julie Ross And also too, you know, I do love that girls' weekend idea. But I also see a lot of people who bring like their spouse or their grandparents, who might be helping with homeschooling and need some more knowledge. So that brings us to the next R which is Research.
Jeannie Fulbright Uh huh. I so agree. I think there's research in that way where you are revealing to your loved ones--either your parents or your husband or even your children--what this is all about and what we're doing here. And just being able to look at the curriculum, to be able to research, to be able to speak to the people who produce the curriculum or people who are knowledgeable about that curriculum and ask the right questions to get an understanding of how it works is so important. And you're not going to get that online as much as there's not that back-and-forth interaction that happens in a conversation.
Julie Ross Right. Yeah. That happens to me all the time. I'll have some lady come up. You could tell she's like kind of pulling her spouse and she's like, "Okay, I need you to explain Charlotte Mason to him." I'm like, "Okay, yeah. Let me narrow that down into a few sentences for you." But...haha!
Jeannie Fulbright Haha! The elevator pitch of, you know, of her massive amount of...
Julie Ross She's like, "I'm really interested, but he doesn't really understand it. So can you help us out?"
Jeannie Fulbright She was the greatest! And everybody knew it!
Julie Ross So it can help with, you know, the education of other people that might be helping you with your homeschoolers. And it takes the pressure off for you to kind of figure it all out and then tell them all about it. You can have them experience it. Like you're saying that you learn so much more that way, for sure. It also helps you research the different philosophies that are out there, the different methods that are out there, and really see, "Okay, which one do I want to kind of camp out in and put this as our focus?" Because like we talked about with the vision, it's so easy to be swayed this year to this thing and this year to this thing without having like a clear, definite, "This is the path that we have chosen and believe in." It doesn't mean you can never change or modify it, but it helps you kind of have direction for your days and direction for the books and the experiences and things that you do choose for your family. So having that research and kind of nailing down what path you are going to go on is super important.
Jeannie Fulbright I so agree. I love that. So and then the last one.
Julie Ross Resources.
Jeannie Fulbright Resources. That's right!
Julie Ross We've talked about Renewed Vision, Refreshment, Research. And the last R is Resources.
Jeannie Fulbright So I think that this is probably the number one thing, is being able to get your hands on the curriculum and the different things that are offered to homeschoolers, being able to see them up close. And there's so many things you have never heard of as you're walking down the aisles and you see these booths, and you see things you've never heard anybody talk about. But it's a wonderful resource. It's a wonderful thing you could add to your homeschool, or change, or, you know, there's so many great resources that you will only see if you go to a homeschool conference.
Julie Ross That's true. Yeah. And it makes a huge difference. Like, you know, online, you can kind of get some understanding of some of these things, but when you're actually like holding it in your hands and flipping through it-- People say that to me all the time, especially about my curriculum, because it is kind of complicated and different. And so people like, once they open it, they're like, "Oh, I totally get it now! I just had to like hold it in my hand and understand it." And so the exhibit hall will have hundreds of different vendors that, you know, all the way from cooking appliances I've seen to complex math books. So it's just a huge range of things too that can really, kind of, like you're saying, help guide you and give you the tools and the resources that you need to move forward into the next school year. And so, you know, I see people they bring those little rolly laundry baskets around the vendor hall, you know, and I'm like, "That's so smart." Save your back.
Jeannie Fulbright Yes, definitely. I've seen people with suitcases. I've seen people with the rolling carts. And now the big thing is those little foldable wagons. You can put a lot in those.
Julie Ross Oh yes, those ones you take to the beach. Yes!
Jeannie Fulbright So that's wonderful. But I will caution you that if you've never been to homeschool conference, it's easy to get overwhelmed. Because what can happen is you look at all of these books and all of these resources and feel like you should be doing it all, and you shouldn't. What you hope for is that God has promised to be your guide. He says, "I will-- He will be your guide forever and ever." He will be our guide. And He says He will be a voice behind us whispering, "This is the way, walk ye in it." He is going to be guiding you and leading you. And so He promises to answer your prayers. He called you to homeschool, but He doesn't expect you to figure it all out for yourself. So when you go to a homeschool conference, be in prayer. Ask the Lord to show you the direction you must go--show you where to go: which booth, which people to talk to, which talks to go to. Ask Him to be your guide because He promises to be your guide. And He will answer that prayer, and He will take you to the places that He wants you to go. He'll show you the curriculum. He will give you peace. "My peace I leave with you." He leads us with His peace. And so when you go to a homeschool conference, especially if it's your first one, seek His peace and don't make any decisions in anxiety or fear, because anxiety or fear is not from God. That is from the enemy, and he likes to make us anxious and make really hasty decisions that are not from God. God wants us to make decisions with peace and tranquility. And so even if you don't buy a thing and you're just looking, be sure that you are making decisions based on peace, based on just a feeling of, "Yes, I feel like this is where God has led me today." And either you're going to buy it today or you're going to do some more research on it, talk to more people, look at some reviews. Whatever it is, don't feel pressured at any time at a homeschool conference to purchase while you're there. Use this as a place to get renewed vision, to research, and to find refreshment, and be led by God as you are listening to speakers, as you're talking to people, as you're interacting with vendors. It's a place for you to be seeking God's direction for your homeschool.
Julie Ross Wow. That is so beautiful. Thank you for sharing. That is so key and so important because I think, we can see all these different resources, and we can see what other families are doing, and we can feel that kind of doubt and insecurity and that leads us to make decisions out of fear like, "Oh, I didn't even know we have that problem until I heard this talk about X, Y, Z, and so now I need to get this to fix the problem I didn't realize we even had." Yeah, I totally agree with you, nothing needs to be decided right now. You know, take the time to seek that. And it just reminded me of a story. I had a woman who came up to me after one of my talks. She was sitting right in the front row, and afterwards she was in tears. She said, "I came to this talk thinking it was something else. And about halfway through, I realized it was in the wrong talk. But I stayed. And I'm so fascinated now by Charlotte Mason and all the things you were talking about and, you know, just thank you." And then the next year, that same woman came back to me and she said, "I don't know if you remember me from last year when I came to your talk by accident?" I said, "Yes, I do." And she said, "You know, I love what you had to say about Charlotte Mason. I went and researched it and that's what we've done this past year." She had pulled her son out of public school because of something that had happened, like in the middle of the year, like she was starting the Monday after the convention to homeschool him.
Jeannie Fulbright Wow.
Julie Ross And I had just told her, you know, "Just spend this time going out in nature, reading living books. I can give you some suggestions, you know, just spend this time kind of building some of those habits before you jump into any curriculum." And, you know, she was just saying, "God totally brought me to your talk by accident because this was the best year. My son and I have thrived." And it was like you were saying, it's such a cool story. Like just be open to that and praying about it, and God will lead and direct your step. So do you have any closing words about attending a homeschool convention today?
Jeannie Fulbright Well, I just have never heard anybody say they regretted going to a homeschool convention. It is worth the investment. Even if you have to travel and get a hotel, it is worth it. Nobody has ever wished they didn't go.
Julie Ross That's true. Yeah, that's a really good point. So both Jeannie and I will be at the Great Homeschool Conventions, so go to GreatHomeschoolConventions.com. I think, if you're listening to this when this episode airs in January, it's still early bird pricing, I can't remember when that ends. Do you remember?
Jeannie Fulbright Um, I don't know when the early bird pricing ends.
Julie Ross But you could still get a discount, I think, till the end of January is when it goes to like the big price...not the big price, the full price. Whatever. But the other thing too is it's such a great deal because you can go as a whole family. And that's like what we're saying with bringing your kids and stuff. When you bring a bunch of people, it really does save a lot of money.
Jeannie Fulbright Yeah. And so if you go to my website, there's some additional discounts there and the other conventions that I am attending or speaking at. And so I would love for any of you who listen to this podcast for you to come and introduce yourself to me because that's always such a huge blessing to meet my people.
Julie Ross Yes, for sure. Yeah. We'll link to both of our speaking sites. How about that in the show notes? And that way people can kind of see the different conventions and where to go. And, you know, there might be one that's really close to where you live that you never even heard about yet. So, you know, take the opportunity to...
Jeannie Fulbright Yeah, or it could be in the city where your parents live, or a city where your best friend lives who you haven't seen in five years. There's lots of different ways to make it even more fun.
Julie Ross Yes, that's awesome. Well, I look forward to seeing you, Jeannie, at the Greenville one. Is that the first one this year?
Jeannie Fulbright Missouri is the first one.
Julie Ross Missouri's the first one. Yes. I like seeing my friends too, at the conventions. Thank you, everyone, for listening. And we hope to see you in 2023. Bye.
Jeannie Fulbright Bye.
Julie Ross Hey, thanks for listening to today's episode. If you'd like to know more about the Charlotte Mason style of education, check out AGentleFeast.com and click on the Learn More button for a free four-day introduction course. If you'd like the show notes for today's episode, you can find those at Homeschooling.mom and click on The Charlotte Mason Show. If you haven't already, please subscribe to the podcast, and while you're there, could you leave us a quick review? This will help other homeschooling parents like you get connected to our community. And finally tag us on Instagram @Homeschoolingdotmom. That's @Homeschoolingdotmom. And let us know what you thought of today's episode. Don't forget to check out the people at Medi-Share because you deserve healthcare you can trust. To learn more about Medi-Share and why over 400,000 Christians have made the switch. Go to GreatHomeschoolConventions.com/MediShare.
Julie Ross Have you joined us at one of the Great Homeschool Conventions? The Great Homeschool Conventions are the homeschooling events of the year, offering outstanding speakers, hundreds of workshops covering today's top parenting and homeschooling topics, and the largest homeschool curriculum exhibit halls in the United States. Find out more at GreatHomeschoolConventions.com. I hope to see you there. Until next time, I hope your days are full of books, beauty, and biblical truth. Thanks for listening.