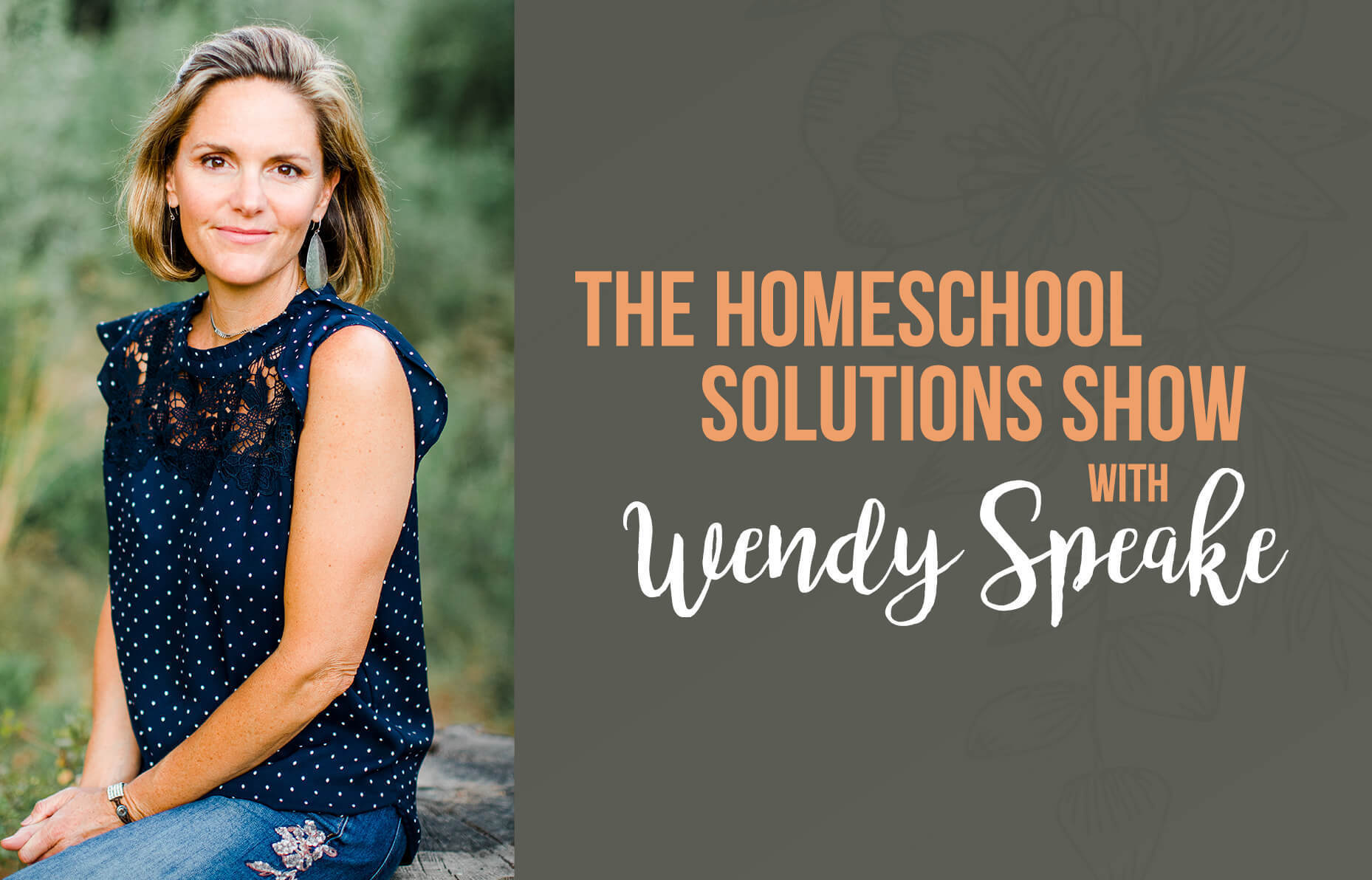 HS 212: September McCarthy — Why Homeschooling Matters
Links and Resources:
Show Notes:
DESCRIPTION:
September McCarthy has been homeschooling for 24 years! She is the mom of 10, grandma to 7, and her youngest is only 8. Which means that she's still in the trenches with us, but has great-gobs of wisdom to share. September is the author of [Why] Motherhood Matters and is talking with us today about [Why] Homeschooling Matters. Her top reasons for choosing to homeschool her children are to help them:
Know their identity
Grow in character
Develop strong relationships
Discover their mission for life
In today's conversation we talk a lot about all four of these things, but my main takeaway had to do with teaching my children about good and Godly character traits. I don't want to simply discipline my children for the times they lack character. I want to train my children to grow in character. September's "Character Matters" cards and posters are valuable resources to help us do just that!
TODAY'S GUEST:
September McCarthy is the homeschooling mom of 10 children and author of the book [Why] Motherhood Matters. She encourages women to instill character in their children and has created a line of products to help us do just that. She sells her character building resources on her Etsy shop, September & co., and is one of the hosts of the Mom to Mom Podcast,.
RESOURCES:
[Why] Motherhood Matters by September McCarthy
Character Matters Cards and Posters can be found at https://www.etsy.com/shop/Sept... don't want to simply discipline my children for the times they lack character. I want to train my children to grow in character. (Wendy Speake)
Character training gives our kids the tools to understand character before we expect it. (September McCarthy) When we model our purpose it gives our kids confidence to walk in their purpose. (September McCarthy) Our goal is not to raise successful kids, but faithful kids. (September McCarthy)Character curriculum is great, but mom who models and teaches character is the best curriculum of all! (Wendy Speake) THERE WILL ALWAYS BE GOOD DAYS THERE WILL ALWAYS BE BAD DAYS. THE GOAL IS TO REMEMBER THAT THE GOOD DAYS ARE COMING. (September McCarthy)
CONNECT WITH SEPTEMBER:
http://www.septembermccarthy.c... on IG
Show Transcript:
Wendy –
Welcome to the Homeschool Solutions podcast brought to you by Sonlight Curriculum and homeschooling.mom. I'm your host, Wendy Speake. Here on the show, every week, you'll get to listen in on some great conversations with wonderful guests, all designed to equip us as homeschooling moms. And then once a month we'll be opening up the Bible together, applying God's word to our long blessed, but often challenging days. It is my hope as we gather together in this space, we will encourage one another with some practical Biblical solutions. I'm so glad you're here. Before we start the show, I'd like to thank our sponsor Sonlight Curriculum, complete homeschool curriculum you're guaranteed to love. And now enjoy the show.
Welcome back to the Homeschool Solutions show. This week I am actually traveling from Fort Worth, Texas, where I was just speaking at the Great Homeschool Convention, and now I'm heading to another Great Homeschool Convention in Greenville, South Carolina, where I am going to get to spend time with today's guest, September McCarthy. How cool is that?
September will be at the convention speaking to homeschooling moms, just like you and me about why motherhood matters and why homeschooling matters. And I'm so glad that she agreed to join us today for this conversation. September McCarthy lives in upstate New York and has 10 kids, ages eight to 27. She also has seven grandkids now, which means that she has got a bit of perspective and I can't wait to soak up her hard-earned wisdom and learn from her example. And I'm excited to share her with you.
Without another word about September, I want to invite September to the show so that she can share some words of her own. You're just going to love her. September. Welcome to the Homeschool Solutions show. I'm so glad we get to chat today.
September –
Thank you, Wendy, I'm super excited to be on the show today and I'm excited to meet up with all the moms and families and parents at the convention this week. And so, really dear topic to my heart and something. I had been homeschooling for 23 years now. So, I have a lot to share and a lot to learn. Still, cause we're always learning about this.
Wendy –
Yes. Isn't that the truth? So can you tell us some of your story? I mean, 23 years. Your firstborn is 27, which means that you're basically a pioneer woman in the homeschooling world. You and your husband think that this was a good idea. You chose to homeschool. Did you have a community of friends or family around you that supported you in this or was already doing it? How did you make this choice?
September –
You know, it… back in the day, which sounds so old and kind of dates me, but yeah, I've been homeschooling a long time, so I'm not afraid to say that. So, when we decided to homeschool, it wasn't a decision that I took too lightly. Because no one else was really homeschooling. There were a few families, hit and miss, but we did not have a strong homeschooling community like people do today. And I don't know if anyone's listening today that is in the throes of making the decision to homeschool or if they should begin. But for us, it was more about our children's character and their heart and the formative years than it was about their education at that point. You know, that was 23 years ago. As I've journeyed through this homeschool process, I have learned that there's so much more to homeschooling to take into consideration, you know, academics and of course, and I think a lot of people make the decision to homeschool because of academics. But for me it was a little different as a mom, you know, I didn't homeschool to keep my child protected from the world. I didn't, I really just wanted to be with them in their formative years. And that's what drove our decision to homeschool. And I know it's different for everyone. Some people homeschool because they feel that they have to, or their school system forces them to whatever the situation is. You know, my passion is why it matters. And I really feel like sometimes as parents, when we're making the decision to begin homeschooling, we really need to define and refine our purpose. You know, even if you've been homeschooling a few years and you're in the throes of it, maybe go back to the purpose because it's, if we forget our, our "why", why we're doing this, sometimes we lose our vision and our for our focus and our momentum. And so I think that's why that's a really passionate topic to me, why homeschooling matters. Because a lot of times we forget our "why", we forget our purpose. And so, we're just kind of trudging along trying to make it work and we become frustrated or discouraged. And so, I'm always encouraged when I see parents kind of thriving in their homeschool and I know it's because they know why they're doing that.
Wendy –
I love that. That's so good. I'm a little distracted. I have to tell you because I'm writing down everything you say. It's so true in those seasons where we're most alive as a family is because we know our "why". I mean, even in things that seem unrelated to homeschooling, just the "why" of our family. And my husband's been saying that recently. He said, I want to know my "why" so strong that every decision I make lines up with what my life is about. And one of the things we value a lot is mission work. And so am I, am I saying yes to partnering with missionaries? Are we going and encouraging missionaries? Are we going living as missionaries right where we are and am I bringing my kids up into that missional pursuit? And that really is his "why". My personal "why" is sharing the Gospel, seeing women come to salvation and work out their salvation, seeing my children come to salvation and work out their salvation.
And when I know my "why", and I'm talking not about homeschooling, but just my life "why" and I'm walking in choices that are consistent with my "why", life is vibrant and alive, and it has purpose. And so why not in the specific areas of our lives know what our "why" is? And I think that's wonderful. And the, and the life "why" will then become a big part of our smaller why's in the specific choices we're making. So, in my life, why affects the way… it affects my "why" for homeschooling? I want my kids to spend time in the Word to know God and then be prepared to make Him known out into the world. So that's my "why". That's a big part. Like you, it started with a character choice. It started with a value system and, yet it turns out that all three of my kids have had some learning challenges and so it was like the Lord called us to homeschool for reasons other than what we ended up really needing it for as well. You know, here we were. So, when they struggled, I was there to help them through their struggles. But, anyway, so many thoughts. That's why I'm taking notes as you talk.
September –
Yeah, well, you know, the thing about homeschooling for me personally, and I think a lot of women or parents who are homeschooling can attest to this, is that, you know, we begin homeschooling with a lot of different reasons, but in the end it is a journey about us as well. It's not just about our children, it's about us, as moms or parents or dads, whoever's homeschooling our children and growing spiritually, emotionally, growing in our parenting journey, learning more about ourselves. And it has been a really sanctifying thing, aside from motherhood. I mean, you know, I'm a mom and a teacher and I think that's sometimes the biggest challenge to separate ourselves as the mom and the teacher and not letting one role kind of usurp the other, and you know, because I want to be primarily my kid's mom first. I want them to know me as their mom and to love me as their mom. But then when I'm in teacher role, it becomes a little bit more frustrating I think for, for us because we want to be able to separate those two. But really we're just learning more about who we are. So, we can model our "why".
When we're modeling why we're doing something in our purpose, our kids, you know, they're watching us, which gives them motivation to become confident in what they're doing. You know, I think that's the biggest thing in homeschooling is to remember that when we have a purpose, it kind of crafts our confidence. Like it, it forms this confidence in us so that we're not walking in fear, fear we're going to mess up our kids or fear that we don't know what we're doing or fear that, we're not doing it like someone else in comparison. And so it's just a great tool. I think homeschooling, I just think of it something like a, like something in my husband sees a builder and it's little tool belt. You know, it just builds confidence. Knowing our "why" and giving us purpose. But I don't want to walk in my homeschooling journey and it's been a journey in fear, you know? And comparing myself to others or afraid I'm gonna going to mess up my children. Because I tell my children this and my children have, you know, I have grown up adult children now and they have said, mom, one of the things you told us as you homeschooled and as you parented us was that our job is not to be "successful" Like as the world sees success, even though we're raising our kids to, you know, graduate and get a job, go out into the workforce. Our job is not to be successful, but it's really faithfulness that God wants. And so I always tell my kids, you know, be faithful and all these things and in all the areas that God has given you and for us it's homeschooling. And then you will see the success.
Wendy –
Yeah. I'm reminded that God has prepared good works for us to walk in. And that's not… you know, when we focus on success, then we look to the world standards of what success looks like. But when we focus on faithfulness, being able to hear God and discern His will specifically for us as individuals, then we find those good works. And now that might lead to success, success spiritually, but maybe there will be success in the worlds standards, maybe there won't be. But when the focus is on being faithful, then you're faithful to find God's plan for each life rather than molding kids that the world esteems you know?
September –
Right.
Wendy –
So that's good for me to hear. I was thinking as you were talking about identity and what I'm hearing you say is not focusing so much on our identity as a homeschool mom, but as a mom. And I was watching with my boys just the other day, the recent Kendrick's movie, Overcomer. Did you get to see that?
September –
Yes.
Wendy –
And one of the recurring themes and in it is, one of the main characters asks the coach, who are you?
September –
Right.
Wendy –
And he says, well, I'm a coach. Yeah, but who are you? I'm a father. I'm a husband. I'm a teacher. And he goes through all of it. In a very end he says, well, and I'm a Christian. And the man asking him says, really? Cause you didn't start with that. And then the coach of course gets to grow in his understanding that who he is is rooted and established. His identity is founded and formed in his faith in Christ. And then he gets to pass that message on to a young woman on his cross-country team. And her transformation is radical when she learns that that's who she is and she spends time in Ephesians one and two and really gets to go through those Scriptures and find, who am I? I'm chosen, I'm loved, I'm a daughter. And I think that we all can struggle with finding our identity in these roles that we play. But when it comes down first and foremost to being chosen, being loved, being redeemed, being adopted by God, then all the other roles, we find our purpose, you know? Back to that idea of what's our purpose. Even the role as mom is an overflow of who we are in Christ and then who we are from there goes to who we are as a homeschooling mom. But it doesn't start with our identity being I homeschool or I'm successful here. So that's really cool to me. Our purpose starts there and then it flows from there.
But it's not easy even when we have a good sense of our purpose.
September –
Right.
Wendy –
It's not easy. I'm imagining that you had some difficulties. You were raising and homeschooling 10 kids over the course of a 20, almost 20-year separation and ages. How did you, how did you, can we just get practical now? What did that look like?
September –
For sure, yeah. No, you know, it's, you know, just literally to, just to record this podcast, I had to, you know, walk out of the schoolroom and set everyone up with a subject, different grades. I still have four kids at home that I'm homeschooling, and I was never this picture-perfect Instagram worthy schoolroom. Usually, it looked like us homeschooling at our dining room table and totes of books. and stacks, multiple grades and a lot of character work. Which I'm really passionate about because usually when it comes down to it, it's not about learning, you know, triple-digit division or spelling lists. It's about my kids' hearts. But I felt like I was constantly, my brain was jumping from one place to one child to the next thing, to lunch and snacks and who's going to clean up the kitchen and do we leave the kitchen and how do we get all this done? And it was 20 years of mass mayhem.
But I literally have fallen into a very beautiful place of homeschooling, just quote-unquote, just for children. Which seems like a lot perhaps if someone's just starting out. But for me, I have learned so much about what I would do and not do. And that's why I'm always so excited to talk about homeschooling. Because I really wish someone had just said, September, there's going to be some things that you're going to be able to figure out, but there's also going to be some things that will always be the same. And the things that are will always be the same is that there will be hard days and there will be really good days. And to remember on the really HARD hard days that the good days are coming. Because when you're on a hard day for homeschooling, you feel like, I can't do this, or I'm done or I'm going to put you in school. You know, all of those things that come out of our mouth sometimes as moms, they came out of my mouth and I, I literally at one point, I've shared this story multiple times, but, when it came to our second daughter who is now married with five children, she has a very different personality from me, very strong independent personality. And so it got to the point when she was about 13, 14 that every single school day became a conflict. And, you know, I still had a lot of little kids under her, so there was no time in the day for me to just stop everyone and deal with her exclusively all day long.
And so, after a lot of tears and frustrations and overcoming the fear of failure or I, I was not able to do this, we actually reached out to a friend of mine and we hired her to tutor my daughter. And my husband took my daughter to my friend's house for three years and then we continue to homeschool her, and she ended up in private school for her last two years of high school. And she became, you know, student body president and lead of the worship team very strong, like all of those things.
But I knew as a mom I was learning there was a place and at a time for saying when I should homeschool and when I shouldn't. And we learned very quickly early on that it's not for all kids at all times. At least for our family. And so, I had to make those hard decisions. But it hasn't always looked the same. You know? Sometimes I have older helpers, sometimes I had a lot of babies. Sometimes I have my grandkids at my house and I'm taking care of them when I homeschool.
And so, we've just learned a lot of really great coping and helpful tips to keep us, you know, going with good momentum and a good education and you know, it's not perfect but, but we do our best.
Wendy –
Yeah. I'd love to… first of all, thank you for sharing that. Before we hit record on this podcast, I was telling you that I have that one kid that at the beginning homeschool didn't fit him. And he's in sixth grade now and I've just brought him back and he's so excited and I'm excited and the time is now. And there's a lot freedom that we have choices that we get to make those choices. He was in this really small darling private school. Their values there… and it was a small Christian school… their values were in line with our values. He was getting good Bible teaching and a good education for those elementary school years and had so much going on. And it fit him well. And I was able to focus on the kids that had some learning challenges and now it's time to bring him home. And we're so excited that the time is now.
But there's a lot of freedom there when we give it to ourselves. And similarly, I, for another kid that was doing lots of pushing and it was causing a lot of stress in our homeschool. I ended up hiring a tutor and he came in three mornings a week to just focus on math. Math was our struggle. And I had a friend suggest it. And I remember saying to her, can I do that? As though there's not freedom. There's not freedom to make these choices. So, thank you for having that conversation. I'm trusting that that's something that multiple someone's needed to hear today.
September –
Yeah.
Wendy –
I'd like to take just a moment to thank another one of today's sponsors, Medi-Share. An affordable and Biblical healthcare alternative. Find out more at mychristiancare.org for their ongoing support of homeschooling families just like ours. And now back to the show.
I would love to get back to your "why". Your "why" is the character, teaching not just reading, writing and arithmetic, but the other R's: respect and you know, responsibility. But also, faith, things of faith.
September –
Yeah.
Wendy –
So, could you talk to us about one, what that looks like in your home and two, how you encourage other families to find the character building of their kids as their "why"? How do you support families in doing that today?
September –
Well, character support, encouragement in my home, I am super passionate about that. But I just want to take a step back and say my "why" for homeschooling really boils down to four things. And that is, we already talked about our children's identity and the other thing is their character. But one other thing that I did want to talk about is there are relationships. I think the best school to learn about relationships and resolving conflicts is in the home, where we have so many years to teach them how to have a relationship with other people, with one another and in the world. And all of that really does come back to character.
So, a lot of my whys are those formative parts of, I like to think of, like the arrow, you know? When we're crafting this arrow and we're going to launch it out into the world is as parents. Homeschooling is a huge part for us in that arrow. Like, I'm not homeschooling my children, you know, just because I want to fill every hour of the day and be with them every second. Like I, I think I would choose something different. But I chose it on purpose because I do have the ability and the choice, and I can. Not everyone can choose to homeschool and not everyone can say, well, you know, I want to bring my child home. They have, they have circumstances that they can't. But because I can, I consider these areas of, like, identity and character to be the parts of the arrow that are going to help them make their mark. That will be their mission when we launch our arrows.
And, and I think of character, like the feathers on a… on an arrow. And one thing I've learned about character by studying how an arrow is crafted, is that the process of crafting an arrow, the longest part is putting those feathers on. Because each time an arrow has a feather attached, it is glued with great precision because it, you know, affects the way it's going to turn and the way it's going to go when it's released from the bow. But more importantly, there's a drying time. And I always have to mentally picture that. So, when I'm teaching my child something because we're working on let's say responsibility. And you know, day after day after day, you know, did you get your spelling list done? Did you write it out? Why didn't you capitalize this letter? Or did you do your tests? Why didn't you do your test? You knew you had a test. Because of course we can be watching them every second.
So, I'm thinking that we need to remind ourselves that it takes time. There's this process of time of putting on character, allowing it to sit and dry and form and then putting on another piece of character just like ourselves. We're all, you know, a work in progress. There's so much grace that requires us to not only teach our kids their subjects and get them involved in where their gifts lie, but then also this character is so formative because it really does affect how that arrow is going to fly as soon as we let it go. Responsibility, attentiveness, honesty, ownership, accountability, you know, all of those… integrity, all of those things that we want them to have. We hope they'll have, you know, just wanna remind parents that are listening today, it's not a one and done process. Well, I taught you how to do such and such.
So, and I think that's the beauty of homeschooling is that we get to do those things while we're teaching our kids a subject and they don't even know, you know? They don't know we're teaching them integrity by not copying, pasting their research paper, how they have to come up with creative content and not,
you know, do something that would not show integrity in their schoolwork or in their interaction with people. And these are amazing opportunities to teacher them character that they might not get. And they may in another situation.
Wendy –
Yeah. I find that when I get just a little bit of time with my kids each day rather than the lion's share. If Asher were to come home from school, having shown a lack of character, you know, making mistakes, just making mistakes. Childish, immature mistakes. My go-to response is to discipline him for his lack of character as opposed to discipling him to grow in character. And I love those words how discipline, self-discipline and discipling go hand in hand. If we start with the discipleship, the, the goal is that they grow to be self-disciplined and to take on those values as their own. And when they make mistakes, there might be a time for discipline, you know, consequences of having made wrong choices, but it started with discipleship. And I think that homeschooling is just about as true a picture of discipleship as we can get. If we see it that way. You know, if we see it as more than the reading, writing, and arithmetic.
September –
Right, right. Well, and even if we don't see it as more than just subjects, I don't think we realize the power of that time that we have with our kids. The power of that time is so valuable. Like I think sometimes as parents we, we parent or we try to, I know that I, this is me, I'm speaking when I say us, I'm speaking of myself of course. But you know, I try to parent out of correction or assuming that my child knows something. But in the moments when we take our child on a field trip and we use the word, let's be attentive, which is a character quality. And our kids know what attentive means because we've been working on it in our homeschool, you know, when we're standing at the board or working with them in math and we say, you know, when I, when I speak to you, I'd like you to pay attention by looking at me and acknowledging what I say. Because then I know you're being attentive. We're using all of these character words and we don't have to get caught up in the legalism of using the word. But the point is that when we go to a field trip or when we go see their state representative, or when they're going to take a state test, and I, and we say, now, remember, you need to be attentive by showing respect to other people. They know what it means.
That came in those daily moments of homeschooling. That time is so valuable. And I think sometimes we don't think about it that way. We just think, well, we have to do math now and we have to do spelling. And when I go into a subject, you know, it's not all ideal and it's not perfect. And I may have a baby on my lap and my adult child trying to FaceTime me to see, you know, what they can bring to dinner on Sunday. But sometimes I'm trying to do too many things at once and sometimes I have an opportunity to just have this pocket of time and say to my kids, you know, we're going to work on integrity this week.
And I actually, we started a company that created some character Biblical cards and posters for homeschool rooms, and for schools. Because I learned that the more we practice these things in our home and know what it means and put a Bible verse and it is so formative to having tools and resources at our fingertips instead of just trying to come up with something. But…
Wendy –
Well, I'd love to hear more about what those tools are, but I, I, I tell you what I heard you saying is the very best piece of character curriculum. You know, we have a curriculum for our math. We have a curriculum for our English, we have a curriculum for our… I love the curriculum that we used this morning for our spelling and vocabulary. We're studying Latin and Greek roots. And then instead of like sound families, we're just focusing on word families that have to do with those root words. And I love those pieces of curriculum. But what I hear you first saying is the most powerful piece of curriculum that you have to teach character to your kids is you and the time you're spending together, not over that piece of curriculum, but with them in daily life. Talking about modeling, living out, finding opportunities to just insert those words, insert those ideas about character traits, identity, resolving conflict in relationships. That becomes the number one main way you're teaching character, and all these things.
However, I think that we can sometimes just start talking about, you know, you need to have integrity, you need to do this, you need to do that. You need to confess your sins to each other. And, instead of just accusing at what the sibling is doing wrong. And so, when we actually do have some cards, some posters to help us grow our vocabulary, our character vocabulary, and learn, what does this mean? What does the Bible have to say about it? What could this look like in situations in our home? And then outside of our home in the world. I mean it's wonderful to have resources. So I hear you saying both these things. One, mom, you're… you matter, mothering matters, homeschooling matters, because you're the number one resource in character development and faith development. And two, but why not get some resources? So you have created some resources for moms and schools and churches. And can you tell us a little bit more about what those resources are?
September –
Yeah, yeah. So, we started a shop for families called September & Co., and it's on Etsy. We just put it there to keep it, you know, easily accessible to families. And it… we began with a simple set of character cards. They're on a ring, moms can hook them on their diaper bag, they can use them in homeschool co-ops or groups. I use mine and my morning basket. I'm sure, you know, if you're homeschooling parent, you know what a morning basket concept is. If not, we keep him on our dining room table in a place nearby. You can keep him in the car, on your keyring, whatever you want. But the point and the purpose of these is to give our kids the tools to understand what character looks like before we expect it of them. And so, you know, we have some principles on there, some like five or four simple, what is attentiveness?
And so, for example, I'll say to my children, we're heading into, let's say, like I said, a play, earlier at the local theater, and I'll say, so we're going to be attentive, right? But they know what attentive means because we went over those things a couple days a week. And attentiveness means to look at the people speaking and to not be a distraction to those around us and to show respect when someone's talking. And, so I go over those things during the week. So when I need to say, you know, let's be attentive today. I'm not taking 10 minutes. You know, my kids are tuning me out because every time we go somewhere, don't we as moms, even as homeschooling moms, we have our books in our backpacks and we're giving spelling tests as we drive down the road. At least that's what I, that's what…
Wendy –
You drive down the road!
September –
You know, I mean, that's what my homeschooling looks like sometimes because when…
Wendy –
I think we call that, September, car schooling, not homeschooling.
September –
Yeah. Because, you know, we go to, we take our kids to piano lessons or to ballet because we're outsourcing so many things. And so sometimes I'm, I'm always saying the same things and I don't always want to be saying, were you attentive? Were you good? Were you honest? And sometimes I just want to remind them, you know, just remember to be attentive. And the reason that they know that is because we, you know, work through our cards and, or we had a poster up in the house. And so, September & Co… which is basically the company is my family because the way this was born is that my adult children who I homeschooled, and they saw me grow up in this homeschool journey. And you know, I basically grew up with them. They saw me learning and growing as a homeschooling mom. They gave me so much grace and now they say, mom, you know, you're having so many workshops on the things that you've done over the years with homeschooling. Maybe it's time that you made the materials so people, other families can use these. And I said, Oh no, you know, no one really wants those or no one really…. And they said, no, we want them. And so, they became the "Co" of September & Co., and we do it as a family. And they'll remind me, remember when you had, you know… would teach us a character lesson on such and such? Or, remember when we did chores and we rotated our areas while we homeschooled? And remember, you know, such and such.
And so that's where it, September & Co. was born, and the shop and the material. So, my daughter and I, we run that together and it's just been really great, and now she's homeschooling. It's just really neat to see how God has basically grown me up. I've basically grown up with my kids and this whole journey of homeschooling.
Wendy –
Hmm. That's beautiful. I've talked before about how I've had struggles in my homeschool and just personal struggles for myself. I mean, my children have had struggles. That's their job. But I find that sometimes their struggles become my biggest struggles. And I'm… I feel like I'm growing up in that I'm able to see, Oh no, their challenges are theirchallenges. And my job is to help them with their challenges rather than beingchallenged about their challenges. And there's a book, a quote about marriage that says that marriage isn't intended to make us happy, but to make us Holy. And then it goes on to say that marriage is the laboratory where holiness is cultivated. Anyway.
I say that to say, you know, that hasn't really been my experience. Marriage for us has been oftentimes very easy. Like, it's been a real gift. And I know that's not usual. However, raising children and homeschooling has been a very refining process for me. And so I say that raising children is the laboratory for my holiness, but homeschooling is the Petri dish. It's where it really, really grows. And so, this has been… I've done a lot of growing up too with my kids and there's a lot of grace there. Isn't there a lot of grace they show us? A lot of grace that we show them. And again, there's no better curriculum out there on the market than relationship.
Oh, I wanted to hop back and then we'll wrap this up. Cause I know you've got kids waiting for you. I've got kids waiting for me and listeners have kids waiting for them. You said that there are, I believe, did you say there are three main reasons why you homeschool your kids or did you say four?
September –
I did say four and I didn't list the last one and that one…
Wendy –
Yeah, cause I had an identity, character, relationships, and I love that one, relationships. And I say to my kids all the time, it's not just about your relationships in your home. We get to learn to do relationships with each other for the benefit of every relationship you're going to have in this life. So I love that one. So, what's number four?
September –
So, number four is mission. Like what is our children's purpose? Their mission. Not just ours but theirs. And that really fires me up because we have this unique gift as homeschooling parents to see so much more in our child than a report card. You know, we have the ability to see what makes them tick and what makes them happy or sad or what makes them motivated. And sometimes as homeschooling parents, I think we get so caught up in looking around at what everyone else is doing with their children or their child. Maybe we're looking for curriculum or looking for the best book to read. Which, those things are so important, and I love all of the resources that are available. But your child is your child and God gave your child to you for a very important reason. And that's to remember that they were made uniquely for a purpose. And it wasn't just to survive, for both of you to survive, those years of homeschooling. Although that seems very, very important some days, to think how you're going to get through that day with that child or how they're going to get through with you.
But in all reality, every time I get more frustrated with a particular subject or a roadblock, I hit in my homeschooling, I always remember, because my husband reminds me, he says, September, these struggles that we're facing with this particular child right now are because they are, one, they have a sin nature like us and two, so we're dealing with the sin. And we try to separate that, you know. But more importantly, they have a purpose. And these struggles are actually their strengths. These are the things that we are like chipping away and God is allowing us to see so we can build them up to be stronger people. Because we don't know what their purpose is, but we know that we're on a mission. So the "why" of homeschooling is so much more than just picking out the best curriculum. Although that's one of the most fun things about going, I think. Right? Yeah. So I, yeah, I love that. I love looking around, but even that is exciting to them.
Wendy –
That should go hand in hand with the uniqueness of their design. So I love that. You know what's interesting to me is I think one of the very first… yeah, the first interview that I shared here on the Homeschool Solutions show was with Sally Clarkson, who… she may have started homeschooling just a couple of years before you, or maybe right at the same time. I'm not sure of the age of her kids, but right around the same time. And I asked her the question, you know, what's her… what… basically what's her "why". I didn't use those terms, but that's your term. And I asked her, basically, that. And she said they homeschooled for three reasons. One, to develop a love for learning, two, to develop a love for God, and three, to understand and grow a thrilling sense of wonder regarding each child's unique destiny.
And that's what I'm hearing is your final "why" as well. What is their mission? What is their purpose? What is their design from God? What did He make them for? And at the beginning I said, you know, that we have… that we've been created for good works, that we should walk in them. And our kids have been created for good works that they should walk in them. And what a privilege to partner with God to discover their "why".
And so, our "why" leads to their "why" and that's just so cool, September. I'm going to have in the show notes here, quotes from our time together because I was scribbling like mad. I'm going to have links to your book, Why Motherhood Matters, which I love. And also, to your September and Company, your September & Co. Etsy site. Because there are resources there that I would love to look through for our homeschool or car school time together. And I know that others listening would love that as well. And I was wondering… you've shared so much. Would you bless us by just praying for us here at the end that the Lord would give us a renewed sense of purpose and help us with the help of his Holy Spirit to understand our "why"? To keep in step with that "why" and then to invite our kids into the "why" of their own life.
September –
Yeah, definitely. Lord, I just, I want to thank You for the families listening today. Those that will be attending convention for Great Homeschool, and all of the different places they will be. And for those listening today, I pray for their families and their homeschooling tables or school rooms or the little children sitting on our laps as we read them books and invest into their lives. I pray that You will give us a heart for homeschooling and what really matters and that is to reach our children right where You want us to reach them, to spark a passion, ignite a life of living for You and a desire for learning more and a love for the mission of homeschooling. I pray for the future of all of our children, that they will grow in knowledge and wisdom and that we will not walk in fear or comparison.
I pray, Father, for us to remember to be planted by streams of living water so that we will bear fruit in season and that all we do will prosper for You. I pray that You will help us to have Your peace which passes all understanding and that You will keep our hearts and minds in Christ Jesus as we do our lessons and as we teach our children the very most important thing, and that is what is their "why", what are they made for? Why are they here? That You will give us courage to do this bravely and to do it well and then, even in our moments of frustration and confusion that You will help us to remember that You are in control, that You've got this and that homeschooling matters to You. In Jesus Name, Amen.
Wendy –
Amen. I love it. Thank you so much. Again everybody, I'm going to link to all these resources, but also September's social media sites in case you enjoy being on Facebook or Instagram or want to follow along on her blog, as well as her book, Why Motherhood Matters.
Thank you, September, for being with us today for blessing us with your wisdom and your prayer. I'm so excited to see you tomorrow in Greenville, South Carolina. And for another wonderful Great Homeschool Convention there. I'll see you then. Goodbye everybody. I hope to see some of you there as well. All right, my dear friend.
September –
Thank you, Wendy,
Wendy –
What a privilege it is to have these conversations with you each week. You are so busy and I don't take it lightly that you tuned in with new here for a weekly shot of encouragement. As a reminder, you can subscribe to the Homeschool Solutions podcast through Apple or Google Play. And your positive reviews always help other homeschool families find us online.
Before we say goodbye, I'd like to thank Sonlight Curriculum one more time. Not only do they support homeschool families, they are also big supporters of the Homeschool Solutions podcast. And another supporter is the Great Homeschool Conventions. I don't know if you've ever been to one, but I heartily endorse that you find one near you. Every year they host multiple conventions in various regions throughout the US. Find a location at greathomeschoolconventions.com. With dozens of incredible speakers, hundreds of curriculum exhibits, you will leave blessed, refreshed, helped, and encouraged.
I will be in Texas, South Carolina, Ohio, and of course my home state California this year. I hope to see some of you there. Until next week, visit homeschooling.mom for blog posts to encourage and support you along the way. And remember Galatians six verse nine: let us not grow weary of doing good for in due season we will reap if we do not give up. That's a promise that I take to the bank every day, and I hope you do too. This is Wendy Speake, and I look forward to chatting with you again next week.
Thanks to our sponsors: