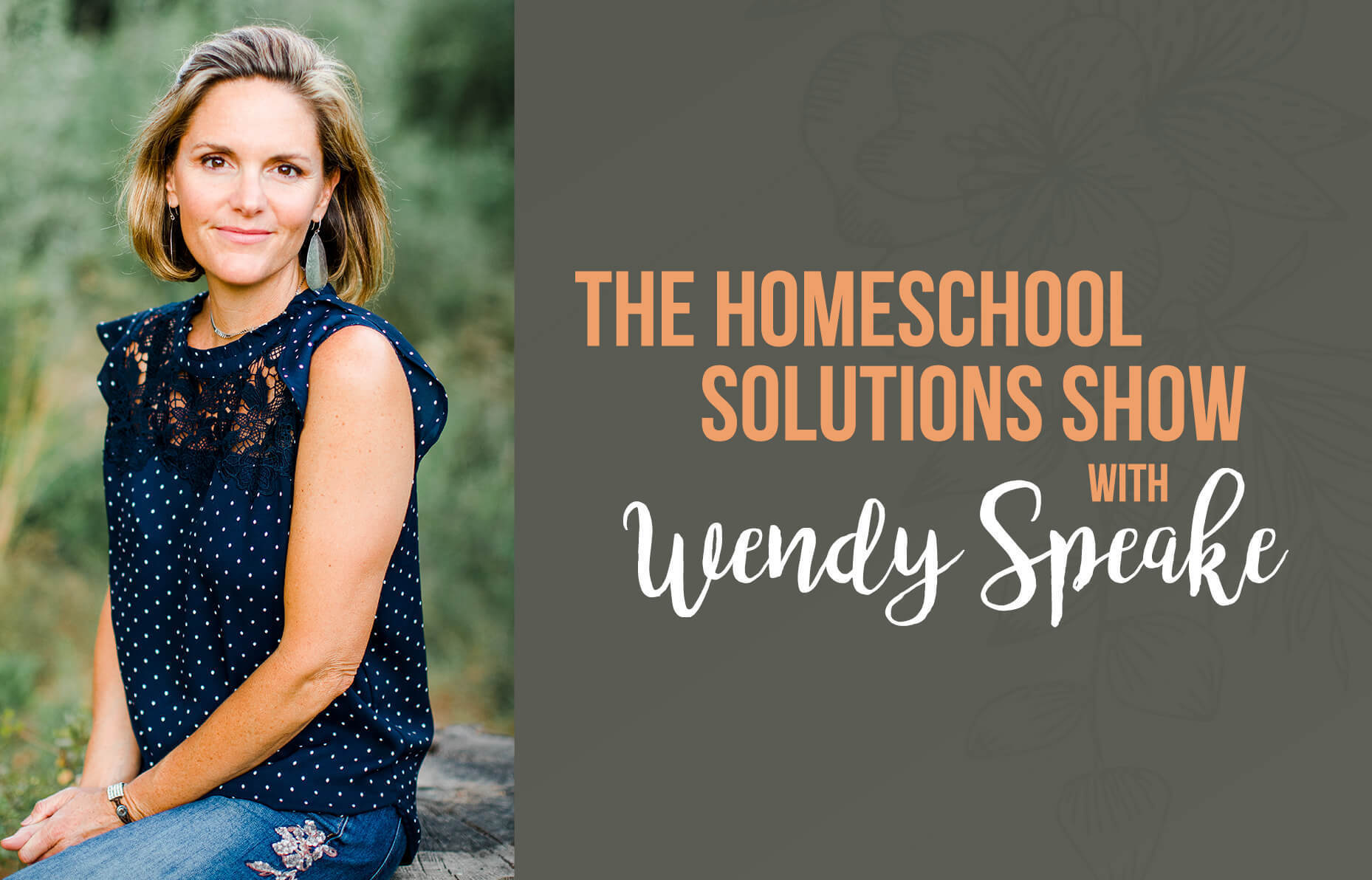 HS 213: [Audioblog] Jean Burk- Golden Ticket to College
Show Transcript:
HS EP 213 Jean Burke
Wendy – Oh hey there, welcome to the Homeschool Solutions podcast. I'm your host Wendy Speake. Here on the podcast, we start each week with a longer, more traditional podcast, most often with guests. But sometimes we simply open the Word together and apply it directly to our homeschooling days. On Thursdays however, we share shorter episodes that I like to call blog casts, where one of our favorite homeschool bloggers simply encourages us with the content of one of their recent blog posts. I hope this message serves you and your family today. As always, I'd like to thank our sponsor, Sonlight Curriculum. The wonderful people at Sonlight Curriculum offer complete homeschool curriculum that you are guaranteed to love. And now, let me introduce you to one of my friends.
Jean – Hello, I am Jean Burke, and I am the creator of College Prep Genius, and I'm so excited today about sharing one of my very popular articles. And I just want you know I'm gonna be speaking at all seven Great Homeschool Conventions this year. I'd love to meet with you. Drop by my booth, come to one of my speeches. I have a roadmap for success that we give out at our booth. So drop by and pick one up.
I'm real excited about sharing with you as also a veteran homeschooling mom of how we got free college and you know, hopefully you can apply some information I will be sharing today. Later on, maybe another blog, I'll show you how my son was offered lots of full rides to law school and my daughter, full rides to grad school.
Think college can happen for your homeschool student. Full scholarship. Two words that could change your life. Going to college for free can be like winning the lottery. Imagine throwing away seven cash bags full of scholarship offers. This can include free ride, full room and board, graduate school, money, etc. This is what happened to us and I'll show you some important tips that can help you. Whether you're a student or a parent with college in mind, we're going to learn how you can minimize or completely obliterate your possible future college debt.
This article will help you make your college years much more affordable in the short and long term. Maybe something you read here will help you get free college, so let's begin.
For some families, getting just one scholarship offer can be the difference between going to a junior college or attending a perfect university. There's no denying that it's getting harder and harder to afford to go to college and to launch yourself into the career of your dreams. The price of college tuition has increased by 600% in the last 25 years and our nation is 1.2 trillion dollars in college debt.
The burden is being placed more and more on the students themselves, as they have to pay for tuition, room and board, books, fees, transportation, and so much more. In fact, the average college loan per student is around $100,000. And it takes around 20 years to pay off this debt. College debt has become so crippling to many graduates that they are now often unable to afford a mortgage.
As a parent of a precollege child, you have spent the last 9 to 12 years dedicating your time, money, and energy to your child learning at school. Like most parents, higher education is your goal, and it's likely that you want your son or daughter to go to college. Scholarships can still come your way, even if you haven't managed to squirrel away enough money into a college funds. Guidance counselors may not have all the answers to finding all the right scholarship opportunities, so let me let you in on some information that may open a few doors and change your life.
My five top alpha secrets to winning scholarships and free college. These little-known tips and secrets will help you stay ahead of the pack. It's surprising, but I found that most public, private, and even homeschool students are either not aware of them, or don't take the time to put these guidelines into practice.
A in Alpha, Aim. Aim high. It's simple. Colleges love students with great test scores. Full scholarships are obtained by students who receive certain scores on their PSAT, SAT, or ACT tests. There are usually several full rides of scholarships available in each department of most colleges. Colleges will gladly help pay the way for students with the best scores. It's because they get their national rankings based on scores so aim high and attract the best colleges and the best offers. As a matter of fact, 85% of colleges will admit and give scholarship money on test scores alone.
L. Logic rules. Did you know that tests like the SAT and PSAT are tests of logic? They do not test exclusive knowledge or curriculum only learned at a public or private school. Many smart kids through all different academic and demographic backgrounds do poorly on these tests because they don't understand the test or how to look at the questions logically. Learn logic and how to answer every question in 30 seconds or less and then pass the test with flying colors.
P. Practice, practice, practice. Succeeding on these standardized tests can simply be a matter of finding the numerous recurring patterns and learning and practicing the test taking techniques. You will find the questions themselves, very often point to the answers. Students can learn to answer them quickly or they discover the secret methods and many other successful test takers have done in the past.
H. Habit. Just decoding and knowing that there are repeated patterns within tests is not enough. Now you have to make your progress undeniable. When you practice often enough, you'll create an automatic habit. Schedule 20 minutes a day or an hour or a couple hours a week to practicing these techniques, if nothing else, at the very least. It will stop you from having to cram at test time and you could actually find free tests online from the college board or the ACT company.
A. Act. Big scholarship money starts to be thrown around in the junior year. So put time on your side. The earlier you take the PSAT and SAT tests, the better. It gives you plenty of time to work on your weaknesses, and generally, it's a good start to prepare for these tests in eighth grade, ninth grade or above. We even have sixth graders who do our program. Try not to wait until the junior year for your first try. You may not know this, but students can start taking the SAT as early as fourth grade.
The SAT is offered seven times a year, from August through June. And there's no penalty for taking it many times. Colleges usually take the highest scores without averaging them and most schools will even take the highest score from each section from different tests. That is called Super Score. The SAT is used as an academic leveler. You see, because all schools weigh and calculate their scores differently, the SAT allows students to compare to the others on the same level playing field. That is why 4.0 GPA may score differently from one school to another.
Your best bet. Take advantage of the many opportunities for free college is to aim for your desired test score. Remember ALPHA… A-L-P-H-A. Your most important keys to help you find some of, or even entire college funds.
Creative ??? ways to pay for college. No family should have to be strapped with college loans. Your decision to go to college should be about choosing the best school for you. Here are some unique ways to get college money.
Pay for college with milk money. Imagine getting money back on every dollar you spend and putting it away for college. And I mean anywhere from one to twenty five percent you could earn on everyday purchases such as buying groceries, filling up your tank, eating out, booking travel, shopping online, and more. Upromise is a free service with over 12 million members. You can shop with 600 participating retailers and get up to 25% back. Eat out using a participating credit card and get up to 8% back from more than 8,000 restaurants. Grocery and drug stores have thousands of eligible items, and when you a Upromise registered card, at a check out, you get up to 3% back. This goes towards your child's education. And you could make it a family affair. When your family and friends join, their purchases can also go toward your Upromise account and your child's education.
Be low income. Here's a priceless piece of information. Not making a lot of money can actually work to your advantage when it comes to paying for college. There are 72 colleges and universities that have replaced loans with grants and scholarships for lower income families. These are called cost containment programs. In some cases, colleges are counting lower income as less than $140,000. Thinaid is a great website to go to for comprehensive information. Many of these are ivy league institutions and in order to qualify, some of these only assess the income earned the year prior to your student applying to college.
There are also colleges that cap their loans. And for some the figure is as low as $5,000 for a total of four years. Students with low GPA's are also eligible for scholarship money. Take a look at the organization called Colleges that Change Lives. For more information about finding out the right college for you.
Credit for prior learning. Entering college with credit for subjects previously studied can not only save you money, but also allow students to skip what they know, graduate early, or even take on another degree. AP, Dual Credit, and ??? are some of the ways that students can cut down the cost of college. Also, check out a program called Freshman Year For Free. It's a free program that allows students to do their first year at home. Students can just pay for any tests that associate with classes, or they can even get those paid for and some of the military will get those at no cost. More information can be found at modernstates.org.
Looking for your education. Students can receive a completely free education by working at the college throughout their school years. At this type of school, none of the students pay because everyone works. Some of these schools are: Ecclesia College in Arkansas, Berea College in Kentucky, College of the Ozarks in Missouri, and Blackburn College in Illinois.
Free college due to huge endowments. There's a good number of colleges that offer free education through college grants or endowments provided by the colleges themselves. Each college will have their own selection of criteria. Students who have military aspirations and the right SAT score can acquire with the naval academy, air force academy, and so on.
Other colleges that fall into this category are Webb Institute in New York, Curtis Institute of Music in Pennsylvania, and the Barclay College in Kansas. Higher education can be a life changing experience. And students who get the higher test scores are usually the ones who get the incredible scholarships. For us, wanting the test secrets was more than worth it. But as you can see from everything I wrote about today, a high test score is just the beginning.
I hope I've helped you how to navigate the complex arrangements around college funding so you can find it easier to follow your heart when it comes to studying for your dream life. Besides, we earned free college and so can you.
I hope this article helped to give you some ideas of how you as a homeschooling family don't have to think so much about your retirement or using your saving or your equity of your home, but there are so many ways to go to college for free. I know it's election season right now and we get a lot of candidates who promise free education, but what I have to say is, there is already free college out there. You just have to know how to get that.
When my son became a national merit scholar, and we threw away so many trash bags of offers, and my daughter got scholarship money, and my friends wanted to learn what we did to get free college, I wrote a book and I wrote an e-course on how to do that, as well as live boot camp. So, visit our website, collegeprepgenius.com for more information or to watch video testimonies of lives that were changed. If you have any questions, email me at [email protected].
Thank you so much.
Wendy – I hope that today's blogcasts equipped and encouraged you. Remember that next week, I'll be back with another great conversation right here on the Homeschool Solutions podcast. My name is Wendy Speake, I'm your host, and I am so glad that you tuned in today. But before we sign off, I'd like to invite you to subscribe right now to the Homeschool Solutions podcast through Apple or Google Play. And speaking of invitations, wont you join me at one of the Great Homeschool Conventions this year? These conventions are my favorite, offering dozens of wonderful speakers and hundreds of inspiring exhibitors. Go to greathomeschoolconventions.com and find one near you in 2020. This year, I will be at the Ohio, Texas, South Carolina, and California conventions. Make sure to stop by and say hey if you'll be at one of those events. But in the meantime, we've got this podcast and homeschooling.mom as other great resources to support you as you educate your kids in math and science and literature yes. But also, as you train them in Godliness and love. Until next time, this is Wendy Speake. I hope that you and your family have a wonderful day.
Thanks to our sponsors: