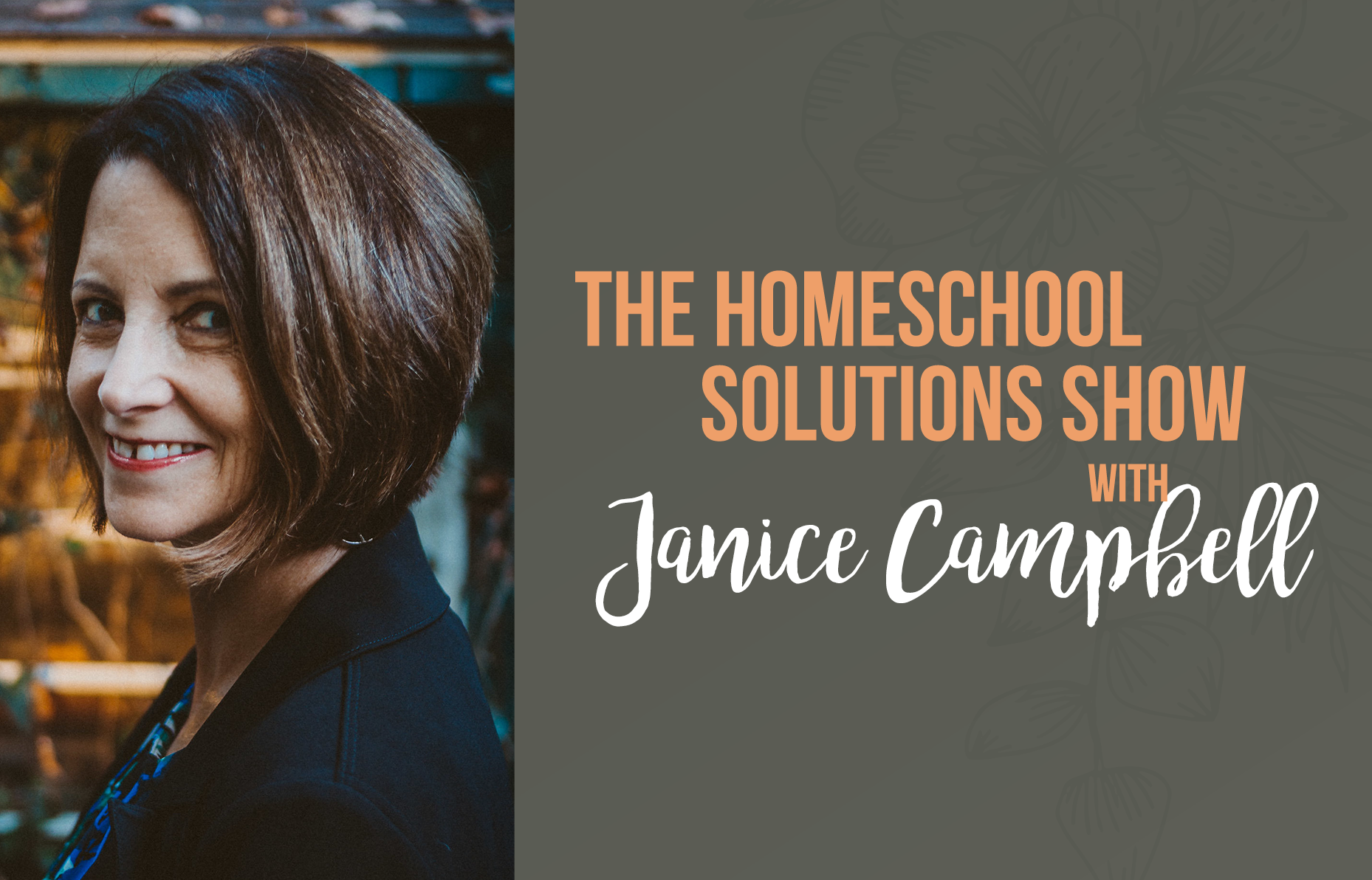 HS #263 Reading and Writing, and Why They Matter with Janice Campbell and Brian Wasko
Links and Resources:
Show Notes:
Brian Wasko's background is in English education. He taught high school English for many years in public and private Christian schools. In 2001, he founded WriteAtHome, an online service offering tutorial writing courses to homeschoolers. He also teaches online literature courses through Wasko Lit, where he can share with young people his love for the great books of Western Civilization. He has been a popular homeschool convention speaker since the early 2000s, entertaining and educating audiences as both keynote and convention speaker at dozens of conferences across the country.
Brian and his family live in Virginia Beach, Virginia. He and his wife, Melanie, homeschooled their four daughters from kindergarten to college.
Quotes:
It's good to know stuff.
Don't assume students understand the positive feedback you didn't directly say.
Reading great literature makes us better people.
Brian Wasko's writing classes and other resources
Where the Sidewalk Ends by Shel Silverstein
Chronicles of Narnia by C. S. Lewis
The Hobbit and Lord of the Rings by J. R. R. Tolkien
Booked: Literature in the Soul of Me by Karen Swallow Prior
Evaluate Writing the Easy Way by Janice Campbell
Miss Thistlebottom's Hobgoblins: The Careful Writer's Guide to the Taboos, Bugbears, and Outmoded Rules of English Usage by Theodone M. Bernstein
Show Transcript:
HS EP 263
Wendy -
Hello, and welcome back to another installment of the Homeschool Solutions Show. My name is Wendy Speake and I am one of the many hosts we have here on the podcast. Each week, you'll hear from one of us, inviting one of our friends to join for a conversation about this busy, blessed season as we educate our children at home.
Now, the title of the show is Homeschool Solutions. While we don't have the answer to every question, we know that all the solutions to every stress and every struggle can be found in the Person and presence of Jesus Christ and His living and active and applicable Word. We are so glad that you're here for today's conversation.
But before we start the show, I'd like to thank our sponsors. Medi-Share. An affordable and Biblical healthcare alternative. Find out more at mychristiancare.org for their ongoing support of homeschooling families just like ours.
And Operation Christmas Child. Now, more than ever, children need hope. As the world struggles with the coronavirus pandemic, we want to let them know that God loves them and has not forgotten them. The best way to get involved is to pack a shoebox yourself. As you specially select each item, packing a shoebox becomes a blessing to you as well as the child who receives it. Be sure to include a note and a photo. If packing a traditional shoebox just isn't an option for you this year, we can do it for you. Build a shoebox online. You can find out more at SamaritansPurse.org/occ.
And now, on to today's show.
Janice -
Hi, I'm Janice Campbell and today I'm here with Brian Wasco to talk about reading, writing, and the reason that good, solid communication skills make everything easier. But first, let me tell you a bit about Brian.
After majoring in English and education, Brian taught high school English in public and private Christian schools. In 2001, he founded writeathome.com, an online service offering tutorial writing courses to homeschoolers. He also teaches online literature courses through Wasco Lit, and he has been a popular homeschool convention speaker since the earlier 2000s at conferences across the country, which is where I first met him. Brian and his family live in Virginia Beach, Virginia, and they homeschooled their four daughters from kindergarten to college.
Welcome to the show, Brian.
Brian -
Thank you. It's great to be here, Janice.
J -
I'm glad you could be with us today. And I didn't realize that you had four daughters until I looked at your biography. We had four sons.
B -
Wow. Should have met earlier. We could have...
J -
I know, seriously. So, as you know, books form a large portion of our lives, both of us. I think we are both English majors. And, since we're doing this interview on Zoom, we both have a large backdrop of books and so, we're going to talk about books and writing. And the first thing I'd like to ask you is, if there is a book or a couple of particular books, that have made an impact on your thinking or way of life at any age?
B -
Good question. And the answer is, of course. I certainly wouldn't be an English teacher in the world of English education if that was not the case. So, the problem, of course, which books to choose to talk about. Because so many books have influenced my life over the years.
Well, I'll begin though, with, probably, the book that turned me into an English teacher. I've said that many times over the years. It's...actually, ??? a version of it... probably no surprise to a lot of people, but it's...yeah, Tolkien's Lord of the Rings.
So, my story was, I was a seventh grader. Yeah, in middle school, in South Jersey, and I had this fantastic English teacher who was full of energy and enthusiasm and he was hilarious and engaging and all the kids loved this guy. And Mr. Wayne was his name, I believe. And he would teach grammar using sentences that he invented...would write on the chalk board, and they always involved elves and hobbits and goblins and dorks and all these crazy imaginative figures, and after a while, students started asking him, you know, Mr. Wayne, where do you get these crazy sentences from? He said, oh, I do this because my favorite books are The Lord of the Rings by J. R. Tolkien. And he would just start telling us about how great this imaginative world was. And so I started reading the books in seventh grade because of Mr. Wayne, and I talk about those and this is my...the years I have lived in Middle Earth. I just...I read the hobbit and the whole trilogy and then I started back with the hobbit and read the whole trilogy and started back. I did it three times through, and at an age when I was a very slow reader.
So, it literally was probably a full calendar year that I didn't read anything other than Lord of the Rings. It was the first time that I felt really gripped by a work of literature. And then, oddly, I became a Christian after that, where I came to faith in my first year of high school through an outreach at my high school, and those were the years of Dungeon's and Dragons. When Dungeon's and Dragons was of great concern to evangelicals everywhere. And we were told over and over about the danger of this board, which, I had never played, but probably would have, if I hadn't heard all these dire warnings. And I just made this connection in my head, you know, this Dungeon's and Dragons, this game about elves and monsters and this sort of fantastic beings and so I assumed, well I guess I shouldn't read Lord of the Rings anymore either because it was the same with witches and witchcraft and wizards and stuff. So, I didn't, until I got to college. And I was involved in a Christian fellowship ministry there, and someone mentioned how much they loved the Lord of the Rings books. And I just asked, wait, it's okay to read Lord of the Rings? I was still a pretty young Christian.
And they said yeah! Tolkien was a Christian! I said, what? You're kidding! And I went right back in and read the whole series of books all over again, so I don't think I would have been in love with books like I am if it hadn't been for Mr. Wayne and the Lord of the Rings books early on.
J -
I love hearing about those wonderful teachers that do have that spark that, yes, Lord of the Rings is in my top 3 favorites. It just...it's a world that you step into and every time you step into it, it's richer and deeper and I enjoy it immensely.
B -
Right.
J -
It's a little different than escapist fiction.
B -
Yeah, well, I'm certainly...you can read it as escapist fiction. But, I...
J -
Certainly.
B -
Yeah, I agree.
J -
But there's so much to it. So, as we mentioned, you were an English major and so was I. So, let's start by clearing up the question of what English majors do. I mean, why do we study. The whole point, right, is to make us like pickier grammar snobs?
B -
No!
J -
Oh, surely not.
B -
What's interesting is, my English major was almost entirely literature. I don't remember...I mean, I did take some linguistics and grammar classes, because I also...I was a double major in English and Education. But with the exception of one writing class, which was required, all of my credits from my English major were in that literature world. So, I don't feel like I learned any grammar, really, directly, as an English major in college. I did, as an English education major. The education part, I sort of had to take that step.
J -
You realize you're disillusioning all the homeschool parents out there who are listening to this? Who imagined that that is the goal of English majors? Cause I'm in the same boat. I only took literature classes as well. There was no grammar offered for the English major at all. You were expected to learn to write well and the style and manner of your writing was critiqued, but the content, you know, came first.
Okay, talk a little more about that.
B -
Yes, can I talk a little bit more about grammar?
J -
Oh, please do.
B -
And what I think is...I'll just... my favorite workshop to present at Homeschool Conventions, is about grammar. And I call it the most fascinating discussion of grammar in the history of the world, or your money back. It's also my favorite title. And I offer the money back guarantee, because it's so easy to provide the most interesting discussion of grammar anyone's ever used and very few people have ever heard anything remotely fascinating as it comes to grammar. So, it's a low bar.
But what I talk about in there, a good bit, is this misconception about grammar in this, that's particularly common among...well, not just homeschooling families, but conservative minded people generally. And that's this idea that there are fixed rules of grammar that we must memorize and that our language must adhere to. And that they're permanent and for all time. And, the reality is, that English grammar has always been evolving and that's a terrifying word for a lot of conservatives, but it's...and language is evolving and always has. It's why we no longer say thee and thou in everyday conversation. Just, that's one example, right? Because over time, the way we engage with English changes and shifts. Our vocabulary changes. Words take on new meaning. New words are added. Words fall out of use, and grammar rules, punctuation, spelling rules, all those things adjust over time as well.
And that could be frightening to people. I understand that, this idea that I've memorized, I've learned, I've studied really hard when I was young and I learned all the rules, and then to find out later that some of those rules can be violated can seem real frustrating and maybe unnerving. But I've come to find that figuring grammar out, that learning to observe grammar more than to correct grammar...learn to appreciate what grammar's all about and how language works is way more challenging intellectually, but also more fun. It's just more enjoyable to think about the creative ways people use the language rather than always trying to evaluate and assess whether people are using the language correctly or not.
I've never quite understood why people get so worked up about grammar errors. Right? Have you ever heard people just irate over...
J -
Oh, we have corresponded at our local paper a few years back, who, for several years in a row, could be relied on to point out with a great deal of wrath, whatever errors he had found, and unfortunately, not all of them were actually still errors.
B -
Right!
J -
Books like Ms. Thistle Bottoms Hobgoblins.
B -
I've not seen it.
J -
This is a great little book about...it says the careful writers guide to the taboos, bugabears, and outmoded rules of English usage. But, things like that can help people get past the idea that language cannot evolve and will not evolve, because if it weren't for the fact that it was a living language, we would have Latin. We might as well still all be speaking Latin.
B -
Exactly.
J -
Which, Latin's a lovely language, and it's a delightful language to learn because it hasn't changed.
B -
Right. I heard of the lovely language. I'd like to visit a Latin-speaking country one day, so I could hear it, and, oh that's right...they don't speak it anymore.
J -
You'll just have to visit a classical education conference and find the snobby corner. I really was focused on taking that. That was one reason I picked Cal State LA for my first couple years of college, because they had a Latin program and I really wanted to at least have a couple years, because I read old books growing and that gave me a mental picture of the kind of education I wanted. An education that was stepped in classics and language and literature and so I was out there as a teenager trying to pursue this classical education all on my own, having no clue what I was doing.
B -
You know this... you may have been a nerd.
J -
No. Surely you don't think so.
B -
I didn't know you then, so.
J -
I was...one of my childhood friends that lived in the neighborhood messaged on Facebook, she found me on Facebook, and she says, I remember you. You always were walking home from school and you had books all the way up to your chin. And you were reading them with one hand, so. Yes. Possibly so.
So, if the point of an English degree is not to make you a snobbier grammar picker, how 'bout, is it a practical degree? Sometimes it's considered impractical and outdated despite the fact that people like Steven Spielberg and Michael Eisner were English majors, and other amazing and interesting people.
So, what do you think? Do you need a double major in order to make it a practical degree?
B -
That's a great question. Is it a practical degree? I don't think it is a practical degree. But, I don't necessarily see the word practical as an inherently positive thing. One of my catch phrases, when I teach classes, any kind of classes I've taught over the years, is the simple expression, it's good to know stuff. And all my kids learn this cornball expression, it's good to know stuff. We use it often in class, but the point of that little phrase is rooted in this way of thinking about knowledge and learning. And it tries to get out what I think is a general misunderstanding about the purpose of education in our culture and it goes back to, gosh, I can't remember if it's Plato or Aristotle. I believe it's Plato, who talked about ends and means. That some things we pursue because they are ends in themselves. Things that have, you know, that are innately good and worthy of pursuit. And then other things that we pursue because they're means to other ends. They're just means to get us somewhere else.
So the things like happiness, we pursue happiness simply because happiness is, in and of itself, a good thing to pursue. You don't need a reason for pursuing happiness, right? But we pursue money because money allows us to acquire other goods and services that we need. But money in and of itself, if it weren't for the ability to exchange it, it would be worthless, right? If we just had...it's why Robinson Crusoe left all the gold doubloons on the ship when he, you know, loaded up for the islands, because they weren't gonna do him any good alone on a deserted island.
And then, but the biggest group, however...if you think about those as a Venn diagram, right? Things that we pursue as ends in themselves and then things we pursue as means to other ends, but they overlap significantly. And the truth is, there's a huge number of things we pursue in life both because they are ends in themselves, and also means to other ends. I think the mistake we've made in our culture is, we too often think of education exclusively in terms of needs. We only see education as a means to some other end. And that's why we're very concerned about a practical major, right? Is the only consideration is how is this going to lead me to a career one day. And I'm not suggesting that it belongs in the other circle. I'm not suggesting that knowledge or education, learning, is only an end in itself. I think it's just in that middle group where it's both a means to an end and also an end in itself.
In other words, we do have to take some practical considerations. Yeah. When we're deciding on a major, right? So, if we really want to be an engineer or wanna be a doctor, we need to take some classes. You can't major in English and then wanna go that route. But, at the same time, there's value in knowing things that don't lead necessarily to some sort of, you know, career in the future. So a means of making money. Now, you and I have discovered a way to take our English majors and actually put them to use in a way, you know, that provides for us. And so, we're in the fortunate few. But the truth is, pretty much every career in America that I can think of requires a knowledge of English.
J -
Agreed.
B -
Right? I mean, it's pretty broad in that sense. I think...and the names that you pointed out attests to this, an English major can be practical in the sense that it gives you an ability to, you know, communicate clearly and to think deeply. To read effectively. Those are skills that are necessary in a number of different careers. So it's not necessarily impractical. But it's not necessarily gonna lead you to a very specific kinda career either. So, it all depends on what your aim is in life.
J -
Yeah. That's a great point. I love the comparison of the means and the ends, because you're right. It is both an end and a means.
B -
Right.
J -
And, for...
B -
It's good to know stuff, just reminds them it's an end in itself as well. It's just, you know, when we watch Jeopardy, if you're like me, right? Every time a question comes up and I know the answer, what do you do? Okay, you shout out the answer. Even if you're sitting there by yourself.
J -
Of course.
B -
Because there's delight in knowing the right answer. You're not gonna win any money if you're watching it on TV, but you still get excited about answers that you know because it's good to...
J -
It's good to know stuff. I love that. Because, really, it's the way you make connections between people, a lot of times, so it's a relationship skill. Or just a relationship building thing, overall, and of course, if you've ever been stuck at a party and you're an introvert...I don't know if you're an introvert, but I am. Knowing a few things does give you a little something to pass the time before the person passes out from boredom talking to you. I suspect you're not an introvert though.
B -
Well, it's interesting. I've always been very extroverted, but in recent years, the older I get, the more and more I value and require alone time. I do get exhausted from social interaction, which never used to happen. I can relate, at least, to introverts these days, cause I know what it feels like to just wanna get outta here and...
J -
How...do you think that kids feel that way sometimes? Especially kids in large families? Or kids who are always at activities. I mean, I know that now, during covid, a lot of kids are pulled out of their normal activities. But I, you know, there's so many of the kids I know were in morning to night activities all the time. Do you think kids need downtime in order to flourish?
B -
Well, absolutely. And, it depends on the child, however. And again, I just, I really do think we are all very, very...that's another thing I think I've learned in recent years is how fundamentally differently we're motivated as human beings. Like, learning what it is that motivated my wife, and how it's very different from the things that motivate me has been really helpful in our relationship. And so, it's also worked with our kids as we figured out each of them have these certain things that get them really stirred up. But they're not the same, one to another. And, it's been helpful to figure that out, and some of that has to do with...and these kids...my youngest daughter, you just need to leave her alone in the morning. She's...it's...I mean, she's not a morning person, but she just...what we've learned is, it's just, it's who she is. It's not a flaw. She just needs...she'll be fine, but she needs to be quiet. She needs to be not bothered and not asked a lot of questions. And give her an hour or so and she's ready to interact. But, yeah.
So, it's just sort of getting to know your kids, and then leaving room and space for the ones that really that time.
J -
And you know, that kind of goes back to the whole thing with communications as a relationship building tool. If your kids are comfortable telling you, I need an hour in the morning before I get...have to talk. And, you know, when they're young, it's hard for them to communicate that, but, as a communicator, you can convey those things, you know. And parents have the power to do that. And I think recognizing that things are not flaws, they are personality things, that helps so much.
B -
Yes. Absolutely.
J -
So, you mentioned, basically, good solid communication skills do make everything easier. Or, at least they grease the wheels of commerce and almost everything.
B -
Yes.
J -
Then you...do you have any examples of where you felt that having good communications skills was particularly helpful in your life?
B -
Oh.
J -
And I'm springing that on you.
B -
Yes. Yeah, I wasn't prepared for that question. I'm always prepared for any question, Janice, for fun.
J -
Of course.
B -
In particular. Well, I certainly know...I've learned over the years, the damage that poor communication can cause. And the importance of overstating the positives and the grace, especially when communicating something difficult. Actually, this applies very well to how we go about teaching writing. How we respond to student papers. I remember years ago when I had first started teaching in an online format and I had this one student who was an exceptional writer and I really loved her writing and...but wanted to push her to get better. And it was my first time teaching, where I wasn't face to face interacting with the student. I was just marking her papers and sending them to her and getting her papers back. And I got a phone call one day from her mom, who was distraught. She said, Brian, my daughter is so upset and after reading your comments on her last paper, she wants to quit. And I remember thinking, wait, what? What are...what is going on? I mean, this was...your daughter is an amazing writer. I can't even imagine. What on earth did I do? And I even remember really liking the paper that she had submitted.
So, I went back and I said, let me call you back. I went and I looked at the comments that I had made on her paper, and I realized that I had sort of assumed that she knew me. And assumed that she knew my tone of voice, and knew when I was teasing her. And knew that I was just pushing her to get better, all with this, in this context where her writing is great. I just wanna make you better. But as I sort of pulled back and tried to read it objectively, I realized that I didn't actually say any of those things, and my attempt at humor came across as sort of snarky and critical. And I didn't commend very much in the paper at all. And I...it was a big learning lesson, life-learning lesson for me, is, well, you really can't just assume people know the positive things that you think about. And like, obviously, there's a application beyond teaching writing. I just barely interact with people. Sometimes we feel a certain way but we don't communicate it. We just assume it's clear. So, yeah, that would be one way that...
J -
That's a terrific example, because, you and I do talk to a lot of parents who are really nervous about evaluating their kids' writing and the only thing they're comfortable evaluating, they go through with their red pen and mark all the commas that are out of place or things like that, and they don't talk about style or content or organization or any of those things. They just, basically, proofread the paper. But, you know, I've talked to them for so much, I wrote them a little book called Evaluate Writing the Easy Way. I...what do you tell parents who find this whole evaluation thing hard? I think the compliment sandwich or the criticism sandwich, or whatever, is a very good, very good thing, because yeah, you have to sandwich things.
B -
Yep. Well, of course, I tell 'em to buy Janice Campbell's book, is what I tell them.
J -
There ya go. Perfect.
B -
And if they've bought that already, then I tell them to take a write at home course. Yeah. It's actually one of the things that makes us a little different from at least most homeschool curriculums out there, is many homeschool writing curriculums are designed to help moms be excellent writing teachers. Which is appropriate, right? These are homeschoolers we're talking to. But write at home has always been a little different. We're basically the place you go when you just don't want to be the writing teacher, or if you just don't feel capable of being the writing teacher. It's a way to outsource the teaching of writing. We found that's a need as well, if there's moms out there just don't feel confident or comfortable.
Even if it's just one year or two, just to have a break to let somebody else do that. So that's, sort of, our approach. But what we do, we have a little...I'll give you a really quick, a quick summary of my four-point secret to marking a student paper. Okay? I'll do this super fast. Cause I do a whole workshop on this, but, the way we train our writing coaches is we ask them to make four types of comments on every paper. And as long as you do all four of these types of comments, you can feel pretty good that you've done a good job of marking their papers.
So, the first one is a positive comment. So, find things that your student is doing well and point them out and state specifically why it's good. Or excellent. Because students don't always know when they do things right. Lots of writing is intuitive and instinctive, and they're not consciously making the decisions. And so, by pointing them out, you draw their attention to the things that they're doing well. It also, you know, convinces students that they're capable of growing as a writer. That's really, really important. If students don't believe they can write, you're never gonna see any growth. So, you have to be positive. You have to believe, and you have to get students to believe, that there's a writer inside them that you're just helping to emerge over time. So, that's the positive comment.
The second this is critical comments, which I call corrective directive comments. So, corrective slash directive. So, other words, it's not enough to just mark errors. We want to mark the error in a way that the student knows how to correct the error. That's the directive part. Right? So, sometimes...I remember getting papers back from parents, it would just say...er, from teachers, when I was school, and we'd just, we have a large section just marked vague. And I was like... you know, it wasn't vague to me when I wrote it. I don't know...how do I fix vague? Right? Or, awkward, that was the other one. Actually, they would just write awk, with a period, which is horrible, horrible sound, right? I mean... awk.
J -
Sounds like a vulture.
B -
My favorite one was when they would write, oh, frag, right? Did you ever get that?
J -
Right? Oh yes, frags.
B -
Right. Okay, so I didn't write a complete sentence and you can't even write a complete word to correct my...
J -
Right.
B -
So, okay, so, corrective directive comments. And those predominate, right? So, normally, in a paper, most of the comments you make are gonna be corrective/directive. But you definitely want as many positive comments as possible.
The third comment that I...we have already coaches make. This is sort of our little trade secret. It's what we call...not much of a secret, since I'm telling everybody...but, it's what we call relational comments. And that is, every paper that they get, they're asked to make one comment that they're just, where they're just responding to something a student has said. And they're not correcting anything. They're not pointing out anything about the writing itself. They're just reacting. So, if a student says something funny, well, just say, haha, this made me laugh. Or, you know, they go to a baseball game, and you write, I'm a Phillies fan! You know, BOO, Red Sox, or something like that. But it's an attempt to make kids understand that I'm not just correcting your grammar. I'm not just correcting your writing. I'm actually listening to what you have to say. And I'm a real person who's hearing you and listening to you and I don't just care that you get it correct. I care about what you have ot say as well. And we find that makes a huge difference in how students receive our feedback.
And then the fourth comment, you reminded me of it, is a summary comment, which we wanna, we sort of put several sentences at the end of every paper and we use the sandwich model. You know, something positive, something needing work, and then something positive to wrap it up.
So, if you've got those four things, we feel like you've done a really sufficient job of working on a student paper every time. Positive comments, corrective/directive comments, relational comments, and a summary comment. There ya go. That fast.
J -
Awesome. I love it, and that's basically the kind of things that I do for student papers as well. Because, when I was in college, I had one teacher who was absolutely wonderful with feedback. And, it made such a difference to me because I really wanted to improve as a writer. You know, and of course, we're writing about great literature, and, I mean, seriously, could anything be more fun than writing about great literature and becoming a better writer at the same time? As I enjoyed his comments and they basically taught me, they were a model for how to evaluate in this way. And it makes all the difference in the world because that's where I started. I started out doing evaluations by email. It was very, you know, very long ago, because, as a, you know, homeschooling mom, there's not many ways that you're going to find to earn a little bit of extra income as well as, and I thoroughly enjoyed doing it. At least, for a season in life. I won't say that I, something I wanna do forever. But, it is something that parents can learn how to do, because you know, if you give constructive criticism, it helps the student grow, and the student feels like you are on their team. You are walking that journey with them and you want them to succeed and you're giving them tools, giving them a writer's handbook or whatever, to help them learn to look things up so that they go off to college, they're equipped. I cannot, you know, I just don't want students to be completely dependent on me, or whatever, but good evaluations, as you've talked about, those four things, it gives students tools. Because, as you give 'em, especially the corrective/directive type of comments, they start seeing things that they do well. So that's good.
B -
Glad you liked it.
J -
Yeah. I figured, when I, you know, emailed you to see about whether you'd come and do a podcast, that we probably wouldn't have a lot of huge areas of disagreement on strategy. Cause I know, you know, I've seen you in all the work...all the confer...not all the conferences, but a lot of the conferences, and of course, the title, the grammar workshop, is always intrigued me and I always wanted to get away and attend one of those. Because it did sound absolutely delightful. And...
B -
It's my favorite.
J -
Yeah. I can see. So, as we come toward the end, is there anything else you wanna talk about? I have one last question at the very end.
B -
Sure. Well, yeah. I'd like...let's talk about books again. And English major and literature, since English majors were all about studying lit. Studying books. And it's not practical. One thing I don't think I didn't mention was, you know, why read literature? Because I've encountered a number of folks over the years who find that whole idea to be impractical, right? And why read works of fiction? What's the practical application of reading, you know, Hamlet, and you know, Dickens, and so, and it's tricky. I remember being asked that when I was a young teacher in the public school. You know, Mr. Wasco, why do I have to do this? And, I learned, eventually, to say, because it's good to know stuff. I mean, that's true. But I didn't have a really clear way to articulate why. Like, why should we study works of literature? And, because it's not practical. You're not gonna use it later in life, right? I mean...
J -
Unless you're a speech writer.
B -
True. True. Yeah. We would...cause I remember we were studying, actually, a Shakespearean sonnet when the student asked me, you know, why do we need to know this? And I think, actually, what I said was, you know, it might help ya pick up chicks one day, you know, or something like that.
J -
Right.
B -
I guess, actually, that'd be a practical application for particular sonnets.
J -
Absolutely.
B -
Yeah. But, other than that, yeah, literature is art, right? It's beauty. It's immersing ourselves in the experiences of others, and the thoughts and ideas and world views of other people, and you choose the right books, of brilliant people, who are, have a unique view of the world. That's...so, what I tell our kids, my kids that I teach literature to, because I also teach online literature courses, I honestly believe this, that reading and studying literature makes us better people. Not better than other people. But better than the people we were before we read literature, than exposing ourselves to, you know, the great books throughout literary history. Widen us. You know, sort of broaden us, in our experience of life and ideas and people. Right? So, I feel like I'm a better person because I've met...
J -
I'm certain that I'm a better person because I've read. And, fiction especially. And, you know, for the people who feel like you have to quantify everything, studies have been done to show that you become a more empathetic person just the whole, you know, starting in childhood, children who read are more empathetic. And then, on into adulthood, different studies have shown that. Another interesting study was the influence on family culture. Family, scholarly culture was a great, great, great study that I enjoyed reading, in which they found out that just the presence of 500 books in a home would increase a child's academic performance to the equivalent of a child who had post-doctoral parents in the house. Post-grad parents in the house. Even if the parents themselves had less than a high school education, if they had brought in books, read to their children, taught the children to read, and grow. So, for the people looking for quantifying the value of books, there are resources. But, I just have had, as you say, your soul stretched. Your mind expanded. We can travel to different times, places, periods in history. All of the interesting things.
B -
Can I recommend a book real quick?
J -
Yes, please do.
B -
For parents who might be interested in this idea. It's a book I read a couple years ago. It's by a college professor named Karen Swallow Pryor. I don't know if you're familiar with her.
J -
Yes.
B -
Until recently, she was a professor at Liberty University, and she just started at Southeastern Baptist Theological Seminary, is where she's teaching now. But she's written several books. This is my favorite of hers, it's called Books, Literature, and the Soul of Me. And it's her memoir of sort of her literary memoir. It takes you through her journey to faith. From sort of faith as a young Christian, growing up in a Christian home, who wandered, then, away from faith, but was drawn back ultimately to faith, through classic works of literature. And she spends chapter by chapter talking about the books themselves and, but not just the book per se, but the book's effect on her and how it began opening her mind. And these weren't works of Christian literature. They were just famous, well known works of literature like Pride and Prejudice and David Copperfield or those kinds of things, that opened her eyes and began asking, began her asking questions that ultimately led her back to faith. But, it's a really wonderful book on the value of literature, especially just to the Christian.
J -
Okay, I'm excited to hear that, because that book is in my to-be-read pile, which, it is moved up and down. I think I'll have to move it up a little.
B -
It's a really short read, too, you'd get through it fast.
J -
Good. I have a plane trip coming up next month, so maybe that'll be a perfect book to read...take along. So, that's a really good recommendation to, you know, for fellow homeschool parents cause I think I do get a lot of math and science people stopping at my booth at the conferences saying, I do not, you know...we've been doing your program and it's great. I, you, I can do it because it's logical and it's laid out. But, their comment always is, I didn't realize what books would do for my kids. And that's an interesting thing, because a lot of times, you get all the way through high school and you've never read a full-length classic work.
B -
So, I taught in public schools for ten years. And it...in a very sort of urban, low income school. And I loved it honestly. It was a great experience. But, I was so frustrated at my inability to get through reading material with my kids, so we had a textbook, and we would read poetry and short stories in class, when it was possible. But these kids just wouldn't read when I sent books home. Which means there just wasn't much time to get through books. So, typically, every year, we would read one possibly two, short novels, together. We would just read them, you know, several days a week, we'd take a portion of the class, just read out loud. Took us a really long time to get through books that way, but that was the best I could do. So in the course of entire year, maybe two books in an English class, which is about reading and literature and it was frustrating and one of the things I love about teaching online, teaching through Wasco Lit and Write At Home program, is, I fell like, it's structured in a way that makes way more sense than classroom education. Where, I've got them for 50 minutes a day, and they're staring, looking at me, and I've gotta fill in 50 minutes of time and they're listening to me or watching a video or you know, doing worksheets or some kind of activity for 50 minutes. But what they're not doing is reading. Right? The way I teach it now, students spend four days or five days reading, and then one day a week, we get together and we talk about what they're reading. And as a result, we're getting through massive numbers of books. Fourteen or fifteen classic works of literature every single year. These kids come out, you know, in their first year with me, they've read the Iliad and the Odyssey, and, you know, five Greek plays and ??? till we have faces by C. S. Lewis, which I throw in there. And a really impressive assortment of books, just in one year, because it's not about me or what I have to say about the books, it's about the books themselves, and that's, look... they're gonna learn a lot more from Socrates and from Homer and from Virgil than they are from Brian Wasco. So, it's pretty fun to be able to do it the, what I think is the...I don't know if it's the right way, but it's the best way. So it's the better way than...
J -
I think it's the only way to teach literature to have students fall in love with it.
B -
Yes.
J -
I think you cannot present them fragments and expect them to fall in love. Some of them, there'll be a few, who may be go and pursue the whole work, but to have a student fall in love, they need the whole thing. And the discussion piece makes it so incredibly helpful. Now, I'm gonna ask, just a, one of those leading questions, so, for your discussions, do you have them take it apart and identify all the parts, like, this is the protagonist and the antagonist and all of that stuff? Or, do you discuss the story?
B -
Yeah, we discuss the story. I mean, we do some analysis, for sure. We talk about theme and we talk about character development, and plot and these kinds of things when it's appropriate. But, I'll just, let me give you another little, like, philosophical comment. Something I think is another big mistake that English teachers make. And I was guilty as well, when I was teaching in the public school. And that's that, that in those days, I used literature to teach literary terms. Right? So, there's a chapter in the book on plots, and then there's all these short stories and stuff, and you read these things in order to give them examples of introduction and conflict and climax and etc. They don't always...so, as though the point were to teach these kids these terms and so, we used literature. And so, that's completely backwards, right? So, the way I teach literature now, is we do discuss terms, but only in the context of the work. Right? We use terms because they help us to better appreciate what a writer is doing. And if they don't serve that purpose, then I don't care. I don't care if you know what the term is, unless it's going to help you, you know, better understand or appreciate the literature that you're reading. So, use terms to teach the literature. Don't use literature to teach the terms. That's my...
J -
That's exactly what I would do as well, because I really never understood all the terminology of poetry. I mean, we went through reams of worksheets about it.
B -
Right.
J -
Which did absolutely nothing. But what helped me to understand meter and rhyme and all of the different things and find the different literary devices within poetry and literature, was simply just reading a lot. And you start seeing patterns. You start seeing things crop up. You start seeing...you even start perceiving the differences in literary periods and how types of poetry changed and evolved and all of those things. And, so, it becomes so that you can look at a new poem or a poem that you've seen, and kind of immediately slot it in its correct historical position, even if you don't have a name of the poet.
B -
Right.
J -
And it's like, becoming familiar with a new group of friends.
B -
Yes.
J -
You don't just harp on their names, their names, their names, their names. You try to get to know them and then you kind of remember them. You remember that they like to read or they have cats or they...you know, whatever. So.
B -
I don't give any tests.
J -
I'm so happy about that.
B -
We do quizzes. I have them do a sort of a comprehension quiz at the end of each reading assignment. And they do other things for grades. But I just, I don't test them on dates and names and I always felt, when I had to create tests for literature, I just thought, this is just not what it's about. Like, I just don't want them memorizing stuff.
J -
Right. No. It's a distraction from the point, which is understanding and entering into the work of literature. And really, you know, as they're starting to observe and see the different literary devices in use and recognize them. They're going to be able to use those in their own writing. All those worksheets that you can assign them to do will never get them using the things in their writing. The onomatopoeia or whatever it happens to be, is not going to show up because it's gonna be, they're gonna be strangers. But within the literature, they're friends. So.
B -
Great! We are kindred spirits.
J -
I think so. Okay. So, I've kept you for a while. I think we're moving on toward an hour, so I have one last question.
B -
Okay.
J -
Is there a book that you think every young person should own?
B -
Mmm. Yes. Well, no, there are many books that every young person should own.
J -
Pick one. Oh, you can give me one for different ages, if you like, a couple of different ones.
B -
Okay. Alright. Here's one, I don't have a copy of it. But for...I think, if I had to pick one...I don't know why this one occurred to me recently, but especially for younger kids, I would pick Shel Silverstein's Where the Sidewalk Ends. As a sort of an introduction to the joys of poetry. Especially if you have boys that you want to intrigue with the idea of poetry, because he writes poetry about, you know, pimples and belching and lots of boyish stuff. And his poems are witty and clever and brilliant and, in most cases, hilarious. Super talented guy. So, yeah. I think that would be one for the younger ones. I don't know if that'd be on everybody's list, but...
J -
I love that. Yeah. It goes well with ??? funny poetry for kids too. The beasts and, was it Matilda? Anyway.
B -
Yeah.
J -
Hello Block is another good...
B -
Great.
J -
Who else? Now, what other book?
B -
Well, for some of the older kids, I would...you...this is probably cliche, but The Chronicles of Narnia. Every middle school or young high schooler needs to read The Chronicles of Narnia. Actually, what's great about The Chronicles of Narnia is, you can read them to your children when they're much younger and then have them read them again when they get older and it's an entirely different experience, right? Yeah, so...which is exactly what we did with our kids. Still remember reading them when they were very little, curled up in bed. When they got older, I read them again, and they were like, Dad, this is brilliant. I didn't even know.
J -
Isn't that wonderful? Good memories.
B -
Yeah. So, then of course, all the, you know, all the classics stuff. I teach all the classic stuff. So, I don't know how to pick from those, right? The Iliad, the Odyssey, Shakespeare. All the way through, it's hard to pick one.
J -
I know. I just...it's such a mean and unreasonable thing to ask an English person and literature...
B -
G. K. Chesterton was once asked, if you were stranded on a deserted island, what one book would he want with him. You heard his answer?
J -
Oh yes. I don't remember...
B -
A Practical Guide to Ship Building was his choice.
J -
Very...yeah...that's probably a good plan.
B -
Classic Chesterton.
J -
I love Chesterton. He's excellent. So. Alright, any last things you would like to share?
B -
No, this has been great. Thank you for so much for hosting this. This has been fun.
J -
I'm glad too.
B -
We're both getting use to the Zoom COVID thing, the world of Zoom these days.
J -
I know. At least, we're not having to do this on the phone. There's nothing worse than having to talk on the phone for an extended period of time, because I immediately lose the thread.
B -
You know what? Let me say one other thing. I will say this. Thats one of the things that we began doing last year, because of the epidemic or the pandemic, is I started offering a... well, at, like, once...it started out once a month, and went to once a week, toward the end of the year, but, free webinars that I call Write at Home Plus webinars. And, it's just, we pick a Wednesday evening. They're designed for teams and cover topics like creative writing or writing essays, or writing college application essays, grammar. Or we'll talk about literature and various approaches to reading. And it's just a fun time. And I was shocked because I had a really, really good turnout every single time, even though they were sort of academic titles. I'd have a hundred to a hundred and fifty students show up every Wednesday. So, if people watching are interested, check out...go to WriteatHome.com, and we'll be making announcements on there for the Write at Home Plus webinars. They're free. Just, whatever you'd like to do with 'em. No tests. No quizzes.
J -
That sounds like fun. Can other English majors sort of hang around the fringes and listen?
B -
Absolutely. Moms and Dads are welcome.
J -
Oh, that sounds like such a great idea. I'm so glad you're doing that. I mean, people need something fun around books.
B -
Yeah.
J -
I mean, I can think of lots of ways to have fun with books, but, they don't always involve crowds. But sometimes, for these kids that are especially craving a bit of interaction, that sounds perfect.
B -
We did book clubs too, actually, where I'd pick a book, and we'd just meet and talk about the book. Free book club.
J -
I like that. Yeah. Can't miss it. Okay, so it's been fun talking with you, very much. And, catching up with a fellow bibliophile is probably the best. And I'm sure listeners have enjoyed it too. And so, if you wanna connect with Brian, go to WriteatHome.com. And you can connect with me, Janice Campbell, at EverydayEducation.com. We both hope you'll stop by for visits, and thank you for listening. And goodbye.
Wendy -
Thank you for joining us this week on the Homeschool Solutions Show. As always, you can find show notes and links to all the resources mentioned at Homeschooling.mom. I hope you'll take a moment to subscribe to the podcast. And, if it was especially meaningful to you, share it with your friends, via email or social media. This is just another way we can all encourage and love and support one another.
Speaking of love and support, we are so grateful for the support of our sponsors. Have you joined us at one of the Great Homeschool Conventions? The Great Homeschool Conventions are the homeschooling events of the year, offering outstanding speakers, hundreds of workshops, covering today's top parenting and homeschooling topics. And, the largest homeschool curriculum exhibit halls in the US. Find out more at GreatHomeschoolConventions.com. I hope to see you there.
But in the meantime, let's gather together again here on the podcast next week.
Our Sponsors: